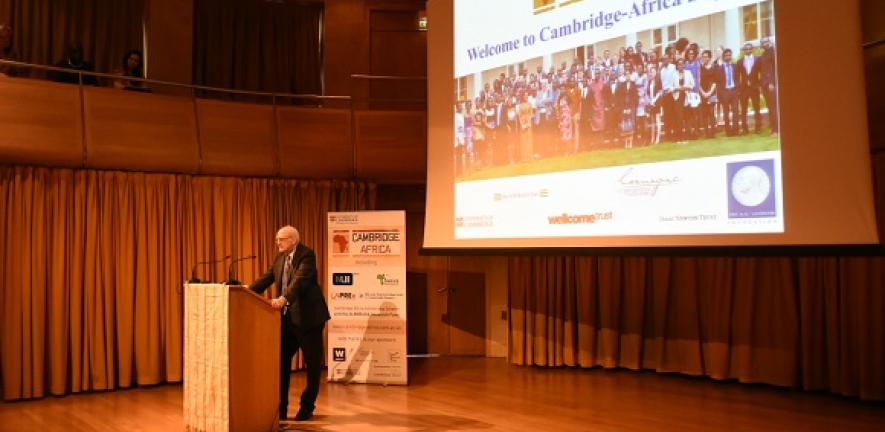 The University's policy on graduate admissions was reiterated at the opening of the third Cambridge-Africa Day
The Cambridge-Africa Programme is about planting seeds that allow partner institutions to thrive.

Professor Sir Leszek Borysewicz
Applause greeted the statement by Professor David Dunne, Director of the Cambridge-Africa Programme, as he confirmed that Cambridge has waived the usual application fee for nationals of many of the world's least developed countries.
Welcoming participants to the third edition of the Cambridge-Africa Day, he expressed his aspiration that this policy will allow Cambridge to attract increasing numbers of talented graduate students to the various scholarship schemes available for Sub-Saharan students.
"The purpose of the Cambridge-Africa Programme is to make Cambridge's support available to African researchers working on African problems, allowing them to build capacity in their home universities." The fee waiver, he added, is a "major contribution" to that effort.
In his opening remarks, Professor Sir Leszek Borysiewicz, Vice-Chancellor of the University of Cambridge, asked: "Why should academic institutions get involved in tackling some of the world's most insoluble problems?"
"Because we have to decide what our values are, and how they allow us to succeed in our mission. Cambridge's mission is to contribute to society through education, learning and research. The definition of society has changed over the past 800 years –but today that society is global."
He added: "Being high on league tables does not make a university global. The real challenge is: what are you giving up? How are you sharing your influence to support other institutions? It's not about aggrandising oneself, but about aggrandising others."
The Vice-Chancellor described the capacity building Cambridge-Africa Programme, set up in 2008, as an ambitious, long-term project with sustainability at its heart. "Cambridge-Africa is about planting seeds that allow partner institutions to thrive."
Addressing a packed auditorium in Emmanuel College's Queen's Building, the Vice-Chancellor mentioned the Programme's partnerships with over 50 African institutions across 23 countries, including its two regional hubs at the University of Ghana, Legon, and at Makerere University, in Uganda.
The Programme has enlisted the expertise and mentorship of a network of over 200 Cambridge collaborators, and to date has supported 70 African post-doctoral researchers and 35 African PhD students.
"The University of Cambridge has invested £4 million pounds in the Cambridge-Africa Programme, and has leveraged that to attract £6.9 million to the University for its mentorship and collaboration initiatives", he said. "Crucially, this has led to almost £21.9 million in external funding being allocated to our African partners".
In the day's first keynote address, Kenyan palaeontologist Professor Richard Leakey said that internationally renowned universities like Cambridge should do more to educate civil servants and policymakers in Africa about the importance of research and education:
"A University like Cambridge can play a much bigger role in Africa by interacting with African government at the highest level."
He assured the audience of students, academics, administrators, NGO representatives and philanthropists that the University of Cambridge is likely to be identified with the next major breakthrough in our understanding of African history.
"The story of Africa is important for Africa, and Africans. There is a gap of self awareness in terms of who we are. We have an opportunity to see some real cooperation between Cambridge and Kenya."
The afternoon's keynote speaker, Her Excellency Mrs Toyin Saraki, made an eloquent plea for closer collaboration between universities and Africa's maternal and neo-natal health specialists.
Mrs Saraki, founder of the Wellbeing Foundation Africa, a non-profit organisation working with governments and NGOs across Africa to ensure better maternal, new-born and child health, remarked on the difficulties faced by women in her own country, Nigeria –where 14% of women are likely to die from maternal mortality complications.
"I started the Wellbeing Foundation out of personal suffering. We've moved beyond the suffering to providing the solutions."
She challenged the audience to consider how academic research can cascade down to impact individuals at a community level: "What we need from our partnership with universities is the evidence that will allow us to advocate for the necessary support to improve maternal health and those providing it."
The day's final keynote speaker, Professor Ebenezer Owusu, Vice-Chancellor of the University of Ghana, recalled the collaborative links between his institution and the University of Cambridge going back to 1948, when Cambridge academics helped to found what was then called the University of the Gold Coast.
"Cambridge has long offered opportunities to train Ghana's human capital and help meet Ghana's developmental needs," he said, reflecting on how the Cambridge-Africa Partnership for Research Excellence (CAPREx) has helped build capacity in research management at the University of Ghana.
"There is a shift in the place of Africa in the world today," he said. "It is amplified by the 'Africa Rising' narrative, and by the resoluteness of African growth in the face of an economic downturn. Yet the continent's higher education institutions have not changed. There is a need for more inclusive partnerships with universities like Cambridge."
He added: "Africa must lead research initiatives in solving African problems.There is a need for a new type of partnership: equal partnership in the generation of knowledge and creative solutions, not just for Africa abut for the world."
At the end of a day that included discussions on collaborations in African archaeology, conservation, maternal health, plant science, pharmacology, social enterprise and student-led Africa-focussed initiatives, Professor Eilís Ferran, Pro-Vice-Chancellor for International Affairs summed up the key ideas:
"We've learned about the need to study a problem in the population most affected by it. We've heard about the multiplying effect of training the key people in any discipline. We've considered the challenges of mentoring, and raised the question of whether we are doing enough to equip people to operate in challenging environments. And we are clear about the challenges of new partnerships, and the role of African universities in leading those partnerships."
Regarding the sustainability of the University of Cambridge's engagement with Africa, she concluded: "Frankly, it's here to stay".
Details of the University of Cambridge's Graduate Admissions policy for applicants from Least Developed and Low-Income Countries can be found here.
---

The text in this work is licensed under a Creative Commons Attribution 4.0 International License. For image use please see separate credits above.
---