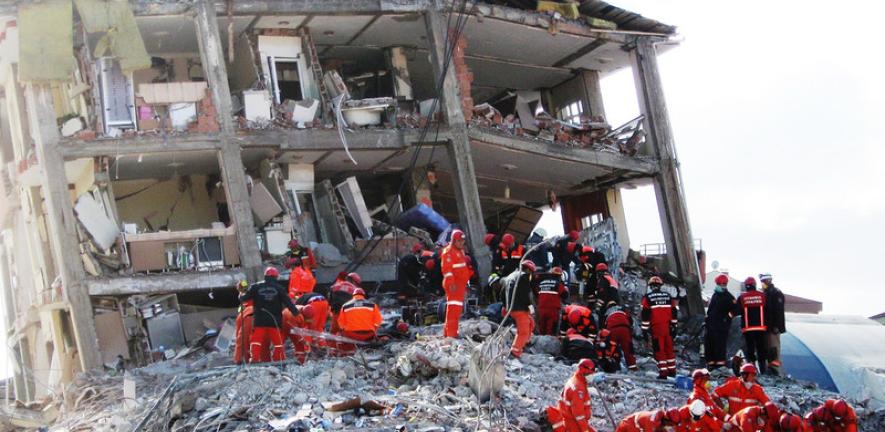 Professor Emily So will lead a UK response to uncover the causes of the extensive damage and loss of life
This mission will enable us to observe the damage and the effects of the earthquake first-hand to identify the main lessons that can be learnt...These will be key to help prioritise actions for change."

Professor Emily So
Professor Emily So, Director of the Cambridge University Centre for Risk in the Built Environment (CURBE) will be co-leading a UK team of engineers, seismologists and geologists on a reconnaissance mission to Turkey, to undertake post-earthquake assessments and uncover the causes of this natural disaster.
Organised by The Earthquake Engineering Field Investigation Team (EEFIT), Professor So will co-lead the mission alongside Yasemin Didem Aktas from UCL and will work closely to support Turkish colleagues and officials. The EEFIT is a joint venture between industry and universities, conducting field investigations following major earthquakes.
The earthquake struck south-eastern Turkey and neighbouring Syria on Monday 6 Feb, registering a 7.8 magnitude quake. It is Turkey's worst earthquake since 1939, impacting 13.4 million people living in the 10 provinces hit by it. At the time of writing, the death toll had climbed to more than 36,000, with the United Nations warning that the final number may double.
The reconnaissance mission will carry out detailed technical evaluations of the performance of structures, foundations, civil engineering works and industrial plants within the affected regions. They will also assess the effectiveness of earthquake protection methods, study disaster management procedures and investigate the socio-economic effects of the earthquake.
Professor Emily So says: "Last week's earthquake has caused untold damage and suffering for up to 15% of Turkey's population. This mission will enable us to observe the damage and the effects of the earthquake first-hand to identify the main lessons that can be learnt. The EEFIT mission is our opportunity to observe the real performances of buildings and question why they have collapsed and why they have not withstood the earthquake. These lessons are key to help direct future research, and prioritise actions for change."
Professor So is a chartered civil engineer and Director of the Cambridge University Centre for Risk in the Built Environment (CURBE). Her main area of interest is in assessing and managing urban risk and resilience. She has actively engaged with earthquake‐affected communities in different parts of the world, focusing on applying her work towards making real‐ world improvements in seismic safety. 
Saving lives from earthquakes is a priority and motivates her research. Her area of specialty is casualty estimation in earthquake loss modelling and her research has led to improved understanding of the relationship between deaths and injuries following earthquakes.
Recognised as an expert in the field, Professor So sits on the Scientific Advisory Group for Emergencies (SAGE) providing valuable and timely scientific and technical advice to support the UK Government's Cabinet Office Briefing Room (COBR).
Professor So is a Fellow and Admissions Tutor for Recruitment at Magdalene College, Director of Studies in Architecture at Magdalene and St Edmund's College and a Director of Cambridge Architectural Research Ltd.
---

The text in this work is licensed under a Creative Commons Attribution 4.0 International License. Images, including our videos, are Copyright ©University of Cambridge and licensors/contributors as identified.  All rights reserved. We make our image and video content available in a number of ways – as here, on our main website under its Terms and conditions, and on a range of channels including social media that permit your use and sharing of our content under their respective Terms.
---