The University of Cambridge's determination to enhance research capacity across Africa, and to engage in collaborative research with African partners, has been given a significant boost following the announcement of a major gift.
The ALBORADA Trust, a UK charity that supports the global advancement of education, health, poverty relief and animal welfare, has confirmed that it will donate £4 million to the University of Cambridge's flagship Cambridge-Africa Programme.
This donation signals the ALBORADA Trust's growing commitment to the Cambridge-Africa Programme, which it has been supporting for the past three years.
The funds will help researchers at the University of Cambridge to initiate or enhance research projects in all disciplines involving partners at sub-Saharan African universities or research institutions. Support from the Cambridge-Africa ALBORADA Research Fund can cover research costs, including equipment, fieldwork, travel and research training costs in Africa.
Since its creation in 2012, the Cambridge-Africa ALBORADA Research Fund has supported 78 research projects in 11 African countries in more than 30 areas of knowledge. The projects have involved 28 African institutions, with 78 African researchers and 86 Cambridge researchers participating.
Projects that have received awards from the ALBORADA Research Fund in the past year include Ha-Joon Chang and Julius Kiiza's investigation of the links between development and incipient state institutions in Rwanda; Devon Curtis and Paul Omach's research into local communities and peacebuilding in Northern Uganda; and Andrew Grant and Maitshwarelo Ignatious Matsheka's study of Campylobacter bacteria from diarrhoeal patients and chickens in Botswana.
Travel awards have facilitated research into enteric infections (Ian Goodfellow and Allison Elliott), and into capacity-building in computational linguistics (Paula Battery and Fridah Katushemererwe) –both in Uganda. They have also allowed researchers to examine the challenges to the sustainability of heritage sites in Kenya, Ghana, Sierra Leone and Botswana (Marie Louise Stig Sorensen and Chris Boonzaaier).
Professor David Dunne, Director of the Cambridge-Africa Programme, remarked: "The first donation by the ALBORADA Trust in 2012, to match funding provided by the Carnegie Corporation of New York, for our Cambridge-Africa Partnership for Research Excellence (CAPREx) initiative, was essential to strengthening the University's engagement with African partners. It enabled the establishment of research collaborations between Cambridge and Africa, and in many cases allowed the collaborators to obtain further external national and international funding.
"The new gift will more than double the value of the awards we can make over the next 10 years. It consolidates the Cambridge-Africa Programme's activities as one of the University's major international initiatives, and sends a strong signal to other potential funders about the Programme's strengths."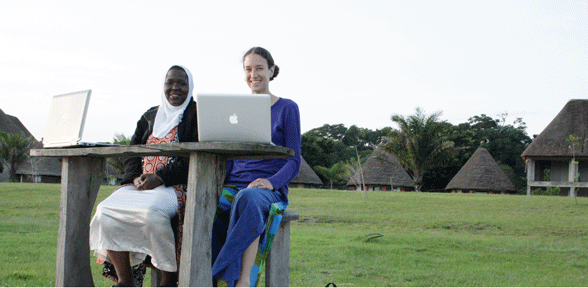 Commenting on the gift, Professor James Wood, Head of the Department of Veterinary Medicine and ALBORADA Professor of Equine and Farm Animal Science, said: "We know that across the African continent there are large numbers of talented people we can support through the Cambridge-Africa ALBORADA Research Fund.
"This gift will allow us to engage with many of them on a much wider scale, and to make sure they are performing at their best—not just while in Cambridge but also while delivering the results of their research in their own communities, countries and regions."  
The Vice-Chancellor of the University of Cambridge, Professor Sir Leszek Borysiewicz, added: "The generous support of the ALBORADA Trust played a pivotal role in establishing the Cambridge-Africa Programme. This extension will be transformative, offering us the unique opportunity to enhance the programme's impact across the continent."
Pictures:  Jenneke van der Wal, University of Cambridge, and Saudah Namyalo, Makerere University, received ALBORADA funding for their study of the Luganda language.
---

The text in this work is licensed under a Creative Commons Attribution 4.0 International License. For image use please see separate credits above.
---