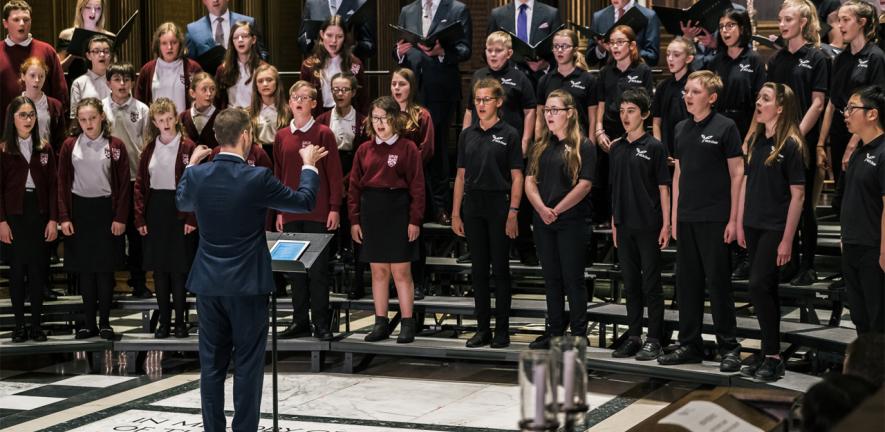 Cambridge researchers and musicians are helping to support schools in Cambridgeshire to deliver high quality and sustainable music provision over the next three years.
Amidst the current environment of low funding for education, many local schools in Cambridgeshire struggle to make basic provision for music

Dr Sam Barrett
Cambridgeshire secondary school pupils had the chance to put into practice their new singing talents – from music from the Middle Ages through to the present day – at a public concert in Trinity College Chapel on March 19.
For the past 5 months, the students from North Cambridge Academy and Sir Harry Smith Community College have been training alongside professional musicians thanks to an innovative music programme that seeks to close a gap in school education.
The three-year project focuses on helping students develop both vocal and instrumental skills through regular workshops with professional musicians from Cambridge University's Associate Ensemble VOCES8 and The Brook Street Band. Using the 'VOCES8 method', teachers and students are encouraged to learn through participation, using vocal and rhythmic exercises that develop their music skills and confidence.
"Amidst the current environment of low funding for education, many local schools in Cambridgeshire struggle to make basic provision for music," explains Dr Sam Barrett, one of the organisers of the programme, called Roots. "Music can help children develop skills and confidence that can underpin many other aspects of their educational journey. Roots aims to redress the balance by providing a new model for future music education within primary and secondary schools in the region."
One teacher remarked: "One of the Year 8 [aged 12-13] boys struggles with dyslexia and his academic work. He is not confident – due no doubt to this learning difficulty - and finds it hard to make friends. This project is making a real difference for him. Not only has he stood up with his group to lead, he has introduced his group and as the day went on, began to comfortably lead some warm-ups." A Year 8 boy added: "I feel more confident after the choir leadership project, I would now put myself out there for more and more things."
Roots involves the regional music education hub, Cambridgeshire Music; two charities, Cambridge Early Music and the VCM Foundation; and is supported by both Anglia Ruskin University and Cambridge University. Researchers from the University of Cambridge's Faculty of Music, for instance, have been working with teachers to help develop lesson plans informed by their latest insights. 
A parallel instrumental strand is being developed by Anglia Ruskin University to establish a tangible legacy by founding a period instrument ensemble specifically for under 18s. Specialist coaching will be provided through workshops, access to historic instruments and the Brook Street Band's innovative online resource Handel Digital, culminating in performance opportunities.
The concert at Trinity College represents the completion of the first phase of the project. Responses from the schools involved have been overwhelmingly positive both from teachers and pupils alike. As one teacher said: "Another pupil in year 8 has behavioural difficulties – often out of lessons and unable to manage in a regular classroom. She loves music. This project has given her an incentive to better manage her behaviour so that she can participate. She has been able to attend the training sessions and now, having helped lead warm-ups for the children she has something to feel very proud of."
Funding for the first year of the ROOTS project has been provided by the Helen Hamlyn Trust and the SoundMe project sponsored by HERA (Humanities in the European Research Area). Individuals or societies interested in supporting years 2 and 3 of the project are invited to contact Dr Sam Barrett for further information.
---

The text in this work is licensed under a Creative Commons Attribution 4.0 International License. Images, including our videos, are Copyright ©University of Cambridge and licensors/contributors as identified.  All rights reserved. We make our image and video content available in a number of ways – as here, on our main website under its Terms and conditions, and on a range of channels including social media that permit your use and sharing of our content under their respective Terms.
---