Is drug addiction hereditary? Why do emotions dominate our earliest memories? Are robots a threat to humanity? These were just some of the thorny questions posed by A-Level students to Cambridge neuroscientists at a recent outreach event organised with the David Ross Educational Trust.
It was a pleasure to work with these talented students and watch them interrogate my colleagues.

Dr Hannah Critchlow, Cambridge Neuroscience
Nathan Clark, Noel Fombanu and Lydia Rutherford, 17-year-old students from Lodge Park Academy in Corby, spent their Easter break interviewing leading academics about their research to create audio blogs about neuroscience and modern life.
Having tapped into Cambridge Neuroscience's cutting-edge research, Lydia, Nathan and Noel asked members of the public for their personal views to broaden the debate.
Lydia, who interviewed Professor Trevor Robbins about drug abuse and dependence, said
"We all had preconceptions about what the researchers would be like. However we were all pleasantly surprised; instead of mad scientists who used terms we couldn't comprehend … They relayed their knowledge in ways that were accessible which made the interviews very relaxed."
Listen to Lydia's audio blog below
Nathan, who interviewed Dr Emma Cahill on the topic of memory and Post Traumatic Stress Disorder (PTSD), said
"Memory is a very important subject as it is part of everyday life so therefore affects every-one. It was also interesting to learn about PTSD because now I know how to aid people with similar problems in the future."
Listen to Nathan's audio blog below
Noel, who interviewed engineer Dr David Franklin about the role that neuroscience has to play in robotics, said
"Dr Franklin knew a lot about his field and even allowed me to experience some of the machines that he was working on."
Listen to Noel's audio blog below
Dr Hannah Critchlow, who develops and runs public engagement projects with members of Cambridge Neuroscience, said
"It was a pleasure to work with these talented students and watch them interrogate my colleagues with such intelligence and confidence. Lydia, Nathan and Noel not only got to grips with complex research but also mastered the art of interviewing – no mean feat. Their blogs are fascinating."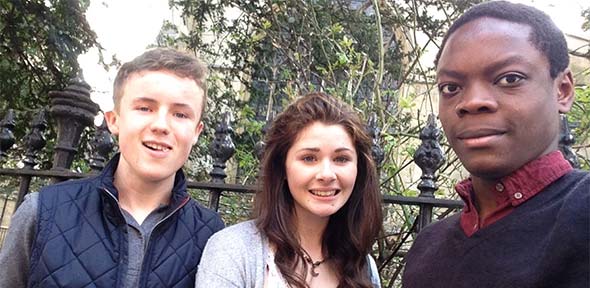 The David Ross Educational Trust establishes educational initiatives and supports other organisations to inspire young people to reach their potential.
The University of Cambridge is committed to widening participation both at the University itself and in higher education more generally. In 2013-14, the collegiate University delivered 4,000 access events which led to almost 200,000 interactions with school learners and teachers. The University's widening participation programme includes college and departmental open days, one of the UKs largest residential summer schools, subject masterclasses, Higher Education Taster Days, a student shadowing scheme and school visits.
---

The text in this work is licensed under a Creative Commons Attribution 4.0 International License. For image use please see separate credits above.
---