More than 2,500 A-Level students from across the UK are celebrating today after meeting their offer to become an undergraduate at the University of Cambridge.
The successful students were among 18,547 high-achievers to apply to the University in October 2017 and received their offers in January 2018. Since then, they have been working hard to secure the A-Level grades in their offer and have had an agonising wait to open their results.
Graham Virgo, Senior Pro-Vice-Chancellor for Education, said: "Many, many congratulations to all of you who applied to Cambridge and have made your offer. We all look forward to seeing you at the end of September at Cambridge when you begin your studies here. We hope you have an exciting and fulfilling time at the University of Cambridge."
In Liverpool 17-year-old Isaac Akinduro gained a place at Jesus College to study Medicine having achieved an A* in Chemistry and As in Physics and Biology.
The Liverpool Life Science UTC student moved from Nigeria to the UK with his parents when he was nine-years-old. He found the first year difficult, trying to get to know the country. Isaac's parents are both teachers. His father teaches A Level physics and his mother is a primary school teacher. After receiving his grades he said: "I was very excited. I was overwhelmed with joy. I always wanted to come to Cambridge."
He added that the introduction of the Stormzy Scholarship was a good step forward and something he would consider applying for: "It is an initiative that would be very beneficial in both supporting current black Cambridge students and encouraging talented black students to apply to Cambridge."
Grace Ojo (above with Principal Nat Parnell), a student at Northampton Academy, was awarded A*s in Maths, Further Maths and Chemistry and an A in Physics. She has accepted a place at Magdalene College, University of Cambridge to read Chemical Engineering.
Grace said: "I'm really amazed by my results and I'm so thankful to be going to one of the best universities in the country for my course, Chemical Engineering. I couldn't have achieved this without my awesome Maths and Chemistry teachers, who are always available to give me valuable support and encouragement, which gave me the determination work hard and exceed my own expectations. My parents have always been supportive and backed me and I really wanted to make them proud. I am over the moon."
Kyle Dunkley taught Grace Maths and Further Maths. He said: "I am so proud of Grace and what she has achieved. She has worked tirelessly over the last two years and her determination has really paid off. I've learned a lot through teaching her – she is a modest, ambitions student who always asks challenging questions and that's Grace to a tee."
Principal of Northampton Academy, Nat Parnell said: "I am incredibly proud of Grace, it's lovely to see such success from someone so modest and unassuming. She is a very bright student and this is a tribute to her diligence, determination and hard work during her time at Northampton Academy."
Hollie Wright, a student from Bishop Vaughan Catholic School in Swansea has secured a place at Christ's College reading Theology, Religion and Philosophy of Religion. Hollie, who grew up on a council estate is the first person in her family to go to university. 
Hollie said: "Applying to Cambridge with my background - having grown up on a council estate in a low-income household - was a daunting prospect. However, I am delighted with the results, as the whole application process was much more fun and stimulating than I expected - even with the pressure that I put on myself!"
Hollie is one of more than 150 students who have benefited from a new academic mentoring programme called Project Access, which provides mentors to A-Level students who have university offers.
Hollie said: "I am indebted especially to the support of my school's MAT group and the encouragement from its organiser - my history teacher Miss Siddika. I am thrilled to be joining Cambridge this year and I absolutely cannot wait to study something I am passionate about under the guidance of world-leading researchers. I am over the moon, I feel extremely lucky to have this opportunity."
Blackpool Sixth has a trio of students heading to Cambridge. Tara Choudhury, Antonio Marmo and Ethan Lees (above, L-R).
Tara Achieved: A* in English Literature and A grades in History and Law. She will read History and Politics at Sidney Sussex College, Cambridge.
Tara commented: "I am very grateful for all the support and assistance I've received from my subject teachers and I am very excited to be studying my dream course. I have been working towards this for a very long time."
Ethan achieved: A* grades in Business Studies, Classical Civilisation and History. He has gained a place to read Archaeology at Sidney Sussex College, Cambridge. Ethan commented 'The college was a great help with constant support on how to structure my personal statement. I'm really glad that the sixth form provided many opportunities, not just to fill up my personal statement, but to gain the confidence and independence required to excel at Cambridge.
"The fantastic teachers at the sixth form really pushed me to be passionate about my subjects not just in lessons but at home.'
Ethan hopes to embark on a career as an archaeologist, possibly specialising in either China or Egypt.
The school will also be sending Antonio Marmo who achieved: A* grades in Maths, Further Maths and Physics. He has gained a place at Clare College, Cambridge to read Natural Sciences. Antonio is planning a career in physics research.
Head of Gifted and Talented at Blackpool Sixth, Michael Waterhouse said: "Competition for places at Cambridge is exceptionally high and Blackpool Sixth is very proud of the fantastic achievement each of these students has made. They have all worked extremely hard in preparing for the application process and I'm sure that they will be very successful in the future."
Angharad Williams (above) of Grey Court Sixth Form School in Richmond gained an A8 and two As to win a place at Sidney Sussex College to study Human, Social and Political Sciences
She said: "I was thrilled when I found out that my place had been confirmed, and that my hard work and the support of my teachers had been worth it."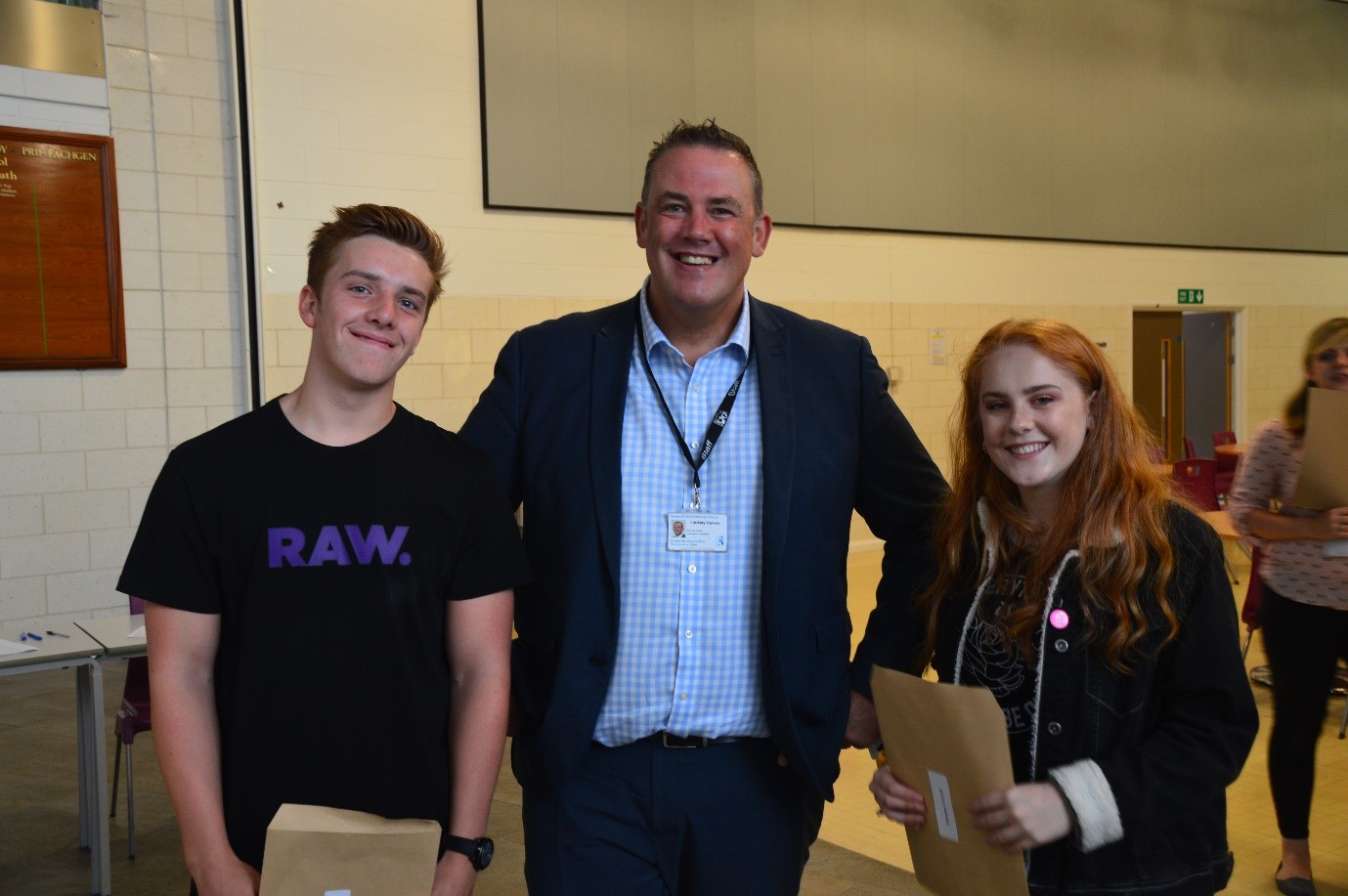 Among the many outstanding results across the UK were the performances of Morgan Phillips (A*, A*, A*, A*) and Georgina Taylor (A*, A*, A, A) from the Archbishop McGrath Catholic High School in South Wales who gained places in the University of Cambridge to study Natural Sciences and Theology respectively.
Georgina, who has gained a place at Selwyn College said she "can't wait to study at Cambridge". She thanked her school as "this could not have been achieved without the overwhelming support of my teachers". Morgan, who will study at Clare College, "could not be happier with his results" saying "it was hard work but worthwhile."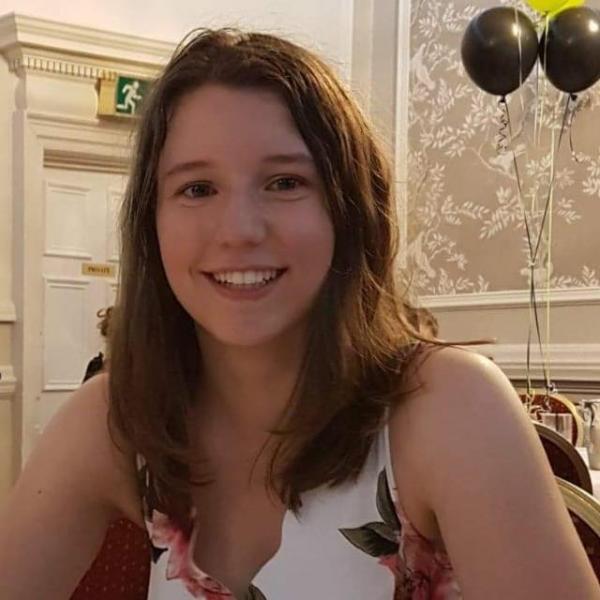 Rebecca Jane Moye from Sir Isaac Newton Sixth Form in Norwich has a place to study Veterinary Medicine at Churchill College. Rebecca scored A* in Chemistry, A* in Biology, A in Mathematics and A* in EPQ.
Rebecca said: "I started studying early into my two years of A levels. Before even applying to university for Veterinary Medicine, I got into good habits consolidating subject content early on, through completing the set homework every evening to looking up past paper questions I ensured that I understood each topic thoroughly before moving on." 
When she opened her UCAS track and saw that her place at Cambridge was confirmed Rebecca was really overwhelmed.
Rebecca said: "I was quite choked up when telling my parents that I had succeeded, and felt very proud of myself."
Cheadle Hulme High School was celebrating this morning after Harriet and Megan achieved their grades. Megan has a place to study Modern and Medieval Languages at Girton College while Harriet has a place at Trinity College to study Classics.
A huge well done to @CHHSsixthform students Harriet and Megan who are off to @Cambridge_Uni to read #classics and #languages. #alevelresults2018 #unashamedlyacademic #levellingtheplayingfield pic.twitter.com/5FC95J7ikx

— Cheadle Hulme High (@CheadleHulmeHS) 16 August 2018
Jackie Lee is a student at Greig City Academy in Haringey North London. Jackie achieved two A* grades in English Literature and Art. Jackie also achieved top grades in Drama and Performing Arts. Jackie is going to Fitzwilliam College to read English.
Jackie is a student with a massive amount of potential who could have taken any of his chosen A levels said his school. He is a gifted artist who produced some outstanding examination pieces for his Art A Level -  his contribution to the Arts was recognised when Jackie won the Achievement in the Arts Award at the London Borough of Haringey's Outstanding for All Awards 2018.
Greig's Head of Sixth Form Mr Jon Holt said: "Jackie has been an excellent member of the school community. He has always been a student with an enquiring mind who is self- motivating and who excels at everything he puts his hand to. Jackie has worked hard and his place at Cambridge on such a competitive course is no more than Jackie thoroughly deserves."
Congratulations to GCA's Jackie Lee who will soon be taking up his place @Cambridge_Uni to read English. pic.twitter.com/vIksUWfWdA

— Greig City Academy (@Greig_City) 16 August 2018
Fifteen students from Brampton Manor Academy have gained places at the University of Cambridge this year. The school encourages students to foster ambition, a positive self-image and pride in their achievements. Many of the students are the first in their family to go to university.
Baker Lubwama is going to study Medicine at Clare College from October. He achieved A*s in Biology and Chemistry and A in Maths.
Baker said "I was attracted to the way Cambridge structures its Medicine degree, and the potential to incorporate research from difference scientific subjects. I am really looking forward to starting in a few weeks."
Natanim Fekadu-Dessie ​got 2 A* in English Literature and Religious Studies and A in History.
She said: "Being at Brampton taught me that applying to Cambridge was something that I could do. The way you are taught at the University is unique, and that is why I want to study there. Who wouldn't want to be taught by leading academics from around the world? Plus the system of supervision really appealed to me.
"My family came to the UK as asylum seekers and no-one has been to university before, I am the first, so everyone is very excited and proud."
Tia from Brampton Manor Academy in London celebrated getting three A*s to gain her place at Cambridge to study Architecture.
A*A*A* for Baker who is now going to Cambridge to study medicine! Huge well done Baker! pic.twitter.com/CZ7LVjHI1x

— Brampton Manor (@BramptonManor1) 16 August 2018
Natanim achieved stunning A level grades: A*A*A and will be studying History and Politics at the prestigious Cambridge university. Huge congrats Natanim. #bramptonmanor #alevelresults2018 pic.twitter.com/1tQTj049Lg

— Brampton Manor (@BramptonManor1) 16 August 2018
Huge congrats Tia on achieving A*A*A* and securing your place to study Architecture at Cambridge university pic.twitter.com/Mcnj87m8DS

— Brampton Manor (@BramptonManor1) August 16, 2018
St Neots Sixth Form, Cambridgeshire is celebrating after student Melissa made the grade to study at Trinity College, Cambridge.
Congratulations to Melissa who has 6 A* and will be going to Trinity, Cambridge #ALevelsResultsDay2018 #goingtocambridge pic.twitter.com/OriLKCoCue

— St Neots Sixth Form (@StNeotsSFC) August 16, 2018
Froher from Pimlico Academy, London, achieved A*A*A*A* to gain her place to study Medicine at Jesus College.
Froher, off to Jesus College Cambridge to read Medicine A*A*A*A*
We are so proud of you. #resultsday2018 #ALevelResults pic.twitter.com/J4IKosU2kH

— Pimlico Academy (@PimlicoAcademy) 16 August 2018
Rachael Davidson from Runshaw College, in Leyland, Lancashire, was celebrating this morning after achieving four A*s to make the grade to study Veterinary Medicine at Robinson College.
I got 4 A*'s and I'm going to vet school at the uni of cambridge!! so many dreams come true, couldn't be prouder of my friends ur all incredible x

— rachael (@rxchaeldavidson) August 16, 2018
Lauren Aitken went above and beyond the call of duty when she opened her A Levels live on the Today Programme this morning at Bilborough Sixth Form College, Nottingham. She got A*s in French and German and also an A in English Literature.
Lauren said: "I'm very proud of my results as I come from a low-uptake area regarding higher education. I've spent most of my formative years on the premium pupil register and as a languages student, I've never had the benefit of coming from a bilingual family or private tuition, and everything I've achieved has been by own hard work and determination. It's been my dream to go to Cambridge for many years - I set myself this challenge whilst still in school. I absolutely love the city, and I knew that if I went I'd really be pushed to achieve my full potential and receive life-changing opportunities that people in my position perhaps wouldn't normally get."
Chris Bradford, Principal at the College said:" Everyone at Bilborough is delighted that Lauren's hard work allied with her natural talents has brought her the grades she needs to take up her place at St John's College. She's been a fantastic student, making the very most of all the opportunities available to her, and we expect her to go from strength to strength as she moves on to study Modern and Medieval Languages ."​
Congratulations to Lauren Aitken on her results which have helped her secure a place @Cambridge_Uni to study Modern and Medieval Languages #alevelresultsday2018 pic.twitter.com/dmYLxUIQyy

— Bilborough College (@BilboroughCol) August 16, 2018
The Basildon Academies were celebrating the success of their students this morning as Kamran Rauf won his place to study Physical Natural Sciences at Queens' College.
Fantastic #alevel grades for Sixth Form student Kamran, including A*'s in Maths & Further Maths. Kamran will be studying at Queens' College @Cambridge_Uni #alevelresults2018 pic.twitter.com/gOTamcSBer

— Basildon Academies (@BasildonAcademy) August 16, 2018
Robert Murphy, 26 passed the Access to Higher Education course with distinction at Wakefield College and has secured a place at the University to study for a degree in social sciences.
Robert said: "I had been out of education for few years, but I always wanted to get a university education. As a mature learner, the Access to HE programme at Wakefield College was the perfect platform to allow me to realise this ambition. I thoroughly enjoyed my time here and the support and encouragement I received has been a huge help."
Head of Access to HE at Wakefield College, Stephen Jones said: "We are very proud of Robert for gaining a place at Cambridge.  He has been out of education and in full-time employment for a long period prior to completing an Access to HE Humanities and Social Sciences qualification.
"Robert is an inspiration to other adults who like him could pursue their career dreams and academic ambitions by returning to College.  Despite his considerable achievements, Robert has kept a sense of perspective and is always been willing to support and help other adult learners".   
It's not just A Level students celebrating #resultsday2018. Our student Rob has secured a place @Cambridge_Uni after completing an Access to HE qualification with @unicentrewakey #Clearing2018 #resultsday https://t.co/esGEQjO6DQ pic.twitter.com/wFfoRnuZE1

— Wakefield College (@wakeycollege) 16 August 2018
---

The text in this work is licensed under a Creative Commons Attribution 4.0 International License. Images, including our videos, are Copyright ©University of Cambridge and licensors/contributors as identified.  All rights reserved. We make our image and video content available in a number of ways – as here, on our main website under its Terms and conditions, and on a range of channels including social media that permit your use and sharing of our content under their respective Terms.
---