We highlight some of the students who are celebrating today and looking forward to coming to Cambridge.
I can't quite explain how great a feeling of achievement my results have given me. I chose to study what I am passionate about and that is exactly what I aim to do at Cambridge.

Zachary Harper
More than 2,500 A-Level students from across the UK are celebrating today after meeting their offer to become an undergraduate at the University of Cambridge.
The successful students were among 17,171 high-achievers to apply to the University in October 2016 and received their offers in January 2017. Since then, they have been working hard to secure the A-Level grades in their offer and have had an agonising wait to open their results.
Farah Mahmood
At Burntwood Academy in Wandsworth, South West London, Farah Mahmood achieved four A*s and an A to meet the offer from Cambridge to study Natural Sciences (Physics and Biology) at Christ's College. The course is highly competitive, this year attracting applications from 2550 top students. Former students from Christ's College include Charles Darwin, historian Simon Schama, and actor Sacha Baron Cohen.
Farah, who hopes to pursue a career in research, is fluent in Urdu, and has an interest in science-fiction. Alongside her schoolwork, she volunteers regularly at a local dementia unit. Speaking about her offer to study at Cambridge, Farah said: "I am incredibly excited about the year ahead and look forward to a fresh challenge.
Speaking on behalf of Burntwood Academy, Deputy Head Nicholas Bull, said: "We are hugely proud of Farah. Her commitment over the last 7 years has been richly rewarded and we look forward to hearing of her further successes."
Amelia Hill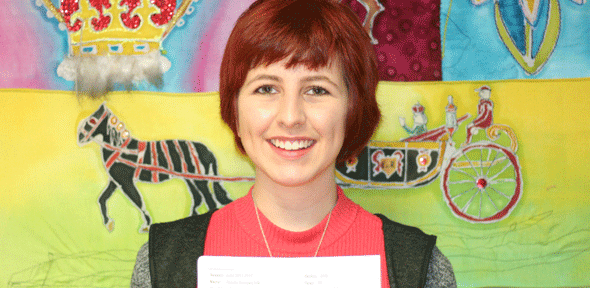 ​Warlingham School in Warlingham is celebrating today after Amelia Hill achieved A* in English Literature, A* in Sociology, A in History and A in the Extended Project Qualification (EPQ), to meet her offer from Cambridge to study English at Trinity College. The course is highly competitive, attracting applications from 762 top students. Former students Trinity College include the poet Lord Byron and actor Eddie Redmayne.
Amelia was supported in her bid to go to Cambridge by regular Russell Group mentoring sessions, which are provided by the school. Amelia was an enthusiastic member of the drama department and an important contributor to many of the school plays, she wrote many newsletter articles and volunteered for numerous charitable events. 
Amelia said, "I am thrilled to be going to the University of Cambridge. It's somewhere that I've always aspired to go, but I wasn't sure it was viable. With hard work and support from Warlingham School, I've been accepted and I'm really looking forward to starting in October."
Nick Bradwell, Headteacher of Warlingham School, said: "Amelia joined Warlingham School in Year 9 and stayed until the end of Year 13. During that time, she was an outstanding student, both academically and in terms of what she contributed to school life. Whilst in the Sixth Form, she developed her leadership skills as a Senior Prefect and she was part of the school's very successful target group of students applying to Russell Group universities. We are so proud of her achievement in being accepted into Cambridge University to read English and are delighted to have been able to support her in this endeavour."
Andrew Ejemai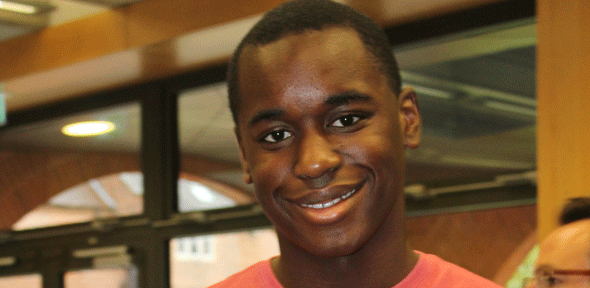 Brentwood School in Essex is celebrating after 16 year old Andrew Ejemai made the grade. Having previously achieved A* in Maths and Further Maths as well as A in AS Physics he achieved Grade 1 in STEP II and III, A* in Additional Further Maths, and As in the new Linear Chemistry and Economics to meet his offer to study Mathematics at Corpus Christi College. The course is highly competitive, attracting more than 1,400 applications this year.
Andrew said: "I am mostly grateful to God Almighty for helping me to achieve this great feat. I believe that without hard work, perseverance, parental and school support this would not have been possible. I am indebted to all my teachers and headmaster of Brentwood School for believing in me, and giving me the opportunity to complete my three A level subjects in one year.  Whilst I did not participate in any of the Cambridge programmes, I found the Cambridge online STEP Support Programme very useful in my independent preparation for STEP papers."
Will Barnes
In Didcot, Oxfordshire, Will Barnes from UTC Oxfordshire was relieved to discover he had achieved four A*s in Maths, Further Maths, Computer Science and Physics and will be heading to Churchill College to study Computer Science. Will is the college's first successful Cambridge applicant since it opened its doors in 2015.
To prepare for his application Will received support from Peterhouse, Cambridge's oldest College, with an Area link residential course and activities with the Sutton Trust. At UTC Oxfordshire Will received personal support from the Vice Principal and a former Oxbridge admissions tutor who is working closely with the school. Will has been an enthusiastic participant in a number of extra-curricular employer led projects, taking the lead in our Bletchley Park code breaking challenge, and is a 3D printing ambassador using the schools 3D printing suite to engineer practical solutions to problems.
On receiving his results, Will said: "If anyone had told me two years ago that I would have a place at Cambridge to study Computer Science, I would not have believed them. However, my experience shows that ambitious goals like this are completely achievable. I am so glad that, two years ago I made the decision to leave my established school and join UTC Oxfordshire. Through the employer led projects I have learnt how to be a truly independent learner and gained many other skills. I am very much looking forward to future challenges."
Owain Johns, Principal, said: "Will is a truly exceptional student who has worked incredibly hard to achieve a very impressive set of A level results. Back in 2015, Will was the first ever applicant to UTC Oxfordshire's sixth form, had a clear vision of the career path he wanted to take and could see how the UTC's extended curriculum and working with employers would support his application. Will's enthusiasm for Computer Science has inspired many others in the school to investigate computing as a career. We will be following his progress at Cambridge with great interest and look forward to him returning to encourage other students to apply."
Lewis Croney
Meanwhile at Barton Peveril College in Eastleigh, Hampshire, 18 year old Lewis Croney achieved A*s in Maths, Further Maths and Physics enabling him to meet his offer to study Mathematics at Trinity College. The course is highly competitive, attracting more than 1,400 applications this year.
Lewis said: "I am ecstatic to be joining the University of Cambridge to study Mathematics and am looking forward to learning alongside so many like-minded people. It really is a dream come true. Thank you to all the staff at Barton Peveril for their support in helping me to achieve this success."
Principal, Jonathan Prest, said: "Lewis has done spectacularly well for himself since joining sixth form college.  His secondary school was under-performing against national benchmarks and has subsequently been closed. Few students ever went to University from the school, let alone to Cambridge.  At Barton Peveril College he was able to spread his wings, meet other students with similar ability and develop his ambitions.  Through our links with the University outreach team our students were offered talks, practice interviews and even model supervisions, all of which Lewis took advantage of. His is a real example of what bright, hard-working, single-minded people from any background can achieve."
Rebecca Smith & Thomas Page
Two students at Cardinal Griffin Catholic College in Cannock, Staffordshire, were celebrating their results. 
18-year-old Rebecca Smith, who lives in Chadsmoor (two A*'s and a B), and 18-year-old Thomas Page, who lives in Norton Canes (three A*'s), achieved the necessary grades to meet the offer from Cambridge to study (respectively) History of Art and Veterinary Science.
Mr Michael Burrowes, Headteacher, said: "I would like to take the opportunity to congratulate all the students, their parents and the teachers on these outstanding results. I am particularly pleased for Tom and Rebecca who put themselves forward for places at the University of Cambridge. The interview process was very challenging, yet they were prepared to push themselves to their full potential and they have now been fully rewarded."
John Severn
At Swanick Hall School, in Swanick, Derbyshire, John Severn achieved four A*s to meet an offer from Cambridge to study Mathematics at Christ's College. Former students at Christ's include Charles Darwin, nuclear physicist Robert Oppenheimer and Archbishop of Canterbury, Rowan Williams.
Speaking about his success in applying to Cambridge, John said: "All I can do is thank Swanwick Hall School for the amazing support they have given me, and the University of Cambridge for the exciting challenges that lie ahead."
Jonathan Fawcett, Headteacher at Swanick Hall, said: "John is an outstanding student who has worked very hard for the exceptional results that he has achieved. It has been a pleasure to work with him for the past few years and we look forward to hearing news of his further successes at Cambridge."
Francesco Bello
St Thomas More Roman Catholic Academy in North Shields is celebrating after Francesco Bello achieved three A*s and an A to meet the offer from Cambridge to study Natural Sciences at Peterhouse, Cambridge's oldest college. 
Francesco lived in Milan, Italy, until the age of 10, when his family moved to North Tyneside. Both of his parents are Italian and Francesco is bilingual, gaining an A at A-level when he was in Year 11. On being admitted to Cambridge, Francesco said "I'm really excited at being given the chance to explore such a wide range of topics which I knew I could only do at Cambridge."
Gillian Borwick, Head of Year 13 at St Thomas RC Academy, said: "As a school we are immensely proud of Francesco and have always known he was an exceptional young person.  He is of course academically gifted, but he works very hard and utilises his natural curiosity to feed his understanding of the Sciences."
She added: "Every conversation with Franscesco is a joy.  He has real character and a great personality, which show he will be a exciting undergraduate to work with, and we wish him every success in the future."
Zachary Harper
Zachary Harper of Lancaster Royal Grammar School Sixth Form, achieved five A*s and is looking forward to starting his Chemical Engineering Degree iat Peterhouse in September. He said: "I can't quite explain how great a feeling of achievement my results have given me. I chose to study what I am passionate about and that is exactly what I aim to do at Cambridge; to not just improve as much as I can but to enjoy doing so at the same time."
Sarah Haigh, Head of Sixth Form said: "Zach has been the most driven and self-motivated student throughout his time at LRGS. He fully deserves the success and will thrive at Cambridge".
Cameron Osborne & Kayden Xie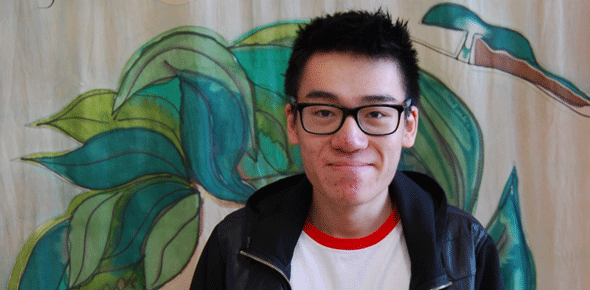 Burnside College in Wallsend is celebrating today after two of its students got the grades to take up places at the University of Cambridge.
Cameron Osborne achieved A*s in French, History and Maths and A in German to meet his offer from Cambridge to study Modern and Medieval Languages at Trinity College while Kayden Xie achieved A*s in Biology, Chemistry and Maths to meet his offer from Cambridge to study Natural Sciences at Homerton College.
Both students also gained A* grades in their EPQ qualification which, alongside their A levels, will make them two of the most successful students the school has ever produced. During Year 12, Kayden and Cameron won a place on the very competitive Reach Higher programme, run by the Linacre Institute, a charity working with very able sixth formers in northern England to support their progression to world-leading Universities.
Cameron said, "I am delighted to have been accepted to study at Cambridge, and there is truly no other place on Earth where I'd rather be. I feel truly grateful to have this incredible privilege". Kayden agreed, and added that "In the moment of realising that I had met my offer, I got a real urge just to thank everyone that I could see. I did try to play it cool- whether it was convincing, I'm not too sure! I feel real excitement at the prospect of beginning next term".
Cameron and Kayden's triumph came amid a record-breaking set of A-Level results for the school with the highest ever average A level grade, including 58% A*-B and 80% A*-C grades.
Will Hedley Head of Sixth Form said: "We are delighted for all of our students in this fantastic year group, and Kayden and Cameron epitomise their dedication and hard work, as well as being truly gifted students. We wish them all the very best in the future and hope they can inspire others to follow in their footsteps"
In addition to A-Level students, several mature students studying at FE Colleges have achieved the Access Diploma results which they needed to take up places at the University.
Rosemary Harker
Rosemary Harker aged 31 from Farnborough has a place confirmed to study English at Lucy Cavendish College. She had given up on her ambition of entering further education after failing to complete her A-levels, but an Access Diploma completed in her 30s made the dream possible again.
Rosemary left secondary school at 16, after a disappointing set of GCSE results. She had been unwell, and had to go into hospital for a couple of months. She tried to study for A-levels but was not able to cope with the pressure.
For a few years, Rosemary's health didn't allow her to work or study. She felt that she had missed out on something that was important to her; she had enjoyed school work, especially English, and she had always assumed that she would go on to further study.
Rosemary found out about the Access to Higher Education Diploma whilst browsing the internet, and thought it sounded interesting. The Access Diploma provides adults with an opportunity to return to study and achieve a nationally recognised qualification, providing a route into higher education at university or college. When she started the course, she liked the ideas of meeting like-minded people and working towards a goal.
She said: "I wasn't really thinking about Cambridge that seriously, initially, but Lucy Cavendish's website showed me a community of slightly older female students doing just what I wanted to do. When I visited, it felt like somewhere I could fit in. Everyone was friendly, just normal people really. The University as a whole seems really positive about disability and I got lots of information about how they could support me with my studies."
Rebecka Loodus Vivian
​Rebecka Loodus Vivian found out today that her place has been confirmed for the Human, Social & Political Sciences degree (HSPS) at Lucy Cavendish College, a unique part of the University of Cambridge. Her background is unusual for the University; she decided to apply for a place while working at Karijini National Park in Western Australia.
Rebecka graduated secondary school in her home country of Sweden in 2011, at the age of nineteen. She spent the next six years travelling around South East Asia, Europe and Australia. She worked in the mining industry and she volunteered and coordinated sustainable development projects. Whilst working and travelling, she completed a TEFOL course and studied online university courses in gender science and sustainable development in sub-Saharan Africa. 
She decided to apply for a place at the University of Cambridge while working on sustainable development projects at Karijini National Park in Western Australia. She then applied online to the Swedish government for a scholarship to study at the University of Cambridge.
She said: "Studying gender science and learning about the life conditions of women as I travelled, I realised education is actually not available to women of all cultures and countries. I did not want to take my privilege for granted by not pursuing higher education and knew that it was also through higher education that I would be able to make a difference for women."
It was a conscious decision for Rebecka to choose to apply for a women's college. She said: "I thought it would be a very inspiring environment, being surrounded by women, especially with the degree I am pursuing. I love the idea of a female college; the atmosphere is like nothing I have experienced before."
Admissions Tutor at Lucy Cavendish College, Dr Victoria Harvey said: "We congratulate both Rebecka and Rosemary on winning a place here and we are delighted to welcome them to the College."
---

The text in this work is licensed under a Creative Commons Attribution 4.0 International License. For image use please see separate credits above.
---