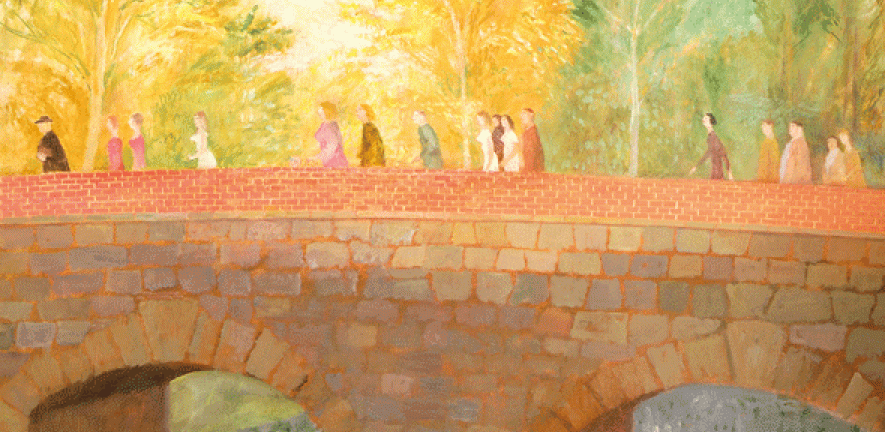 From medicinal plants at Madingley Hall to the Indian doctor who shook up Mill Road a century ago, a huge range of exciting events is planned for Open Cambridge 2017
Although a Dirty Scull I dont (sic) see why I should not at the Muses have a shy.

John Wisken, Christ's College servant for 50 years.
This Friday and Saturday sees the tenth Open Cambridge festival taking place across the city. Many parts of the University and colleges, as well as over 20 partner organisations in the city, are opening their doors and offering the public a chance to enjoy amazing architecture, exciting exhibitions, and engaging events.
There are three strands to this year's festival, which is the largest and most diverse Open Cambridge ever with over 97 events. The main Open Cambridge festival showcases treasures across the city and University, from historic libraries to magnificent gardens, hidden art collections, and specialist museums. It also offers fascinating glimpses behind closed doors at places like the fire station, the Cambridge Mosque, the ADC Theatre, and the Guildhall. All events are free, and many are drop-in.
The Old Library at Christ's College has a remarkable exhibition on poets and poetry from every walk of College life, from John Milton's Paradise Lost, one of the most famous poems in history, to never-before seen work by a nineteenth-century College servant. The exhibition, curated by graduate trainee Beth Slater, features a rarely-seen copy of Paradise Lost that has been heavily annotated by the poet William Cowper. Cowper covered his copy with scathing remarks about the work's editor, Richard Bentley, whom Cowper accuses of "childish conceits" that are "below the dignity of a true critic." Another forthright poet in the exhibition is Ezra Pound, who describes his own letter to Christ's College Fellow W.D. Rouse as "nine parts ego-explosion" and tells Rouse that the Greek poet Pindar was "certainly full of prune juice." But possibly one of the most intriguing exhibits is a book of poetry by college servant John Wisken. Wisken worked as a scullion in the college kitchens for over fifty years in the nineteenth century, lighting fires, cleaning dishes, and serving food to students and fellows. He captured this hard-working life in his epic poem A Day in Michaelmas Term, or Twenty Years the Same, which opens "Although a Dirty Scull I dont see why/ I should not at the Muses have a shy".
The beautiful gardens at Madingley Hall are open on Friday 8 September. The garden's creative planting scheme draws its inspiration from the history of the Hall and of botanical science at Cambridge but uses a modern sensibility in mixing plants. The floral border is influenced by the concept of a traditional kitchen garden, with plants for culinary, medicinal, dyeing and aromatherapy uses, including wood betony – a traditional remedy said to help 'sour belching' and cramps – and colchicum, an autumn crocus that is used to treat gout and cardiac conditions and known by the intriguing common name 'naked lady'. The medicinal plants in the garden are not limited to its borders: clippings from its yew trees have been used to manufacture the cancer drug Docetaxel. Tours led by Richard Gant, the head gardener, will explore all these aspects of the garden, and more.
Wolfson College is exhibiting the art of two British painters who specialise in imaginative, evocative paintings of people. Both Eileen Cooper RA and Richard Sorrell paint from memory more than from life, and their images of people always tell a story, though often it is up to the viewer to decide what that story is. Cooper's work is characterised by its focus on women and their experiences of work, friendship, and motherhood; the bold figures in her colourful works seem to dance off the page, yet preserve a private quality than encourages the viewer to look more closely. Richard Sorrell's paintings derive their power from the contrast between their serene pastel colours and the recognisable, often awkward, social encounters they portray.
The India Unboxed strand of the festival celebrates the UK-India Year of Culture 2017 and the 70th anniversary of Indian independence with a range of talks and exhibitions.  A fun, hands-on event for the whole family is Mill Road Celebrates India, a full day of activities run by the Mill Road History Society and partners, with valued support from Mill Road traders. Come on down to the Deaf Centre (behind Cutlacks) on Saturday 9 September and join in with a range of activities, from a Bollywood dance class to a puppet show. A talk by historian Jo Costin will tell the fascinating story of Dr Upendra Krishna Dutt and his Swedish wife, a remarkable couple who lived on Mill Road one hundred years ago and filled their home (the Petersfield Surgery) with international idealists and radical politicians. There will also be a session called 'Bring an object, tell a story', with local women from the Indian subcontinent introducing treasured objects that they brought with them when they moved to the UK and explaining why they are important.
Open Eddington features over 25 events showcasing Eddington, the University's new development at North West Cambridge. With families and students having moved in to the first homes over the summer, Eddington is now a living, breathing community. Members of the public are invited to visit and find out more about the innovative architecture and sustainable design that make Eddington one of the greenest developments in the country. There are also fun activities for children including a cycle cinema, where pedal power generates the electricity to show a film, and a Roman street party inspired by archaeological finds at the site.
Sue Long, the Open Cambridge Co-ordinator, speaking about Open Cambridge said "this has been a huge City and University collaboration and we are very grateful to all our partners for their hard work. In particular, I want to thank the sponsors, Keir, without whom this weekend would not be possible".
Details of the events mentioned in this article:
Numerous Verse, an exhibition at Christ's College Old Library, is open 10am to 4pm on Friday 8 and Saturday 9 September. Free, drop-in.
The gardens at Madingley Hall are open from 2:30pm to 7pm on Friday 8 September. There are 40-minute guided tours of the gardens at 3:30, 4:30, and 5:30pm. Free, drop-in. http://www.opencambridge.cam.ac.uk/events/madingley-hall-gardens
A Woman's Skin by Eileen Cooper RA, and paintings by Richard Sorrell are on view at Wolfson College between 3 and 5pm every Saturday and Sunday until 24 September. Free, drop-in.
Mill Road Celebrates India takes place at the Deaf Centre, 8 Romsey Terrace, 10:30am-5pm on Saturday 9 September. Free, drop-in. For a detailed programme of events, see http://www.millroadhistory.org.uk/event/mill-road-celebrates-india/
For full details of Open Cambridge 2017, visit the website, www.opencambridge.cam.ac.uk
---

The text in this work is licensed under a Creative Commons Attribution 4.0 International License. For image use please see separate credits above.
---