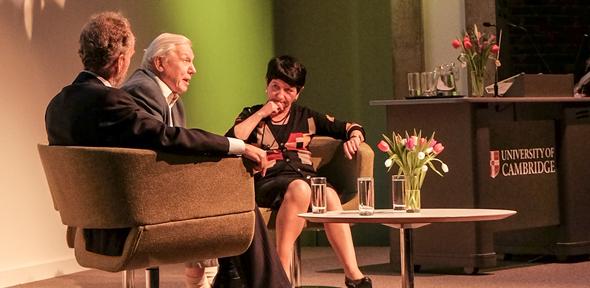 Thanks to a $10 million endowment from Arcadia, the charitable fund of Lisbet Rausing and Peter Baldwin, a world-leading initiative in Cambridge is now developing unique new approaches to some of the biggest challenges facing the planet today
Arcadia's investment in this unique Initiative will ensure that Cambridge sustains a long term leadership role in conservation research, teaching and practice that will have a global impact.

Vice-Chancellor of the University of Cambridge, Professor Sir Leszek Borysiewicz
As life on earth comes under pressure as never before, with threats including habitat destruction, pollution, invasion by alien species and climate change, a complex, multifaceted response that transcends disciplines, organisations and borders is critical to the protection of the planet's diversity. The future of humanity is also dependent on the living resources that we share this planet with, which provide many fundamental services such as oxygen, clean water and food.
The Cambridge Conservation Initiative (CCI) is a collaboration between 10 institutions, working together to address the most pressing issues facing our natural world. Cambridge is a natural home for this endeavour; in addition to the world-class research by University of Cambridge academics, the city is home to the largest cluster of conservation organisations in the world. These range from local, grassroots organisations through to long-established, international charities, as well as representatives of the United Nations, national government agencies, and intergovernmental secretariats. CCI bring these diverse networks together in new and innovative ways, generating novel ideas and approaches that no one institution could deliver alone. 
Two years ago CCI moved into a specially-created conservation campus within the David Attenborough Building, in the centre of Cambridge, which provides a unique collaborative hub in which CCI can integrate research, policy development and capacity building. Sir David Attenborough, after whom the building housing the CCI Conservation Campus is named, said: "I am delighted to see the work that the Cambridge Conservation Initiative is doing – it is clear to me that the most effective solutions to protecting nature are achieved by collaboration, which is exemplified by CCI's vision and ethos. By making this gift, Lisbet Rausing and Peter Baldwin are investing to protect our planet's life support system and providing an incredible legacy for the natural world."
CCI's Executive Director, Dr Mike Rands, confirmed that the endowment would provide the financial security to enable CCI to focus on scaling up its collaborations and engaging others, especially in business, governments and civil society, in the conservation of nature. "Lisbet Rausing and Peter Baldwin, through Arcadia, have been incredible partners to CCI. Their investment in the core of this Initiative is both brave and brilliant; brave because it is supporting a completely new approach to the conservation of biodiversity and brilliant because it adds value to worldwide conservation efforts by uniting the critical mass of skills and expertise that exists amongst CCI partners to work collaboratively and beyond organisational boundaries."
By endowing the Cambridge Conservation Initiative, Arcadia are ensuring CCI's future financial stability. In announcing the Arcadia grant, Lisbet Rausing referred to the unique nature of CCI and its potential, saying "CCI brings together leading academics and conservation practitioners to focus on the greatest problems facing our planet. We hope our grant will help these experts find new ways to protect nature and biodiversity."
The Vice-Chancellor of the University of Cambridge, Professor Sir Leszek Borysiewicz, said: "Arcadia's investment in this unique Initiative will ensure that Cambridge sustains a long term leadership role in conservation research, teaching and practice that will have a global impact. CCI is a great example of the benefits that can be achieved by bringing together practitioners and academia". 
---
The Cambridge Conservation Initiative (CCI; www.cambridgeconservation.org) is a unique collaboration between nine conservation organisations and the University of Cambridge seeking to transform biodiversity conservation.
The CCI partners are: BirdLife International, British Trust for Ornithology (BTO), Cambridge Conservation Forum (CCF), IUCN, Fauna & Flora International (FFI), RSPB, TRAFFIC, Tropical Biology Association (TBA), UN Environment World Conservation Monitoring Centre, University of Cambridge 
In 2015, over 500 conservation professionals moved into a new shared working space, a 'conservation campus' within the David Attenborough Building. The David Attenborough Building in central Cambridge provides a highly visible and accessible hub for the Cambridge Conservation Initiative to raise the profile of nature conservation. Named in recognition of Sir David's pioneering work in bringing the wonders of the natural world to a global audience, the building provides an environment designed to encourage transformational approaches to understanding and conserving these wonders and the natural capital they represent.
The Dear World…Yours, Cambridge fundraising campaign for the University and Colleges was launched in autumn 2015 to raise £2bn to attract the brightest minds, create the most inspiring environment for world-class research and give the freedom to develop more world-changing ideas. To date more than £945m has been raised towards the total, including the $10 million grant from Arcadia. The campaign focuses on the University's impact on the world, and through it Cambridge is working with philanthropists to address major global challenges. The gift to CCI represents an investment in a pioneering model of collaboration and engagement, which allows the University to work directly with partners involved in conservation policy and practice, for the future of life on Earth.
---

The text in this work is licensed under a Creative Commons Attribution 4.0 International License. For image use please see separate credits above.
---