Ewan St. John Smith: a Public Engagement Tightrope Walker

Successfully embedding public engagement in your academic career

Ewan wants to inspire people to pursue careers in science, increase their general scientific literacy, reassure them that money spent on research is worthwhile, and entertain them while having some fun himself! By balancing research, public engagement and management responsibilities, he has kept engaging crowds while moving forward in his academic career.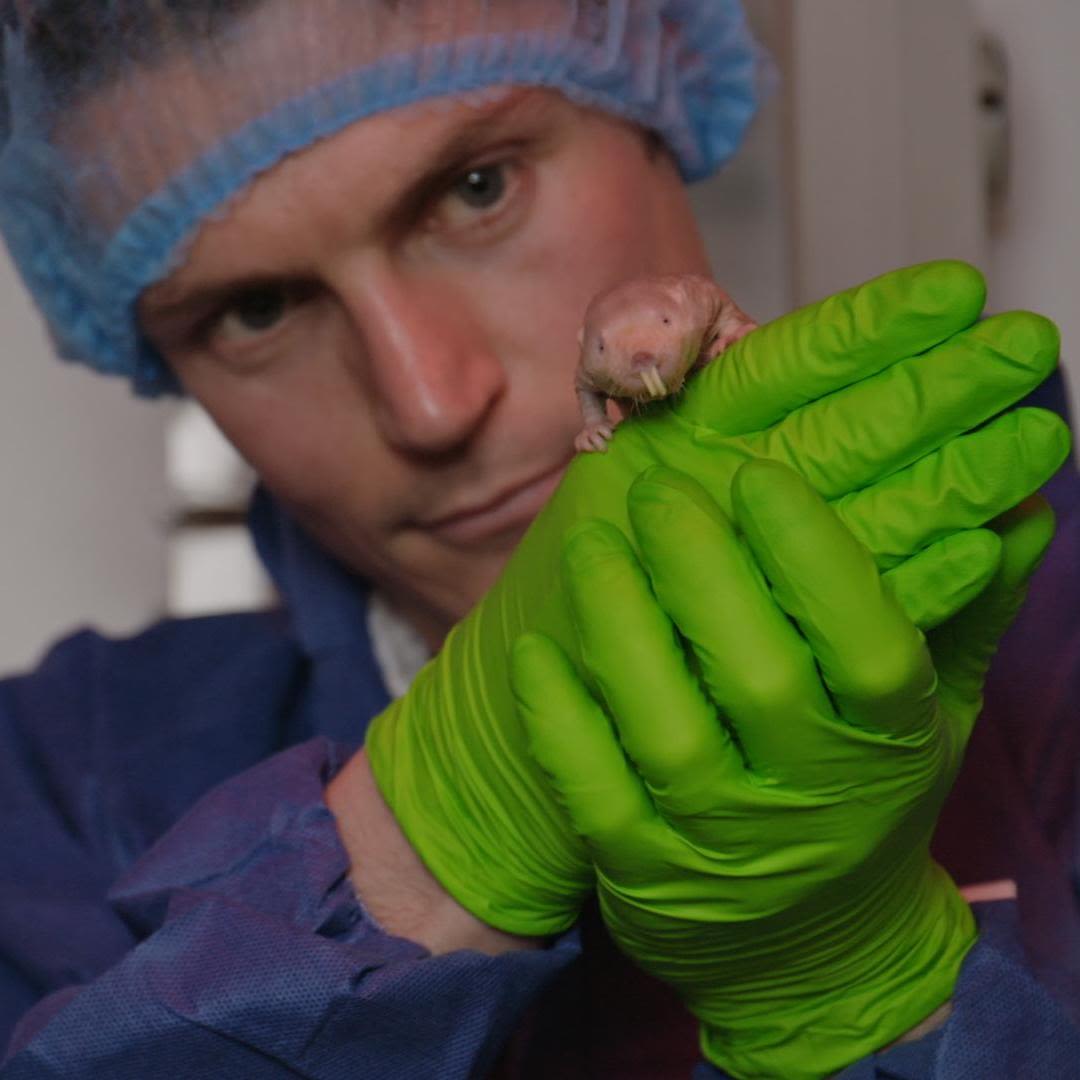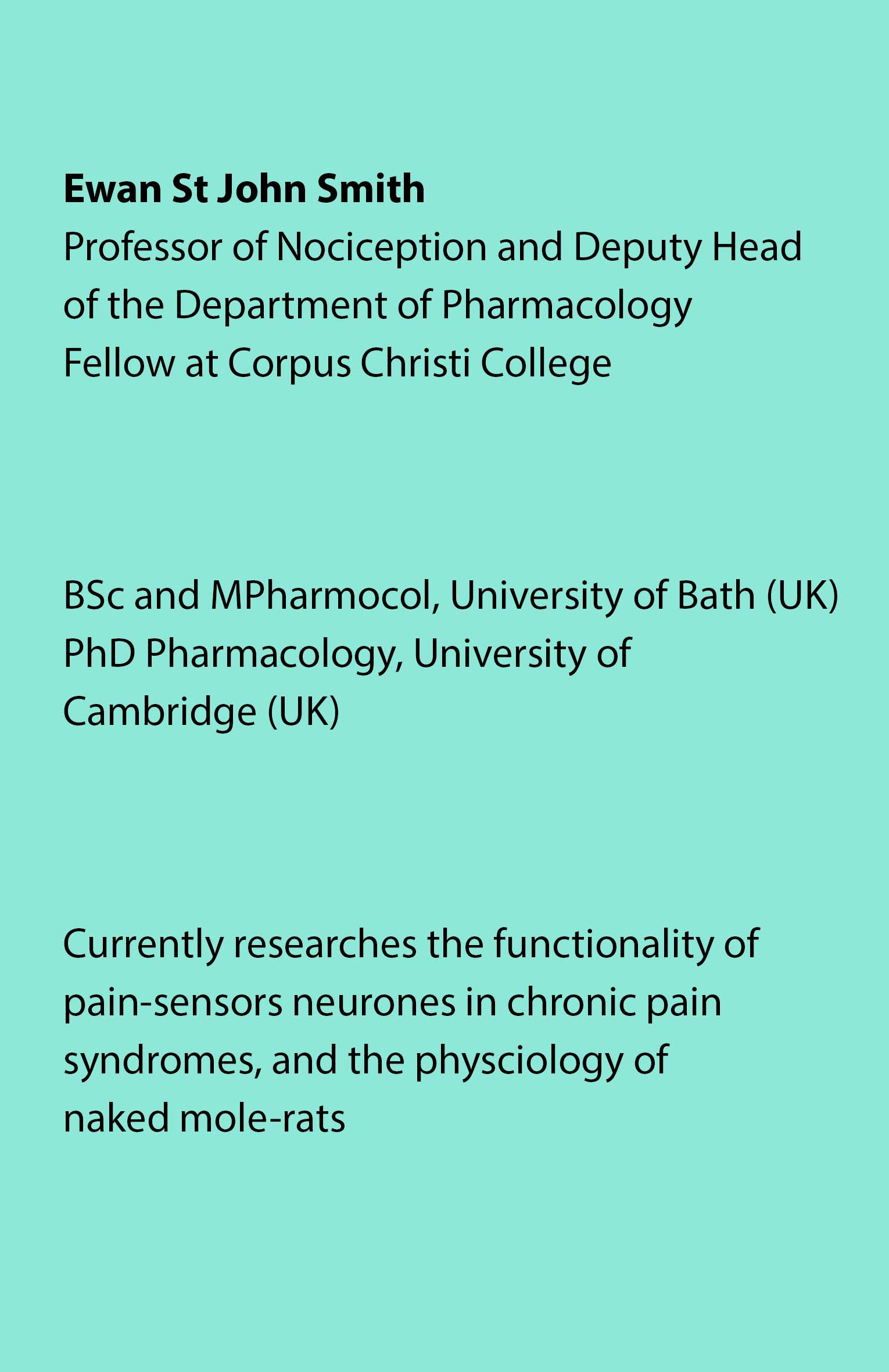 The badge 'You can ask me about my research' seems made for Ewan St. John Smith's jacket: he has always enjoyed talking to people of all ages about the work he does, and he is not good at saying no!
However, the academic career is a tightrope and it is easy to lose balance if you have many research, teaching, departmental, and College responsibilities.
That's why Ewan nowadays thinks carefully before committing to developing new engagement activities. What's his secret to maintain this balance without giving up public engagement?
Ewan's journey in public engagement began when he was a PhD student in Pharmacology at Cambridge where he helped run hands-on activities at the Cambridge Science Festival.
As a post-doc in Berlin, he enthusiastically volunteered to give talks as part of public engagement initiatives, no matter the initial language barrier.
In 2016 Ewan applied to take part in Cambridge Shorts, an initiative pairing researchers with filmmakers to produce a short film.
In a first 'speed dating' round researchers had to find others to work with, and Ewan joined forces with Dr Beth Singler, a researcher interested in artificial intelligence from the Faculty of Divinity.
The two partnered with Little Dragon Films, now DragonLight Films, to produce Pain in the Machine. The film explored the concept of developing robots experiencing pain similarly to humans and won the Research Film of the Year Award from the Arts and Humanities Research Council in 2017.
Ewan's enthusiasm and success in public engagement led him to coordinating the Department of Pharmacology's events at the Cambridge Science Festival for several years, as well as setting up the Young Pharmas outreach scheme with other staff in the Department.
The latter gives sixth-formers studying biology and chemistry a taste of what studying science at university and pursuing a career in science might be like.
The Cambridge Science Festival, Cambridge Shorts and Young Pharmas initiatives use University and Department resources, but if you want to do more public engagement you need funding.
"To secure funding for public engagement within your research grant, there needs to be a clear link to your research, a long-lasting impact, and a specific plan which leaves no doubts that both the research and the public engagement will be delivered."
Ewan St John Smith
Ewan has obtained funding for another film and an animation series by budgeting for them in his research grant applications.
In Ewan's experience, when applying for funding, it is important that the public engagement is strongly connected to the research project. It's also important to include budget to properly evaluate the outcomes and potential impact of your activity.
For instance, Ewan's group did an in-depth evaluation of the outcomes of his movie Gut Reaction. Those attending the premiere were surveyed before watching the film and then again after the viewing. Q&A sessions with researchers and clinicians, along with follow-up interviews with a subsection of the audience, provided further data for the evaluation.
"If you do public engagement because someone told you to do it, you probably won't get far, while if you are enthusiastic about it, you can begin helping others, speak to those who have done it before, and things will sort themselves out."
Ewan St John Smith
When submitting a research grant application, it is important to be realistic, especially if this is the first time you are applying for funding for public engagement activities.
Having a high proportion of the budget allocated to public engagement might not be well received by some reviewers. Some might question your experience and whether, on a three-year grant, you have enough time for the public engagement results to feed back into your research project. So breaking an engagement project down into achievable steps that can be evidenced is important.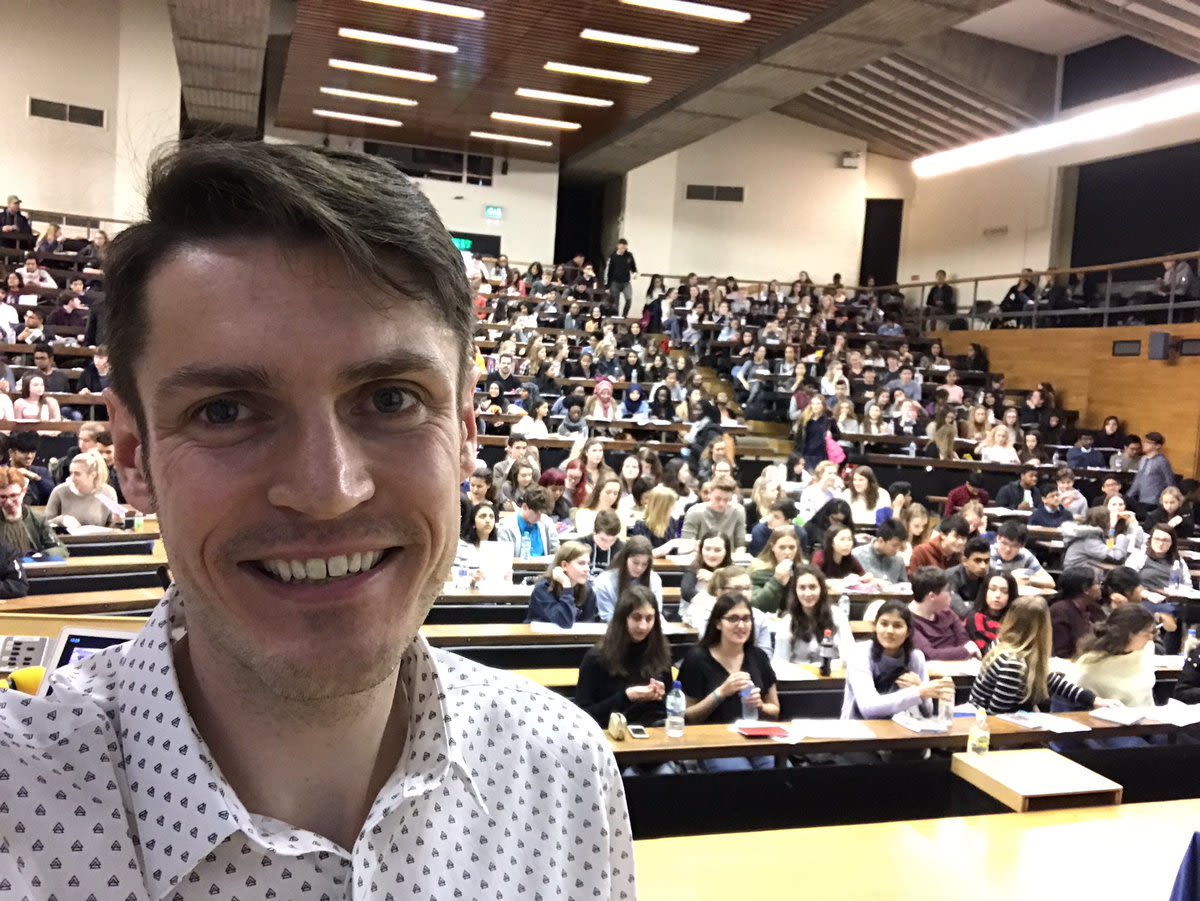 So what's Ewan's motivation to engage?
Besides wanting to encourage and inspire young people to pursue science careers, Ewan acknowledges how most of his research is funded by charities and taxpayers. For him it is just fair to share with them what their investment has allowed him to do
Increasing peoples' mathematical and scientific literacy is also important for Ewan, as there are instances, such as the current pandemic, when the public benefit from understanding scientific data presented to them.
He also welcomes the immediate reward of seeing the public getting excited in front of your eyes in contrast to experimental scientific research where the rewards often take longer to achieve.
Besides, 'How many times in your life are there people just wanting to hear what you have to say?!'
He regularly delivers talks at the Cambridge Festival, in schools, in pubs, within lifelong learning programmes, on radio and TV, as well as for summer schools that bring international students to the UK.
To plan his talks he focuses on the expected audience and identifies something they are familiar with that is connected to his research. He feels lucky as most of us understand what pain is. However, chronic pain is more challenging to discuss with young audiences. He chooses anecdotal stories, runs quizzes and provides statistics to keep the audience engaged.
"It is good fun talking about things that excite me, but in ways that excite other people too".
He also thinks it's important to talk about how research is done, including the use of animals. So each talk he does, includes a succinct explanation of how animal research is legally and ethically conducted in the UK, and makes the justification for the studies explicit.
To plan for his movies he relies on both his trusted creative partners and his research partners, particularly the medical charities he works with to bring expertise, skills and contacts.
"As a scientist you never want to tell something that is not scientifically proven, but in public engagement you often don't have room to discuss different arguments in depth or explain what research work would be needed to reduce the uncertainty. Working with creatives helps you find the best way to tell the story and make sure that the language stays understandable"
Ewan St John Smith
Charities conduct public engagement and can help identify people who might be interested in collaborating.
For instance, the charity Bowel and Cancer Research helped identify patients living with a range of bowel conditions for Ewan's movie Gut Reaction. Their expert knowledge and lived experiences provided insights and relevance to the research discussed.
With increasing responsibilities associated with his role as Deputy Head of the Department of Pharmacology and a growing research group, Ewan has moved from coordinating initiatives to a more mentoring role. He believes that new people joining established programmes can, and should, contribute fresh ideas.
As he is already applying for new animations within another research grant, it is pretty clear that he will keep delighting students, colleagues and public crowds with his work.
We cannot wait to enjoy some popcorn watching his next ratflix!
Follow Ewan on Twitter.
Public Engagement project credits
DragonLight Films (Pain in the Machine, Gut Reaction)
ScienceSplained (Animations)
Dr Beth Singler (collaborator on Pain In The Machine)
Dr James Hockley (collaborator on Gut Reaction)
Dr Diogo Gomes (collaborator on Gut Reaction publication)
A research article about the impact of Gut Reaction has recently been published.
Ewan's Public Engagement Journey
2003 - 2006:

Gives talks to other graduate students including non-scientists, helps at Department stalls at the Cambridge Science Festival
2006 – 2011:

Gives talks in German at the Lange Nacht der Wissenschaften [Long Night of Sciences] in Berlin, where he was a post-doc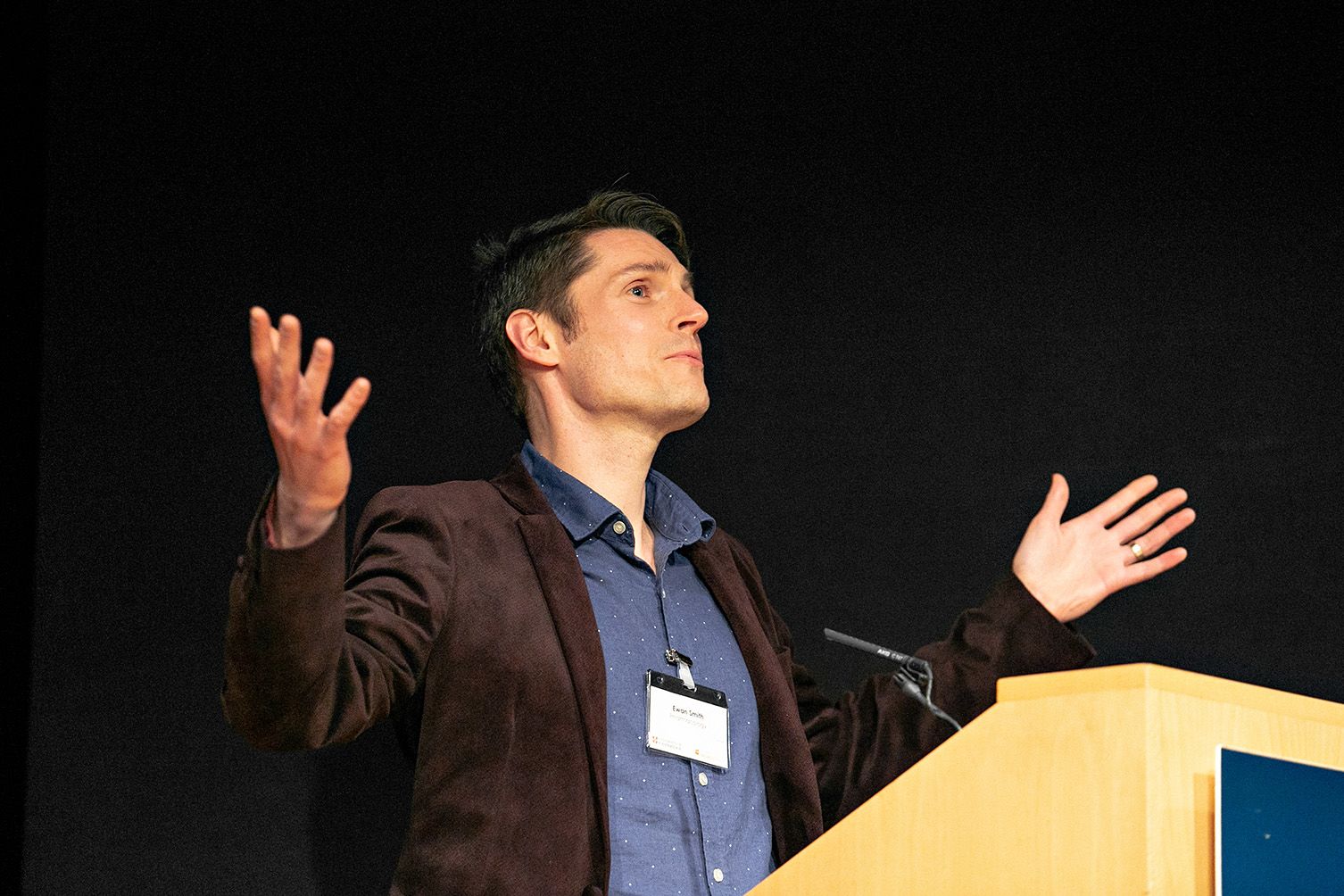 2013 - 2016:

Cambridge Science Festival coordinator for the Department of Pharmacology
2013 – present:

Outreach talks for the University and Corpus Christi College, in Cambridge and across the country
2013 - present:

Longlife learning talks
2014:

- Interviewed by BBC Look East

- Interviewed many times by BBC Radio Cambridgeshire
2016:

Participates in Cambridge Shorts and partners with a researcher at the Faculty of Divinity film to collaborate with Little Dragon Films on the film 'Pain in the Machine'
2017:

- Pint of science

- 'Pain in the Machine' receives the Arts and Humanities Research Council Research Film of the Year Award, runs activities

- gives a talk at the Cambridge BRAINFest

- interviewed three times by That's West Anglia TV

- gives a talk at the Cambridge Science Festival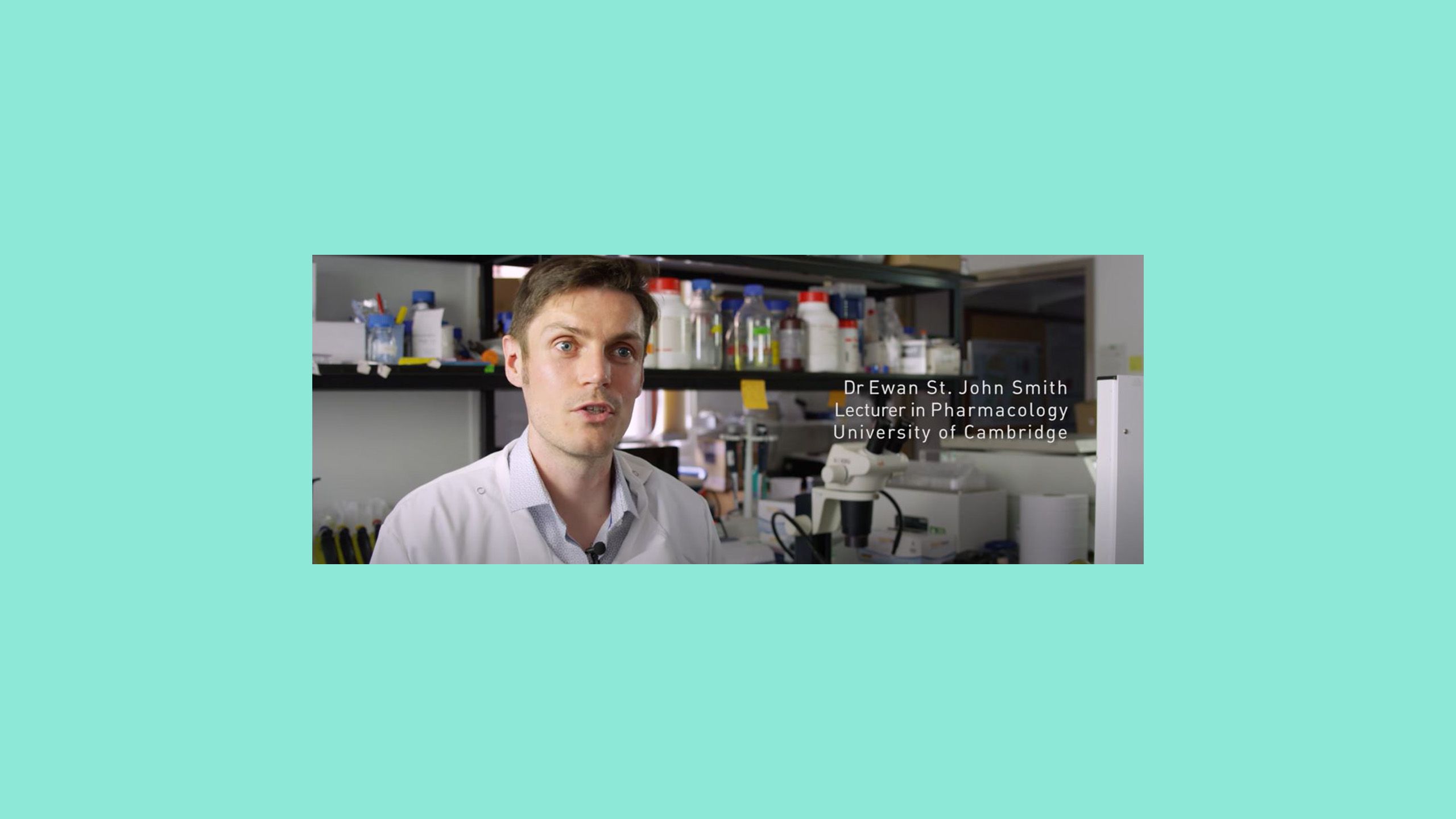 2021:

- animation series 'Naked Mole Revolt'

- Interviews and filming for Understanding Animal Research