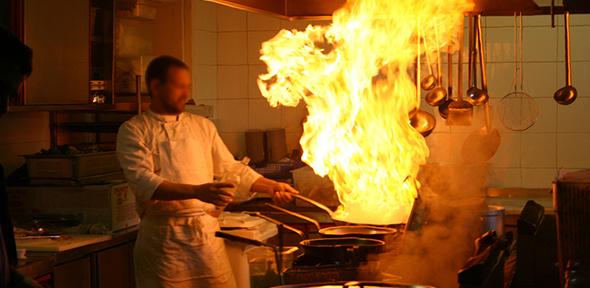 Frequently derided as stuck-up and exclusive, haute cuisine has dropped its posh image and is appealing to a wider range of customers than ever before, transforming the way we think about food in the process, according to new research.
Michelin-starred chefs are not posh and the culture of their restaurants is no longer elitist. Britain still suffers from an inverted snobbery about the whole thing

Christel Lane
They have traditionally been seen as the preserve of society's wealthy elite, characterised by snobbery, exclusivity and the sort of attention to etiquette taught in finishing schools.
According to a new study, however, Britain's top restaurants have jettisoned their pretentious image and are attracting a wider range of diners than ever before – revolutionising the way the nation thinks about food in the process.
The conclusions are among those in a new book, The Cultivation Of Taste, which is the most comprehensive analysis of fine dining in Britain published since the sector first started to develop in earnest in the 1980s and 90s.
Written by the Cambridge academic, Professor Christel Lane, it aims to provide a picture of the top end of the restaurant industry, examining how and why it emerged from the austere dining scene of the post-war era, and what its impact on British culture and taste has been.
The research was based on detailed interviews with some of the country's most celebrated chefs – among them Marcus Wareing, Brett Graham and Ruth Rogers - as well as diners at their restaurants. Lane also conducted a detailed analysis of the production models which underpin their Michelin-starred eateries, examining how the food is sourced, and how top chefs survive in such a high-pressure setting. 
Perhaps the most surprising finding which emerges, however, concerns how much British haute cuisine has changed over the past 30 years. Although its restaurants are frequently derided by critics as pompous and exclusive, Lane found that the clichés about fine dining are now more myth than reality.
Service is no longer over-formal, the menus have long-since ceased to be written only in French, and dress codes usually amount to little more than a ban on shorts and flip-flops. More tellingly, the clientele, far from super-rich, tend to comprise a far wider sample of the population. Many are now middle-class professionals who equate eating at a top restaurant to buying a ticket to a rock festival or the opera – in other words, an experience worth paying for.
The book argues that this has helped to transform British food culture – even for people who would never set foot in a Michelin-starred restaurant. Thanks partly to their celebrity status, the ideas of many of these chefs have found their way into cookery books and TV programmes, not to mention the menus of other restaurants as well, making large swathes of British society more discerning about what it eats.
Lane, who is a Fellow of St John's College, Cambridge, and Emeritus Professor of Economic Sociology, said: "Part of the motivation for the study was the need for a better understanding of the industry. Michelin-starred chefs are not posh and the culture of their restaurants is no longer elitist. Britain still suffers from an inverted snobbery about the whole thing."
"The way we choose to eat, and how we cook, has changed dramatically in recent decades. That has to be driven by something, and top level restaurants are what's driving it. To some extent they have become taste-makers for the nation, and have made us much more concerned about the provenance of the food on our plates."
Lane's research started as a comparative study of haute cuisine in Britain and her native Germany – both relative latecomers to the fine dining scene. As well as interviewing top chefs and their diners, she analysed the mechanics of 40 top restaurants, including leading British establishments such as the River Café, The Yorke Arms, The Ledbury, and Restaurant Sat Bains.
She found that their reputation as elitist was an exaggeration at best. Overall, the research pointed to the "democratisation" of fine dining. Most of the chefs were from humble backgrounds and resented the idea of excessive formality in their restaurants. Nor were they obsessed with luxury foods; many have become influential leaders of nationwide movements for resurrecting humble vegetables and cuts of meat, and for the local sourcing of ingredients.
Meanwhile, lunchtime deals, pre-theatre dinners and wider societal shifts have helped to transform the social mix of people now eating at fine-dining establishments. As one chef told Lane, "The wealthy are not the majority. Forty per cent are corporate, sixty per cent are individuals; mainly foodies."
The study argues that this has had a trickle-down effect for wider British culture. Helped not least by the media profile and celebrity status of many of the chefs in question, consumers are increasingly aware of the ethical and cultural standards which underpin the menus of top restaurants, such as the need to source fresh, local and seasonal produce; and to protect rare plant and animal breeds.
In addition, high-end restaurants, by demanding these standards, have helped to evolve the market for small-scale producers and suppliers, counteracting the negative effects of large-scale, industrialised food production.
Despite this, Lane still acknowledges that the transformation of taste is far from complete. At the time of the study (2010 – 12), about 20% of the nation's meals still came from plastic microwaveable containers.
As she also points out, however, our eating preferences started from a low base. In 1974, when Michelin stars were first introduced to Britain's limited post-war restaurant scene, there were 24 starred restaurants. Now there are 162 – a process which Lane describes as "astonishing catch-up", but one which has developed at a slower rate than comparable nations such as Germany.
In part, the study suggests the evolution has been hindered by a shortage of proper training, tough working and economic conditions, and lingering inverted snobbery over what it represents. There is still no national curriculum for training chefs; instead, students are put through what Lane calls a "diverse and haphazard" education system. The result, she argues, is a skills gap which has led to over-reliance on foreign staff in many of the restaurants studied.
The working environment of a top restaurant also remains stressful and psychologically intimidating. The pressure of the kitchen can have a devastating effect – many chefs suffer burnout, nervous breakdowns and even die prematurely as a result. For those starting out, pay is low and the hours are long, which means the turnover of labour remains high.
Such limitations have restricted the expansion of Britain's fine dining sector despite its recent transformation. Lane's study also found that in 2012, 33% of all Michelin-starred restaurants were in London, with none in Manchester, Liverpool or Leeds. "Britain is more acceptant of high standards in food and more people seek it out, but that does not apply to everyone," she added. "The new culture of fine dining has not yet penetrated the country as a whole."
The Cultivation Of Taste is published by Oxford University Press. For further information please click here. 
For further information about this story, please contact: Tom Kirk, tdk25@cam.ac.uk 
---

This work is licensed under a Creative Commons Licence. If you use this content on your site please link back to this page.
---