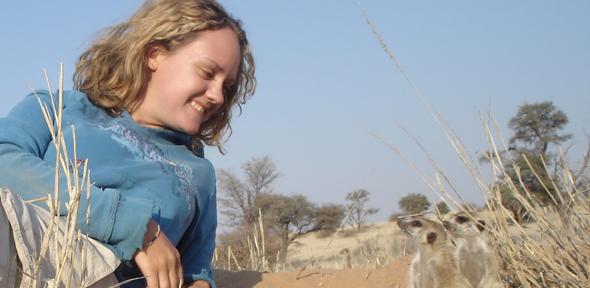 Reporting back from her time spent in the Kalahari Desert, PhD student Kirsty MacLeod describes the fascinating life of a gang of meerkats that includes an audacious boy called Bruce and a good-natured girl called Ru.
Bruce is a local hero for his audaciously bold guarding of his group – he can often be seen high up in some tree, watching the horizon with a fierce expression.

Kirsty MacLeod
I never thought I would be quizzing people over a radio about the sandiness of nipples. Then again, I never foresaw that for many months my days would start with a bump, lurching over sand dunes in a Land Rover, heading off to find meerkats, to whom those nipples belong. Life in the Kalahari is inherently full of surprises.
My PhD research with Professor Tim Clutton-Brock has brought me here, to the far northern reaches of South Africa, where I study the phenomenon of allolactation – essentially, wet-nursing. In each of the 16 groups of meerkats scattered across our large reserve, only one dominant female will breed. The other females in the group will help her to raise her young, sometimes even lactating for them. This year though, those females are not being forthcoming, and their nipples, which will have wet, sandy rings around them if they are allolactating, remain dismally dry.
The radio crackles as the network of volunteers spread out in separate cars and on foot to begin the task of monitoring different meerkat groups. I'm dropped off, and suddenly am in a state of solitude that I've come to find blissful. At the top of Sandy Hill, a large dune and one of our main landmarks, I leave grey flat scrub behind me and come to my favourite part of the reserve. Here the grass is a dry platinum, and dunes tumble gently into wide valleys. Tall trees, now erupting into a lush green after the first rains, are dotted evenly like a wild orchard. I love best the southward vista, where the dunes drop so suddenly to the flats that it looks like the edge of the world.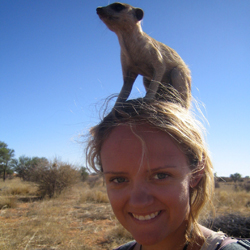 It is the edge of the world for my favourite group of meerkats, the Sequoia group. I find their burrow just in time – the first to rise, just as the sun is coming up, is Bruce. He's the dominant male of the group, a well-built and handsome meerkat easily recognisable from his striking left shoulder and left thigh dye marks, our means of identifying each individual. Bruce is a local hero for his audaciously bold guarding of his group – he can often be seen high up in some tree, watching the horizon with a fierce expression. The dominant female, Ru, is a big, good-natured girl, and her cohort are characterful and a pleasure to wander in the dunes with.
After weighing each individual and conducting a roll-call, I follow the females I'm interested in – the dominant female and the potential allolactators – and collect detailed data on their every move, as well as staying aware of what's going on with the whole group. Summer in the Kalahari is a time to watch your step too. I walked past the same bush dozens of times in Sequoia territory last week before we heard the telltale deflating-football sound of a deadly poisonous puff adder coiled menacingly at its base. It raised a lazy head at a young male venturing too close, who thankfully alerted the group, and me, to its presence.
Watching my step is also important for happier reasons – to avoid the plucky little pups who dart around the adult females that I'm following in the hope of getting fed a juicy grub. The pups at Sequoia are obsessed with shoes, and play-forage around my heels as I record observations on their mother. If I sit down, there's soon an investigation of my hems, laces and pockets. The pups are still the size of my palm, though getting heavier by the day.
There is a time somewhere between 11 o'clock and midday when the Kalahari turns from a balmy, soft-edged paradise to a hell that crackles underfoot and becomes alien and angry, with a sudden fierce heat. Time to head home, and sleep off our early morning.
I'm back out again mid-afternoon though, this time looking for Pandora, a group at the far edge of the land we cover. I find them using signals from a tiny radio collar that the pregnant dominant female, Toblerone, wears around her neck. But something odd is going on this evening  and I find I'm getting a strong signal for Toblerone below ground, at the group's burrow. Luckily most of the rest of the gang, including a lovable adult male called Cecil – an incorrigible lothario with neighbouring groups – are foraging fairly nearby.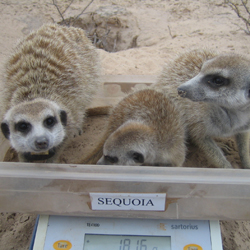 It's cooling now, but it's been a long, hot afternoon, and when we return to the burrow at dusk, they are all eager to jump on my scales and be weighed, and then receive the gulps of water we reward them with.
After a few moments, I discover the reason for Toblerone's absence is just as I expected – she emerges, sleek and placid, with the suckle marks on her belly of some strong and healthy pups, born this afternoon. And even better news for me, the oldest subordinate female also appears, and by the sandy rings around her nipples, it looks like she has also started lactating – the first allolactator of my study. Like I said, the Kalahari is full of surprises – the tiny bundles of life produced in this dry, hot world are the best of them all.
Kirsty MacLeod
Kirsty MacLeod is a PhD student with Professor Tim Clutton-Brock In the Department of Zoology.
---
The text in this work is licensed under a Creative Commons Licence. If you use this content on your site please link back to this page. For image rights, please see the credits associated with each individual image.

---