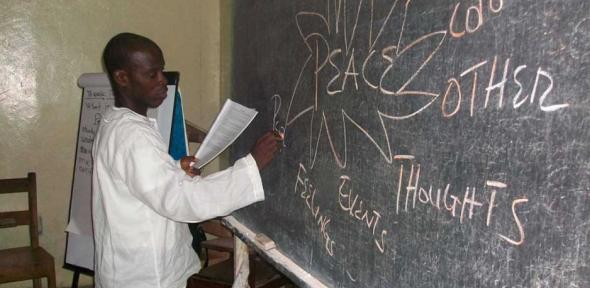 As a teenager, Mainlehwon Vonhm walked alone, barefoot and hungry out of war-torn Liberia to the safety of a refugee camp. Two decades years later he flew home from the USA to set up a charity that helps young people to live in peace. Currently studying at Cambridge's Faculty of Education, Vonhm will this Thursday give a public talk about the challenges facing his country.
In the classroom, pupils sit clustered in groups – displaced and refugees on one side, orphans on another, former child soldiers at the back.
I was brought up in a close, loving family in a bustling city in Liberia, West Africa. We weren't rich but we always had enough to eat and money for school uniform and text books. Sunday school and Bible stories gave me and my siblings a solid moral foundation.
These values helped me to survive during a terrible time in the history of my country – a period when village turned on village, children became soldiers and thousands of people were killed and maimed. My family suffered too. But many young people, who were even less fortunate than we were, were drawn into a cycle of violence will go on and on unless something positive is done to address it.
My own story of living through civil war – and the chaos and despair that it brought with it – may help to give an idea of what happened to many thousands of people and why three years ago I founded the Centre for Peace Education (CPE) to work with young people in Liberia. CPE's 15 full-time teachers work with students aged 12 to 25 and the organisation has so far reached more than 2,000 youths and elders.
On Christmas Eve 1989 Charles Taylor and his National Patriotic Front of Liberia (NPFL) began a rebellion. I was 19 years old and a high school senior. I remember hearing about Taylor on television and radio; everyone was talking about him. We began stockpiling food in our house in Smell No Taste City. On the street I saw people crying as they fled the war from towns further north. Many explained that a loved-one had been killed because Taylor and his NPFL rebel forces had assumed that the person was working for the government. The rebels were also killing along tribal lines.
My father, a junior high school principal, and my mother, a local market-trader, were in fear of their lives as my father worked for the government. They could not sleep at night as they planned to escape. I wanted to protect the house and the food we'd gathered so when my family left I stayed at home alone. I had no idea of what might happen. On June 8, 1990, I was glued to my radio as I listened to Cameroon defeating Argentina, the reigning champion of World Football, in the opening match of World Cup Football. I was filled with joy.
The following day the city came under heavy attack by Taylor and his NPFL forces. I started figuring out ways to escape to a safe haven. I walked out of the house with a travel bag containing one t-shirt, trousers, a comb, a soap bar, a toothbrush, a school ID, a pair of slippers, and few Liberian dollars. Half a mile from home, I thought about going back to get some food, but I was too afraid. I remembered the story in the Bible about Lot's wife, who turned into a pillar of salt when she looked back to see Sodom and Gomorrah. I knew that if I returned, I would be killed.
After walking for about 20 miles from Smell No Taste City along the road that leads to Grand Bassa, a route I took because my mother is from Grand Bassa County and I speak the local language, I reached the NPFL rebels' first checkpoint. My small bag with everything in it, and even the tennis shoes on my feet, were taken from me.
The rebels were teenagers like me, but they were dirty and had rough hair and unshaven beards. That night, I tried to sleep under a tree with some people who were also fleeing. The noise of the rebels getting high on drugs and firing guns kept us awake. In the morning I felt utterly miserable. I went into the bushes to urinate, found a stick to brush my teeth with, and a creek to wash in. This became my daily routine as I made my way through rebel-held territory.
With no map and no shoes, I walked on. As the days went by, I became very angrier and angrier with the rebels. I could not express my feelings or emotions and I feared for my life. My entire body started to hurt and my feet were sore and blistered. I saw elderly people starving to death and babies left to die by the roadside by parents unable to cope. I felt hopeless for Liberia's future and what I witnessed made me I cry bitterly. Each day was a matter of survival.
I was caught by the rebel forces, humiliated and tortured; the scars are still on my body. Eventually I managed to flee Liberia and for five years I lived as a refugee in several West African countries, where I worked on farms in return for food. Some days, there was no work and I went hungry. Even within the refugee camps there was a constant shortage of food, blankets and medicines. But what mattered was that I was still alive – and I never gave up hope.
In the fall of 1996 I met the principal of the elementary section of the International Community School of Abidjan, Ivory Coast, where I had found some work.  This kind man, an American, listened as I told my story. He believed in me. Through his efforts I was able to resume my education, which had been interrupted for seven years. A year after meeting him, I flew to the United States to go to university.
In 2004, I earned a Master of Arts degree in International Peace and Conflict Resolution from American University in Washington. After graduation I worked for several NGOs, including the Catholic Charities Refugee Center and the World Bank. In 2005 the World Bank flew me back to Liberia as a community development consultant.
When I arrived in Liberia I saw youths continuing to use violence as a means to sort out their differences. The civil war has created a generation that lacks a sense of a positive future and struggles to live without the guns which had become an integral part of their identity. Without their guns, and with no experience of living in peace, these young people feel like they are nothing – worthless, powerless. With their emotions barely suppressed, and with no outlet to express their feelings, I describe them like a ticking bomb, just waiting to go off. When victims and those who have victimized them are in dispute, civil war is always just around the corner.
Imagine being a teacher walking into a classroom full of bright, smiling faces. Beneath these smiles lies the trauma that many of these young people live with. Some have been child soldiers. Many have been perpetrators or victims of terrible violence. There are amputees whose limbs have been blown off and had to wait months for hospital treatment. Some have seen their family members killed in front of them.  In the classroom, pupils sit clustered in groups – displaced and refugees on one side, orphans on another, former child soldiers at the back.
How can these young people sit together and learn in an atmosphere of harmony and cooperation?  They need help to express and resolve their differences and come to turn with the reality of their new-found peace. This is why I founded the Centre for Peace Education (CPE) to work in Liberia in schools and in local communities with children who do not have the means to be in schools. It's also why I have spent the last year at Cambridge doing an MPhil at the Faculty of Education to learn more about how to help young people in a post-conflict context. In June I received an offer from the Education Faculty to take my studies forward to PhD level, something that's tremendously exciting.
Mainlehwon Vonhm will be talking about the Centre for Peace Education on Thursday, 26 July 6-7pm, in the Garden Room at St Edmund's College, Cambridge. All welcome.  www.peaceedu.org
---

This work is licensed under a Creative Commons Licence. If you use this content on your site please link back to this page.
---