This Cambridge Life
The therapist encouraging students to reach out
Christopher Haylock at the Student Services Centre
Christopher Haylock at the Student Services Centre
Christopher Haylock, Head of the University Counselling Service (UCS), is transforming the service to ensure it provides the best possible support to students at the point of need.
I've always aspired to help people. I studied psychology and went on to train as a counsellor, practising for 15 years. During this time I have moved into managing counselling services in higher education institutes.
Today, I oversee a team of therapists, counsellors and psychologists who support students at the University. UCS is part of the Student Support Division which provides a range of services including the Accessibility and Disability Resource Centre, Mental Health Advice Service, Sexual Assault and Harassment Service and shortly, a Wellbeing Advisory Service.
As well as running UCS on a day-to-day basis, my role is to facilitate strategic change. I'm working to implement our vision for the Service, which means delivering on the 10 recommendations set out in the University's recent Mental Health Strategy Review.
As part of this, on 12 September we introduced a new service delivery model called 'one at a time therapy'. The model aims to provide therapeutic support at the point of need rather than having to wait. Practically, this means that UCS will aim to offer an initial 75-minute appointment within 10 working days of a self-referral.
At the appointment the therapist will focus on the student's most pressing concern. Afterwards, the student is asked to reflect on the session, digest their learnings and experiences from the session and act upon these. They are asked to wait two weeks or more for the session to take effect and then decide if they would like a follow-up appointment.
The 'one at a time' model puts the client, in this case students, in the driving seat. They decide if, and when, they want to come back, knowing that more sessions are available if needed.
The approach is supported by research showing 50% of clients feel that one session is sufficient for their current needs. Similar findings have been replicated in services across the world. In fact, the mean number of sessions of therapy offered in the entire world is just one. This suggests that even one session of therapy can be beneficial to your well-being.*
The model means students won't have to wait more than two weeks for an appointment. It works particularly well with Cambridge's short eight-week terms. I believe the fluidity and flexibility of the approach is beneficial to students who have many demands on their time.
We're implementing a number of additional improvements to UCS. These include bringing on board a range of therapist counsellors and psychologists from diverse backgrounds to meet student's needs and preferences. We're investing in additional therapeutic training for our staff. We're also looking at how we can enhance our services through face-to-face and remote means. And importantly, we want to create a stronger network of support for students by fully integrating with other services in the Student Support Division and the wider Collegiate University.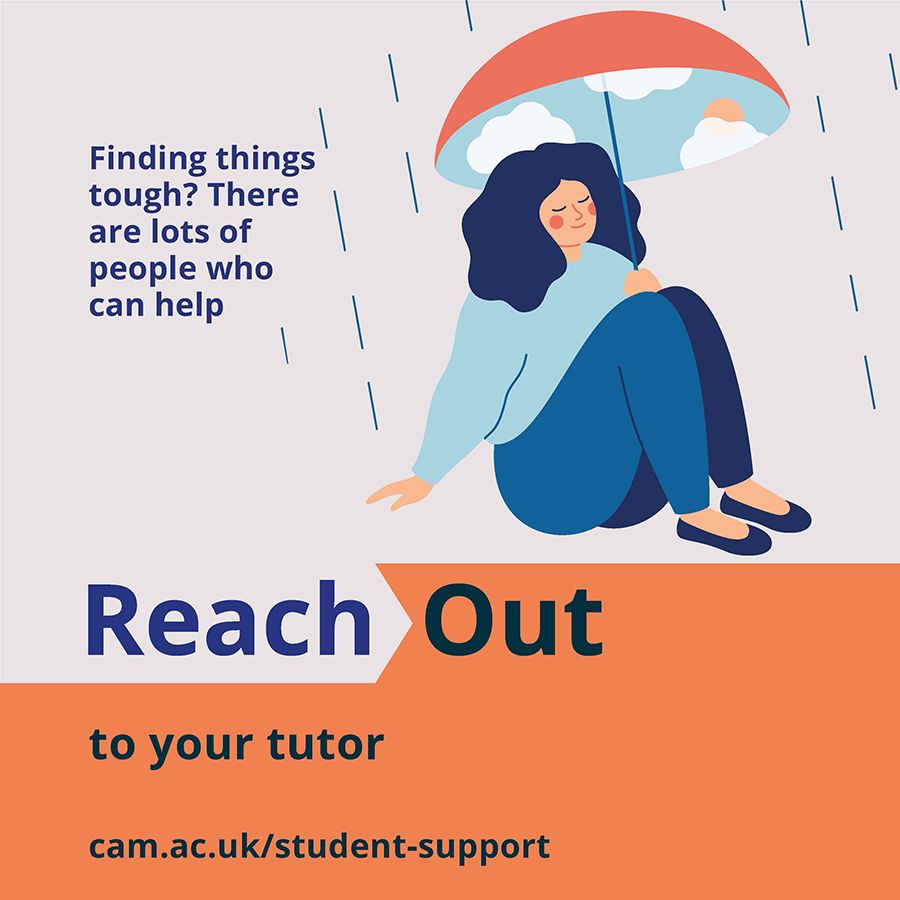 This autumn the University launched a new campaign, called Reach Out, encouraging students to ask for help if they need support. This could mean speaking to a friend, a College nurse, a tutor, a Director of Studies, a GP, the UCS, or any team in the Student Support Division.
Students are entitled to access UCS. All the services within the Student Support Division are confidential, compassionate, non-judgemental and very empathetic. There's no shame or stigma in acknowledging that one might need help. I would encourage students to reach out to us for support, as we are here to help you.
*Capturing the Moment – Single Session Therapy and Walk-In Services, Hoyt, F. & Talmon, M. (2014).
Published 7 November 2022
With thanks to:
Christopher Haylock
Words:
Charis Goodyear
Photography:
Lloyd Mann
The text in this work is licensed under a Creative Commons Attribution 4.0 International License