The women helping to change the story of ovarian cancer
Every patient with cancer has a story to tell of their journey through diagnosis and treatment. We meet a group of women who are at the centre of pioneering research in Cambridge that's changing the outcome of ovarian cancer – helping to create treatments that are as unique as their stories.
"The diagnosis date is etched in my brain: 5th October 2018. There was that moment when the waiting room emptied and I said to my husband 'This isn't right, something's wrong'."
Despite having no obvious symptoms and feeling well, Melanie was diagnosed with ovarian cancer. As with other women diagnosed with this rare but potentially devastating cancer, she was about to embark on a journey that would involve multiple investigations including tumour biopsies and imaging, as well as chemotherapy and other treatments.
"It was a frightening time but my husband and daughters have provided the most amazing support. We'll put on our positivity playlist and we'll dance around the kitchen, and my girls will say, right mum, we're going to get through this."
During her care at Cambridge, Melanie was invited to collaborate with researchers as part of the Ovarian Cancer Research Programme at the Cancer Research UK (CRUK) Cambridge Centre. She's now a member of a patient group that provides advice and input into research and clinical trials at Cambridge to improve outcomes for her and for other women similarly affected.
Fellow member Fiona says: "Everybody who's joined the patient group wants to help with the research and wants to help future patients, because ultimately most of us will not be around to actually get any benefit from it."
Although both women were diagnosed with the same type of cancer, their cancers, and the ovarian cancers of other women, were in many ways quite different – and this could modify how they respond to treatment.
"One thing that I didn't fully appreciate was that each cancer is different and personalised medicine can mean that you have a higher probability of succeeding in your treatment," says Fiona "In my case, my genetic makeup meant the prognosis is much better on a particular regime of drugs, which is partly why I am clear at the moment."
The women meet virtually several times a month, offering each other support during a life-changing time. Their unique experiences are helping to frame and refine research questions, as well as improve service delivery, in a programme led by Professors James Brenton and Evis Sala at the CRUK Cambridge Centre.
Without the women, the research would not be possible, says Brenton:
"Every blood test they've done; every scan; every appointment, monitoring their own tumour… every contribution to reviewing and improving the science proposals to understand what they are suffering from… these amazing contributions all bring us closer to overcoming ovarian cancer, not just in Cambridge, but all over the UK and the rest of the world."
We hear about research that's helping to change the story of ovarian cancer and meet some of the women at the centre of the programme: Panagiota, Margaret, Lorraine, Fiona and Melanie.
Panagiota was first diagnosed in 2021 and then underwent chemotherapy before receiving surgery to remove her cancerous tumours.
"It's a very sneaky type of cancer to have when there is no screening programme. With breast cancer or cervical cancer, there are [regular] tests and if something is slightly abnormal you immediately get referred. There isn't something like that for ovarian cancer."
Panagiota experienced various symptoms that didn't quite feel right for a couple of years. She felt pain and swelling in her abdomen and intestines for around six months. Her GP ran tests but the results were inconclusive at first, so no further action was taken. As Panagiota's pain became more severe, she was sent for additional blood tests. That same day, her doctor called and instructed her to go to A&E to be treated for suspected pulmonary embolism.
CT scans of her upper body showed nodules at the bottom of her rib cage. Panagiota received a stage 3, metastatic ovarian cancer diagnosis; the cancer had spread to the peritoneum and throughout the abdominal area. She was shocked, having been in very good health until then.
Panagiota got through the incredibly difficult treatment time with the help of her loving family. She underwent multiple rounds of chemotherapy to shrink the tumour before surgery, which proved a success. She says she was treated by an amazing multi-disciplinary team at Addenbrooke's Hospital in Cambridge who have since put her on PARP inhibitors, a new cancer drug, to stop the cancer from returning.
Panagiota is still closely monitored with frequent tests and hopes that other women will keep an eye on the 'sneaky' ovarian cancer symptoms that are often missed. She is also passionate that more funding be put into research to help other women to be diagnosed and treated faster in the future.
Read Panagiota's update one year on.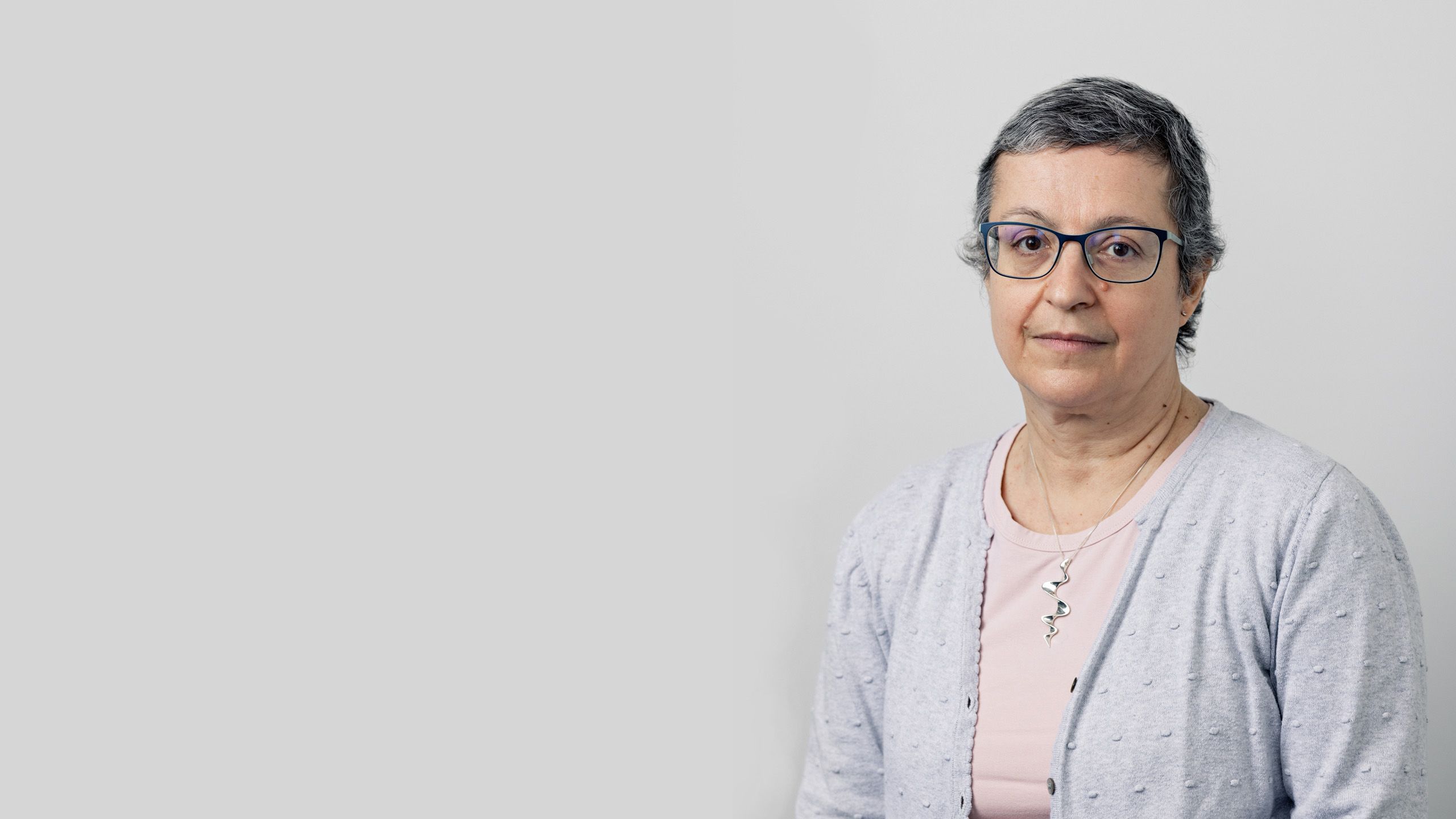 A difficult cancer
Each year about 7,500 women in the UK are diagnosed with ovarian cancer, and around 5,000 will have the most aggressive form of the disease.
"It's a challenging disease to diagnose and treat," says Brenton. "The symptoms can easily be missed or misdiagnosed and the disease has often spread around the abdomen before a woman is diagnosed, making treatment – and even imaging – a challenge. In addition, high-grade serous ovarian cancer has the most complex genetic damage of all human cancers, which makes it much easier for this disease to acquire resistance to treatment. These chaotic changes in the cancer cells mean that every patient is unique."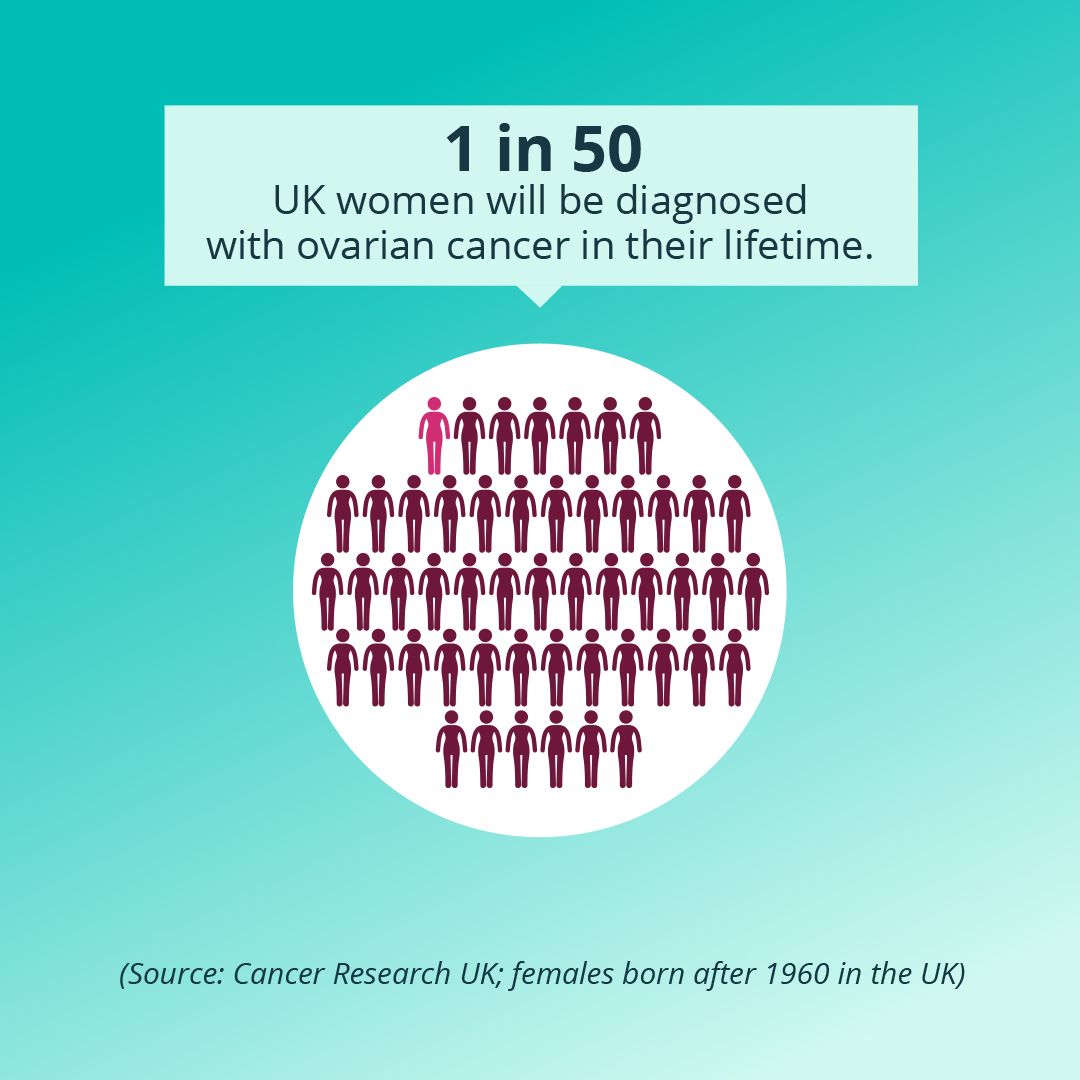 The cure rate for women with ovarian cancer is very low despite new medicines coming into the clinic. Only 43% of women in England survive five years beyond their ovarian cancer diagnosis, compared with more common cancers such as breast (85%) and prostate (87%).
Part of the problem is that most patients present with advanced disease, and although 70–80% of patients will initially respond well to chemotherapy, ultimately most develop resistance, leading to treatment failure. In fact, a recent study found that 39% of patients did not see any benefit at all from chemotherapy.
"The narrative that ovarian cancer is a complex disease with poor outcomes hasn't really changed for 20 years," says Brenton.
Brenton and Sala's research – in which the ovarian patient group plays a vital role – aims to address this. One study, for example, is investigating the mechanisms of treatment response that result in resistance to chemotherapy, with the aim of improving the prognosis for women with advanced stage ovarian cancer.
Research like this is starting to help inform clinical decisions regarding the best time to have chemotherapy and surgery – and to identify when patients aren't going to benefit, enabling them to be switched to a trial or a new treatment that will work better.
Margaret's diagnosis came just before Christmas 2020, against the backdrop of COVID-19 restrictions.
"I'm more positive about everything since joining the group. I hope that, even if there is no improvement for treatments for me, that at a later date I may help other people."
Margaret noticed that she was having to stop to use the toilet while driving to work, and eventually developed severe pain. Having recovered from kidney cancer, she was concerned. This was clearly more than the urinary infection that her GP had initially suspected.
When she was eventually diagnosed, she was devastated. COVID-19 restrictions meant she had to attend the appointment alone. Margaret says her hardest point was the two weeks after diagnosis. It was her grandson's first Christmas so she deferred telling her family to preserve their special family day.
After surgery which diagnosed stage 3 ovarian cancer, her treatment thankfully has been a success so far but she says it has been a lonely journey. Following chemotherapy she has been treated with new drugs – PARP inhibitors.
Participating in research at Cambridge has helped Margaret to understand her illness better and keep a more positive attitude. She hopes that volunteering will help benefit all women with the disease, and urges anyone in her position to come forward.
Read Margaret's update one year on.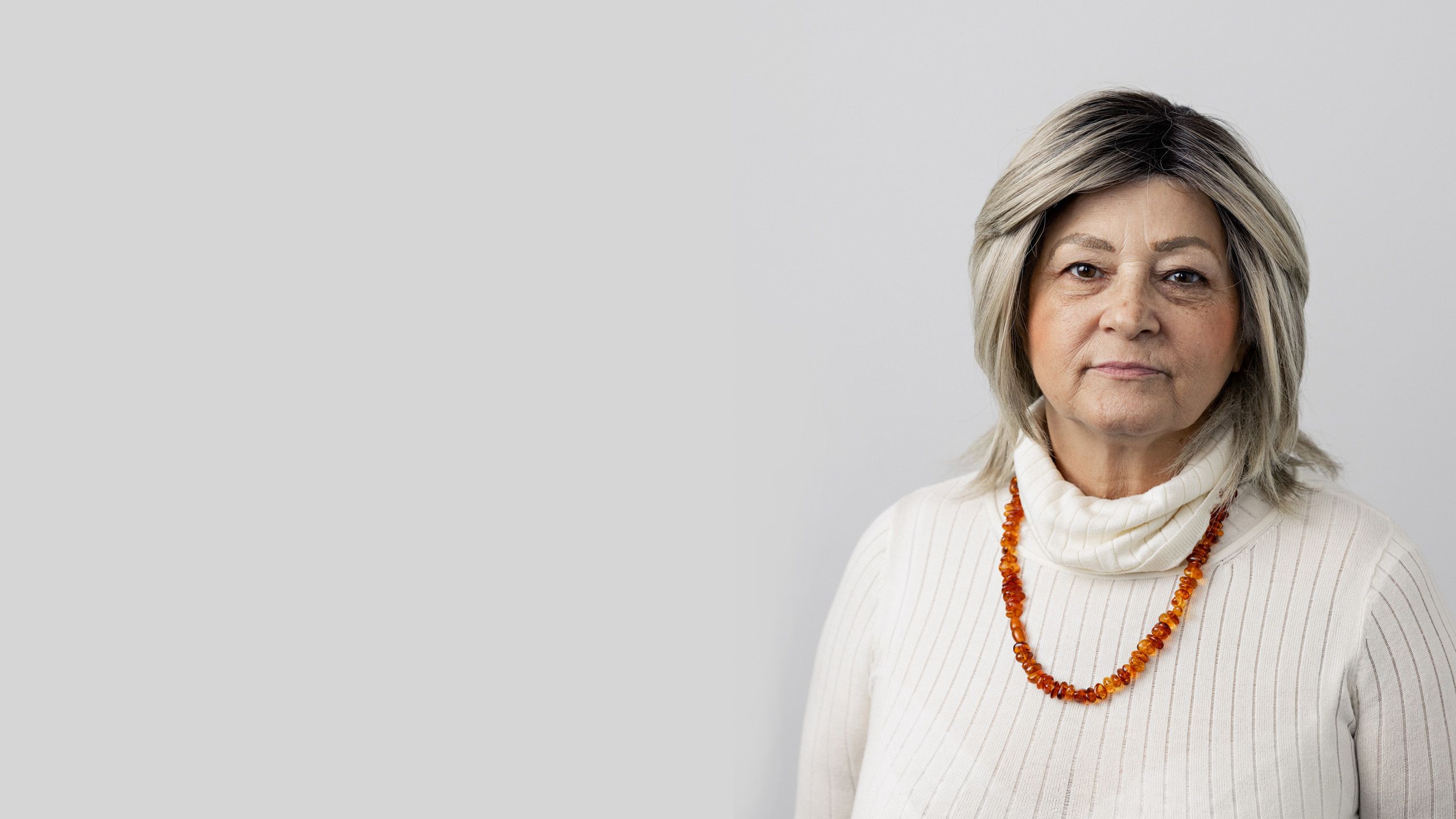 Integrated cancer medicine
With ever-improving technologies, modern medicine produces vast amounts of complex data for any one patient – clinical features, imaging, genomic data, molecular tests, tumour pathology, treatment outcomes – but the information is frequently fragmented, siloed and disconnected, creating a challenge for clinicians to manage effectively.
Brenton and Sala's research aims to change this by harnessing the power of machine learning to integrate the various streams of patient data and to identify patterns that can help predict disease response and resistance. In other words, it will help clinicians find the right treatment for the right person at the right time.
Their work on ovarian cancer forms one strand of research at the Mark Foundation Institute for Integrated Cancer Medicine at the University of Cambridge. New treatments resulting from integrated cancer medicine are already being applied to manage patients on trials with breast cancer, renal cancer, pancreatic cancer and patients with high-grade B cell lymphoma.
The research on ovarian cancer is being used as a proof of concept for developing an application based on integrated cancer medicine by GE Healthcare in collaboration with the University of Cambridge and Cambridge University Hospitals. The aim is to offer all medical teams involved in a patient's cancer care simultaneous access to the necessary data and information to allow the medical team to plan the best, most personalised treatment for each of their patients, as Sala explains:
"
The team aims to transform the delivery of cancer patient care by integrating multiple data streams together into a single platform that can be accessed simultaneously by clinicians, patients and multi-disciplinary teams from tertiary and regional hospitals."
Lorraine was first diagnosed in 2019 and underwent chemotherapy in 2020.
"The thing about ovarian cancer is the mortality rates haven't changed in over 20 years, but hopefully with all the advancements they are making, I could live to 90."
Lorraine's diagnosis came when she'd decided to go on a diet as a new year's resolution in 2019. She'd been on a strict regime for six weeks and instead of losing weight, she gained ten pounds. Initially, doctors began treating her for gallstones until she moved hospitals and saw a consultant at Addenbrooke's Hospital in Cambridge. She was sent for a scan and diagnosed with ovarian cancer.
Lorraine had her tumour operated on which was then diagnosed as stage 3 ovarian cancer. After spending time in hospital, Lorraine began chemotherapy and had a total of eight doses with her treatment concluding in March 2020 as the pandemic began. She's also been treated with PARP inhibitors.
Since relocating to Somerset, Lorraine is now being treated by the oncology team at the Beacon Centre, Musgrove Park Hospital in Taunton, as well as continuing to be part of a trial at Addenbrooke's. Although Lorraine hasn't been declared cancer free to date, she says she doesn't let her cancer status define her.
Lorraine donated her tumour to help further research and continues with regular blood tests. With her granddaughters front of mind, the reason she joined this study is to help improve the detection and treatment of ovarian cancer in the future so that there is a better outcome for women.
Read Lorraine's update one year on.
New cancer hospital
Integrated cancer medicine technologies and precision treatments will form a key part of the Cambridge Cancer Research Hospital planned for the Cambridge Biomedical Campus. In December 2021, the hospital received approval of its strategic outline case by the Department for Health and Social Care and NHS England & NHS Improvement.
"[In the new hospital] we'll see the true meaning of the multidisciplinary team," says Sala. "We are used to doctors and nurses looking after patients. But we will have mathematicians and engineers having their input behind the scenes, with the science and the medicine really merging together in a way that hasn't been done before."
Moreover, bringing together complex data with machine learning techniques means clinicians will be able to make better decisions for patients, not just in Cambridge but, by sharing the model with other hospitals, across the UK and the world.
Sala adds: "The combined expertise and resources being deployed to help fight cancer in Cambridge offers real promise for improving the way we manage the disease in our NHS in the years to come. We are pushing forwards the development of new technologies and tools such as advanced image analysis and AI-based multi-layer data integration that could help us design better treatment pathways for cancer patients.
"While this programme is focused on fighting ovarian cancer, the University of Cambridge along with its industry partners and the life sciences community here will help the UK at large lead the world in the research and treatment of a variety of cancers."
The ambition for the new hospital is to be truly transformational, as Professor Richard Gilbertson, Head of Department of Oncology and Director of CRUK Cambridge Centre, explains: "Patients will receive the highest-quality care with the best possible therapy at the forefront of research. The hospital will bring the power of unified information to the bedside of each patient, optimising their chance of an extended life."
"We currently focus integrated cancer medicine on breast, ovary, renal, pancreatic and haematological malignancies, but we'll spread that to all cancer types. By locating research at the heart of our hospital we will change the story of cancer for patients locally, regionally and across the globe."
Professor Richard Gilbertson
Fiona, a secondary school biology teacher, was first diagnosed in 2017 and has been clear of cancer since 2019.
"I believe the personalised aspect of my treatment was very important. It allows you to know that you have a higher probability of succeeding in your trials."
As with most other women, Fiona's initial symptoms were very mild. No pain, just a bit of discomfort and tiredness. She put it down to the menopause and only went to her GP eventually because she started working part-time, so had the flexibility.
After the results of a blood test, Fiona was asked to attend a scan at the local hospital. She wasn't too concerned but things escalated quickly. Soon, she was referred to Addenbrooke's Hospital in Cambridge. What had started as slight discomfort turned into a stage 4 ovarian cancer diagnosis.
Thankfully, given Fiona's type of cancer, the treatment options were very clear. She soon fell into the 'new normal' of hospital visits, and benefitted from the support of her family and colleagues. In 2019 she was declared 'all clear', but still keeps a close watch on her own health, going for regular blood tests.
Fiona participated in research for the University of Cambridge because she wanted to help other women – including her own daughter. She was determined to use her experience positively and help Cambridge's researchers continue to secure funding for their work.
Read Fiona's update one year on.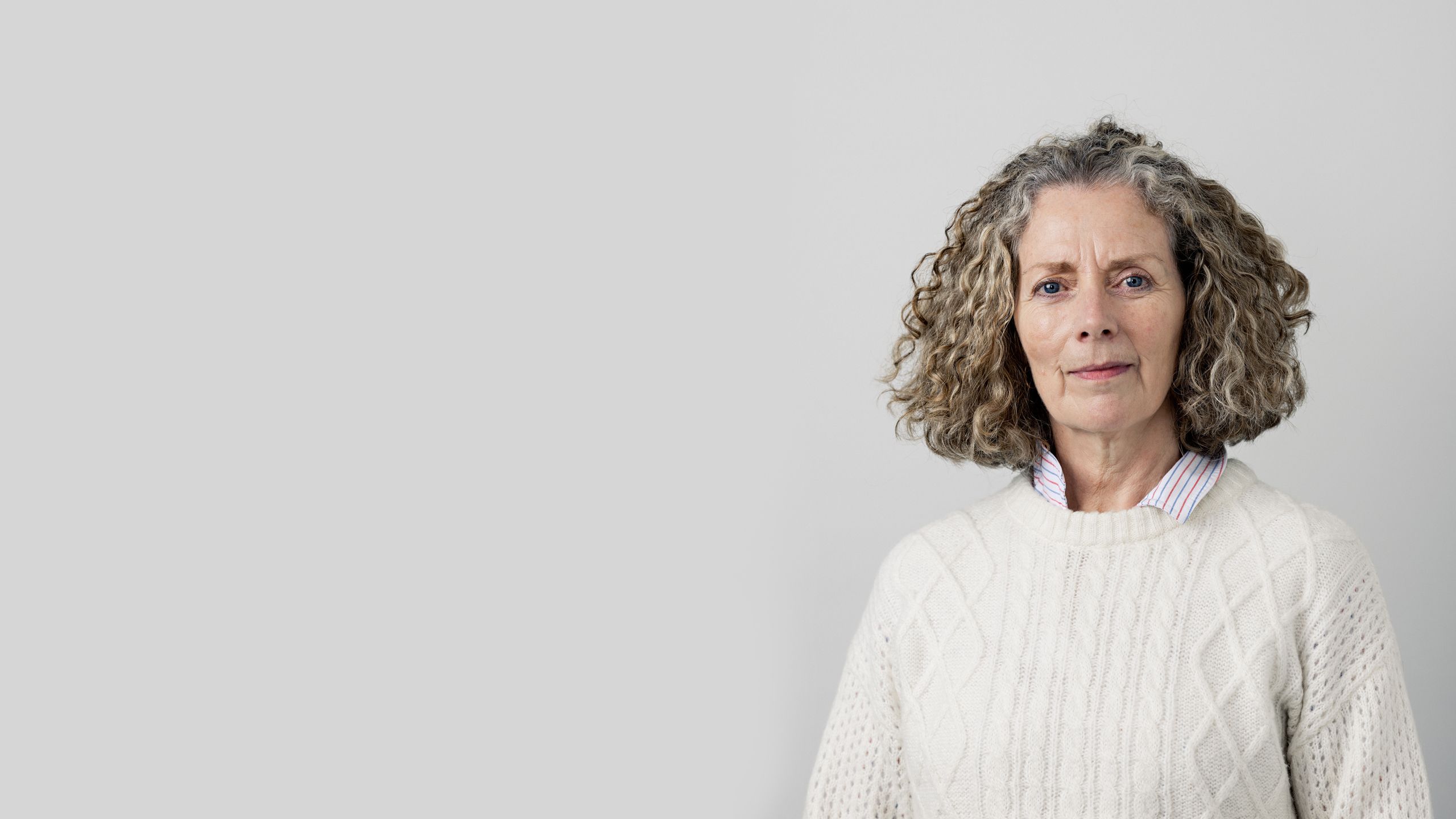 Tiny but mighty
After months of seeing each other virtually on computer screens, the patient group met each other and their coordinator, Dr Marie-Lyne Alcaraz from the CRUK Cambridge Centre, face-to-face for the first time on a blustery winter day.
It was an emotional moment, says Melanie: "We've done so many Zoom calls that I feel like we know each other. We've shared such personal experiences. But actually being together face-to-face is really important. It is like meeting a group of friends."
Amid the hugs and the laughter, one thing surprised them all. "They're so tiny!" says Lorraine. "We all look the same size on screen. I'm only five foot three and three quarters so I thought I'd be the shortest!"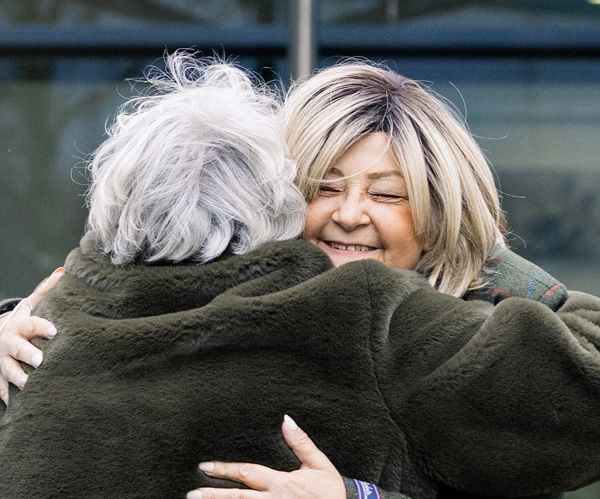 Beyond the support they've clearly gained from each other, they are proud to be contributing to new research, as Lorraine describes: "I'm really hoping that with all the research and the trials, they can detect ovarian cancer earlier because every single one of us has been found advanced and if they could find it early they could save a lot more women."
Despite having the same diagnosis of ovarian cancer, each of the women has a unique story, says Margaret. "We all had different treatments and we've all recovered at various stages, which shows how difficult this illness is to treat."
Far less is known or understood about ovarian cancer than other, more common forms, such as breast cancer. The women are passionate about sharing their experiences to help change this.
"What I am hoping is that the group will help make women more aware of ovarian cancer and perhaps help to draw more funding into research on how to diagnose and treat it," says Panagiota.
The researchers themselves are incredibly grateful to the women – and the many other patients in Cambridge and further afield who have been willing to give suggestions, volunteer for trials and contribute their data.
"It is an honour to work with them," says Brenton, adding:
"It's because of individuals like these that the future for other patients has the potential to be very different. With their help, we're changing the story of ovarian and other cancers. We're starting to get better at detecting ovarian cancers earlier and earlier, and treating them more precisely, giving more women the chance to live longer, healthier lives."
Melanie was first diagnosed in 2018 and treated by Professor Brenton in Cambridge.
"The studies and the research that was offered was so valuable because it helped progress my treatment plan."
Melanie was diagnosed with stage 3 metastatic ovarian cancer the day before her niece's wedding. She says she put symptoms down to menopause but, once she started to get pelvic pain, she went to her GP and things moved very quickly.
On her birthday, in November that same year, she got her treatment plan. Melanie says she had complete confidence in Professor Brenton and the team, agreeing immediately to join research trials. She says that she's been amazed to learn how quickly the research was advancing, even in the short time since she's been diagnosed.
It's been great meeting the others in the patient group, she says. She feels they can raise awareness of the symptoms and encourage women to know their bodies, and to know when there is a change they shouldn't ignore.
One thing that has helped her and her family through the past few years has been their positivity playlist, created by her daughters. They would listen to Maxine Nightingale and dance around the kitchen before appointments.
Melanie says that participating in the trials has helped her better understand her body. She rules nothing out because of the chance that the trials would help her treatment, and the treatment of those in the future.
Read Melanie's update one year on.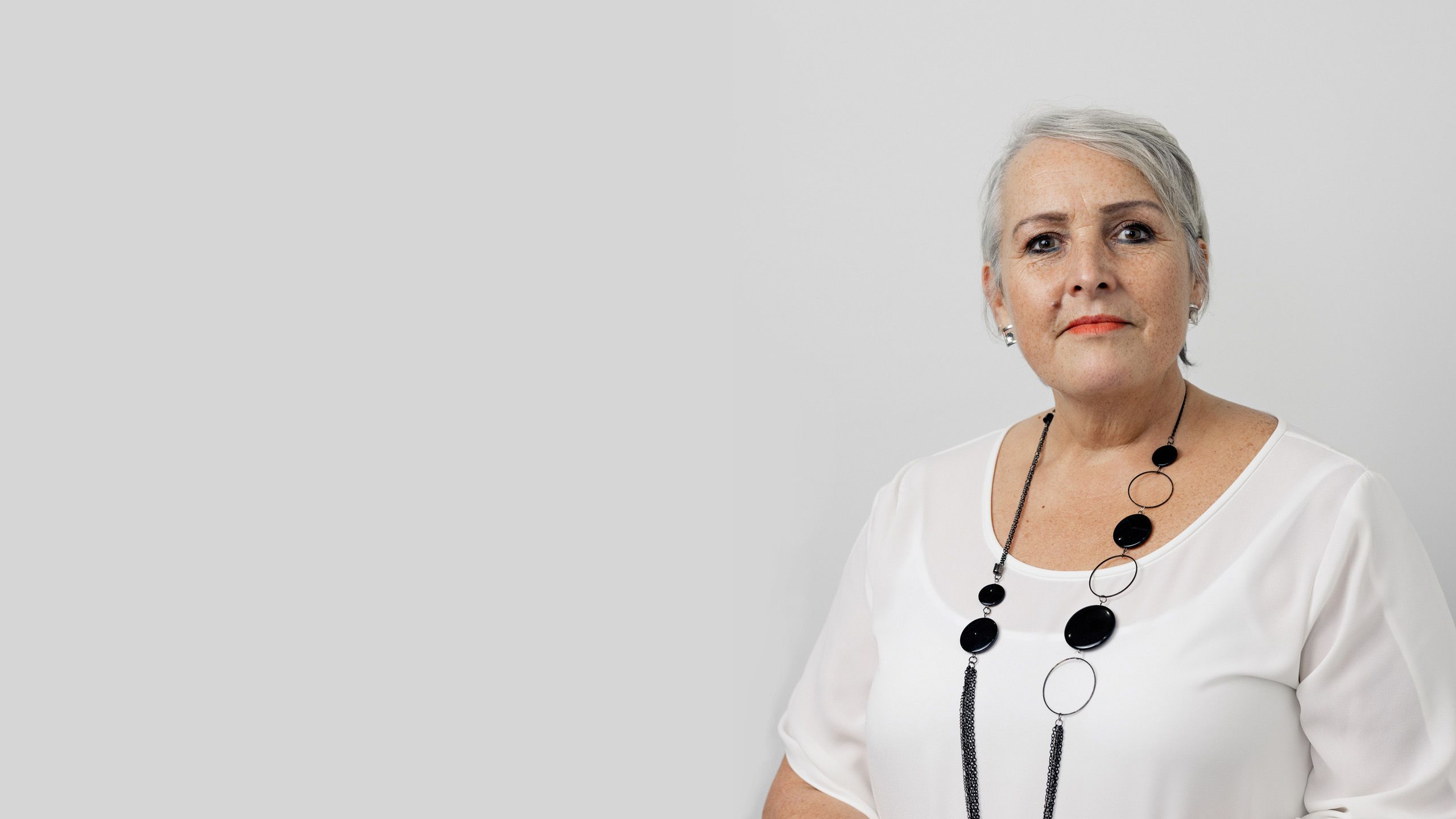 One year on, Panagiota, Margaret, Lorraine, Fiona and Melanie offered to update on their progress. They tell us of difficult days and unexpected positives, of tailored treatments and contributions to research – and, throughout it all, of the incredible support they've given and received.
Panagiota
One year on I am still here.
I feel well and I am enjoying my time with my beloved family and friends. I have enjoyed travelling again and meeting with my friends. I have been back to work for about a year, and full time since the summer.
Monitoring continues and I have regular blood tests and scans. So far they have been relatively good. As I tolerate the medication well, I continue taking the PARP inhibitors. Regular appointments with the oncology team ensure that I am informed about my health. I feel very grateful for the care I am receiving from them.
For the future, I hope for the best and to still be here in a year.
Margaret
Since we met in person a year ago, the team has pooled our treatment experiences meeting regularly on zoom. I attended a seminar at Duxford and listened to very interesting talks and updates and also met the research team. With Melanie and our great Team Leader Marie-Lyne I also visited Birmingham's PPI group, meeting a lovely diverse group of ladies. We gathered some excellent suggestions and a better understanding as to why some minorities defer genome testing. I hope to continue participating and providing a positive contribution to the ongoing research.
A roller coaster year for me. Although no evidence of any progression in May, unfortunately by August a recurrence of the cancer was found. I'm currently awaiting a new treatment plan from my fantastic oncology team to continue fighting this terrible cancer. We all face multiple challenges with ovarian cancer, and many have much more challenging stories than mine.
Being negative for HRD [homologous recombination deficiency] meant my recovery was always going to be a slightly bigger challenge, hence the need for the ongoing research to discover individually tailored treatments for better outcomes. I'm told I continue to look and be relatively well, which sometimes makes it harder for other people to understand ovarian cancer.
Lorraine
Since we all met last year things have improved for me. I have completed my Cancer Support course and got my certificate. I turned 60 in January, a birthday I thought I would never see. I promised myself when I reached it I would celebrate every month by doing something. So far I have been to The Ritz for afternoon tea, been on the London Eye. My husband John and went to Forest of Dean in a log cabin with my son and his family. I went to Scotland three times, in that time I've had afternoon tea at Balmoral Castle, played drums (badly) in my friends band in Aberdeen, met up with lots of friends and the "piece de resistance" was drinking bubbles at the wheels of Concorde after attending a great ovarian Ccncer workshop!
It all sounds wonderful and positive, but I still have difficult days. I am using my wheelchair less and less but I still cannot stand for too long. I still suffer from fatigue, which I find hard to deal with at times. I dodged a bullet in September as I thought my cancer had flared up. I suffer from stress and anxiety, but you have to try and keep positive.
Lately I've had a new purpose in life, and that is sharing my story on media outlets in the hope that it helps woman in the future.
Fiona
One year on and research data has been promising as far as PARP inhibitors, genomic sequencing and imaging are concerned. Developments through research are constantly being made. It is the commitment of the researchers and the courage and strength of the participants on the trials that will help women all over the world. This brings me hope as much has changed for me. In early April I was diagnosed with a recurrence of my cancer. Surgery and chemotherapy have followed. The plan at the moment is for me to progress onto PARP inhibitors. These will hopefully stop the progression of the cancer.
Melanie
I am so fortunate to be feeling stronger, fitter, more energised and 5 stone lighter! Sophie, our eldest daughter bought a house with her boyfriend and our youngest, Ellie is traveling across Thailand. A degree of normality has resumed!
I feel privileged to be approaching my 60th birthday in November - never thought I'd be saying this! Life is great and I am thankful to the wonderful care of the Addenbrooke's research team and to be part of this amazing trial.
Happy to have been able to continue on the Icon 9 trial and grateful that my body is responding well to Olaparib and Cediranib. I'm always relieved when the bi-monthly blood test results come back in range. Long may it continue!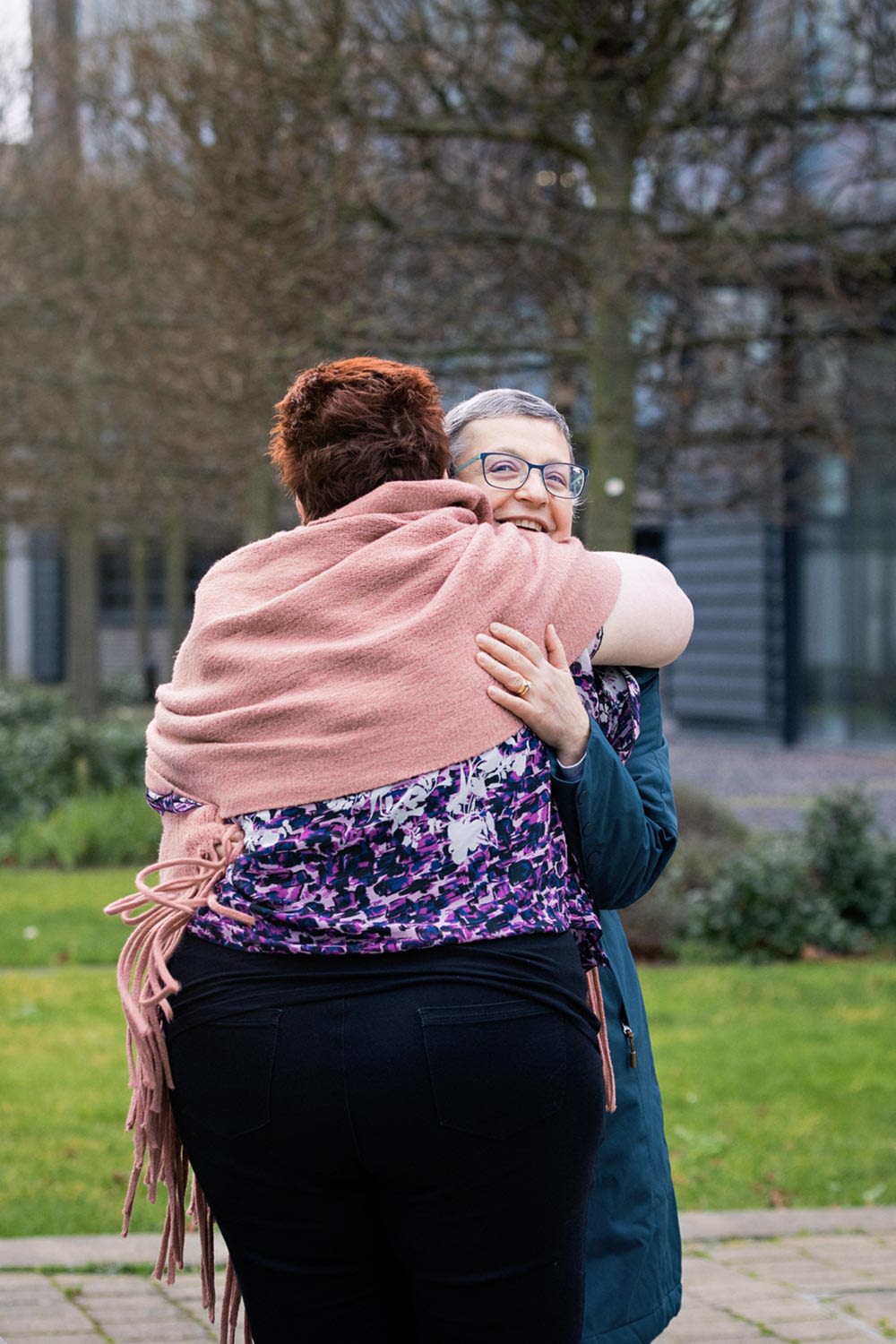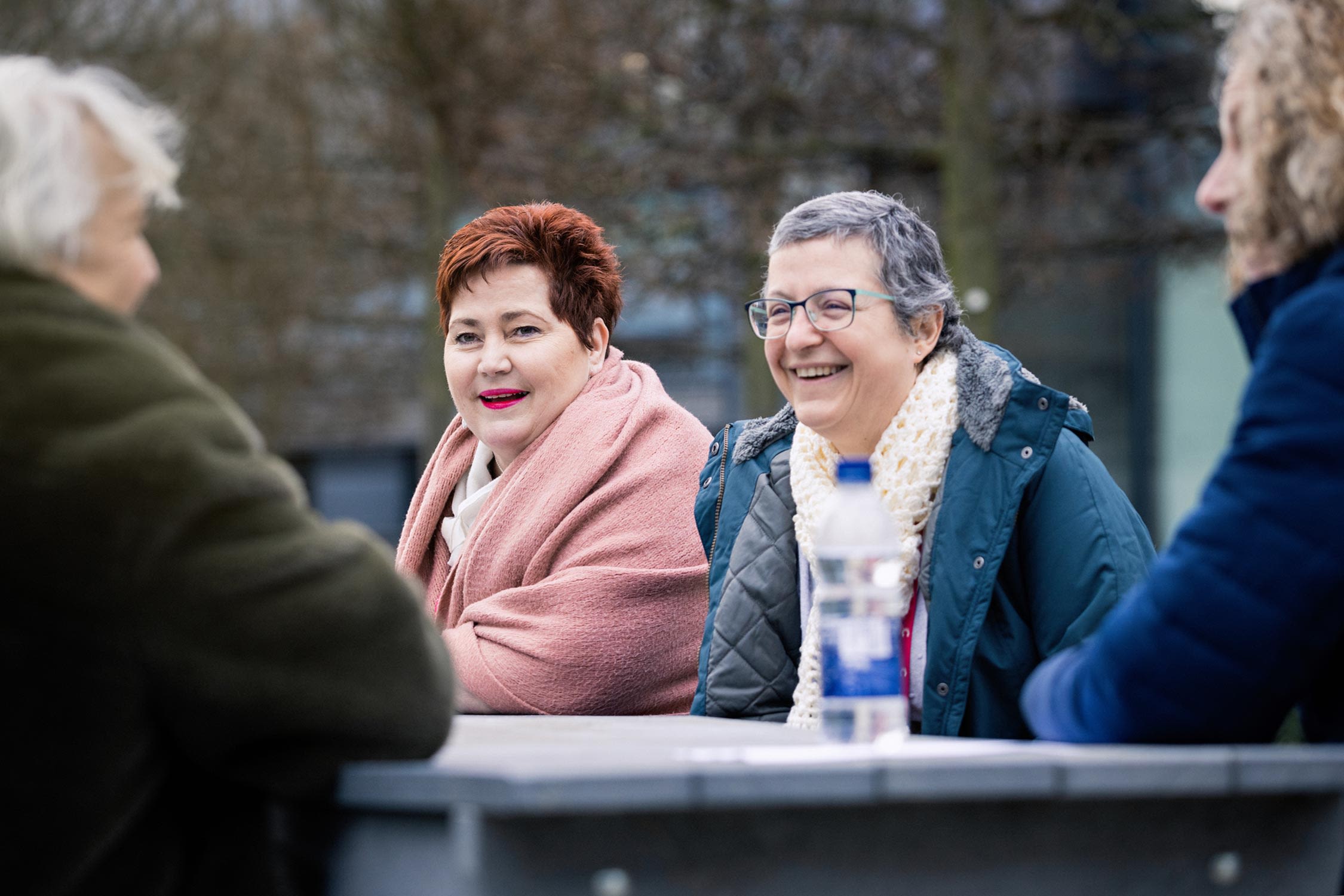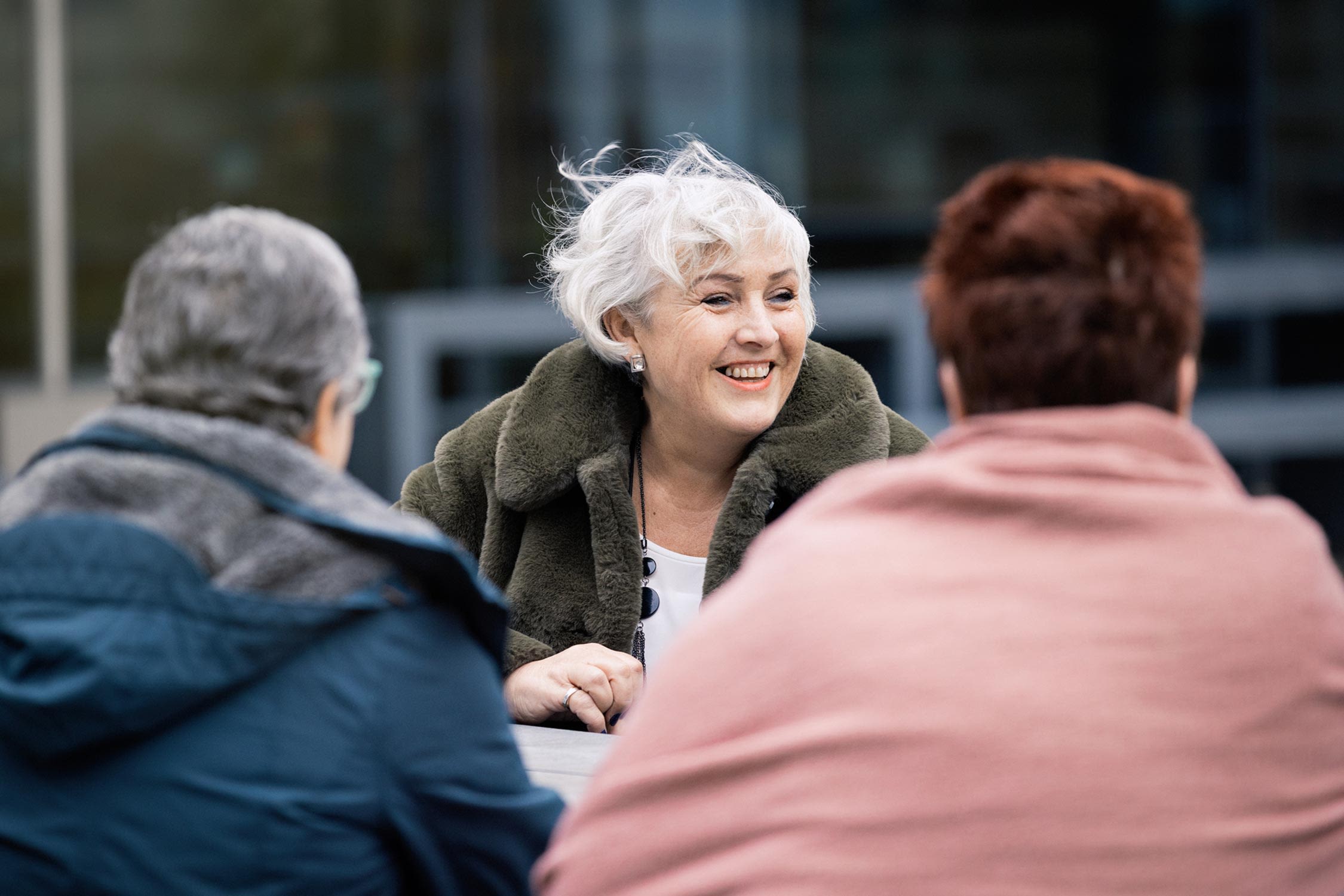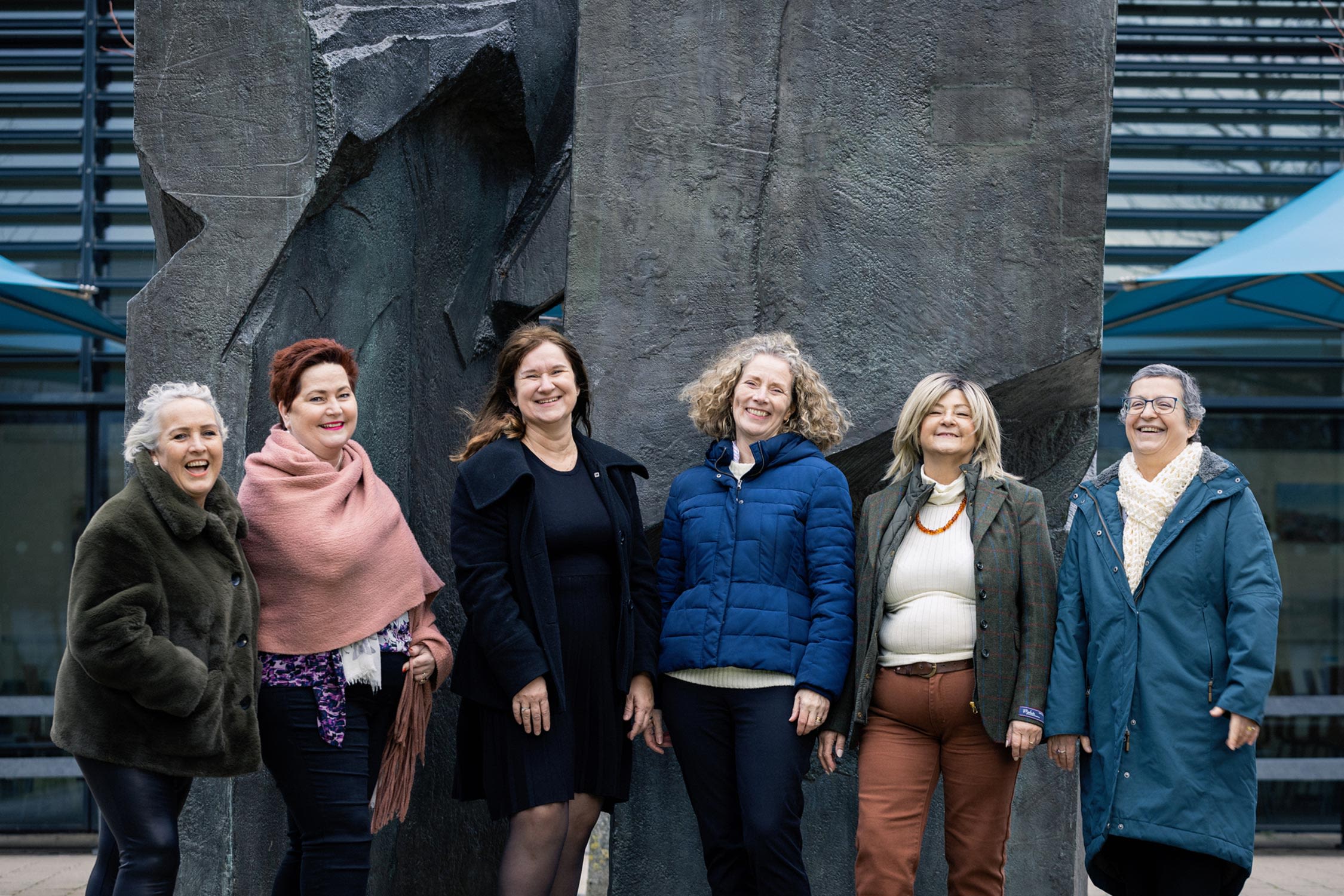 After months of seeing each other virtually on computer screens, the patient group met each other and their coordinator, Dr Marie-Lyne Alcaraz, for the first time on a blustery winter day in Cambridge.
After months of seeing each other virtually on computer screens, the patient group met each other and their coordinator, Dr Marie-Lyne Alcaraz, for the first time on a blustery winter day in Cambridge.
Item 1 of 6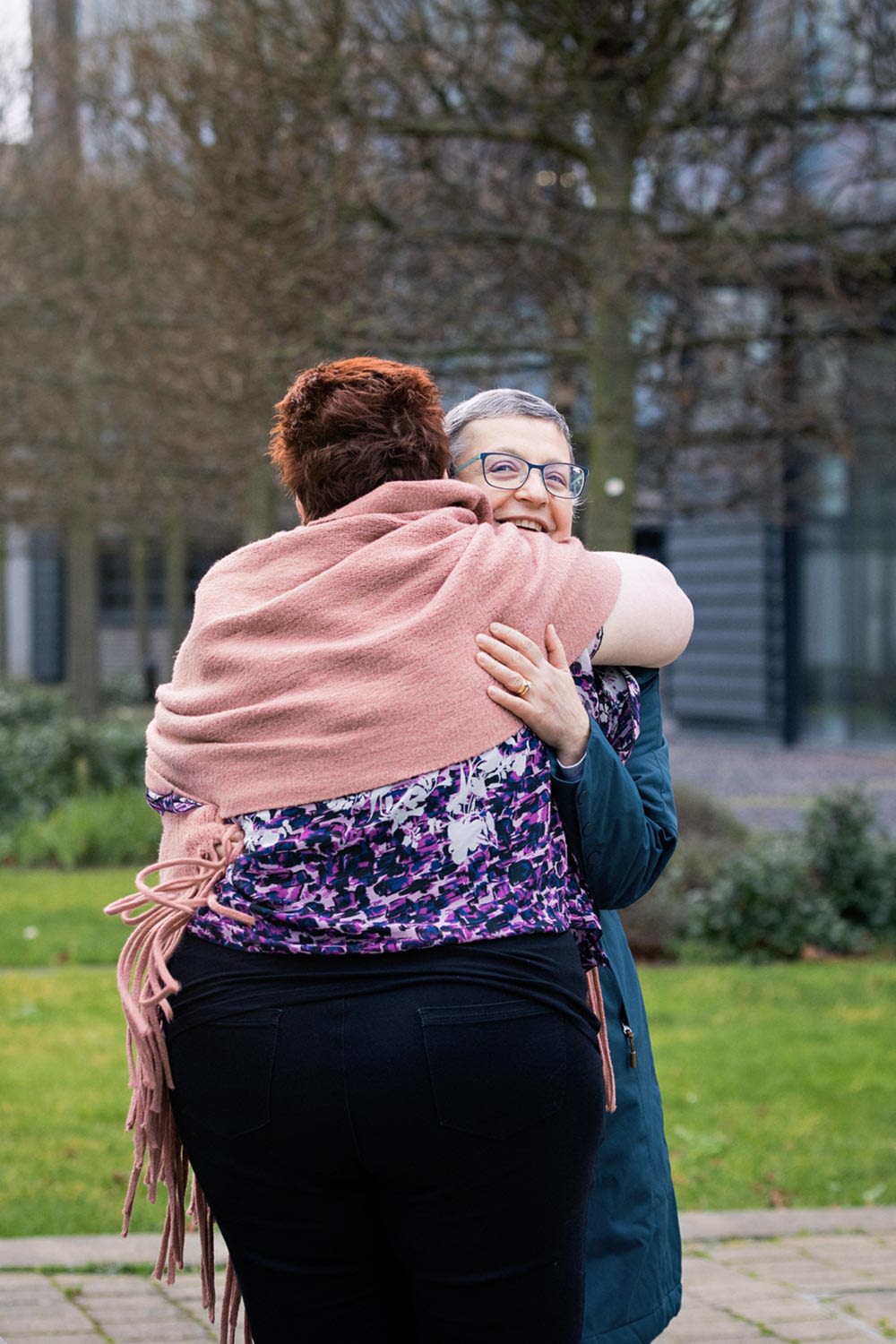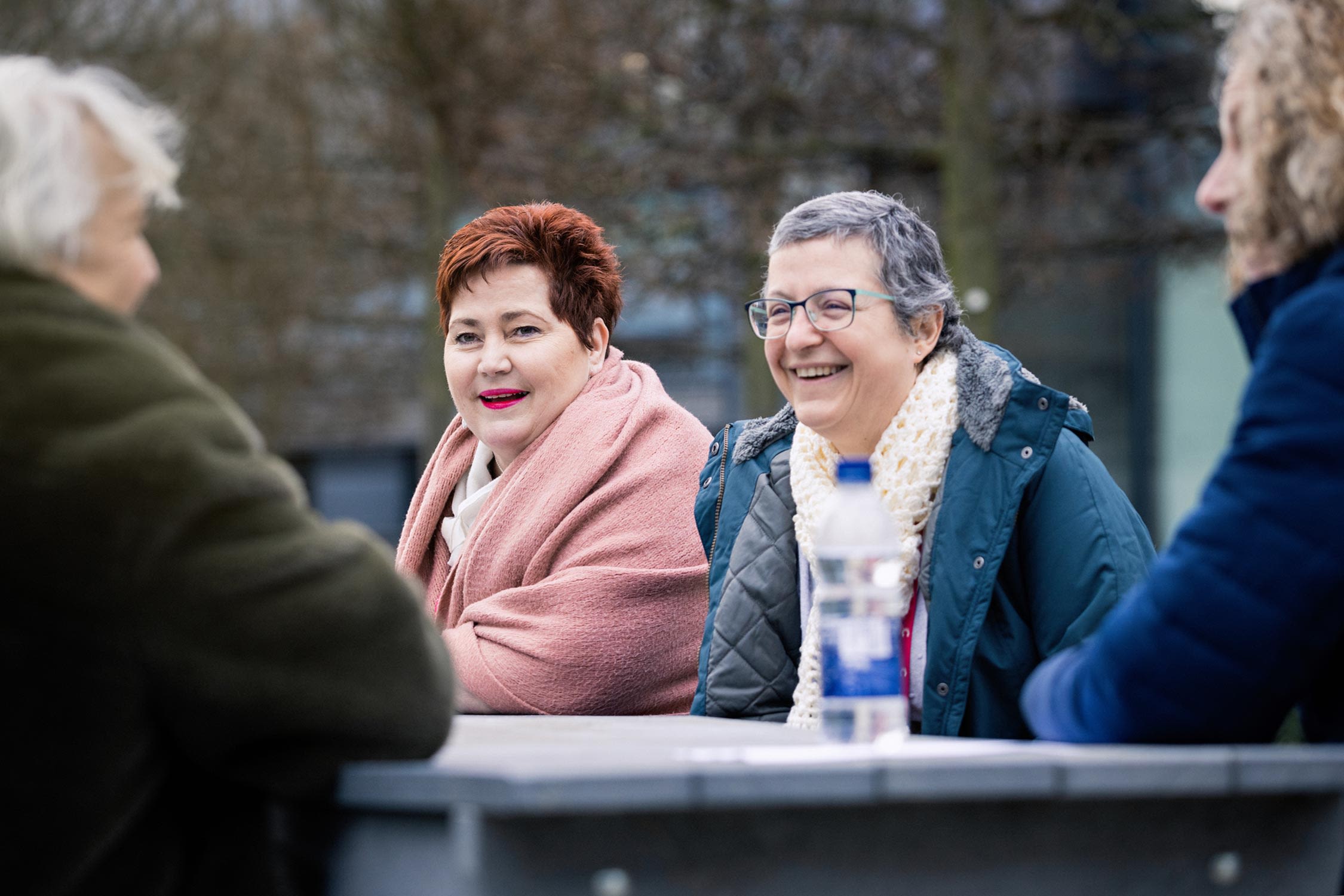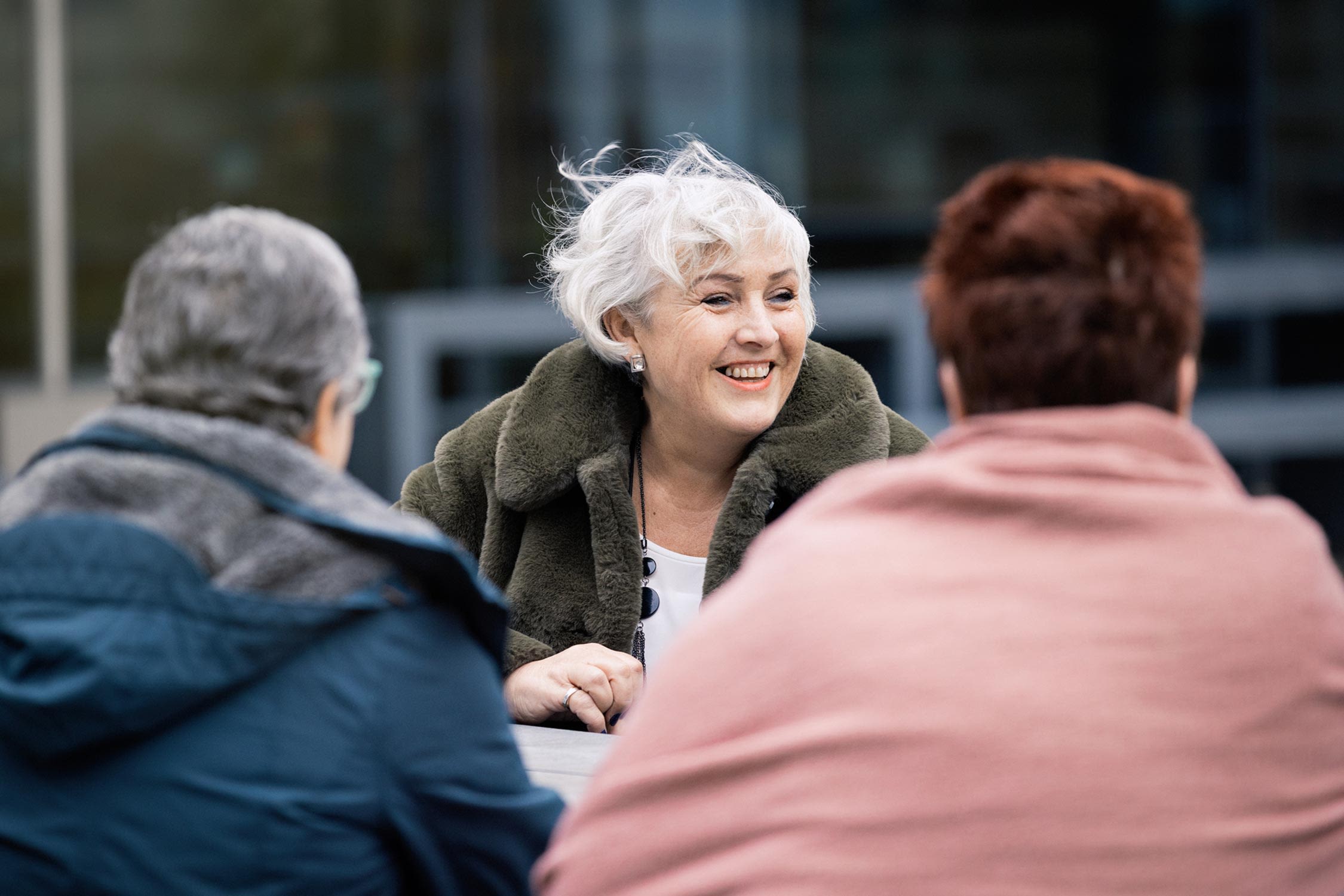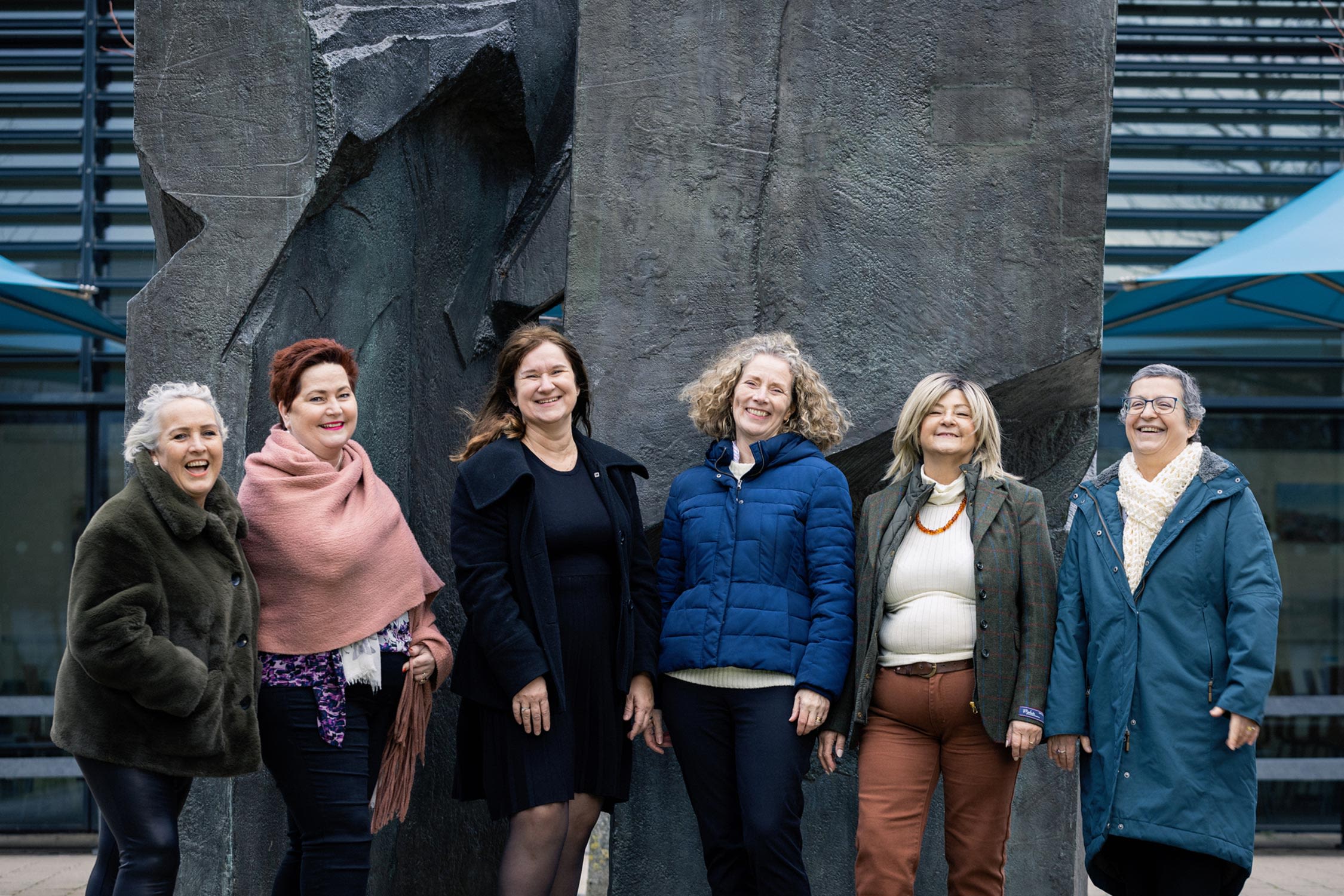 After months of seeing each other virtually on computer screens, the patient group met each other and their coordinator, Dr Marie-Lyne Alcaraz, for the first time on a blustery winter day in Cambridge.
After months of seeing each other virtually on computer screens, the patient group met each other and their coordinator, Dr Marie-Lyne Alcaraz, for the first time on a blustery winter day in Cambridge.
If you wish to support the Ovarian Cancer Programme please visit our fundraising site. All funds generously donated will be used to support research into ovarian cancer as well as supporting future developments. Additionally, the money will be used to sponsor patient involvement in a diverse range of studies.
Have you or someone you know been diagnosed with ovarian cancer? Find out more about the Ovarian Cancer Patient Research Group, by contacting the Ovarian Cancer Research Programme at the CRUK Cambridge Centre.
The Mark Foundation Institute for Integrated Cancer Medicine at the University of Cambridge aims to revolutionise cancer care by re-inventing the treatment pathway for patients. Find out more by signing up to the Institute's podcast and seminar series.
This research was supported by Cambridge University Hospitals NHS Foundation Trust, the CRUK Cambridge Centre, the CRUK Cambridge Institute, The Mark Foundation for Cancer Research US Ltd, Ovarian Cancer Action and the NIHR Cambridge Biomedical Research Centre. The views expressed are those of the authors and not necessarily those of the NIHR, the Department of Health and Social Care or other funders.
Infographics and design
Alison Fair
Photography
StillVision Photography
Published 24 January 2022
Updated 2 February 2023
The text in this work is licensed under a Creative Commons Attribution 4.0 International License.

... visit our interactive map to find out how.