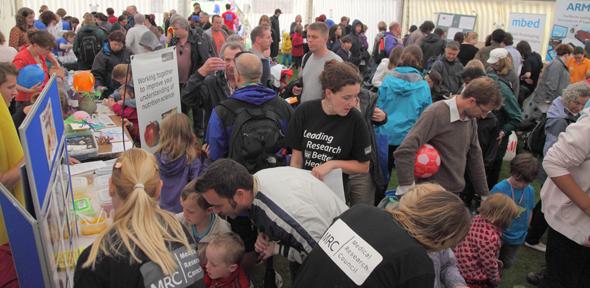 The University of Cambridge's Fun Lab returns to the Big Weekend on Parker's Piece on Saturday 5 July and this year we are delighted to welcome Cambridge Science Centre into the Lab!
Fun Lab opens at 12noon on Saturday 5 July on Parker's Piece with hands-on experiments from the University Museums, the MRC Human Nutrition Unit, Napp Pharmaceuticals, the University Physical Education Department and Cambridge Science Centre. Sponsored by ARM, Fun Lab is part of the Big Weekend organised by Cambridge City Council and we look forward to seeing you there.
Activities on offer in the Fun Lab include:
Get sporty with the University of Cambridge Physical Education Department. Test your reaction time on our Batak wall, make a nutritious drink on our smoothie bike and find out about sporting opportunities available to everyone in Cambridge.
Meet the beasts from the University Museum of Zoology and get up close to skulls, skeletons and more.
Try some funky foods with the MRC Human Nutrition Unit and see just how many ways there are to eat your '5 a day'. Try blindfolded fruit tasting and have a go with the App 'FoodSwitch' which makes it easier to find healthy options when shopping.
Get brainy with Napp Pharmaceuticals by making your own brain hat and having a go at paper chromatography.
Make a future fossil to take home and have a closer look at fossils some from the Sedgwick Museum that are much, much older than the University of Cambridge!
Go on a journey to planet botanic with the University's Botanic Garden and discover how to grow plants on a tiny scale. Try your hand at plant-based crafts and find out more about the new trail around the Botanic Garden this summer.
See your genes and find out what makes you, you! DNA, the instruction book for all living things, carries tens of thousands of instructions called genes. We'll show you how they work and help you get a direct look at them.
Find clues from our fingerprints with the Cambridge Science Centre and investigate how  fingerprints are used to identify us. Get up close to weird water and find out how insects walk on water and how washing up liquid gets dishes really clean.
Summer in the Museums gives us a taste of some of the fun events in this year's jam-packed Summer in the Museums programme. Pick up a leaflet here and join the Museums in their Make and Create Tent today.
---
The text in this work is licensed under a Creative Commons Licence. If you use this content on your site please link back to this page. For image rights, please see the credits associated with each individual image.

---