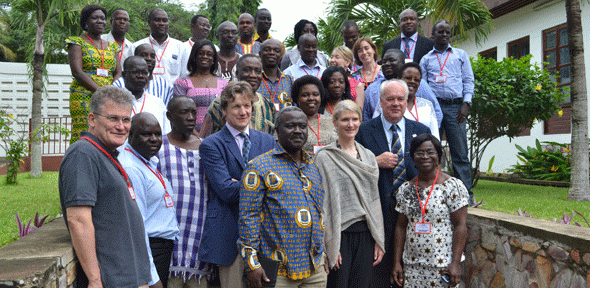 A milestone in the University of Cambridge's engagement with Africa was recently reached as senior University officers and researchers arrived in Ghana for the second annual general meeting of the Cambridge-Africa Partnership for Research Excellence (CAPREx).
Held between 2 and 4 July at the Centre for African Wetlands, part of the University of Ghana's main Legon campus, the event brought together participants from the three CAPREx partner institutions – Cambridge, the University of Ghana, and Uganda's Makerere University—to discuss the progress made over the past year, and consider the challenges and opportunities ahead.
Launched in 2012, CAPREx is a capacity-building scheme whose central aim is to strengthen Africa's capacity for sustainable excellence in research through close collaborative work with the region's most talented individuals.
It was established through an initial donation of $1.2 Million by the Carnegie Corporation of New York, with additional support from the Alborada Trust ($1 Million) and matched funding from the University of Cambridge. 
CAPREx supports post-doctoral fellowships in engineering and biological sciences (for Ghana), as well as the social sciences and humanities (Uganda). There are also short-term fellowships (in Cambridge) and workshops (in Africa) focusing on building capacity in research management and administration in the African partner universities.
Since its inception in October 2012, 16 CAPREx fellows from Ghana and Uganda have spent time in Cambridge. Their expertise has ranged from gender stereotypes in oral literature, to the study of graphene-based natural dye sensitized solar cells. Three of them have been Research Management Fellows specifically, with one fellow covering a dual role of postdoctoral and research management fellow. In that period, five Cambridge collaborators have visited research fellows at the Universities of Ghana and Makerere.
The Cambridge delegation attending the AGM comprised Dr Jennifer Barnes, Pro-Vice-Chancellor for International Strategy; Prof David Dunne, Director of the Cambridge-Africa Programme; Prof James Wood, Head of the Department of Veterinary Medicine; CAPREX collaborators Prof Mark Carrington and Dr Devon Curtis; Dr Pauline Essah, Coordinator of the Cambridge-Africa Programme; and CAPREx coordinator Jenny Mackay.
Interspersed with the sessions for discussion of achievements, challenges, and logistical and managerial processes, were presentations by CAPREx fellows and a visit to the laboratory managed by CAPREx fellow and lecturer at the Department of Material Science and Engineering, Dr David Dodoo-Arhin. The equipment for this laboratory was purchased using an award from the Cambridge-Africa Alborada Research Fund, for Dr Dodoo-Arhin's CAPREx fellowship.
During the AGM, a significant, partnership-strengthening meeting took place between the Cambridge delegation, Prof Ernest Okello Ogwang; Deputy Vice Chancellor (Academic Affairs) of Makerere University, and the Vice Chancellor of the University of Ghana, Prof Ernest Aryeetey
Commenting on the success of CAPREx so far, Prof David Dunne, Director of CAPREx (and of the umbrella Cambridge-Africa Programme), said: "We are absolutely delighted with the progress and achievements of the CAPREx initiative so far. It has been enriching to have several CAPREx fellows visit Cambridge over the past year, for research collaborations and workshops.
"We look forward to welcoming 16 new African postdoctoral fellows and 4 research management fellows to Cambridge over the next few months. CAPREx is proving to be extremely beneficial for both African and Cambridge research, and the CAPREx partners wish to express their sincere appreciation to all their sponsors for their generous and visionary support."
For more information about the CAPREx initiative and the wider Cambridge-Africa Programme at the University of Cambridge, click here  
---
The text in this work is licensed under a Creative Commons Licence. If you use this content on your site please link back to this page. For image rights, please see the credits associated with each individual image.

---