This Cambridge Life
The student working
to make education accessible to
everyone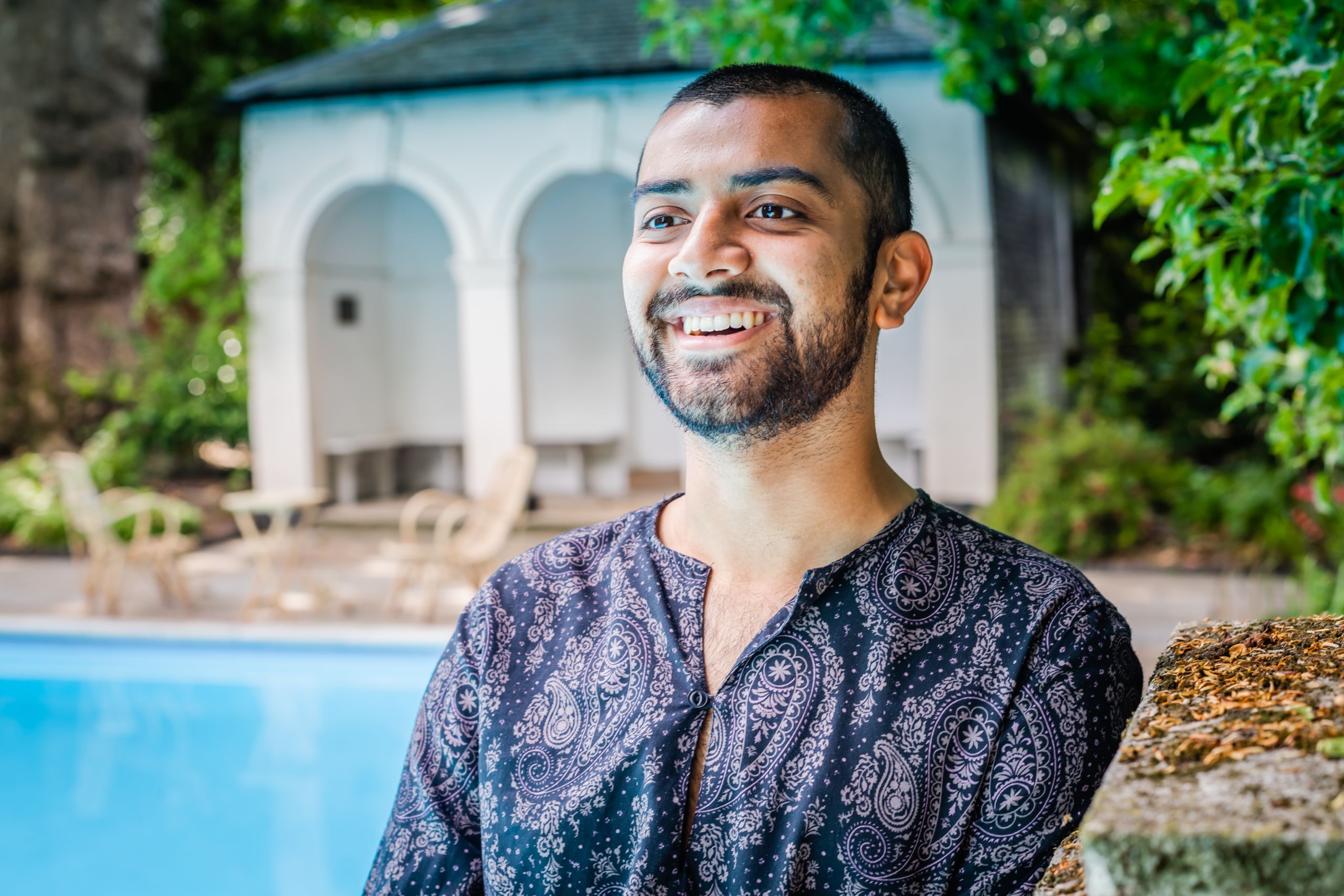 Shadab Ahmed by Nick Saffell
Shadab Ahmed by Nick Saffell
Final-year chemist Shadab Ahmed reflects on his sabbatical year as CUSU Access and Funding Officer, the importance of role models, and how increasing diversity within universities could be the start of seeing real change in society as a whole.
This year I'm returning to Cambridge to complete the final year of my degree. I've been at Cambridge for four years now, three as a Chemistry undergraduate and one as the Cambridge University Student Union (CUSU) Access and Funding Officer.
I've been involved in access work ever since I received my offer from Cambridge. Before I even started here, I took part in an open day at Christ's talking about my experiences of applying to Cambridge. As a fresher I helped with mentoring and summer schools. Later I became the student undergraduate Access Officer for Christ's College.
Access work not only changes the lives of individuals for the better but also begins to address the inequalities in society as a whole. I've seen first-hand how people's lives can take such different directions depending on the support and opportunities they are given.
It's been amazing to see school pupils from minority or disadvantaged backgrounds coming right through the summer school scheme and begin here as students. Now they're carrying on the cycle by mentoring other young people from similar backgrounds. It's so important for young people to see students like themselves in university or similar spaces.
There's lots of different mentoring schemes, which cover every aspect of the application process through to starting university as a fresher. Mentors might help with schoolwork to make sure students don't miss out on entry grades or simply be someone who can give advice and support.
Although I didn't have a mentor myself, what made all the difference for me was the encouragement of my teachers. However, I know from experience that schools can be very different, and some don't have the resources to help students with applications.
Nobody should miss out on university because their school's funding has been cut. I think it's important that we can bridge the gap wherever we can to ensure that everyone who does want to make a strong application to University can get that chance to do so.
With all the good access work going on here, it's really discouraging to see the media pushing a negative narrative. They always say that Cambridge is for the likes of the white middle-class and the elite. This type of coverage is really harmful as it dissuades people from applying.
Having figureheads like Stormzy for our access work is great. It's been so powerful to see black students saying: "we belong and thrive here." Hopefully, there will be a shift towards this sort of positive perception – towards thinking that Cambridge is a place for all of us. Going forward I'd like to see greater diversity of support, especially from other ethnic minority groups, such as Bangladeshi and Pakistani advocates.
Universities have a responsibility to diversify our intake. The makeup of university populations means that certain groups of people often dominate influential spheres of work: government, media, journalism, leading companies. It's important to make sure these professions are representative of the UK population.
Shifting the narrative is essential. We need young people from minority or disadvantaged backgrounds to see themselves as worthy to achieve these top positions. If there is nobody like them in these roles, we need to convince them that they can be the first.
Outreach opens doors for people and opens minds. Ultimately, access work is vital to reshaping the course of our country's future. I myself come from a minority background and think it's incredibly important for our voices to be heard – so we can begin to challenge the oppressive systems in place in society.
In the future I'd like to get involved in shaping educational policy. I'd like to put structures in place that mean that students from all backgrounds, especially from the most disadvantaged and underrepresented backgrounds, have access to higher education.
This profile is part of our This Cambridge Life series, which opens a window on to the people that make Cambridge University unique. Cooks, gardeners, students, archivists, professors, alumni: all have a story to share.
Photography Nick Saffell. Words Charis Goodyear.