This Cambridge Life
The climate scientist and the planet-sized problem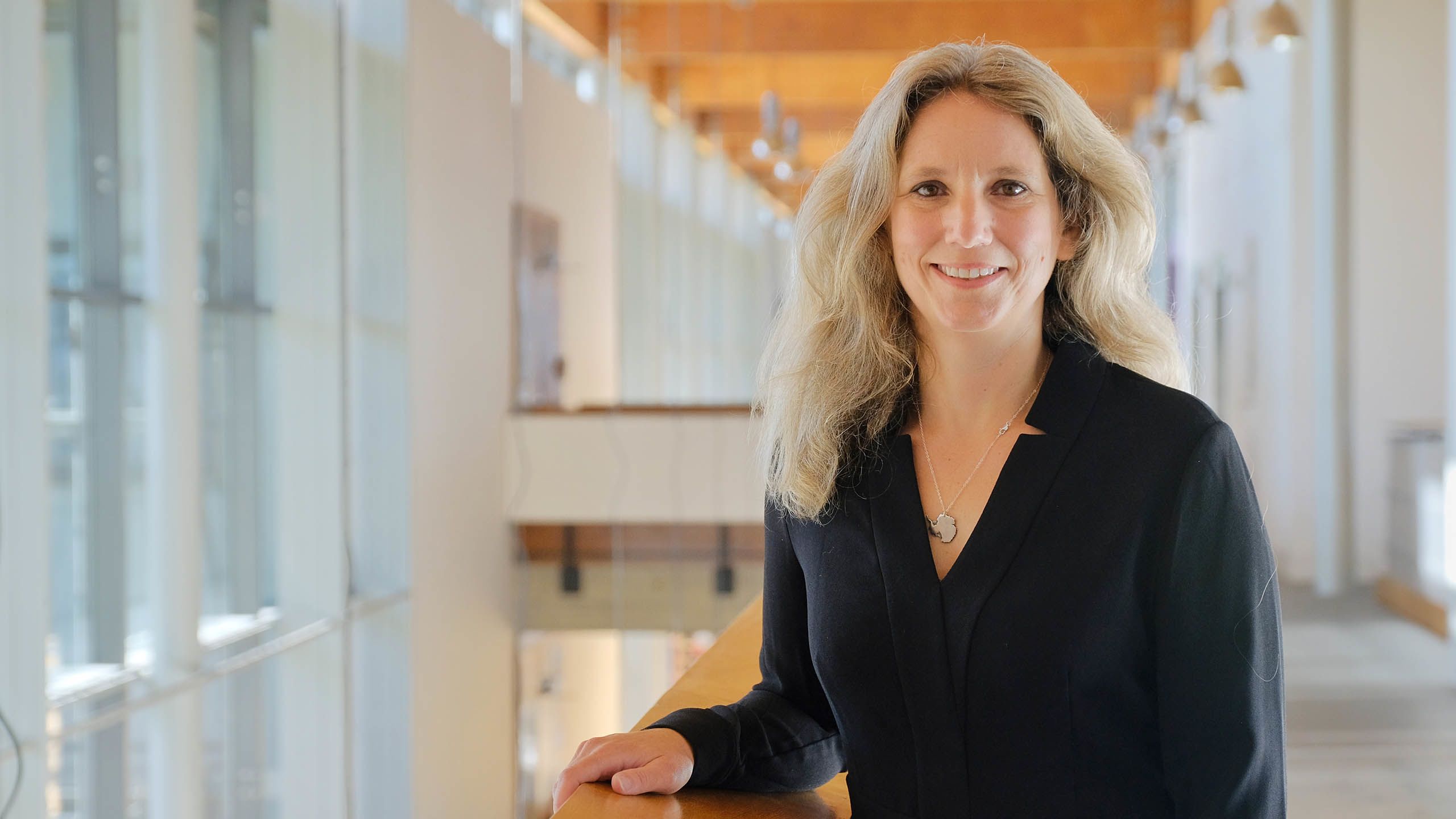 Dr Emily Shuckburgh is Director of Cambridge Zero, an ambitious new University climate change initiative aimed at transitioning to a zero carbon world. She shares why she believes this is a once-in-a-generation opportunity for us to create a sustainable and fair future for everyone.
Floating enormous balloons up into rainbow-coloured clouds was my first experience of field research. I was in Esrange, the Swedish Space Centre, above the Arctic Circle. To study ozone loss, we took measurements of the stratosphere using balloons and converted spy planes, with the pilots dressed head to toe in space-suit-like outfits. At night we watched the Northern Lights dance across the sky. It was spectacular.
Being out in the field brings a really important dimension to research. Experiencing first-hand the pristine beauty of the polar regions filled me with awe and wonder and showed me all we stand to lose. Equally compelling was hearing the personal stories of the people who are on the frontline of climate change.
"It's as if a friend who you trust, is suddenly acting strangely," said Mary Ellen Thomas from the Nunuvat Research Institute in Iqaluit, Canada, commenting on the effects of climate change on the local community. She described hearing robins singing from her roof despite the birds never having been in that part of the Arctic before and salmon appearing in Hudson Bay when they should have been hundreds of miles away. All these signs signalled that something wasn't right.
Climate change had just begun to creep up the political agenda while I was studying for my PhD in atmospheric fluid dynamics in Cambridge. My first degree had been in maths at Oxford. I still love solving mathematical problems and the creativity of finding patterns emerging from chaos.
I deeply wanted to use maths for a useful purpose, to contribute to society in some way. I have always been captivated by the majesty of nature and felt drawn to understanding the world around me. Through some kind of magic, I've ended up with a job that combines all three of these passions.
Acid rain and the hole in the ozone layer were the most talked about environmental challenges when I attended my local comprehensive school. My PhD was aimed at understanding the ozone hole and how to repair it.
I remember reading the first report of the Intergovernmental Panel on Climate Change and being shocked by it. From that moment on I wanted to understand more about climate change and the threat it poses to society. My research took me to Antarctica where I studied the warming ocean waters and their impact on the ice sheet.
Now, with the launch of Cambridge Zero, we get a chance to focus on the solutions. For the first time we are bringing together the collective expertise of the University, from science and engineering to law and philosophy, to offer integrated, holistic and practical solutions to climate change.
Responding to climate change will require huge changes in the structures of our society. Every sector will need to be reimagined. We'll need to change the way we travel, how we live, and even how we measure our prosperity.
Creating a sustainable society poses a great challenge but also a great opportunity. We have a unique chance to create a future which is not only sustainable, but is also resilient, equitable and fair.
It's important that we view the issue of climate change through the lens of hope rather than despair. We need to approach this problem with optimism, energy, enthusiasm and excitement. It's quite clear to me that if we work together, we can shape a world that we can all be proud to leave as a legacy to future generations.
---
This profile is part of our This Cambridge Life series, which opens a window on to the people that make Cambridge University unique. Cooks, gardeners, students, archivists, professors, alumni: all have a story to share.
Words Charis Goodyear. Photography Sir Cam.
---
A bold response to the world's greatest challenge
The University of Cambridge is building on its existing research and launching an ambitious new environment and climate change initiative. Cambridge Zero is not just about developing greener technologies. It will harness the full power of the University's research and policy expertise, developing solutions that work for our lives, our society and our biosphere.
Read more about our research linked with Sustainable Earth in the University's research magazine; download a pdf; view on Issuu.