Vice Chancellor's Awards for Research Impact and Engagement 2022
The Vice Chancellor's Awards for Research Impact and Engagement recognise outstanding achievement, innovation and creativity in devising and implementing ambitious engagement and impact plans that have the potential to create significant economic, social and cultural impact from and engagement with and for research.
Academics from across the University have been recognised for helping to save the endangered pangolin, creating an open source library of DNA for manufacturing enzymes and providing rapid COVID-19 modelling support for regional health systems.
The awards, now in their seventh year, are run by the University of Cambridge Public Engagement team and Research Strategy Office and are awarded in four categories: Early Career Researcher, Established Academic, the Collaboration Award and the Professional Services Award.
"Cambridge is a global leader in interdisciplinary discovery and innovation with wide social, cultural and economic impact. These awards recognise examples of this impactful research," said Professor Anne Ferguson-Smith, Pro-Vice-Chancellor for Research.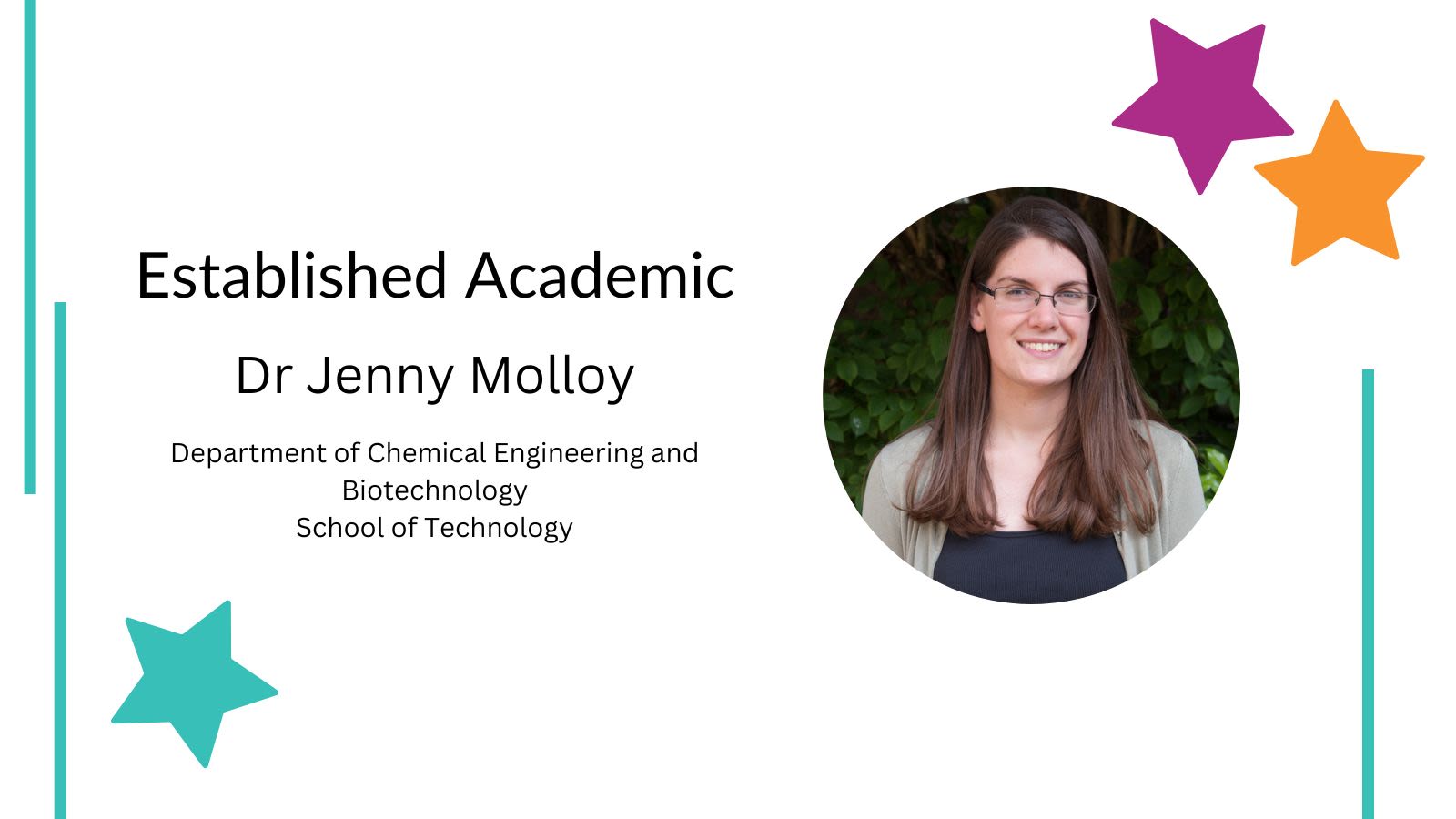 This year's Established Academic Award is awarded to Dr Jenny Molloy, the Founder and Director of the Open Bioeconomy Lab and a Shuttleworth Research Fellow at the Department of Chemical Engineering and Biotechnology for her work in developing the Open Enzyme Collection, an open source library of DNA for manufacturing critical reagents for biological research and molecular diagnostics.
While biology is the future of sustainable manufacturing in many sectors, there are numerous barriers to low and middle income countries participating in and benefiting from the global bio-economy. One is the supply chain for biological reagents such as enzymes.
The Open Enzyme Collection now been distributed to over 500 labs in over 50 countries, where it is enabling synthetic biology education, diagnostics innovation and local manufacturing projects that aim to expand access to biotechnology as a tool for sustainable development.
It catalysed a non-profit spin-off, Beneficial Bio, which is supporting entrepreneurs in six countries across Africa and Latin America to address reagent supply chain challenges and establish bioinnovation hubs that are engaging local academics, government and private sector partners.
The judges said: "This project shows a strong relationship between research and its subsequent ambitious application within a range of different labs and within a global context. The co-produced work with independent labs is extremely impressive and demonstrates the academic's commitment and passion. Her work with a range of end-users has ensured the impact is both measurable and sustained with new partnerships in developing countries planned."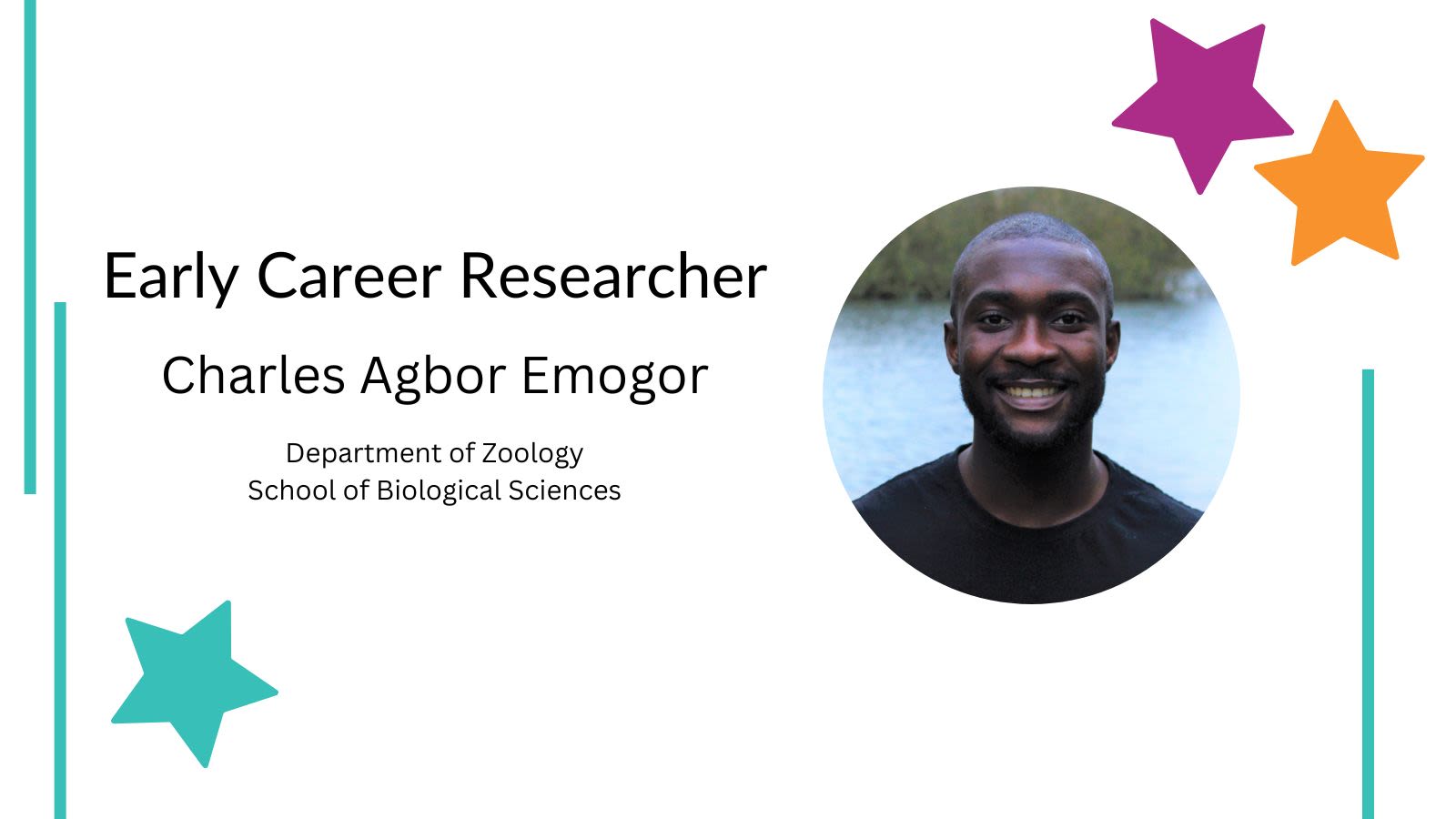 2022's Early Career Researcher Award winner is Charles Agbor Emogor, a Nigerian zoologist and founder of Pangolino, a non-profit mobilising public and institutional support for pangolins, the world's most trafficked wild mammal.
Charles has transformed his research into useful tools to curb pangolin poaching and trafficking. He works with hunters around
pangolin habitats to better understand the dynamics of pangolin threats.
He engages over 200 students and 1000 adults across six communities in southeast Nigeria who are learning how to contribute to saving pangolins from extinction. Pangolino hosts the world's only pangolin scale converter, where stakeholders can obtain estimates of the number of pangolins involved in the illegal pangolin trade.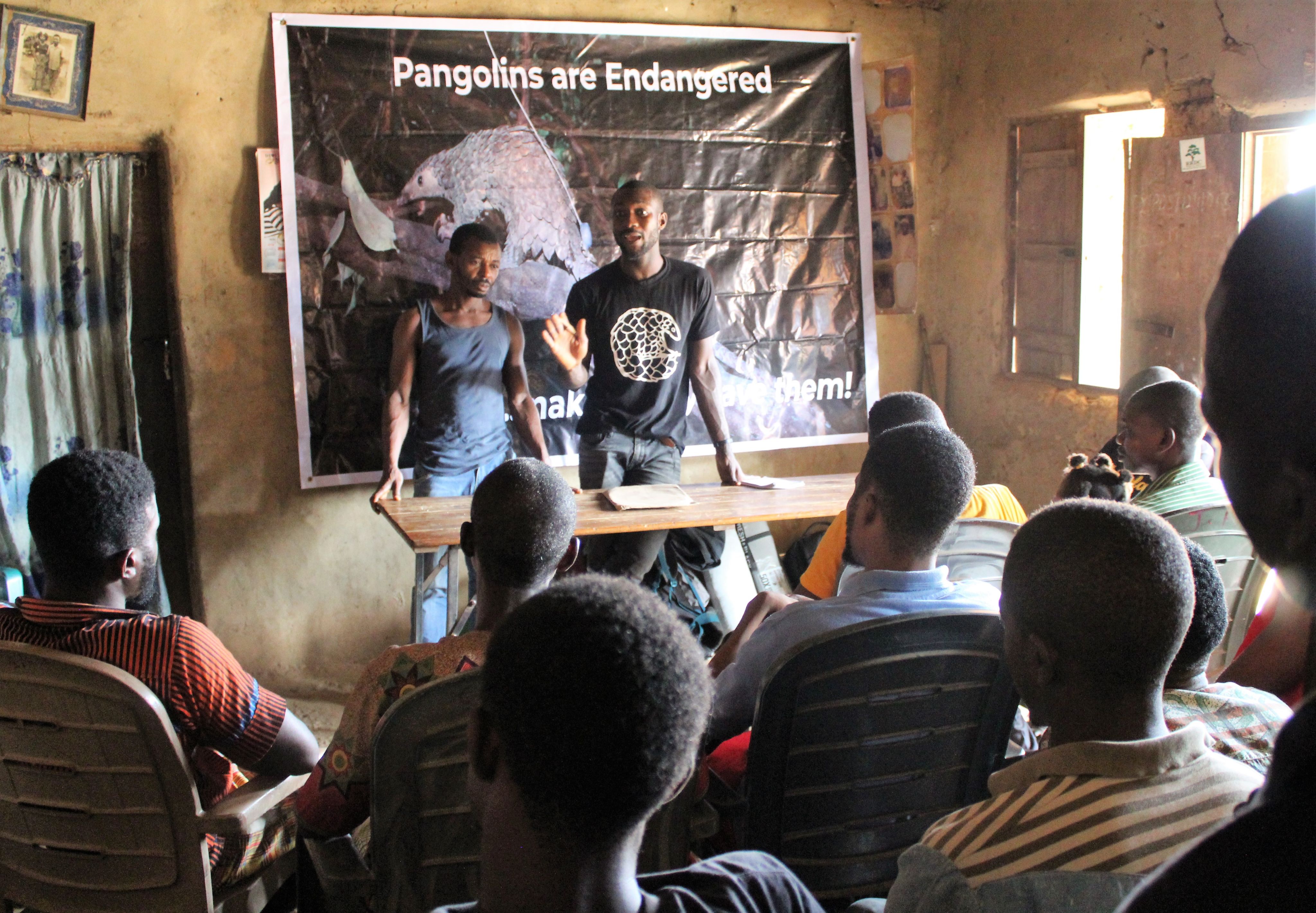 The judges said: "The researcher is clearly passionate and actively engaged with the local communities and other stakeholders and their use of innovative tools and creative engagement activities such as screenings, posters and t-shirts is to be commended."
The Collaboration Award in given to Professor Stefan Scholtes, the Dennis Gillings Professor of Health Management at Cambridge Judge Business School and Director of the Centre for Health Leadership & Enterprise.
The Cambridge Centre for Health Leadership & Enterprise (CCHLE) is based in the Cambridge Judge Business School and played a pivotal part in enabling evidence-informed healthcare decision making during the COVID-19 crisis through their work in partnership with Public Health England (PHE) and the NHS in the East of England.
CCHLE provided modelling and forecasts based on complex and rapidly developing data on regional COVID-19 cases and hospital bed usage, which enabled PHE to effectively manage regional healthcare operations and make decisions based on evidence-based scenario generation to save lives.
The judges said: "An extremely timely and highly impactful collaboration with public health officials, and clinical decision-makers to help address acute challenges during the pandemic. The development of these pivotal partnerships clearly enabled vital decisions to be taken around weekly case rates and bed occupancy and the researchers responded swiftly to changing situations and demands."
Professional Services Award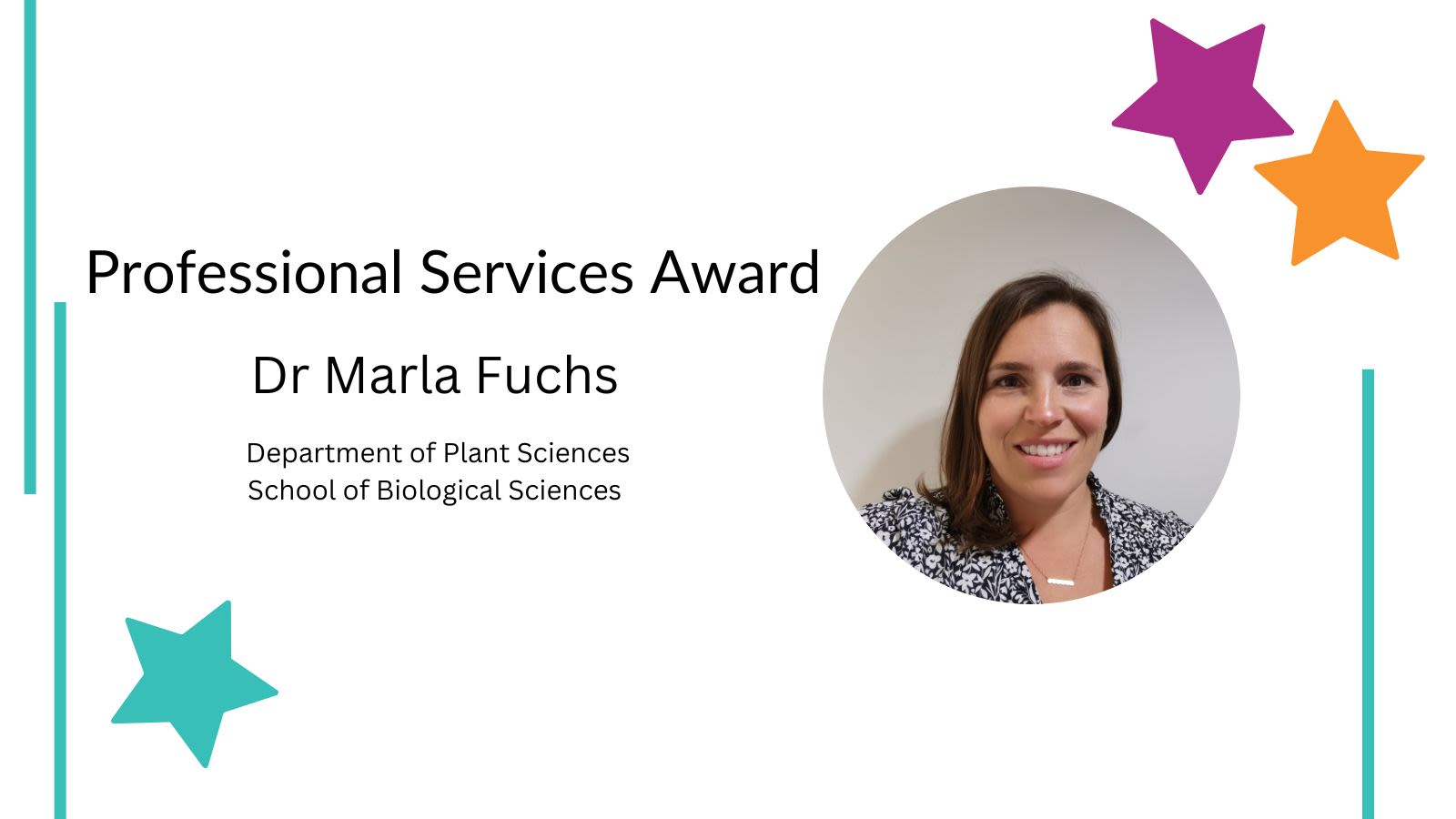 This year's Professional Services winner is Dr Marla Fuchs, is the Chief Operating Officer for TIGR2ESS, a £7.8M programme funded by the Global Challenges Research Fund (GCRF) Grow Call to tackle key research issues and their translation, with the goal of bringing resilience, equal opportunities and diversity to the food system in India.
She has worked to facilitate collaboration among the 20 independent international organisations, support over 30 post-doctoral researchers and coordinate 15 academic leads in the pursuit of finding sustainable ways forward for agriculture in India through academic exchanges, engagement with rural communities, female empowerment and translation into policy.
The programme has shaped policy to support smallholder farmers and agribusinesses, supporting 2 million farmers to access markets in Punjab, saved 58 billion litres of water through more efficient irrigation practices, and facilitated ECR capacity building activities.
The judges said: "The impact of this project is truly epic in scale and importance. The project has had a huge influence on people and communities in the developing world. This was demonstrated through the exemplary and very large scale of engagement that has been managed and undertaken, working in close collaboration with partners."
The awards were announced today (6th October 2022) in a special ceremony in the Old Divinity School in St John's College and on by the University's Public Engagement team Twitter feed.
Acting Vice-Chancellor of the University of Cambridge, Dr Anthony Freeling said:
"Impact is at the heart of the University's mission. For over 800 years, we have contributed to society. Our world-leading research, recognised so strongly in the 2021 Research Excellence Framework, underpins a huge range of innovations that create prosperity, improve our quality of life, protect the environment and enrich culture."
"Across the board, the nominations received were of an extremely high calibre. Moreover, they reflect the huge efforts and strong commitment of each of you to make a real difference to people's lives locally, nationally and across the world."
"Thank you all for your efforts, and the efforts of our panel of judges, who I am sure had a fascinating but challenging time deciding the outcomes."
This year's winners and runners up are:
Established Academic
Winner: Dr Jenny Molloy (Department of Chemical Engineering and Biotechnology/School of Technology) - The Open Enzyme Collection: towards equitable and inclusive global biomanufacturing using synthetic biology
Runners up:
Professor Khaled Soufani (Cambridge Judge Business School/School of Technology) - The Circular Economy: developing environmentally, economically and financially sustainable business models
Dr Jodi Gardner (Faculty of Law/School of Humanities and Social Sciences) - Understanding Credit and the Cost-of-Living Crisis
Early Career Researcher
Winner: Charles Agbor Emogor (Department of Zoology/School of Biological Sciences) - Mobilising public and institutional support for pangolin conservation
Runners up:
Dr Ems Lord (NRICH, Faculty of Mathematics/School of Physical Sciences) - Going Deeper in the Primary Maths Classroom
Dr Sophia Cooke (Department of Geography/Faculty of Humanities and Social Sciences) - Co-Galapagos: catalysing community action for biodiversity conservation and sustainable development
Collaboration Award
Winner: Professor Stefan Scholtes (The Cambridge Centre for Health Leadership and Enterprise, Judge Business School/School of Technology) - Rapid COVID-19 Modelling Support for Regional Health Systems in England
Runners up:
Dr Lara Mani (Centre for the Study of Existential Risk/School of Arts and Humanities) -La Soufrière, St Vincent explosive volcanic eruption: Evaluation of public crisis communications
Professor Tony Kouzarides (Milner Therapeutics Institute/School of Biological Sciences) - Impact through partnership: combining the strengths of academia and business to accelerate the path from discovery to therapy
Dr Johannes Lenhard (Max Planck Cambridge Centre for Ethics, Economy and Social Change, Department of Social Anthropology/School of Arts and Humanities) - Cambridge Homelessness Impact and Research Network - Making research count for people experiencing homelessness
Professional Services Award
Winner: Dr Marla Fuchs (Department of Plant Sciences/School of Biological Sciences) - TIGR2ESS (Transforming India's Green Revolution by Research and Empowerment for Sustainable food Supplies): UK-India Collaboration is Driving High-level Policy Engagement and Positive Outcomes for Rural Communities in India
Runners up:
Rebecca Leam and Owen Garling (Bennett Institute for Public Policy, Department of Politics and International Studies/School of Humanities and Social Sciences) - Levelling Up