Enterprising Minds
Powering a
green revolution

WHO? Engineer, founder and CEO of Cambridge GaN Devices, Dr Giorgia Longobardi, was a Royal Academy of Engineering Young Engineer of the Year in 2019 and has been the winner of numerous accolades including Business Weekly's Woman Entrepreneur of the Year in 2021.
WHAT? Based on Longobardi's original research, Cambridge GaN Devices has developed a range of power devices using the energy-efficient semiconductor, gallium nitride (GaN), heralding a new era of greener electronics.
WHY? "As our lives becomes increasingly digital, our need for more energy-efficient ways to power them becomes ever more pressing. Swapping gallium nitride for silicon in electronics will save up to 50% of the energy used in everything from fast-charging our phones to running the vast data centres that keep our digital world turning."
Why gallium nitride? I came to Cambridge initially as an Erasmus student and was given a choice of topics to research. One was silicon power devices, which the group in the Engineering Department already knew a lot about. The other was the energy-efficient 'material of the future' which I would be the first in the group to work on. Of course, I chose the latter. I like a challenge!
It was particularly difficult because I was having to learn English at the same time. But somehow I got through and as soon as I finished I was given the opportunity to continue my research as a PhD student, this time working in collaboration with a major semiconductor company, NXP (now called Nexperia).
How was that? It was like a dream come true. I was doing research at one of the best universities in the world but I was also spending time in industry, getting to know how markets work and what customers want. The company had operations in both the Netherlands and Belgium so it was also a fantastic opportunity to travel, one of my other passions.
You got your PhD. Then what? I could see the potential for gallium nitride so I applied for EPSRC Follow-on Funding which gave me a year to start bridging the gap between the research and commercialisation.
After that, I was awarded a Junior Research Fellowship at Gonville and Caius College which was perfect: it gave me the flexibility to pursue my own research - and to really think. I had so many ideas during that time and the College was so supportive.
What about founding a company? When did you start to think that might be a good idea? When I applied for the Junior Research Fellowship, my application was based on the idea of spinning out a company. To be honest, I didn't have any real idea of what it meant and what it would take to do it.
During my Fellowship, I continued to work with industry, consulting with two of the main semiconductor companies, Infineon and Vishay, getting good market knowledge and insight.
I founded the company in 2016, with my PhD supervisor - and serial entrepreneur - Professor Florin Udrea.
This all seems like a very smooth path? Yes and no. After raising the first £20k by winning the Cambridge Enterprise post-doc competition in 2016, I pitched to Cambridge Enterprise again, this time for a Fast50 £75,000 convertible loan. On the same day, I also told them, "I'm going to go to Japan for a year."
I had been offered a fellowship by the Japanese Society for the Promotion of Science. For me, it was an amazing opportunity. Cambridge is fantastic but I needed to see something different. And this was the moment in my life when it would be possible, before partners, families or companies could get in the way.
I managed to convince Cambridge Enterprise that it would be beneficial for the company - which it was.
In what way? We all talk about the need for diversity and the importance of listening to other people's ideas and perspectives. It was only when I went to Japan, that I properly understood the difference between cultures. In Europe, we have so much in common. But this was totally different.
And that lesson informs everything I do. There are 32 people at CGD at the moment and 19 different nationalities.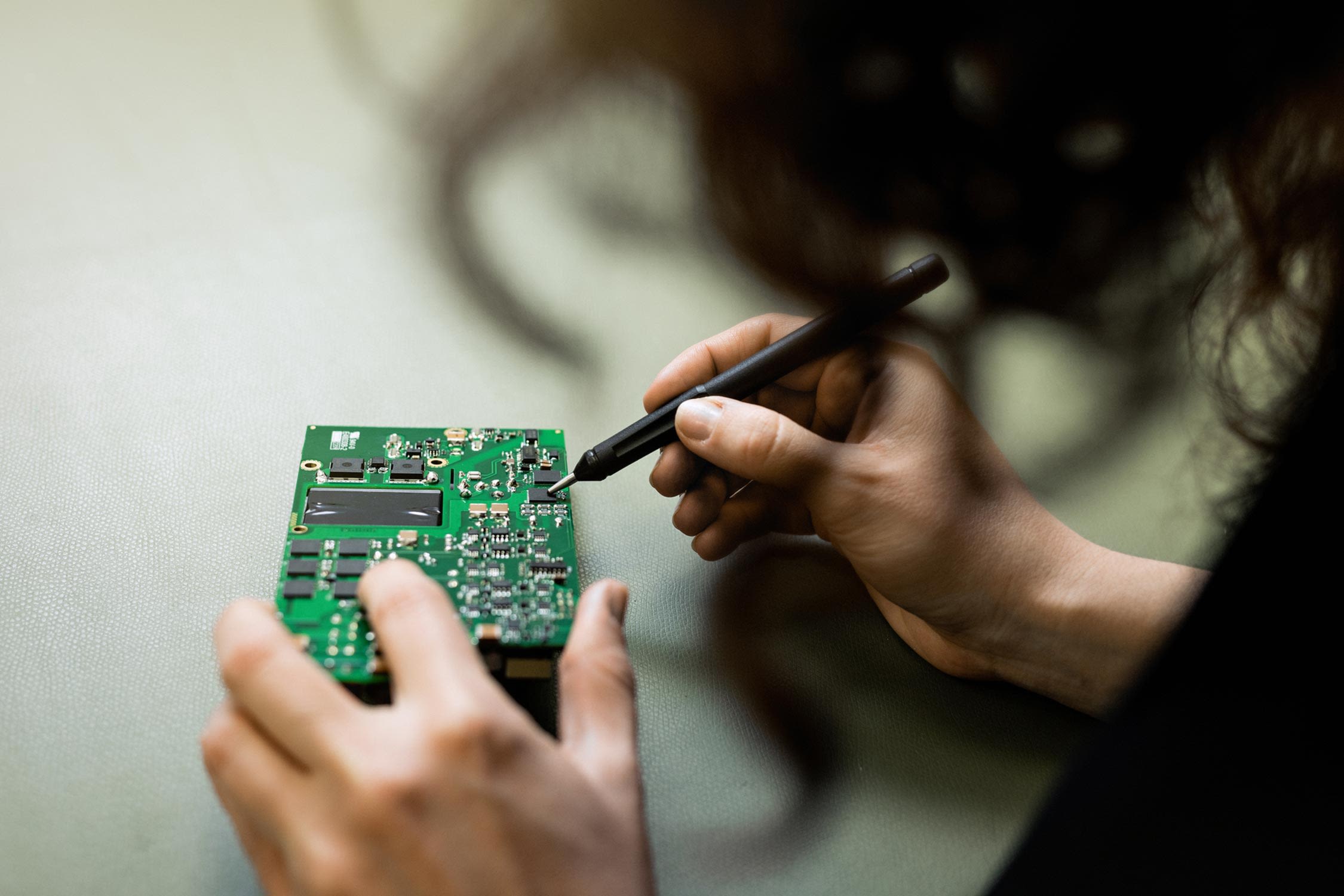 "We all talk about the need for diversity... It was only when I went to Japan, that I properly understood the difference between cultures."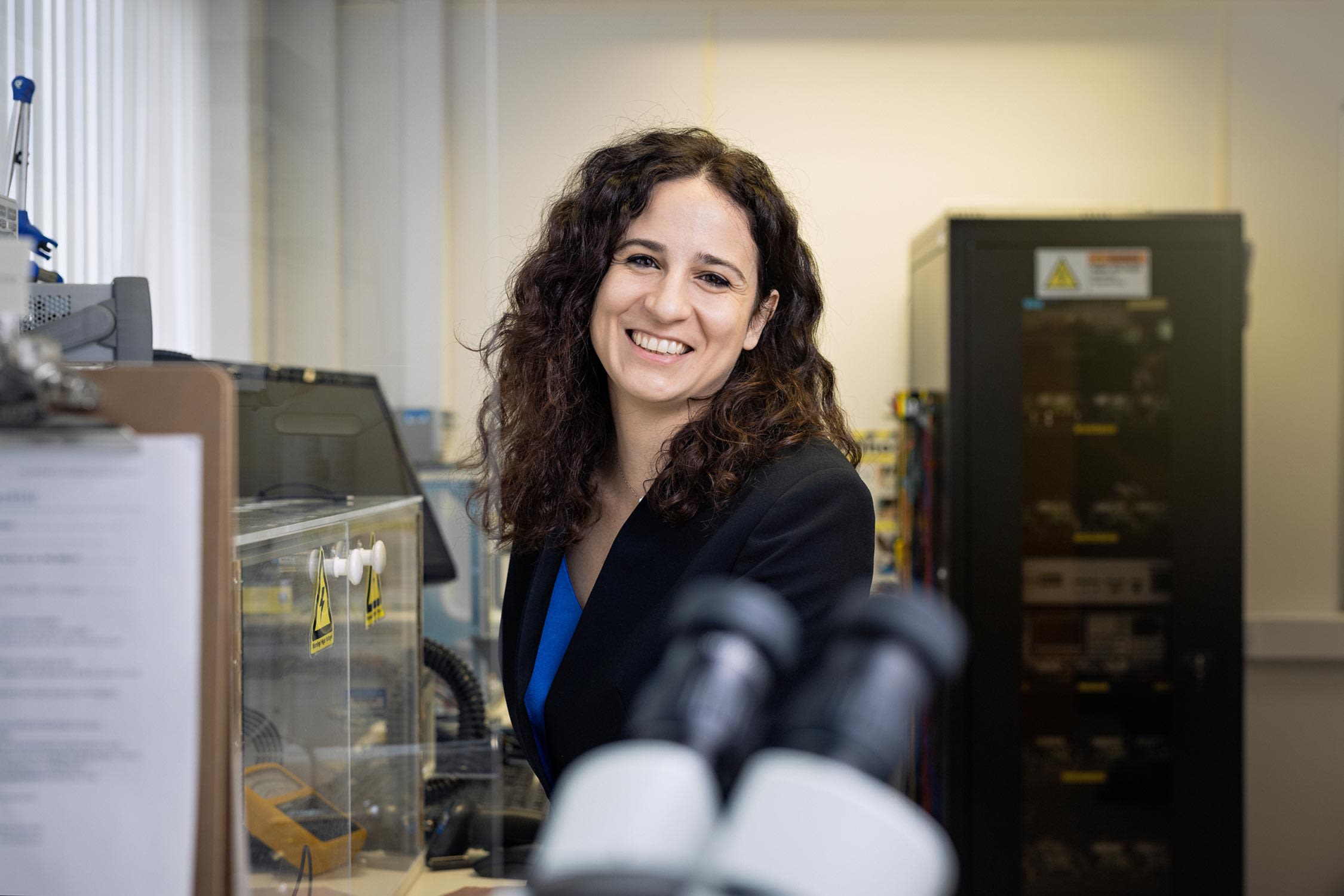 What about gender diversity? Your board members are all male, bar one. Yes - because all the investors are men. It hasn't been a problem in that the board is very supportive. But I do think it's a challenge, if you are in a meeting, whether with your board, your customers or your own staff, and you are different from everyone else around the table.
That's why I'm involved in lots of activities to promote STEM subjects to young women such as the Global Semiconductor Alliance's Women in Leadership Initiative.
Did you show any entrepreneurial flair at a young age? When I was starting out at university, I would sell beauty products at fairs to make a little extra money. I had no training but good instincts as to how to display things so that people would buy them.
What I think I've always had is a leadership mindset. At school, I was always the class representative, listening to different views and then presenting our case in a way that was focused on getting a solution. And my family makes fun of me for always telling them what needs to be done.
So it's something I've always had but it has definitely changed in the last few years.
In what way? In confidence. The more you grow as an entrepreneur, the more you learn, the more you can realise your full potential.
Has being in Cambridge helped you achieve your goals? There are so many helpful people and programmes here. Cambridge Enterprise was hugely important in the early stages when I didn't know how to file a patent or how to pitch to investors.
Having Florin as my co-founder was also really important. He has five spinouts now and back then it was two or three. He made me believe it was possible.
I must also mention the Royal Academy of Engineering SME Leaders' programme which gave me £10,000 to spend on training courses and meant I was able to do a finance course, which was invaluable.
"For me, it's all about leadership rather than making money, about the impact our technology can have."
Where is CGD now? At a very exciting time. We have launched our product range and have just rebranded. We are coming out to the world.
Our first focus is the consumer electronic market but as we head into 2023 and 2024, we will have products for industrial and data centre markets. By 2025 we will have entered the automotive market with transistors that can be used in onboard chargers for electric vehicles.
For me, it's all about leadership rather than making money, about the impact our technology can have. Gallium nitride is the most energy-efficient semiconductor and if our technology is used by data centres, it will save more than nine million tonnes of CO2 emissions, equivalent to the greenhouse emissions from more than 20 million barrels of oil consumed. That's our ambition.
And we are growing fast. By the end of 2023 there should be 100 of us.
How are you finding scaling up? Anyone who says this is not a challenge, is lying. It's a challenge personally, and for the company. You have to adapt to whatever stage you are at and hire the right people to cover the aspects that can no longer be your primary focus. Understanding that this is necessary and letting those parts of the business go is vital.
"... the people you hire are the key to the company's success... you can create an avalanche of innovation."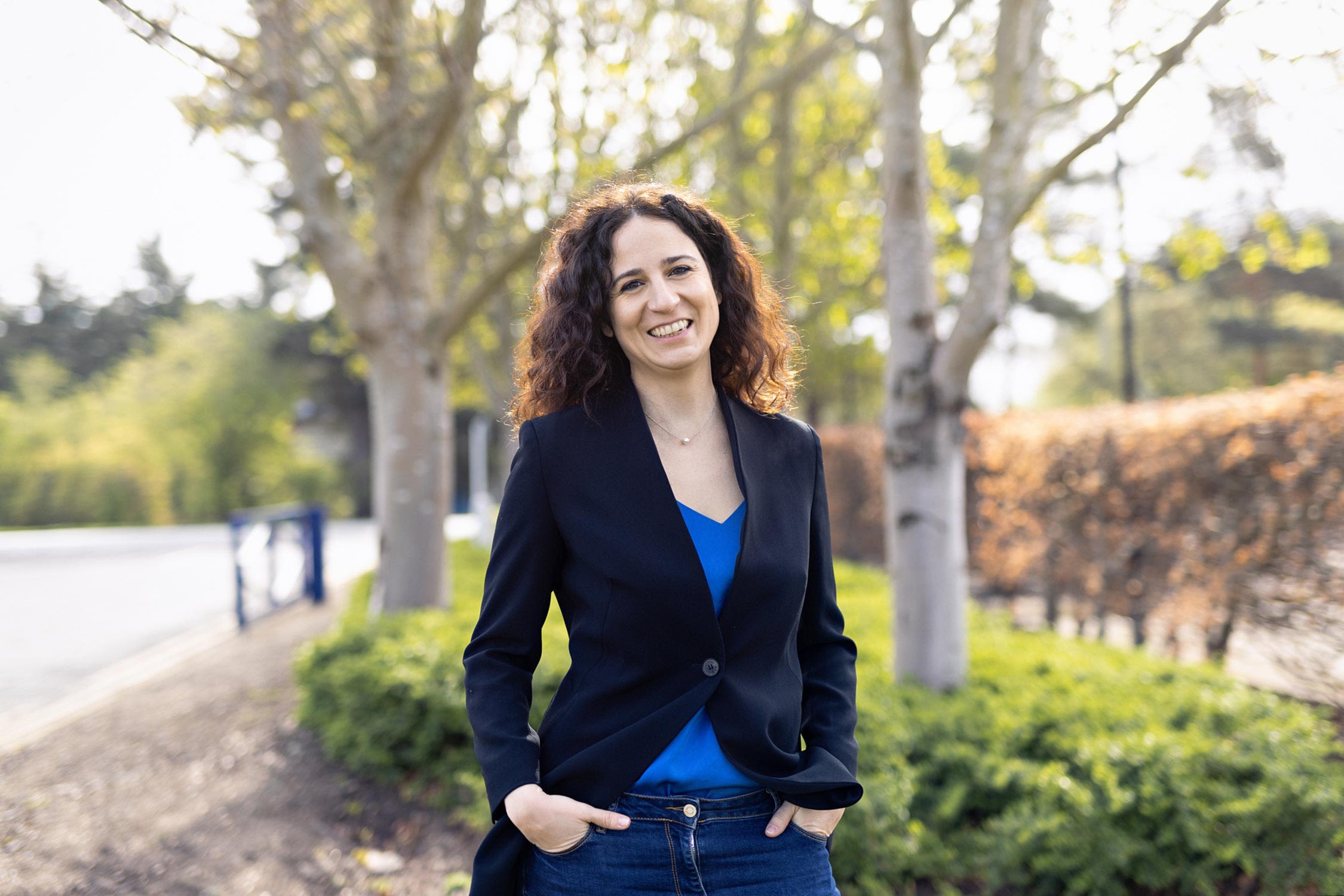 Of course, the CEO gives the direction but the people you hire are the key to the company's success. It's not about telling them what to do, it's making sure they share their ideas. If you do that, you can create an avalanche of innovation. It's beautiful.
What are you most proud of? I'll always say that it's the people. I wouldn't have been able to do what I've done without the people in my company. I believe I'm a good entrepreneur and a good leader but a leader alone is nothing.
Have you had any setbacks? Several! For example, making sure there has been enough support for the team as it grew during COVID hasn't been easy. Being a leader and inspiring others when you are struggling yourself was really challenging.
Pitching online was so hard. You are just talking to a screen, you can't read the room as you would do in person. If there are a lot of them, their microphones are muted so you can't even hear them breathing. It's weird.
What would your colleagues say is your greatest strength? I hope they would say that it's listening, bringing the whole team's view into decision-making. I would also hope they would say it's my ability to look at the details and the short-term as well as the big picture and the future. As a CEO, you are often zooming in and out many times a day.
If someone has a great idea for a business, what piece of advice would you give them? To believe in it. Don't listen to the 'maybe not' voice in your head. Talk to people. In Cambridge there are so many people willing to share advice for free.
What do you do in your spare time, if you have any? Scuba diving when I can, but I also run and and I enjoy yoga. I love to travel by train, with a good book. I've missed that in the last couple of years.
Quick fire
Optimist or pessimist? Optimist, my whole life.
People or ideas? Difficult to choose, but people.
On time or running late? On time – I have to be.
The journey or the destination? The journey.
Team player or lone wolf? Team player.
Novelty or routine? Oh my gosh, novelty!
Big picture or fine detail? Big picture - but also fine detail.
Lots of irons in the fire or all your eggs in one basket? Lots of irons in the fire.
Be lucky or make your own luck? I make my own luck. If you just wait to be lucky, there is no possibility of doing anything.
Work, work, work or work-life balance? The ideal is work-life balance. The reality is work, work, work.
Enterprising Minds has been developed with the help of Bruno Cotta, Executive Director of the Entrepreneurship Centre at the Cambridge Judge Business School.
Published 23 May 2022