Saving England's chalk streams
River activists gather in Cambridge to share their knowledge, passion and battle plans for chalk streams, one of the world's rarest and most vulnerable habitats.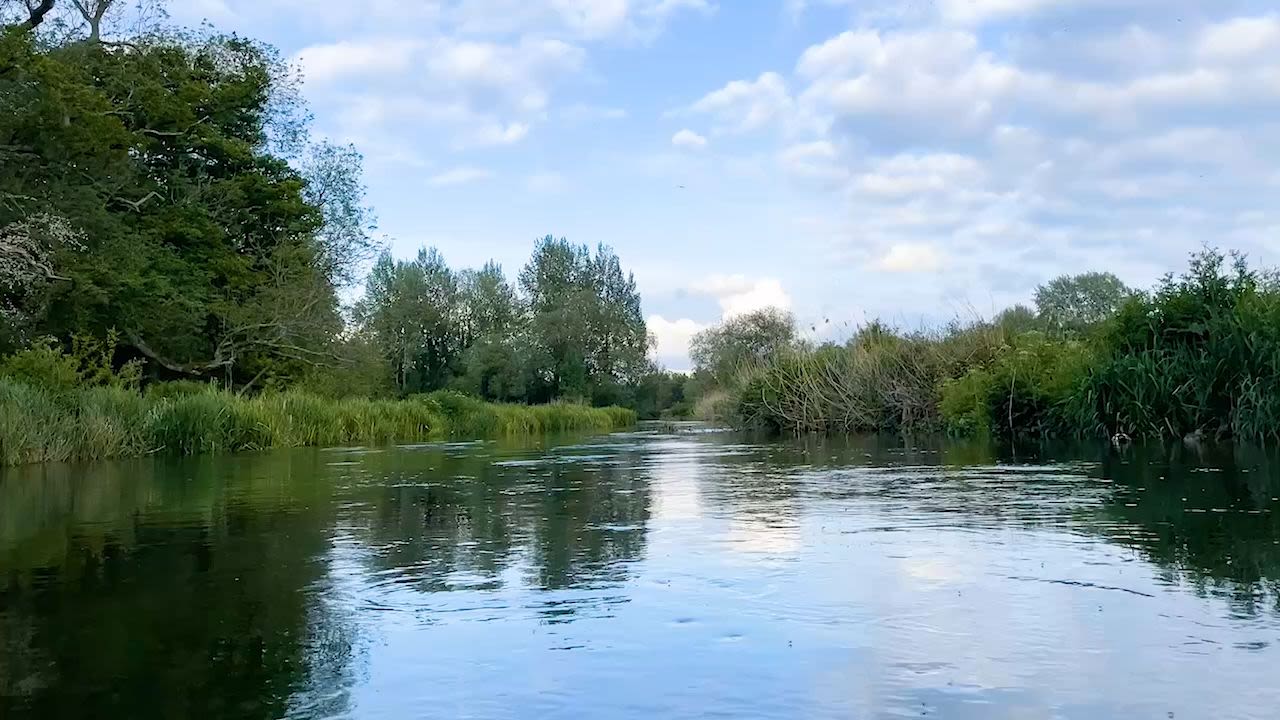 Thirty years ago, in 1993, Britain's Prime Minister morphed into a man-sized dragonfly larva.
This memorable punishment, meted out by Ted Hughes' The Iron Woman, comes as revenge for the 'thoughtless' pollution of rivers, lakes and seas, which his fable's giant heroine has come to call home.
Hughes, an alumnus of Pembroke College, loved wild fish and rivers, and campaigned to protect them both before and after he was appointed Poet Laureate in 1984.
"He would have been in despair", says Mark Wormald, Lecturer at Pembroke, Chairman of the Ted Hughes Society, author of The Catch: Fishing for Ted Hughes, and co-organiser of the conference 'Owned by everyone? The wonder, plight and future of chalk streams'.
"Ted wasn't just an extraordinary poet of the natural world. He knew his rivers and his science," says Wormald. "He observed the deteriorating health of our rivers and he waged a campaign to save the Torridge, Tarka the Otter's river in Devon, from exactly the same stress points that our rivers are still suffering from today."
From sewage-dumping water companies to agricultural chemical runoff, England's rivers have been making headlines for all the wrong reasons in 2023, and the country's chalk streams have been centre stage.
Described by David Attenborough as "one of the rarest habitats on Earth" in his recent BBC series Wild Isles, chalk streams are under serious threat and with 85 per cent of them located in England, the eyes of the world are on this most English and deceptively idyllic of battlegrounds.
The country's 220 chalk streams are distributed across a fan that opens in North East Yorkshire and closes in Dorset.
Fed by aquifers in chalk hills sixty million years old, they provide naturally gin-clear, nutrient-rich waters which support an astonishing array of species, including water crowfoot and starwort; mayflies, stoneflies, damselflies and dragonflies; wild trout, grayling, bullhead and minnows, with sea trout and salmon in some ; kingfishers and bats; otters and water voles.
But these ecosystems are under strain. Water crowfoot is being replaced by blanket weed and algal blooms because of dredging and pollution. Aquatic insects cannot reproduce when chalk streams lose water flow and depth, partly caused by excessive abstraction by water companies.
When invertebrate populations decline, this depletes a vital food source for wild fish. At the same time, fish are struggling to breathe in chalk streams robbed of their flow and cannot breed where gravels are no longer being washed clean.
In March 2023, Pembroke College, Cambridge Conservation Initiative (CCI), and the charity WildFish Conservation hosted a conference designed to mobilise support for Britain's chalk streams. Held in Cambridge's David Attenborough Building, the event attracted almost a hundred scientists, writers, artists, river keepers, land owners, representatives of community action groups and leading NGOs, politicians, and even key figures from British water companies.
The event proved timely, sandwiched as it was between a wave of media coverage about water companies releasing sewage into rivers, and a government pledge to lift the cap on fines for those offences. While some campaigners welcomed the announcement, most insisted that far greater action is needed to save the nation's rivers.
Leading figures in British river and wildlife conservation spoke at the conference including Tony Juniper, Chair of Natural England; Fergal Sharkey, a leading voice in the campaign against river pollution; and Amy-Jane Beer, a biologist, writer and conservationist. The event's opening session was chaired by Lord Chris Smith, formerly Chair of the Environment Agency, and currently Master of Pembroke College, as well as Chairman of South Staffs and Cambridge Water Company.
Among the first to speak were Mark Wormald; Catherine Sayer, freshwater biodiversity lead for the IUCN Biodiversity Assessment and Knowledge Team (part of CCI); and Tom Worthington, an aquatic ecologist from Cambridge's Department of Zoology.
Shortly before the event, I met them by the banks of the River Cam, Cambridge's very own chalk stream, to discuss their work and passion for chalk streams.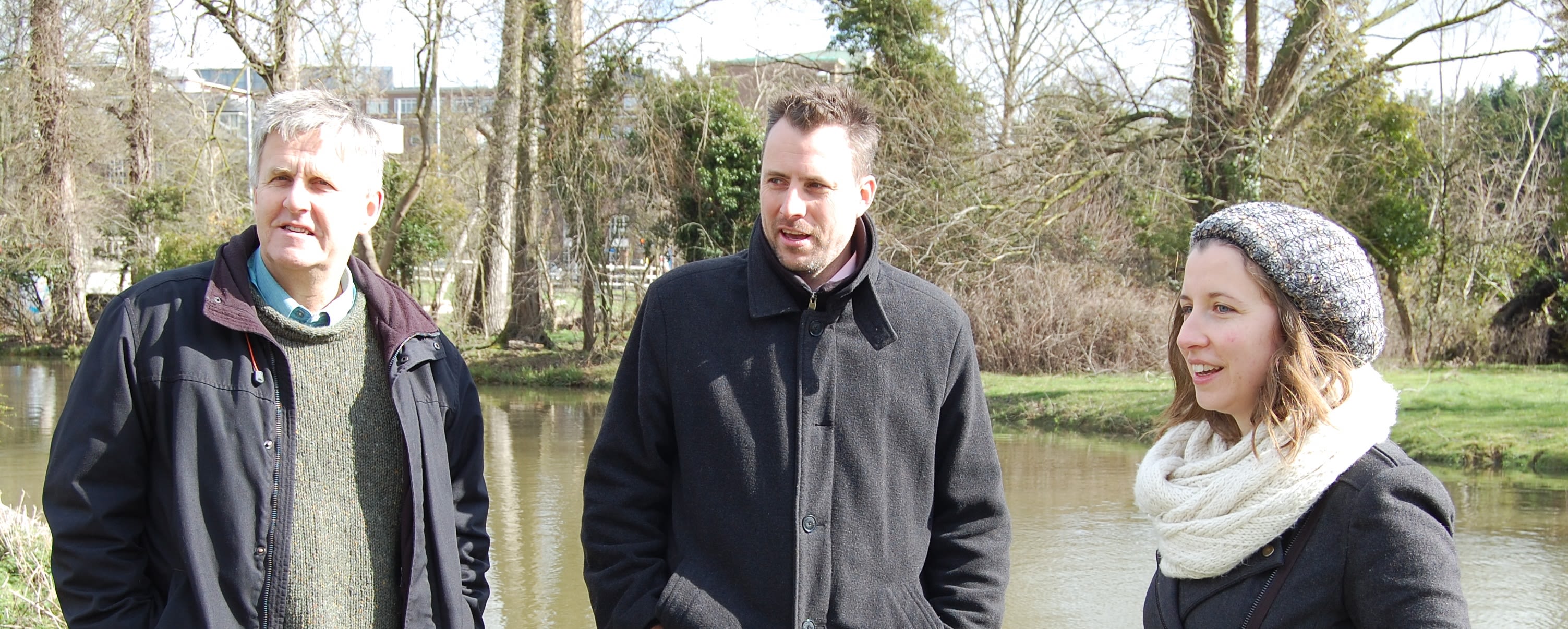 L to R: Mark Wormald, Tom Worthington, Catherine Sayer
L to R: Mark Wormald, Tom Worthington, Catherine Sayer
"We need to make people care and understand that unless we take collective responsibility for the crisis our chalk streams are in, we'll lose them and the extraordinary biodiversity they support," says Wormald.
In addition to the conference, he chaired a public panel event, as part of the Cambridge Festival. He is also speaking at sixth form colleges and is planning further engagement with school pupils to mark World Rivers Day in September.
"Together we need to exert real pressure on government. The Environment Agency was founded in 1996, two years before Ted Hughes' death. Things have basically got worse since then.
"The Agency's funding and staffing have been decimated, so it can't effectively monitor the pollution in our rivers. Water abstraction isn't properly regulated and since privatisation in 1989, the water companies have syphoned off huge profits while failing to meet their statutory obligations."
Wormald points out that the British government is planning to withdraw from Europe-wide environmental protection requirements without adequate plans to replace them, having already ditched a statutory requirement to publish annual reports on water quality.
For Wormald, the biological and cultural significance of chalk streams are inseparable, meaning that English literature specialists like him and scientists like Worthington and Sayer must work together.
"Thomas Hardy wrote about the River Frome in Tess of the d'Urbervilles,' Wormald says. "Charles Kingsley drafted some of the Water Babies while staying at Duxford Mill on the River Cam. And of course, there's Wind in the Willows. As one of our speakers, Adam Nicolson says, a nation's culture is no better than its rivers."
But the philosophy of collaboration underpinning the conference goes much further than this. It calls on people from historically opposed river-loving tribes – anglers and animal rights activists, for instance – to find common ground.
Tom Worthington says: "It's really sad that a country that was at the forefront of increasing water quality in the 1960s and 70s, has let all that progress slip. We should all be very alarmed."
England's chalk streams are not wild systems: they have been highly managed for a long time, for game fishing, fish farming, watercress production and other human activities.
"What might benefit ecology and biodiversity won't always be a priority for the wide range of people who use chalk streams, so we need to have a proper conversation involving all parties to achieve sustainable goals," says Worthington.
The conference's final statement acknowledges that like many other chalk streams, the Cam is suffering from intensifying over-abstraction to supply the needs of more and more housing. Intensive agriculture has also robbed it of its chalk groundwater, only to replace it with untreated sewage, run off from roads and additives, phosphates and fertiliser from agriculture. It points out that boreholes have been drilled deep into aquifers in order to sustain what flow remains in the Cam and its tributaries.
Worthington believes we need to combine science, literature and art to create a narrative that gets people excited about managing, conserving and restoring rivers.
"We're inextricably linked to rivers in this country," he says. "Most of our major cities are built on them, but most people don't get to see what's going on underneath the surface, and that's a challenge."
Catherine Sayer agrees: "Public interest in conservation has tended to focus on big, cute and fluffy charismatic species, on birds and mammals. Freshwater species also suffer from 'out of sight, out of mind'. But the data makes clear that freshwater species are declining faster than those in the terrestrial and marine realms, so they urgently need our help."
According to WWF, global freshwater vertebrate populations have declined 83% since 1970.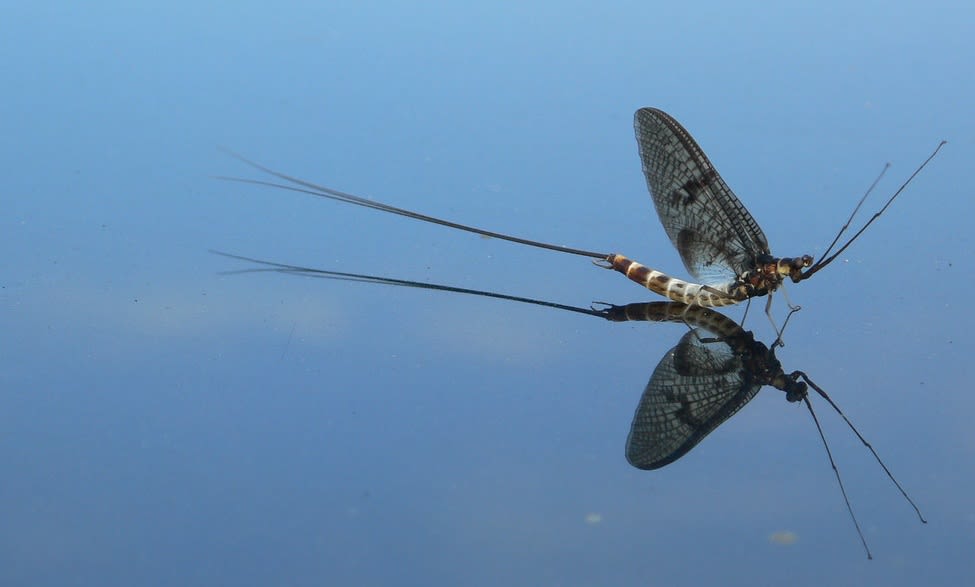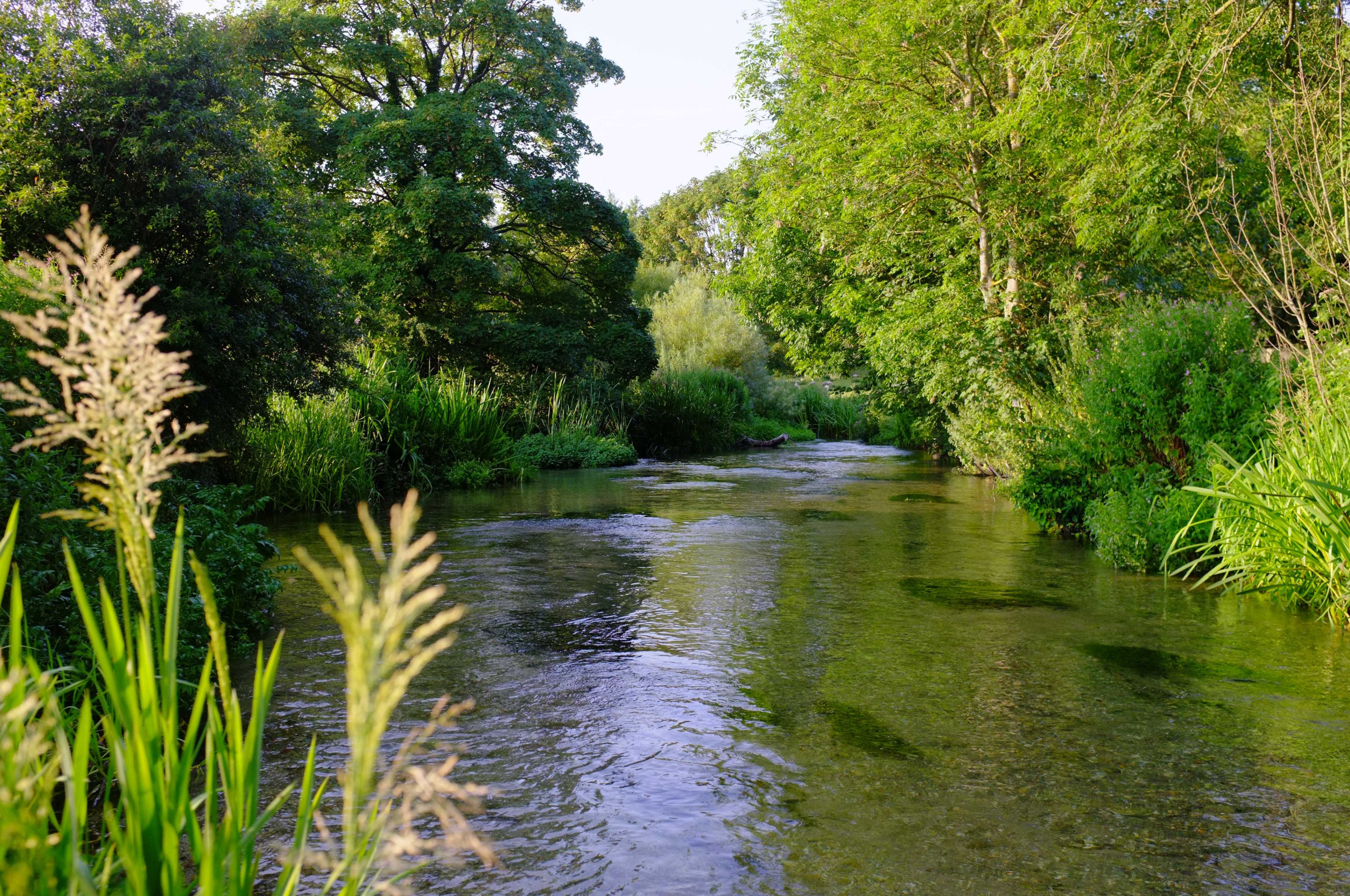 Catherine Sayer is currently working to increase the representation of freshwater species on the influential IUCN Red List of Threatened SpeciesTM.
These species include freshwater fishes, but also crabs, crayfish, shrimps, dragonflies and damselflies, freshwater molluscs, as well as plants.
"We're making a big push to complete a comprehensive assessment of all freshwater fish globally but obviously I live here in the UK so I'm also concerned about what's going on right here," Sayer says.
In 2019, Mark Wormald helped host a first CCI conference about the wonders and plight of salmon. That event spawned a commitment from WildFish to fund IUCN to reassess the world's Atlantic salmon and assess all of its subpopulations, for the first time since 1996. That work is now nearing completion, thanks to William Darwall, Catherine Sayer and their team.
Atlantic salmon is a remarkably widespread species, spanning thousands of kilometres from Russia to North America, and there are 40 genetically distinct subpopulations, including four in the UK, one of which is only found in five chalk streams in southern England: the Frome, the Piddle, the Avon, the Test and the Itchen. Chalk stream salmon may be England's oldest animal, Adam Nicolson told the conference.
"Part of my job is to increase the data available but that's just step one," Sayer says. "We also need to get people interested. There are so many great stories to be told including, of course, the Atlantic salmon and its epic migrations."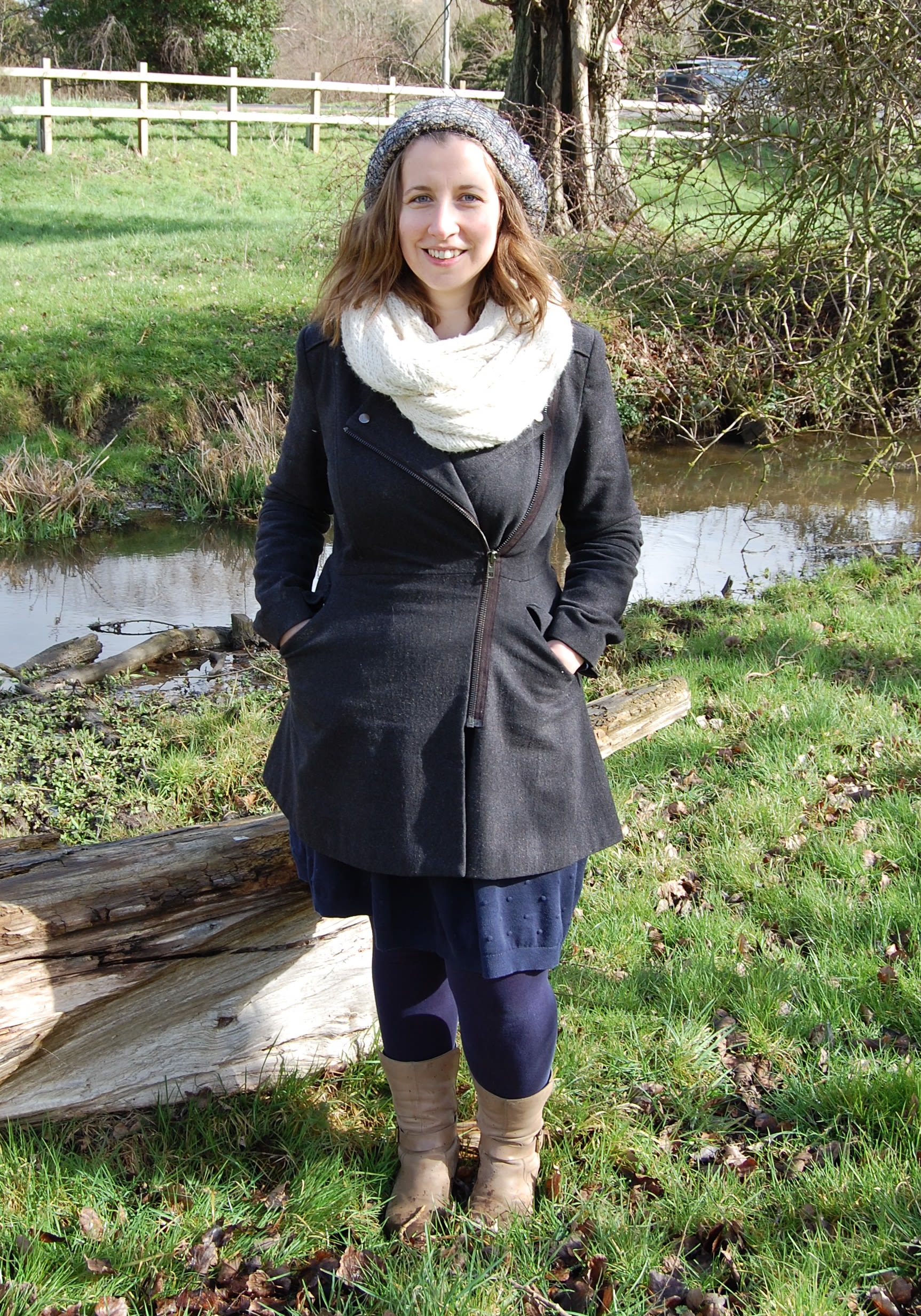 Thousands of migratory freshwater and anadromous fish species need large stretches of free flowing rivers, so it is important that we maintain good habitat quality from source to mouth to ensure these species can complete their life cycles.
For this reason, Sayer and Worthington collaborate on the CCI project 'Global Swimways' which seeks to 'connect fish, rivers and people globally, and to foster international cooperation in the management of transboundary fish migration routes'.
"The UK doesn't have a large number of migratory freshwater species," Worthington explains, "but we do have certain habitats that support species that are really rare and chalk streams are one of those."
"When we think about the UK and this part of Europe, chalk streams are an obvious candidate for the kind of study we're doing around the world. They have significant economic and cultural value while also being highly threatened from agricultural runoff, climate change, man-made barriers and other factors."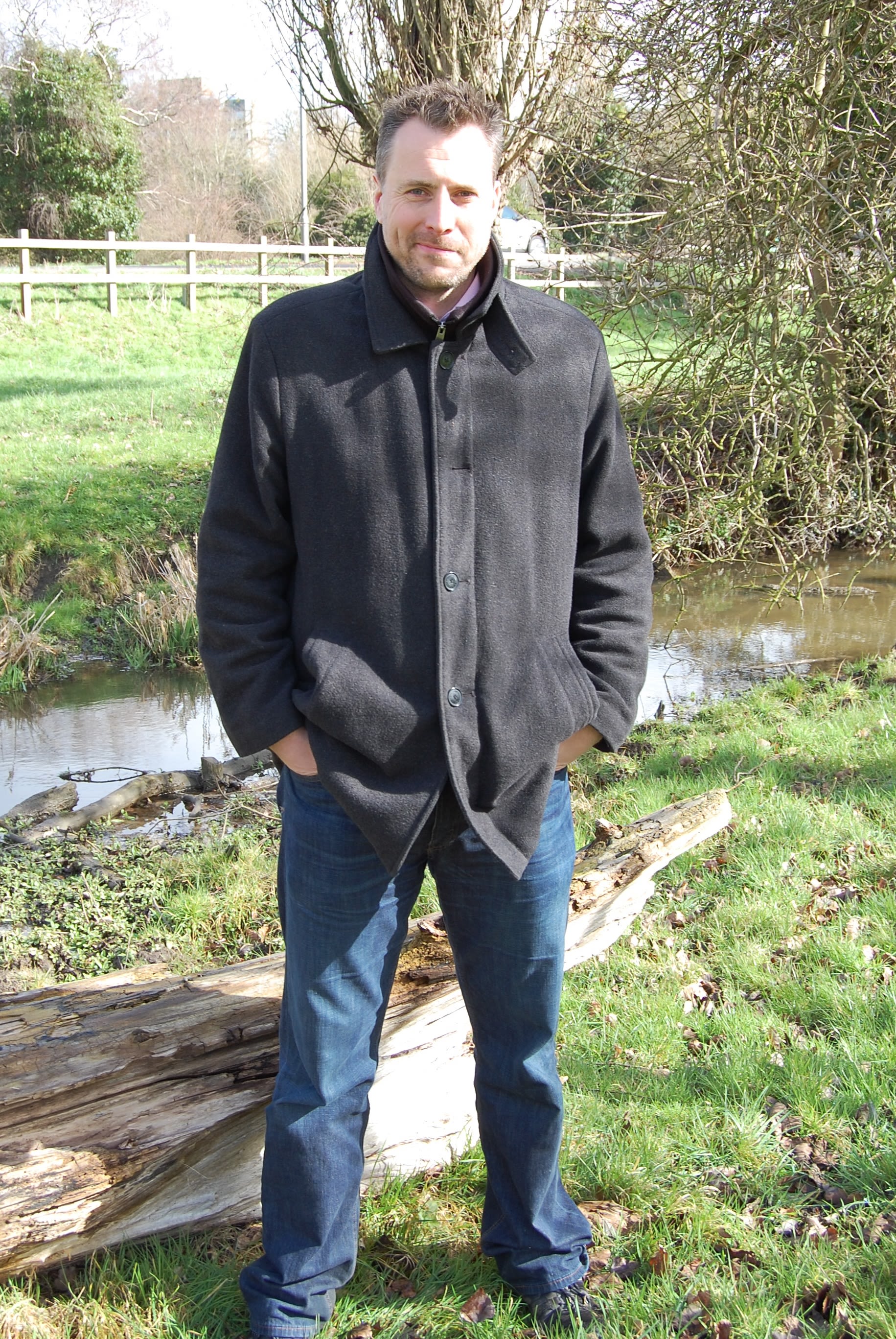 All three speakers are upfront about the fact that managing our rivers more sustainably and restoring them to a more natural state will carry a significant financial cost. But, they argue, the benefits would be immense and reach far beyond the banks of these rivers.
Worthington says: "If you have functioning river systems, they support thousands of species for miles around. We already know that action pays off – the UK has had some major successes in improving wetlands. Bitterns were down to 20 individuals in a couple of places, they're now in the hundreds. We didn't used to see Marsh Harriers, now we do. And this is all thanks to reconnecting wetlands."
Wormald adds that as the River Test flows through Mottisfont Woods in Hampshire, the insects it supports feed rare barbastelle bats in one of their most important breeding sites.
The trio also cite research showing that rivers, wetlands and other natural places have an important role to play in maintaining the mental health of Britain's human population. But what do they love most about chalk streams?
Mark Wormald: "Fishing on the River Itchen one day, I was suddenly aware that a young kingfisher was staring at me from about 30 feet away and I managed to catch a trout from the same pool. That's a fond memory. I've also had encounters with otters playing with each other and then disappearing into the river. Amazing."
Tom Worthington: "For me, it's when you get those remarkable hatches of mayflies and stoneflies coming out of the river and becoming a swarm. Their populations are inextricably linked to the health of fish populations. And if I was going to pick just one fish, it would have to be the Grayling – they're incredibly beautiful and their Latin name is Thymallus because there's a faint smell of thyme to them."
Catherine Sayer: "I often come to this spot [Sheep's Green and Coe Fen, Cambridge] with my toddler and we love it. The river has so much life here and it changes completely throughout the year. And I'm a huge fan of bats, so I would love to be out here at dusk with a bat detector to see what species are catching insects on the water."
The Conference's Call to Action
What follows is an extract from the Conference's Final Statement which can be read in full here.
We must act radically and shrewdly, not just within existing interest groups or parties but by acknowledging and acting on the recognition that chalk streams should and must belong to everyone, and that everyone is responsible for protecting their rights to life, until English law and environmental democracy recognises those rights.
… Only by bringing sustained and overwhelming pressure of public opinion to bear on those we elect as our representatives can historic and current class and party interests yield to all our long-term interests, in the health and vitality of our rivers.
We must pool our resources, using best practice to empower each local catchment to manage its common water resources better. We must advocate for the acceleration of the construction of new reservoirs, maintain the pressure to address massive leakage from pipes no longer fit for purpose, and increase investment in desalination, as alternatives to the horror of uncontrolled abstraction.
We must – as swimmers, paddlers, anglers, naturalists, farmers or riparian owners, walkers and those seeking refuge and refreshment by a river – reimagine and so empower access to these extraordinary arteries in our natural and individual lives.
We must, as individual water consumers, change our own attitudes to water and its consumption – noting that English people use, and waste, far more water per day than in many European nations, and that, unlike any other privatised utility, individual consumers have no choice of supplier. Those of us who can afford it must be prepared to pay more for water; those who can't will need a form of universal credit for this essential element.
… We must find means by which we can, urgently, reach and maximise the recent upwelling of public outrage, that groundswell, that source of deep emotion, at some of the most hideous signs of our rivers' decline, and we must listen to that human flow, learn from and become influencers, increase the political pressure for greater investment, greater monitoring, greater accountability until we wash away greenwashing.
We must also listen to those who have not yet discovered the power of rivers, and help them discover it. We must, then, work together not just to treat the symptoms of the terminal decline of our chalk streams – abstraction, pollution – but to address their cause.
We must no longer tolerate successive institutional failures in which we have been complicit, and instead ensure, by our action, our advocacy and our example, that those institutions on which we depend – privatised water companies, local authorities, national governments, our judiciary – do what nature needs them to: protect and restore our chalk streams. Let them flow as nature intended. And we must do this fast. Our beloved chalk streams, and our children, and their children, deserve no less.
Image credits
Mark Wormald: Title video: River Itchen at Chilland.
Dermot Wilson: Ted Hughes fishing.
Charles Rangeley-Wilson: English chalk stream, dried-up River Chess; Mayfly; Wild trout, River Mimram.
Stephen Buss Environmental Consulting: English chalk streams map.
TeunSpaans: Water crowfoot.
U.S. Fish and Wildlife Service: Atlantic salmon parr
Luca Casale: Kingfisher.
Gilles San Martin: Grayling.
C. Robiller / Naturlichter.de: Barbastelle bat.
Tom Almeroth-Williams: Photos of Mark Wormald, Catherine Sayer & Tom Worthington.