Life-saving o

rigami
Cambridge researchers are sharing a quick and easy way to mass produce face shields for health workers in the poorest countries
Provision of Personal Protective Equipment (PPE) has become a major challenge for some of the world's richest countries, prompting numerous companies, university departments and other volunteers to manufacture masks and visors to help protect their local health workers. But now that the pandemic is spreading in less wealthy parts of the world, concerns are growing for healthcare workers in these areas, who are likely to face even greater shortfalls in the supply of adequate PPE.
Now Cambridge's Centre for Natural Material Innovation has developed a simple and effective solution to address this shortfall, centred on a manufacturing process involving just two origami folds. Working with the University of Queensland's Folded Structures Lab, the team has devised a reusable face shield which folds from a single piece of plastic.
Using two "curved-crease origami" folds, their HappyShield design transforms a clear, semi-rigid plastic sheet into a face shield which, with the addition of a strap, conforms to the wearer's head, and provides an effective barrier from splashes and sprays of infected bodily fluids. 
The shield received positive feedback when tested by ICU doctors at Addenbrooke's Hospital in Cambridge, and has now been certified by the British Standards Institution as approved PPE for the UK and EU.
The team has launched a website which freely shares their cutting and folding templates, together with practical pictorial and video instructions.
Unlike existing face shield designs, the production of HappyShields does not rely on a single material or manufacturing approach. The design lends itself to a variety of manufacturing methods ranging from manual techniques – requiring nothing more than a pair of scissors, a ruler and a ballpoint pen – through to highly industrialised methods involving die-cutting machines which are typically used to manufacture food packing cartons and other sheet material products. Such machines could be retooled to produce as many as 50,000 face shields a day per facility, based on similar research conducted at MIT.
The key to the HappyShield design is its geometry: the locations and precise curvatures of the folding curves allow for the transformation of a single piece of plastic into three connected elements: a face shield portion, a visor and a forehead rest.
These elements support each other to form a stiff three-dimensional shape which comfortably distributes pressure onto the wearer's forehead while rigidly positioning the face shield at the necessary distance from the wearer's face to provide space for other required PPE, such as goggles and a respirator or mask.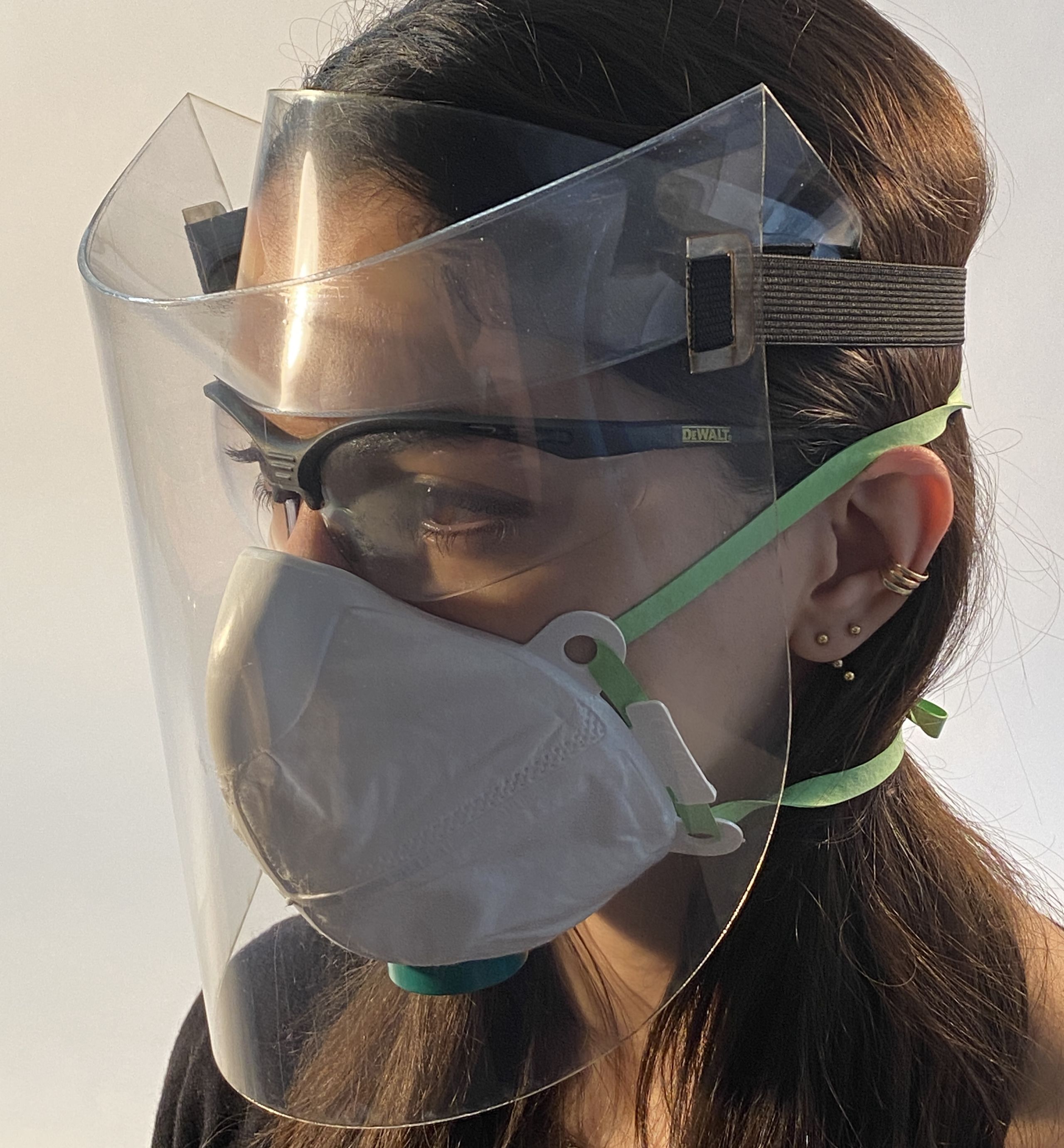 The design features removable straps, which allow the clear plastic shield to be easily disinfected for reuse over multiple shifts. The team hope that the reusable nature of the shield will help to reduce the enormous demand for disposable face shields currently projected as a result of the pandemic. 
"Our aim has been to develop a safe, effective design which is simple and inexpensive to produce using a variety of manufacturing methods, depending on local availability."
Current shortages of PPE for health workers are exacerbated by social distancing measures and worker illness compromising supply chains. Less wealthy regions are likely to face even more extreme disruptions. 
Once the design has been appropriately certified, the team envisions it being adopted by manufacturers and DIY volunteers worldwide using locally available raw materials and tools. To this end, they are currently translating their instructions into as many as ten languages, whose speakers cumulatively comprise roughly a third of the global population.
How you can support Cambridge's COVID-19 research