Developing Arab leadership in the Israeli business community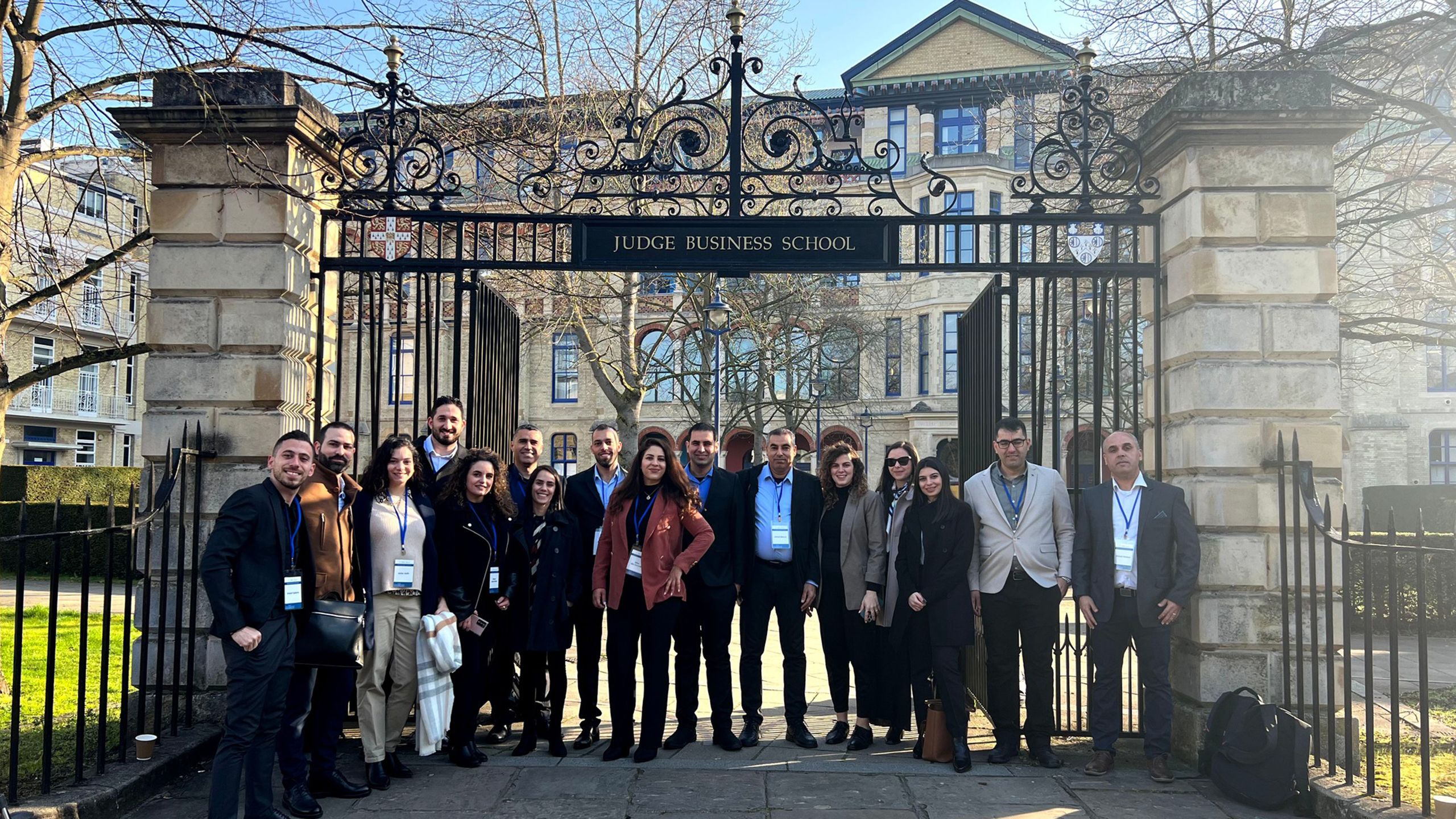 An organisation that seeks to boost Arab leadership in Israel, Kav Mashve, in cooperation with Edmond de Rothschild Foundation, brought 12 MBA students to Cambridge for an immersive Executive Education programme at Cambridge Judge Business School.
An Arab born in the northern Israeli city of Nazareth, Nisreen Salman said her worldview changed from the week she spent in Cambridge in March 2022.
"I always knew the importance of networks, but after my time in Cambridge I now invest a lot more time building a network and posting about things on social media," she said. Salman is one of 12 MBA students from Tel Aviv University, all from the Arab community, who participated in an Executive Education programme at Cambridge Judge Business School organised in conjunction with Kav Mashve, a Haifa-based NGO.
"I've become much more proactive, not just at work but also in engaging with the community," said Salman, a tax partner at KPMG in Tel Aviv. "We had some network events in Cambridge with Cambridge students, and we realised that we all have the same challenges in different situations. There are a lot of problems in Israel and it's easy to say it's the government's role to solve it, but now I know it's for all of us to make changes. The impact starts with us."
Making a beneficial impact in Israeli society is the goal of Kav Mashve, supported in part by the Edmond de Rothschild Foundation, which seeks to create a more inclusive and collaborative Israeli society through higher education. The Foundation initiates projects in Israel aimed at reducing social gaps and fostering young leadership, and one of those initiatives involves working with Kav Mashve to promote Arabs into leadership positions in Israeli businesses.
The Cambridge part of the programme, held 21-25 March 2022, complemented participants' learning at Tel Aviv University by providing a global leadership perspective that will allow them to advance in their careers and provide role models for other Arabs. Arabs comprise 21% of Israeli society but just 13% of the workforce and a mere 0.3% of managers in leading companies in Israel, according to the Inter-Agency Task Force on Israeli Arab Issues. The five-day Cambridge programme was divided into themes: Strategic Leadership, Globalisation, Ecosystem Leadership, Innovation, and Global Challenges.
"The study week at Cambridge provided our participants with an exclusive experience of in-depth academic content with a global perspective," said Sami Asaad, CEO of Kav Mashve. "The networking activity that the participants experienced with students from different countries studying in Cambridge opened up opportunities for them as well as an exchange of ideas and diverse perspectives."
About 90% of the first cohort in the programme, who began in Tel Aviv in 2020, have already achieved promotions or extensions to their workplace roles, according to Jiska Cohen, Director of Resource Development at Kav Mashve. The first cohort graduated from the programme in November 2022, and a second cohort is already underway at Tel Aviv University. This new cohort will visit Cambridge in early 2024.
"Many Arabs in Israel feel that it doesn't matter what they do, even if they have the best grades, they lack courage to ask for a promotion," said Cohen. "We show them on this programme that they're more than entitled, and we aim to help build their self-esteem."
The programme's roots go back to October 2020, when Kav Mashve, in cooperation with the Edmond de Rothschild Foundation, launched its Al-Mada programme – from the Arabic term for "horizon" or "everything your eye can see". Al-Mada is an intensive two-year senior leadership development programme that aids the development of business leaders among Arab university graduates by providing tools and concepts for personal development.
The programme is open to Israeli Arab university graduates who have worked for at least five years in the Israeli business sector and are recommended by their employers for future promotion. The programme has three main pillars: Academic (an MBA degree at the Coller School of Management at Tel Aviv University; Leadership (training by the Institute for Quality Leadership) and Global Leadership (the programme at Cambridge Judge Business School).
Maram Jubran, the Al-Mada Programme Director, said of the Cambridge pillar:
"In Cambridge, we were exposed to the highest academic level by impressive and interesting lecturers, and innovative academic content relevant to the changes in the world today. And of course, we were privileged to meet academic and administrative staff who work at very high standards, with excellent human relations, openness and a desire to take into account the diversity that exists in the Al-Mada programme."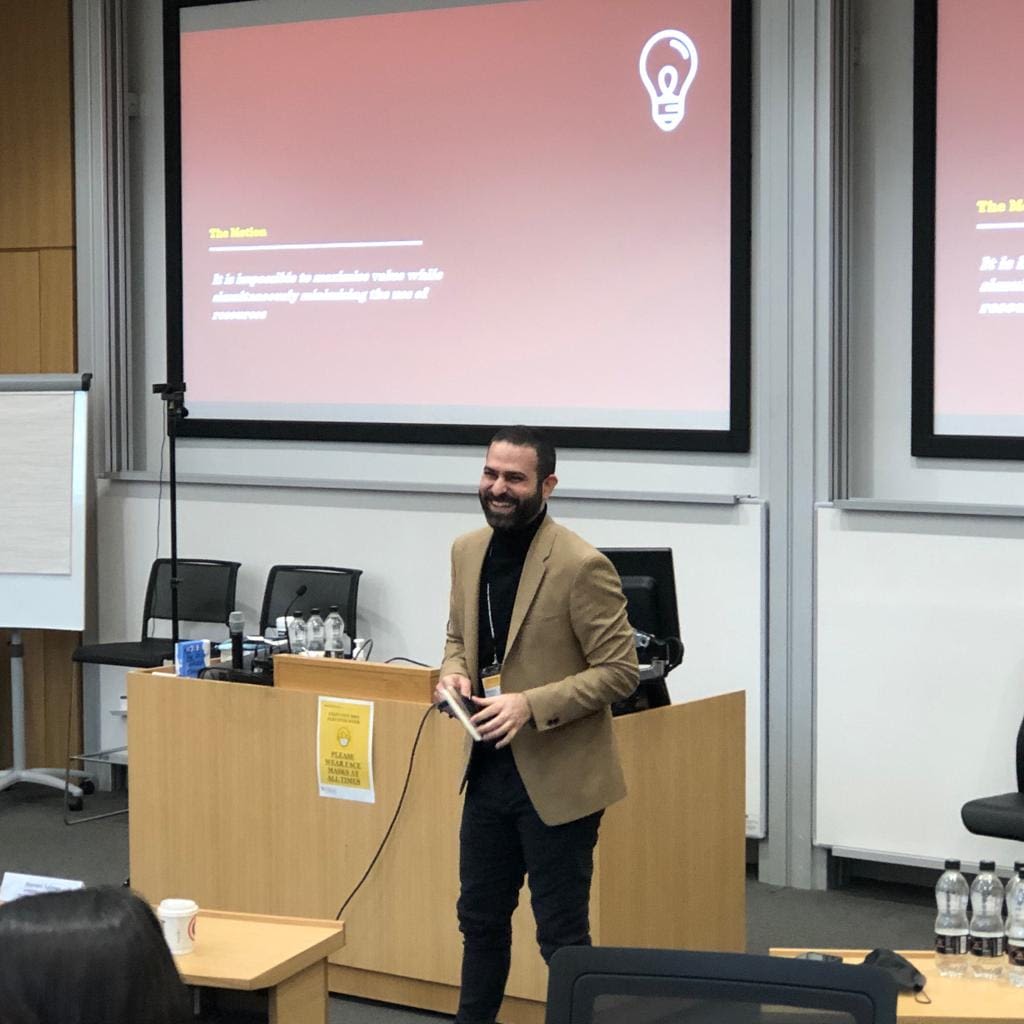 Shifting the 'equality line'
The name of the NGO, Kav Mashve, is a play on words in Hebrew: it can refer to the "equator" but also to "the equality line" in terms of social justice and equality.
"A key goal of the programme is to provide role models for others," said Elli Booch, Director of Philanthropy at the Edmond de Rothschild Foundation. "When a person from the Arab community comes into the business world and sees someone from the Arab society in a management position, they say: 'I can be there', and the youth see an opportunity not only to get into the business world but get into a position of influence.
"The connection to Cambridge specifically is that we want to give this group the best of the best in terms of the quality of the education and training they get. It's not just giving them a management course, we want to give them the best."
"We learned in Cambridge how to build a future case – what might happen in the future and how to respond to it – based on facts different from the present," said Al-Mada participant Amjad Egbaria, who recently shifted gears within his telecoms company Amdocs from software engineering to product management. He now supervises 25 people in two teams compared to four people in a single team before coming to Cambridge.
"For example, we looked at a future world powered entirely by green energy, with no fossil fuels like we have now, and what that world would be and what opportunities there would be. I've already applied this technique with my product developers, to teach them how to brainstorm on finding opportunities."
"We wanted the participants to realise that there's a world outside of Israel and there are global challenges they can address," said Allègre Hadida, Academic Programme Director of the Executive Education programme at Cambridge Judge. "The programme in Cambridge included connections with MBA students at Cambridge Judge. We thought it was important to meet their peers, students with different backgrounds and different educations, to compare experiences and build bridges among young professionals across geographies, occupations and cultures."
Alaa Hbaish, who was born and raised in the northern Israeli Druze village of Yarka, is now Acting General Manager of Innovisec, a tech-based innovation security of the ICTS Europe security-solutions firm, which set up a software office in his hometown that now employs eight people – all of them Arabs.
"It might seem like a small number of employees, but for a village of 16,000 people in the north of Israel with no high-tech companies it's a really big thing," he said.
Another programme participant, Raghad Khamis, recently shifted career gears from the private sector to work in finance for Rectify, a Tel Aviv-based e-commerce company that is listed on the NASDAQ exchange in New York.
"I've been the only Arab in about every company I've worked, and it's important to change the mindset about Arabs in Israeli society," Raghad said. "I've studied in Israel, lived eight years in Tel Aviv and have Jewish friends, but for many people I'm the only Arab they know, so it's important to show people that Arabs aren't 'like this' in a certain way. The week in Cambridge was very challenging, and that gave me a lot of confidence."
Mwassi Ahmad, Programme Officer for Arab Society at the Edmond de Rothschild Foundation, said the Cambridge element of the Al-Mada programme is a vital component of the broader experience.
"I know from personal experience that as an Arab in Israel I'm always comparing myself to Jews in Israel, but as soon as you get outside and gain an international perspective you exit the small bubble you're in and stop comparing Jews and Arabs. That's why it's so important to have this more global perspective in Cambridge."
The Executive Director of the Executive Education division of Cambridge Judge, Beth Ahlering, said the Al-Mada programme is an important initiative for the business school.
"The Al-Mada programme illustrates how Executive Education at Cambridge Judge encompasses so many elements – serving not only companies but also NGOs like Kav Mashve and governmental organisations who are working for a better future globally," she said. "We're particularly proud of the Al-Mada programme because it reflects Cambridge Judge's commitment to diversity, equity and inclusion, and we can't wait to welcome the next cohort to Cambridge in 2024."
Adapted from a story originally published on the Cambridge Judge Business School website.
Photographs by Kav Mashve