BIG FISH
A treasure trove of unseen writing by Ted Hughes and Seamus Heaney reveals a vital creative friendship
The Barrie Cooke archive, acquired by Pembroke College Cambridge, transforms our understanding of the great poets Ted Hughes and Seamus Heaney.

It reveals that they drew career-defining inspiration from a largely unknown friendship circle, and a shared passion for Ireland, water and fishing, spanning five decades.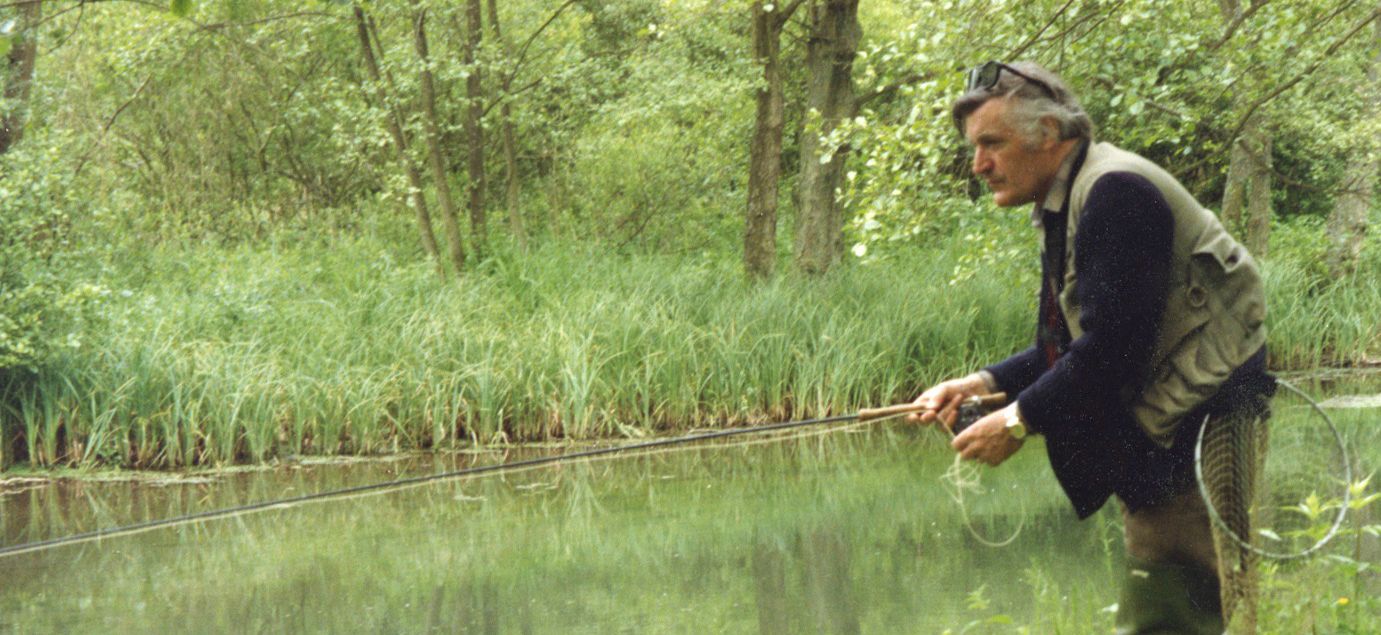 Ted Hughes fishing. Image courtesy of Dermot Wilson
Ted Hughes fishing. Image courtesy of Dermot Wilson
"Your confidence in us engendered confidence in ourselves ..."
It's March 1972 and Seamus Heaney has just made a life-changing decision. He will give up his lectureship in Belfast, move to County Wicklow and commit to writing full-time. This will, he hopes, "release energies as exhilarating and subversive as those that must rise in a guerrilla fighter when he joins up!" The future Nobel laureate is profoundly grateful "to my instructors who led the decision - in the main, yourselves and Ted Hughes."
Four months earlier Seamus and Marie Heaney had spent a transformative weekend with the painter Barrie Cooke and his wife, the Dutch potter Sonja Landweer, on the River Nore in County Kilkenny. "The secret will to change burgeoned", he reflected, "after that mornings walk at Lugalla and then, more irresistibly, in your kitchen on the Saturday night when we ate the pike. The first supper!"
The Barrie Cooke literary archive and collection is a treasure trove of previously unseen poems, personal letters and literary papers written by Seamus Heaney, Ted Hughes and other writers, as well as electrifying drawings and paintings by Cooke, inspired by his friends.
---
Watch this short film presented by Pembroke College's Dr Mark Wormald
---
Highlights from Ted Hughes' pen include 25 vivid letters, written over a span of 30 years, a poem entitled 'Trenchford on Dartmoor' written for Cooke, and a sketch entitled 'The Dagda meets the Morrigu on the Unshin near Ballinlig', which offers a wonderful angler's retelling of Irish mythology. Like the letters, it speaks volumes about fatherhood, writing, fishing and friendship. The collection also contains photographs revealing both Heaney's and Cooke's affection for Ted Hughes.
Admirers of Seamus Heaney will delight in the dozens of typescript and manuscript drafts of poems and letters he sent Cooke from November 1971. These include an unknown and unpublished poem called 'The Island' about the house on the River Nore in County Kilkenny where Cooke, his wife Sonja Landweer and their young daughter were then living, and Heaney's sense of liberating excitement at the life of the river in which they were sometimes literally immersed.
An entry in Cooke's guest book includes two poems, one about Heaney's father, the other an early version of one of Heaney's 'Lightenings' about Cooke and his studio. Both would appear in his collection Seeing Things, where the former was entitled 'An August Night'.
Here Seamus Heaney describes Barrie Cooke as 'our neo-bushman - brushman'
The poets' painter
Barrie Cooke was born in Britain in 1931 and lived in Ireland from his twenties. He became Ireland's leading expressionist artist, highly regarded for his responses to the waters he fished and campaigned to protect from pollution. But the archive reveals that he also made a major contribution to literature.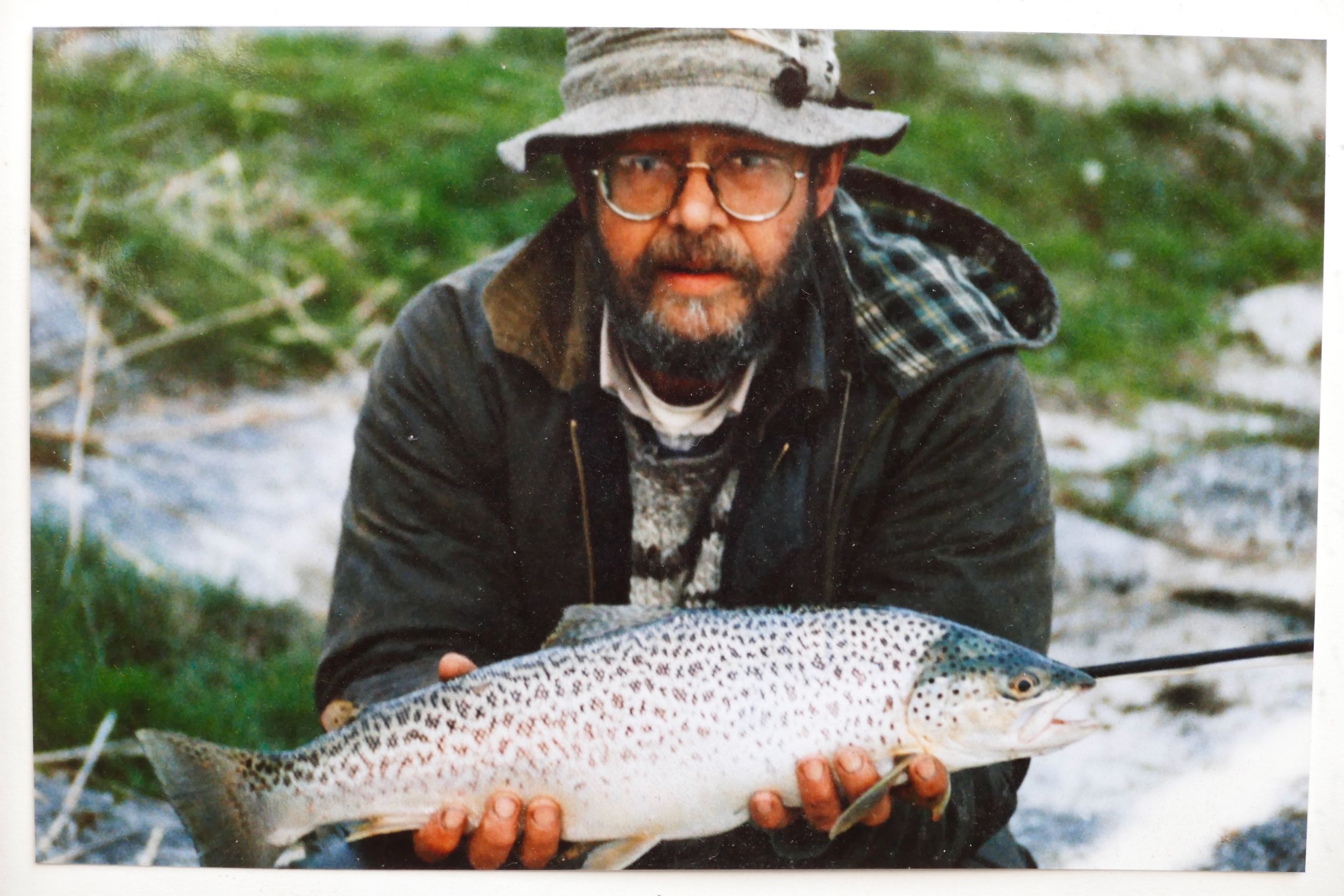 Cooke is already credited for suggesting and illustrating Ted Hughes' poem 'The Great Irish Pike' (1982). But the archive also contains wild images of Hughes' Crow – published 50 years ago this autumn – and evidence that their collaboration as well as their friendship went back to the early sixties.
Letters and poems in the archive reveal another dimension to Cooke's influence. In his company, in and beside the waters they fished, Hughes' head and heart turned 'Irishwards', as he put it, towards a 'freedom and flow', an 'inner freedom' that made him and his son Nick 'completely happy', as he put it to Heaney.
In his final years, Barrie Cooke's family feared he had lost his collection of poets' letters and manuscripts, including major international poets who attended the Kilkenny Arts Week, which he co-founded in 1974. But during a conversation about Hughes with Pembroke's Dr Mark Wormald, he suddenly pulled out a cardboard box full of treasures. Cooke died in 2014; ideas for the archive's future have evolved in the years since.
Mark Wormald says: "The tenderness of the letters between these men takes my breath away, and it transforms what we know about their work and personal lives."
"Ted Hughes emerges as an absolutely devoted father, a wonderfully generous friend, and someone who lived and breathed nature through fishing. And Cooke's influence on Seamus Heaney, as an artist who was completely committed to the natural and mythological history of Ireland's waters, was real and enduring, as was the nourishment Heaney took from their friendship."
A keen angler himself, Wormald says: "Fishing is the UK's biggest participation sport but it suffers from a fair bit of cultural snobbery. This collection blows that out of the water."
"Without fishing and without Barrie Cooke, their fishing-obsessed friend, Hughes and Heaney's poetry would have looked very different."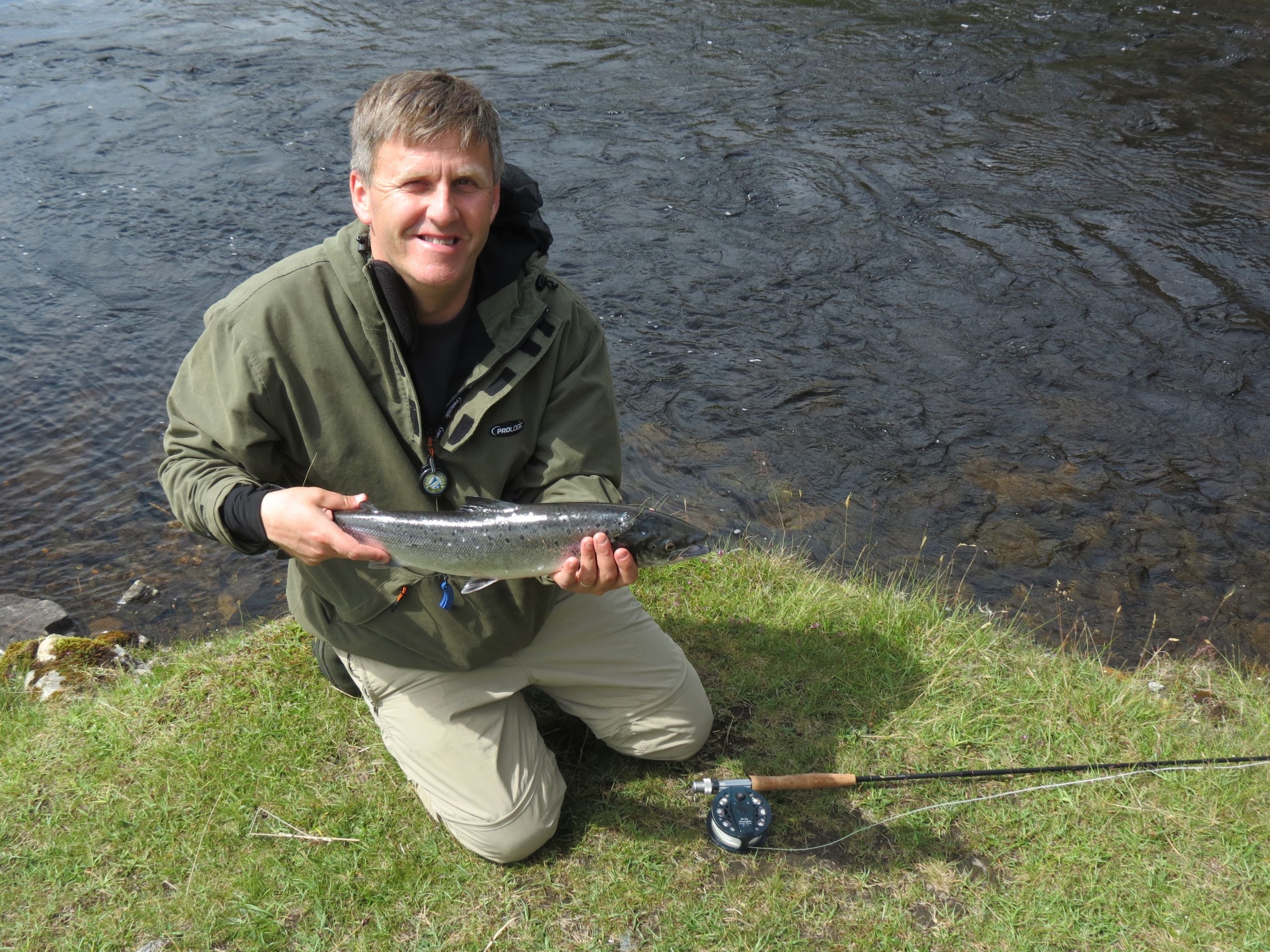 Into the bogs
Barrie Cooke's work with Heaney ventured from the riverbank into Ireland's peat and wetlands. Cooke invited Heaney to join him in a 'private 4-dimensional bog wallow'. Heaney responded, sometimes directly inspired by Cooke's own art, and this eventually led to an illustrated edition of Bog Poems (1975), with plates by Cooke and published by Hughes's sister Olwyn's Rainbow Press published two weeks before Heaney's much better known collection North.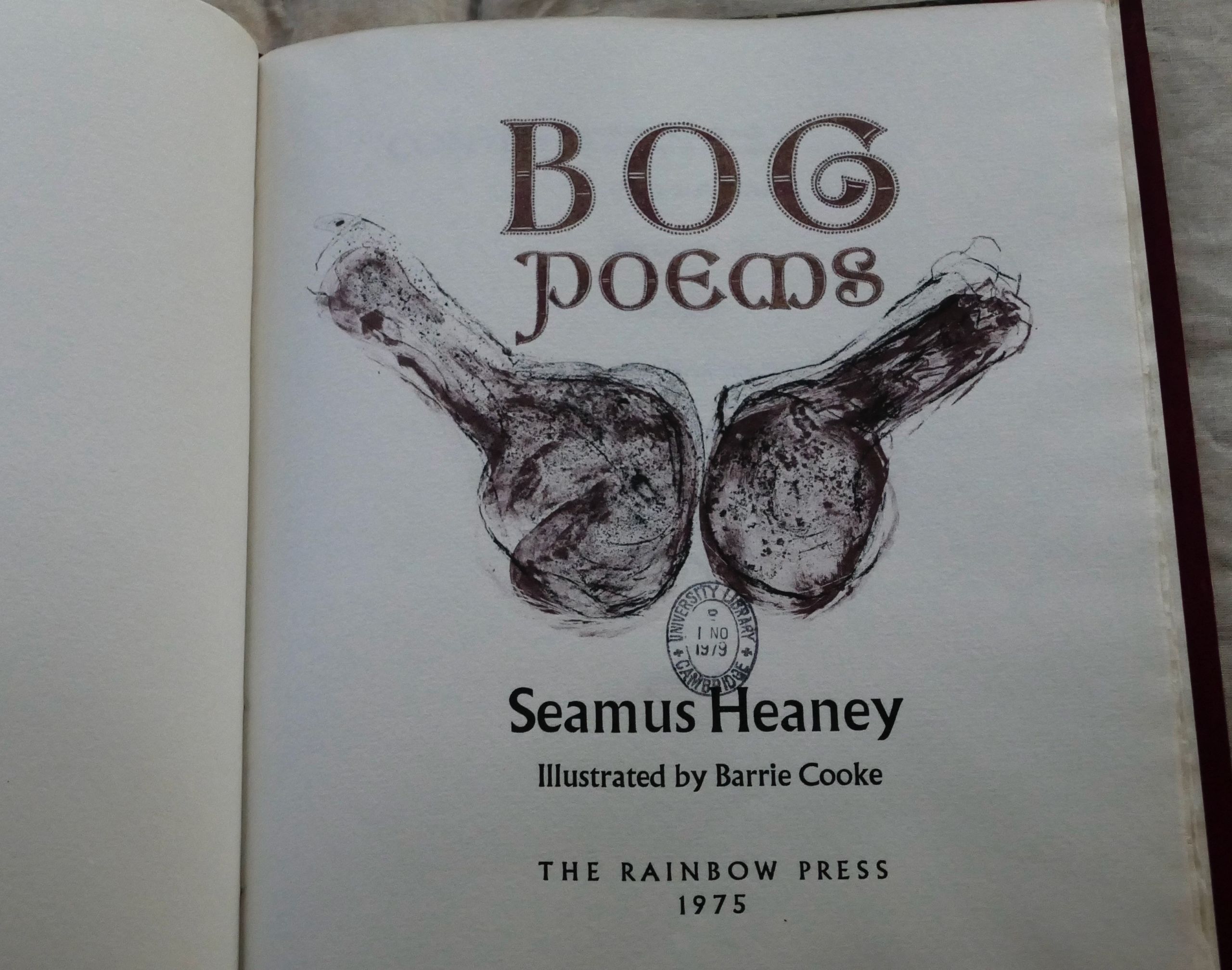 The collection includes over forty haunting water colour and charcoal images Cooke made on that journey. Cooke later illustrated Heaney's Sweeney Astray (1984) and the artist's preparatory paintings and drawings in the collection help explain why the medieval Irish epic inspired them both so much. Two fine lithographs marking Heaney's seventieth birthday are also included, as is Cooke's watercolour portrait of the poet.
One of 45 drawings and paintings Barrie Cooke completed for Seamus Heaney's bog poems (Rainbow Press, 1975).
Heaney wrote of his admiration of Cooke's muddy palette, which combined 'la boue et la beauté'. This painting of a bog body, unknown till now, reveals both.
One of 42 drawings, paintings and monotypes made by Barrie Cooke for, but not included in, a limited illustrated edition of Seamus Heaney's Sweeney Astray (Farrar Strauss Giroux, 1984).
A new home in Cambridge
Pembroke, Ted Hughes' alma mater, already has a significant collection of the poet's manuscripts, artwork, fishing tackle, fish and furniture, including his writing desk and chair. This, and Wormald's ongoing research into the friendship, persuaded Cooke's daughters to give the College first option on acquiring their father's literary archive and collection.
It will now be catalogued, conserved and curated in Pembroke's library. A series of exhibitions will follow in the College's new public gallery due to open in 2022. Pembroke also plans to stage exhibitions in Ireland and the US.
Mark Wormald says: "This unique collection is deeply rooted in British and Irish culture so we're delighted to make it readily available to researchers on this side of the Atlantic. But there's bound to be interest in America too, where Cooke studied and Heaney and Hughes both taught.
"It will bring joy to a lot of people. It's going to inspire books, articles, teaching and public events, on literary friendship and the interplay of text and image."
Pembroke College acquired the archive from the Cooke Estate with the generous support of Ted Hughes's sister Olwyn's bequest to Pembroke; it was purchased with support from the Arts Council England/ V&A Purchase Grant Fund, the National Heritage Memorial Fund, Art Fund, Friends of the National Libraries, Old Possum's Practical Trust, and the Duke of Devonshire's Charitable Trust. Dozens of alumni and friends of the College contributed generously too.
René Olivieri, Interim Chair of the National Heritage Memorial Fund, said: "This previously unseen archive gives us a vital new insight into these great literary and artistic figures and how their close friendship impacted their collective work. We at the National Heritage Memorial Fund think it fitting that this archive joins the outstanding collection of Ted Hughes material at Pembroke College.
"In the year that marks the 40th anniversary of the NHMF we are proud that this archive will be included among the wide range of iconic artefacts and places across the UK that the NHMF has played a vital role in saving. We're pleased to support Pembroke who will care for it for the nation and welcome plans to exhibit the archive in Ireland and further afield in the future."
Pembroke College opened the Barrie Cooke literary archive and collection on 23rd February 2022. Researchers can consult its online catalogue and book a time to visit here.
Mark Wormald is an English Fellow at Pembroke College Cambridge. He co-edited Ted Hughes from Cambridge to Collected (2013) and Ted Hughes, Nature and Culture (2018). His book The Catch: Fishing for Ted Hughes will be published on 28th April 2022, and he is working on a study of Cooke and his friends, entitled Casting and Gathering: A Painter and Two Poets. This work is supported by grants from the Cambridge Centre for Visual Culture, Pembroke College, and the Faculty of English.
Story originally published on 14th November 2020 and updated on 23rd February 2022.