COVID-19 has cast a shadow that few of us could ever have imagined. Around the world, families are grieving, lives have been put on hold, finances are squeezed. The crisis is not yet over, but hopeful stories are emerging.
In a new series, we hear how individuals across the University community have coped with unexpected experiences, found new opportunities and are looking to the future.
Final-year student Toni Fola-Alade had a plan: secure investment for his startup, focus on his exams and enjoy his final term. Then everything changed. He describes what helped to keep things in perspective, go offline for two months and study – and how the terrible news of George Floyd's murder almost derailed him.
On Sunday 15 March, I pitched to a room full of venture capitalists for my start-up, Nomad. It was a moment I had been gearing up for since January, when my application on the fund's website was shortlisted – a rare occurrence. I had been diligent, alongside my studies, to prepare pitch presentations on the value of investing in our idea to use financial technology to empower small businesses in Africa. Everything seemed to be going smoothly.
A couple of days earlier, St John's College had emailed to say that it would be best for us to permanently vacate the residence  to safeguard the first cases of coronavirus in College. So I'd packed a single duffel bag for what I thought would be a weekend spent with family and delivering my final Investment Committee. My plan was simple: secure the investment for my startup, which I would focus on after graduation, and then lock in exclusively towards my Finals in Politics and International Relations.
Within a week, it became clear that I would not be returning to College in the near future. We also did not secure the investment – but we were invited to join their incubator, with the opportunity to pitch for a larger investment at the end of the three month-intensive program.  I was now CEO of a young company.
I was also faced with fast approaching exams and needed to complete my dissertation.
The first two weeks of lockdown were nearly impossible. I was mourning the loss of my final term and the memories I had planned to make. As a Former President of the Cambridge University African Caribbean Society, I missed my ACS community, my friends and playing sport for the University. A dark cloud hung over my head. I was barely able to get out of bed, let alone study for exams I wasn't sure how or whether I'd be sitting. Leaning on my personal faith, family and friends were significant contributors in regaining focus.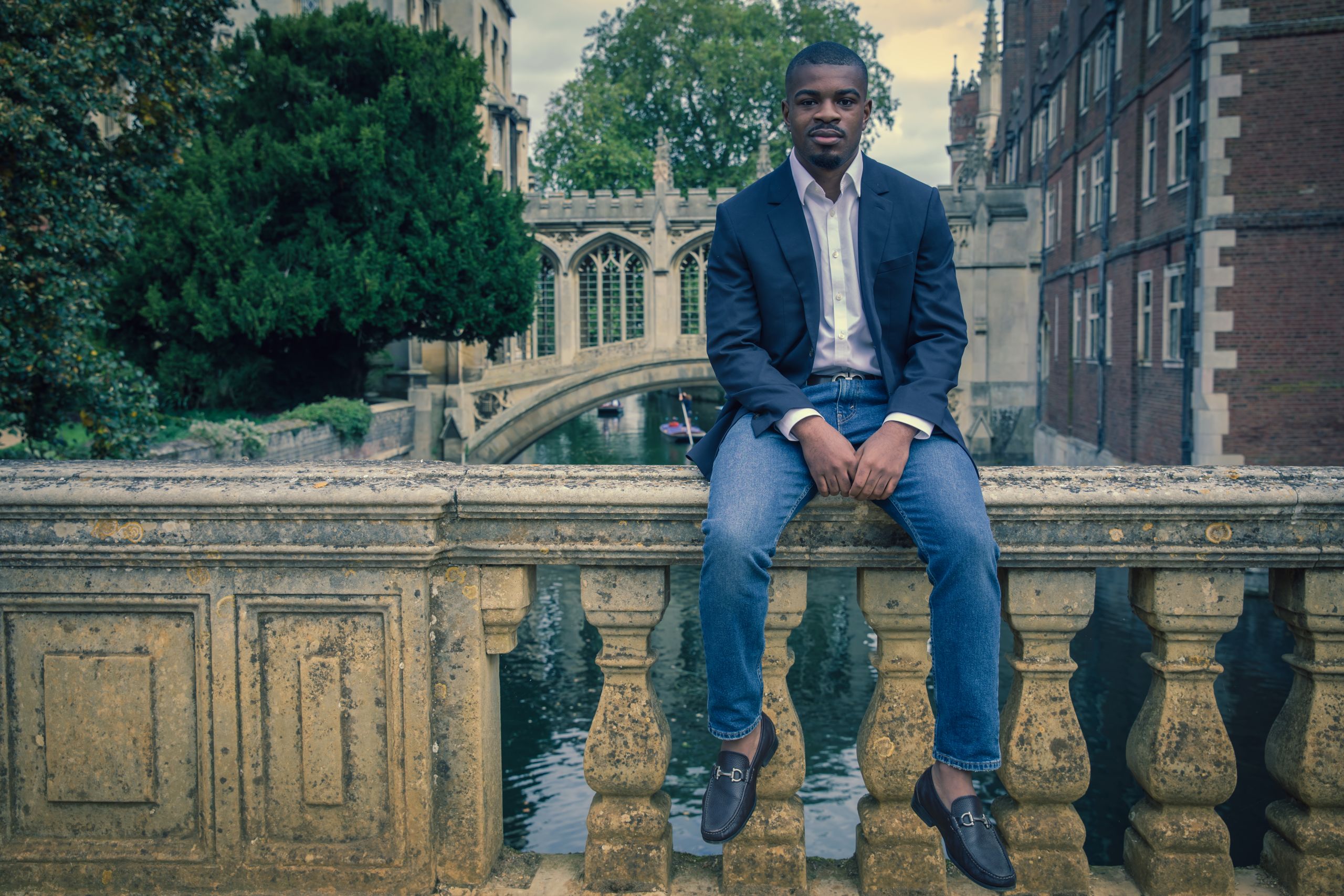 I've always found that serving others helps to keep things in perspective for me. My co-founders at DoGood.Africa, a registered non-profit social impact fund that we launched in 2019, suggested that we do a fundraiser for low-income communities in my country of origin, Nigeria, which has the largest number of people living in extreme poverty in the world. The capital city of Lagos had just instated lockdown and curfew, which made it difficult for millions of urban poor to access food. There was also a significant lack of availability of, and understanding around, the importance of PPE, with many preferring to forego rules to make an income.
We supported 150 vulnerable households across 25 different streets with enough basic staple foods to last ten days, distributed by our incredible team on the ground. We implemented a door-to-door delivery method to respect social distancing guidelines, targeting elderly women as direct beneficiaries to prevent giving multiple beneficiaries from the same household.
It was inspiring to see the support we garnered from around the world during such a difficult time. It also made me think more deeply about the processes that prevent the development and empowerment of low income communities – a subject that I'd been researching for my dissertation on the "The Struggle for Space: Profit making, Power Politics and the persistence of poverty in Lagos". The focal point of my research was a previous project that I had helped to launch through DoGood.Africa which provided fishing boats who live in Makoko, Africa's largest slum.
I realised that, although COVID-19 has had devastating effects in the UK, I was fortunate to be safe and in a country that had comparative capacity to deal with it, which is less true for many developing countries. My academic output ceased to be a personal concern but a tool to effect the change I wish to see in the world; I found renewed purpose and vigour to complete the degree.
"What did I learn? I learnt that anything can be overcome but rarely alone; I will always need to lean on my personal faith and support system. I learnt that an incredible amount can be achieved when everything is stripped back and one is single-minded. I learnt that hard work cannot be bypassed but that periods of rest are inevitable for longevity."
And so, from the 24 April until the 26 June, I made the decision to go completely offline, without a mobile phone, while living alone at times. I knew I needed absolute focus to get through these exams, especially with the added pressure of running a company. Armed with only my iPad, I threw myself into my studies.
I took inspiration from Issac Newton's 'Annus Mirabilis,' the 'productive plague' during which the 23-year old would make major strides in calculus, motion and gravity, in isolation.
It was incredibly difficult. I spent the working day taking my company through our program. The dawn and dusk hours were spent reading Adam Smith and writing mock essays.
But I will look back at this period as one of the happiest and proudest achievements of my life. In the midst of it, the only thing that let me know I wasn't going crazy was the calls with family, co-founders, investors and the friends and mentors (such as Priscilla Mensah, former CUSU President) who supported me and helped me go through endless drafts of essays and dissertations. If you didn't know, Facetime sessions on the iPad are not particularly ergonomic!
George Floyd's brutal execution on the 25 May, just days before my first exam, killed any momentum I had built over the previous month.
As a young black man who took to running as a way of coping during lockdown, Ahmaud Arbery's murder on the 23 February, while jogging already weighed heavy on my mind. As I watched the historic protests unfold, I worked with the College to ensure we do our part.
It was encouraging to see St John's and the JCR listen to students of colour and proceed with an excellent fundraiser for the Stephen Lawrence Charitable Trust. I took the considered decision (and risk) to take the remaining days before my first exam on the 1 June off to rest, prioritising my well-being.
The day before my first exam, I struggled to get out of bed to begin to review my notes. A quick call with my parents and a mentor showed me it was as simple as making a decision to finish and that decision carried me through those strange online exams.
It was an incredible shock to graduate with a First Class degree and to win the confidence of our investors during this profound period.
What did I learn? I learnt that anything can be overcome but rarely alone; I will always need to lean on my personal faith and support system. I learnt that an incredible amount can be achieved when everything is stripped back and one is single-minded. I learnt that hard work cannot be bypassed but that periods of rest are inevitable for longevity.
I also learnt that the world is going to be even more malleable and that how my generation will live, study and work will continue to be unpredictable for my generation. This has strengthened my resolve to take the learnings from my degree to think about how we can create policy to nurture more resilient economies and turn obstacles into opportunities for young people around the world, which I hope to advocate for as a youth delegate at the upcoming G20 Summit in October.
Words: Toni Fola-Alade
Design: Zoe Smith
Photography: Lloyd Mann
Typography: Balvir Friers
Series Editor: Louise Walsh