Found in Translation
When the first COVID-19 cases were confirmed in Africa, Cambridge researcher Dr Ebele Mogo and colleagues were worried that a dangerous language gap in public health information would soon develop across the continent. She asked on social media if anyone could help them fill the gap.

Thirty young Africans came forward...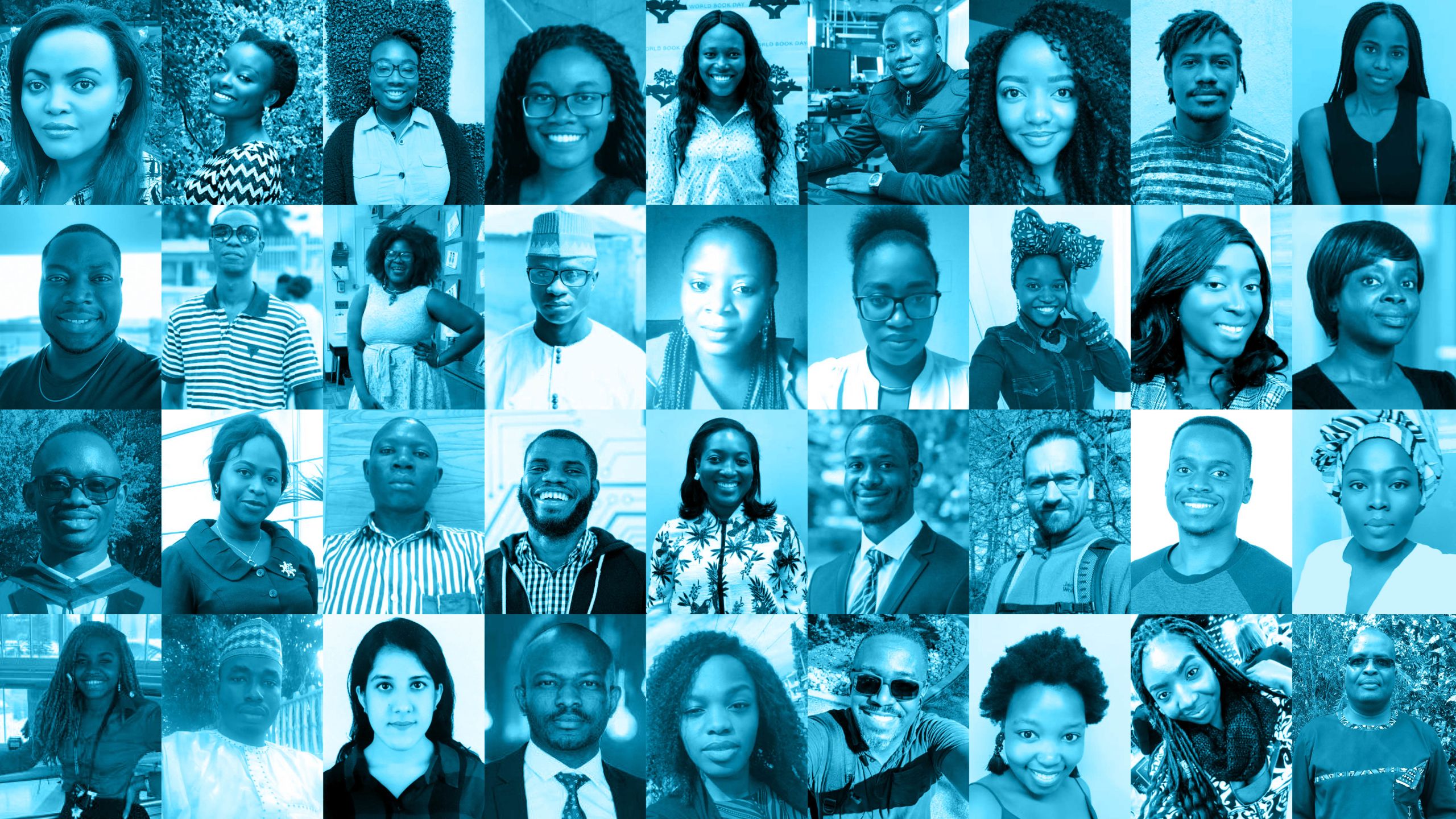 Volunteers who offered their help, together with the core team
Volunteers who offered their help, together with the core team
Language can be a major barrier to transmitting good public health information at any time. But when a pandemic like coronavirus is sweeping the globe, it becomes even more crucial to promote preventative messages like handwashing and social distancing in the language that people are most familiar with.
With this in mind, a project involving 30 crowdsourced volunteers has just completed the translation of COVID-19 public health guidelines into 18 of the most spoken languages across the African continent. The resources are freely available for download and are now being disseminated through community networks and international organisations across Africa.
This incredible effort was the brainchild of Dr Ebele Mogo, a researcher at Cambridge's Medical Research Council Epidemiology Unit, and her colleagues at Engage Africa Foundation (EAF), a volunteer-run organisation that promotes public health initiatives.
"Our aim was to increase the number of people able to access the recommendations," she explains. "But we also wanted to help address the problem of misinformation, which is rife and passed quickly through social networks.
"Well-meaning friends and family forward what they believe is good information… 'eat garlic', 'take a hot bath', 'spray your body with chlorine'. For those frightened by the prospect of not being able to protect themselves and their families, it can be all too easy to take the wrong advice. Our aim has been to promote information that changes behaviour towards safer responses."
"When cases of COVID-19 were starting to be confirmed in Nigeria, I was concerned about how the pandemic would play out in my home country," explains Mogo.
"Talking with my loved ones, and with colleagues from Nigeria and other African countries, I realised that I was not alone in my concerns. We were worried about the spread of misinformation, about the fragile health systems and how they would cope, and about how hard lockdown would be without palliatives."
Mogo's research is on non-communicable diseases (NCDs) like diabetes and heart disease, which have been increasing across Africa in recent decades. "What we are seeing is that people with chronic diseases are at most risk when a pandemic hits. Those most at risk may also have less access to information and also live in rural or deprived urban areas. My research looks at how best to implement effective solutions."
She brainstormed with colleagues at Engage Africa Foundation as to how they could help. The team already had expertise in designing and implementing health promotion initiatives to reduce NCDs: they had run dialogues with urban planners on the connection between planning and health, social media competitions to engage young people on disease prevention, and community health promotion projects targeting health literacy. How could their existing capacity and growing community best contribute to helping the response in Africa to COVID-19?
"It was the gap in health literacy that emerged as the most feasible and useful for us to help tackle," she says.
They first tried to pull together existing translated material but encountered challenges with differing qualities of information and gaps in some languages available.
"We quickly figured out that there could be value in having translations based on standardised information from the World Health Organization (WHO) to make it easy for various groups to use that information. The WHO has a suite of evidence-based resources with clear, instructive messages and infographics on coronavirus. We decided to translate these basic preventive messages into as many indigenous African languages as time permitted."
Amharic, Arabic, French, Fulani, Hausa, Kinyarwanda, Lingala, Luganda, Nigerian Pidgin, Oromo, Pedi, sisWati, Swahili, Tigrinya, Tshiluba, Twi, Xhosa, Yoruba...  
"I knew that we'd need a big group of people who speak a wide range of languages and so I just thought okay let's experiment with crowdsourcing this," adds Mogo.
She posted a request on Twitter: I hope you will join us if you can translate, edit, design, coordinate...
"People started spreading the word and pretty soon offers of help were coming in from people to translate, check, do whatever they could manage. We had public health specialists, teachers, a business analyst, a preacher, a broadcast engineer, a nurse..."
Some messages were from those who offered to disseminate:
I will be able to do [pass information about COVID-19] across the LGAs [local government associations] with the help of other volunteers in my network which are in all the 16 LGAs. With these volunteers, the message will be passed to everyone and the level of awareness will increase, and citizens will now know more about personal hygiene.
"Once we had our virtual team, we were able to start thinking about the best graphics to communicate with. After that we just had to get on with the work."
After an intense four weeks of translating, crosschecking, coordinating, designing and uploading by more than 30 volunteers across the globe, the resources were launched in 18 languages spoken by a wide range of people across the continent: languages like Hausa, spoken by an estimated 34 million, Yoruba (28 million) and Igbo (27 million). Engaging infographics tackle areas such as 'what is COVID-19?', 'protecting others from getting sick' and 'coping with stress during the 2019-nCOV outbreak'.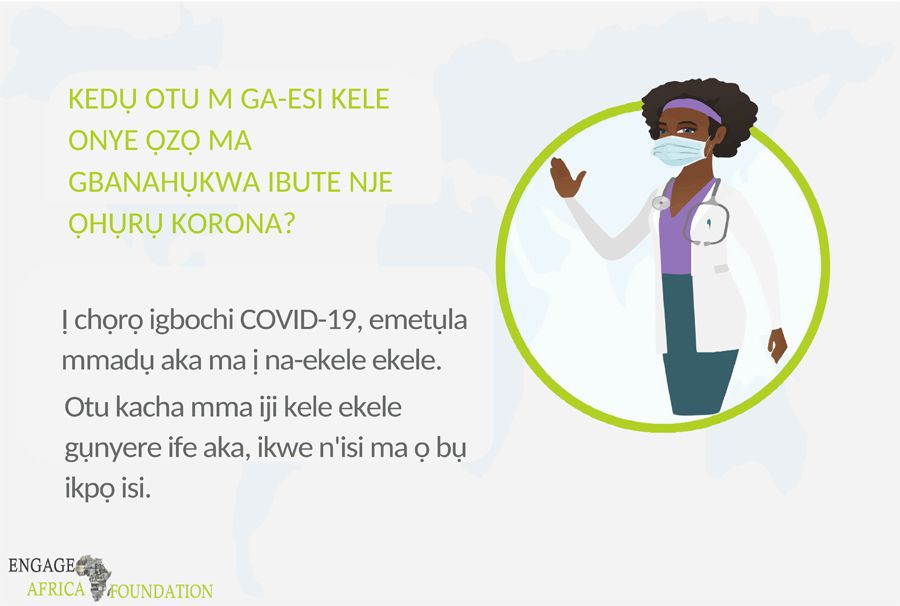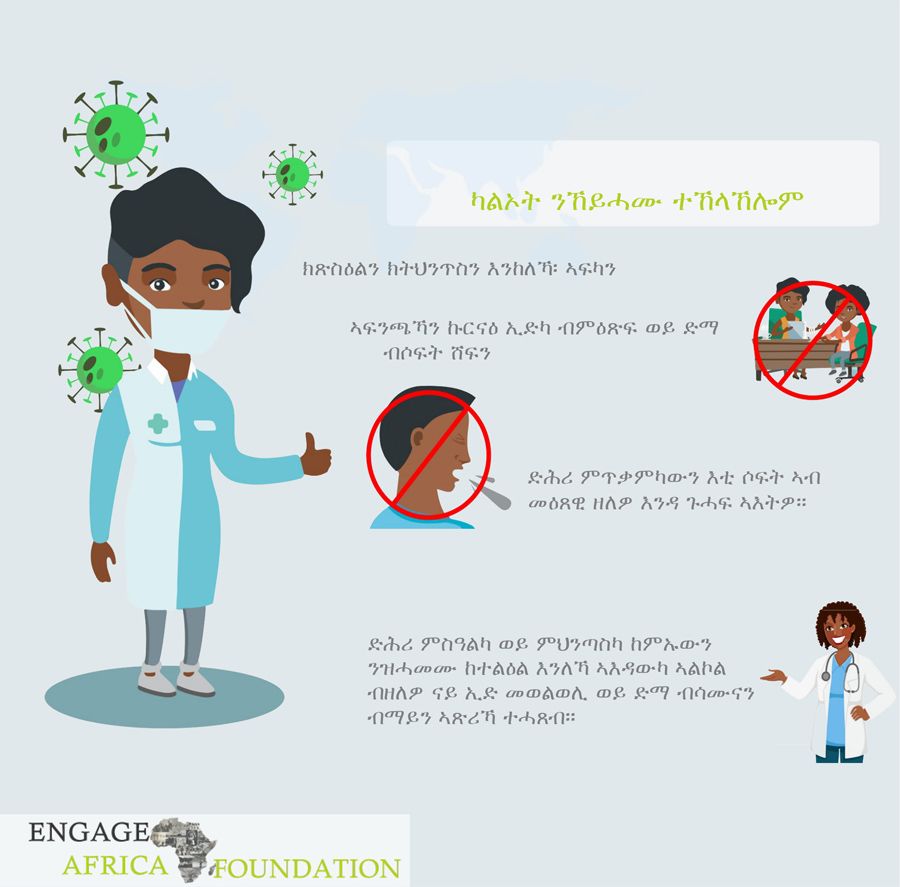 Images: examples of resources available in languages that include Xhosa (top image), Igbo (middle),and Tigrinya (lower).
Once the material was live, the participants helped to share it with their grassroot communities, media stations and digital networks.
In Cambridge, Mogo's colleagues at the Global Diet and Activity Research Group, the Cambridge Global Challenges (CGC) Strategic Research Initiative and the Language Sciences Interdisciplinary Research Centre all helped to spread the word.
And then one Saturday, the team finally got a chance to meet each other in real time via a Zoom call to celebrate the launch of the project.
"Sharing smiles across different time zones from Nigeria, Uganda, Ghana, Democratic Republic of Congo, Rwanda, Ethiopia, Tanzania, Canada and Cambridge, there was a sense of satisfaction we felt from the project, while recognising that there would still be much work ahead before the pandemic ends," says Mogo.
She has been inspired by what has been accomplished in so short a time, and the amount of resourcefulness and citizen-driven agency that made it possible. "It's made me think about how we mobilise people dynamically in the future and how we effect change. Sometimes you just have to think a bit out of the box and get things done."
Read more about Coronavirus Prevention Resources in African Languages
All images: Engage Africa Foundation based on open-access resources created by the World Health Organization
With gratitude to the team of contributors:
Core team: Ebele Mogo, Dara Oloyede, Tola Olufemi, Aghedo Osazemen, Cyril Tata
Translation project-specific volunteers: Susie Monyo, Chika Jones, Joanna Mogo, Tunji Sarumi, Kehinde Akinsola, Esther Olawuyi, Ibrahim Muhammad Shamsuddin, Roselyne Orji, Gigah Eleanor Visas, Annet Akai, Harriet Brefo-Mensah, Petrina Akor, Christian Nkanga, Adaobi Ugwu,  Ngozi Osuji, Medadi Ssentanda, Abdulrahman Atta, Morenike Akinyemi, Mashkur Isa, Maximillian Petzold, Tope Akinsipe, Diana Adu-Gyimah, Abas Ibekwe, Usaini Sani Adamu, Mariamawit Yeshak, Divya Bhagtani, Best Agofure, Tania Bishola, Jedah Mayberry, Aimable Uwimana, Nosiphiwo Lawrence, Vanessa Lum N. Sab, Patrick Kanampiu and Babelos Ltd