"We can't put our trust in a system that doesn't hear us"
Major survey on Black British life launched by Cambridge University, I-Cubed Ltd and The Voice newspaper
Girl at a Black Lives Matter protest in Liverpool, UK, in 2020.
Girl at a Black Lives Matter protest in Liverpool, UK, in 2020.
A national survey is launching today as part of a wider research project investigating the "evolution of Black British identities".
The team behind it say the research will give Black people in the UK an opportunity to "define themselves in an autonomous way" for the very first time.
The Black British Voices Project (BBVP), a partnership between the University of Cambridge's Sociology Department, the black-led consultancy I-Cubed Ltd, and Britain's only national Black newspaper The Voice. Their aim is to provide an updated portrait of Black Britishness – and British Blackness – for the 21st century.
The research is led by Cambridge sociologist and author Dr Kenny Monrose, and is backed by entrepreneur Dr Maggie Semple OBE, founder of I-Cubed and lead ambassador for the BBVP.
"The narrative of being black in Britain has been written and rewritten by so many different people, but what we've yet to hear and see is a commentary built on good data that draws on themes that matter to Black people today," said Semple.
Paulette Simpson CBE, Director of The Voice newspaper, said: "We are absolutely delighted to be working with Cambridge University and I-Cubed on this project. It goes to the very core of what we've been doing at the Voice over the last 39 years."
"Today, Black Britons are still largely misunderstood and misrepresented in many facets of life. We must manage and communicate our own narrative on how it feels to be Black and British," Simpson said.
The survey will run until July, covering issues from business and health to media, youth and sexuality. It builds on focus group sessions Monrose conducted at the end of last year, as the pandemic surged into its second wave.
Black people in the UK were hit disproportionately hard by COVID-19, the discussion of which saw increased use of catchall term BAME: an acronym for Black, Asian and Minority Ethnic.
This came up in early focus groups, with one participant saying: "Terms like BAME are too shorthand, too easy, and makes us even more invisible." For Monrose, it's one of the reasons why research like BBVP is long overdue.
"BAME is another in a parade of imposed labels, from Afro-Caribbean or coded terms such as 'urban' or indeed Black British itself. Black people are not a standardised or uniform group. We felt it was past time to actually go and ask Black people themselves," said Monrose.
"Do you see yourself as Black British? If so, are you proud to be Black British? Can Black people ever feel or be seen as English? We want to hear from normal people on streets up and down the country to uncover the reality of being Black in 21st century Britain," he said.
"When I was younger I believed I would have options. I don't feel like that anymore because I don't fit in anywhere"
24-year-old focus group participant
Young woman in Kingston Upon Thames in London, UK.
Young woman in Kingston Upon Thames in London, UK.
For the generations who lived through the seventies and eighties – a "crucible" for UK race relations, says Monrose – many Black people defined themselves by their heritage. "I would have said I'm St Lucian, because we didn't feel allowed to be British – and many people still don't. I'm only called an Englishman when I'm in the Caribbean," he said.
Monrose argues that the pain caused by "hostile environment" policies and the recent Windrush scandal – when older Black Britons were deported or denied medical care based on commonwealth birth records – intensified the fight to be rightly acknowledged as a British citizen, a "shift in consciousness", while many younger generations identify as Black and British first and foremost.
One of the central aims of the research will be to chart such fluctuations, and the changing nature of Blackness in contemporary Britain. "Young Black people in particular get spoken about, but they don't often get spoken to," said Monrose. "We aim to listen."
He highlights some of the changes he has seen over the past two decades of lecturing students, with "new types of Blackness" emerging in the UK.
The rise of Black British intellectualism, building on ideas of figureheads such as Stuart Hall and fuelled in part by access to higher education ("although there's still a long way to go"), has helped create a political awareness among young people.
"Young Black Britons see nuances and textures within a political climate," said Monrose. "They are curious, vocal and scholarly. Black intellectualism in this country is maturing. Movements to decolonise curriculums are putting that to use in a constructive way."
This is reflected in university classrooms says Monrose, who recalls "constricting myself" if race came up when he was an undergraduate, and students falling silent when he lectured on race in the early 2000s. Now there is much more open dialogue. "Young people are more comfortable having uncomfortable conversations about race, and that is hugely important."
The blending of African and West Indian ethnicities within Black communities, and the increasing number of British people of mixed race, is also breaking down old identities and creating new ones yet to be mapped. As more Black Britons gain global prominence – from Oscar-winning filmmakers to Olympic athletes – Monrose describes a "growing awareness and acknowledgment of Black Britishness".
"Young Black Britons see nuances and textures within a political climate. They are curious, vocal and scholarly"
Dr Kenny Monrose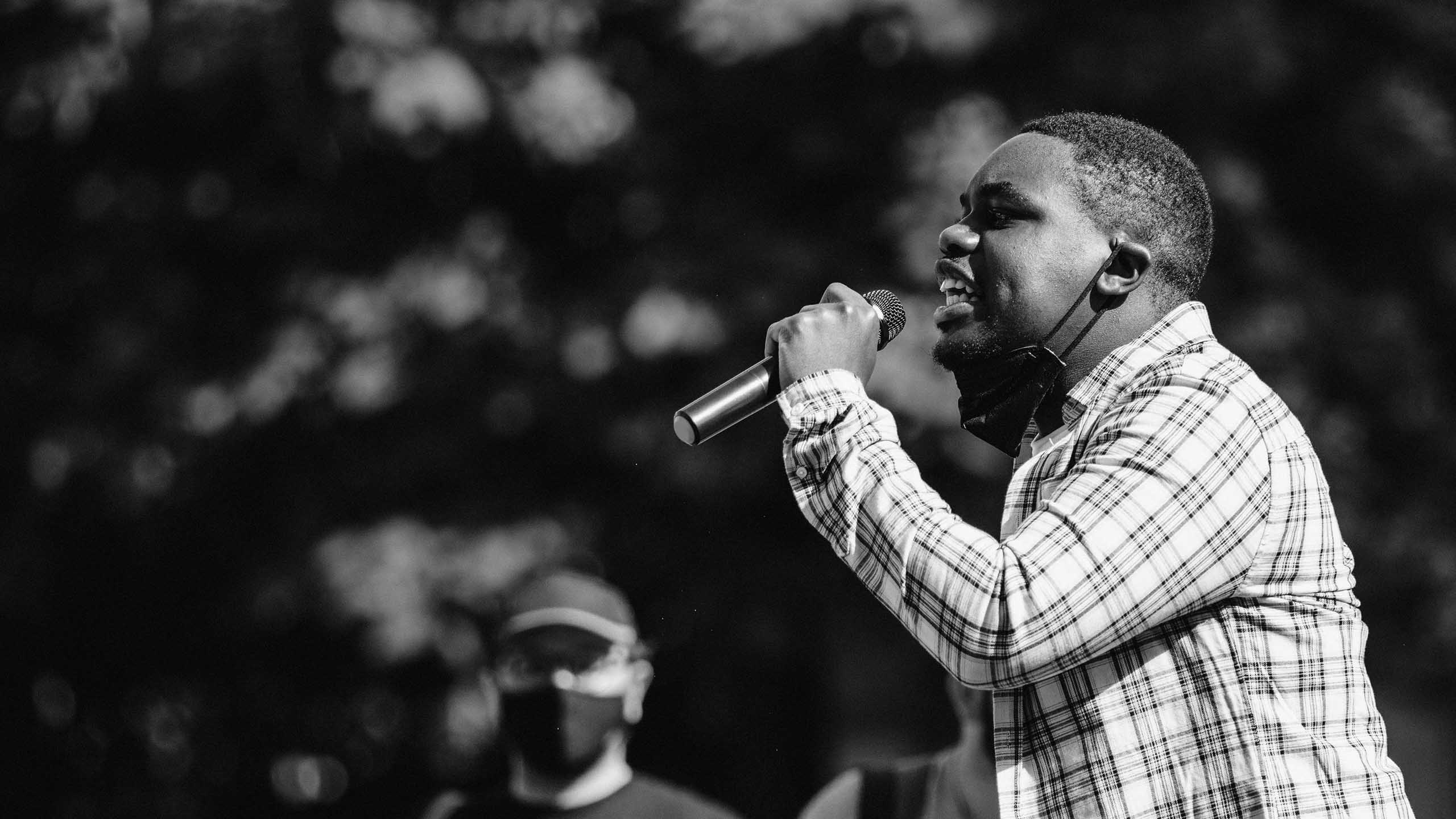 Young man addresses a protest in London, UK, in 2020.
Young man addresses a protest in London, UK, in 2020.
However, from the "lazy and clumsy" terminology to the institutionalised racism that many argue still holds sway across British society – from the criminal justice system to universities ("many are still working museums to racism") – Monrose found the focus groups spoke to continued alienation and even despair among Black people in Britain.
One participant described feeling defeated: "My voice isn't heard… What we need is a commitment to grassroots politics which will suits our needs better." Another said: "We can't put our trust in a system that doesn't see or hear us."
Other group members spoke of valuing Britain but not seeing themselves as part of it. One 24-year-old woman said she no longer sees a future in the UK: "When I was younger I believed I would have options. I don't feel like that anymore because I don't fit in anywhere." Many participants had unsettling stories to tell about encounters with the police.
Alongside the national survey and focus groups, Monrose is conducting dozens of in-depth interviews with Black people across British society – from activists and politicians to LGBTQ+ Church of England members. He says the interviews can be emotional. "Some people ran away from their Blackness, and encountered a lot of self-loathing. But people are desperate to talk about this."
Adds Monrose: "We want to unpack deep-seated feelings and sentiments about the Black British experience, and show that we are not a uniform or homogeneous group.
"We can use this information to transform the perception of Black people in this country, and help share an authentic and reliable version of Black British life that is obtained by consulting with and gaining consent from Black communities and its members."
For more information about this project, and to take the survey, please visit www.bbvp.org
Images:
Top, credit: Shaun Donnelly via Unsplash.
Middle, credit: Daniel Adesina via Unsplash.
Bottom, credit: Edward Howell via Unsplash.