Grad to meet you
To mark Postgraduate Open Day, some of our students talk about their lives and work as a postgrad at the University of Cambridge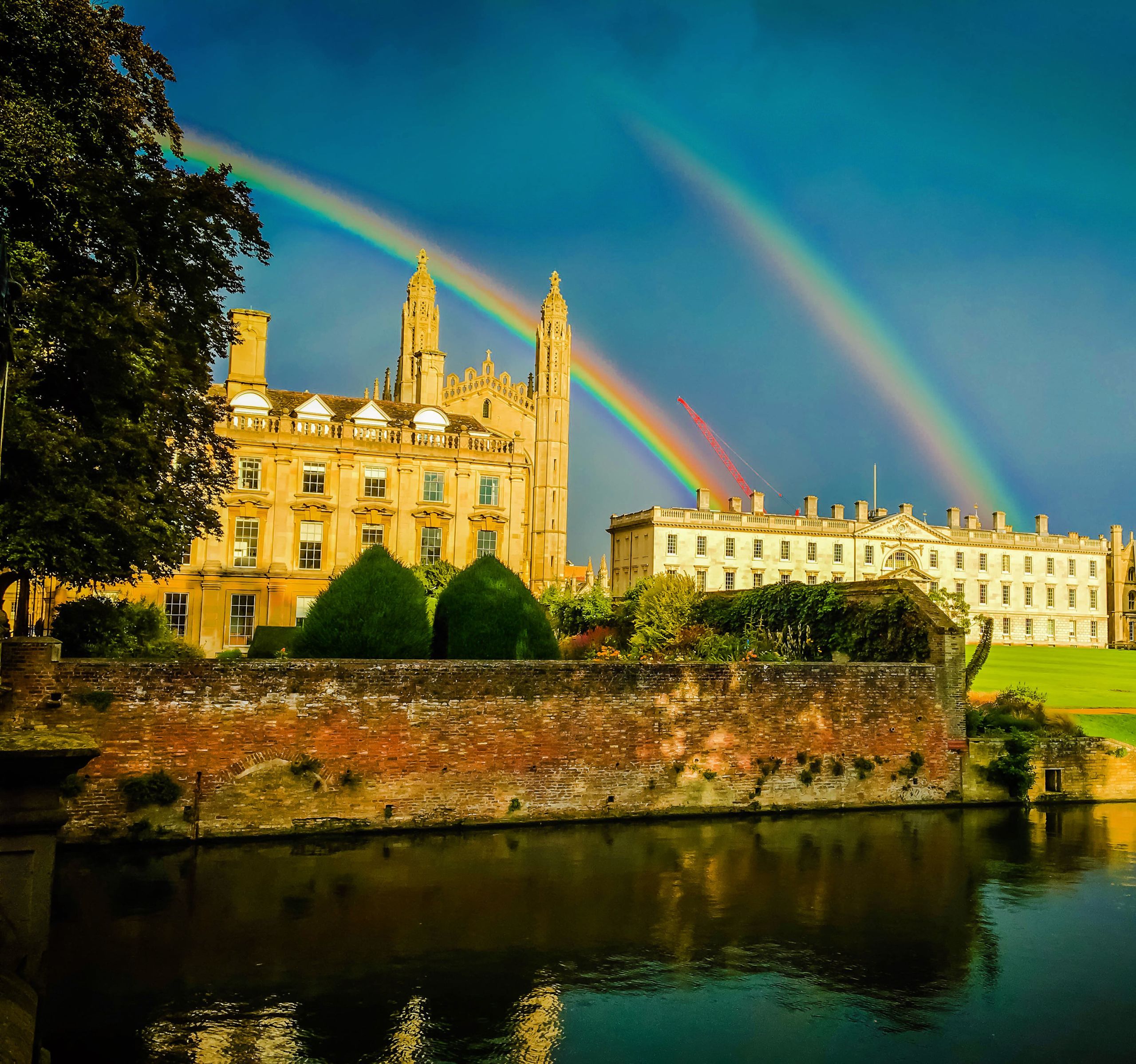 Double rainbow over King's College. Photo by @Mister_toodles on Instagram
Double rainbow over King's College. Photo by @Mister_toodles on Instagram
Nearly 10,000 postgraduate students from almost every country on Earth, working in countless different subject areas, contribute to Cambridge's thriving postgraduate community.
These students walk in the footsteps of giants: Francis Crick, Elizabeth Blackburn, Stephen Hawking, Iris Murdoch and Eric Hobsbawm all pursued PhD research here.
We thought you might like the opportunity to meet a few of them ...
Cherish Watton
MPhil in modern British history at Churchill College
"History is what I love doing. My main interests concern gender, particularly the social history of women's wartime participation in 20th-century Britain — the Land Girls and Lumber Jills. I'm fascinated by how women remembered and represented their wartime experiences.
"Research on representation and identity has led me onto new paths for graduate study, where I'll be examining scrapbooks created by politicians and their families in 20th-century Britain.
"Scrapbooks are under-utilised sources in modern British history, despite being a deliberate way to create and curate legacies — often by women."
Bobby Seagull
PhD in education specialising in maths at Emmanuel College
(University Challenge star!)
"I've always been someone who absorbs information. I'm the second of four brothers,and each Saturday we'd go to East Ham Library and lie on the floor for hours reading books. There were loads of books at home too — on every kind of topic. I read them almost at random.
"I'm doing my Doctorate over five years while teaching maths at a local state school, Chesterton Community College.
"Being on University Challenge has given me a bit of kudos with the kids. I'm especially enjoying teaching the younger groups — they're really alive to ideas."
Asiya Islam
PhD in sociology at Christ's College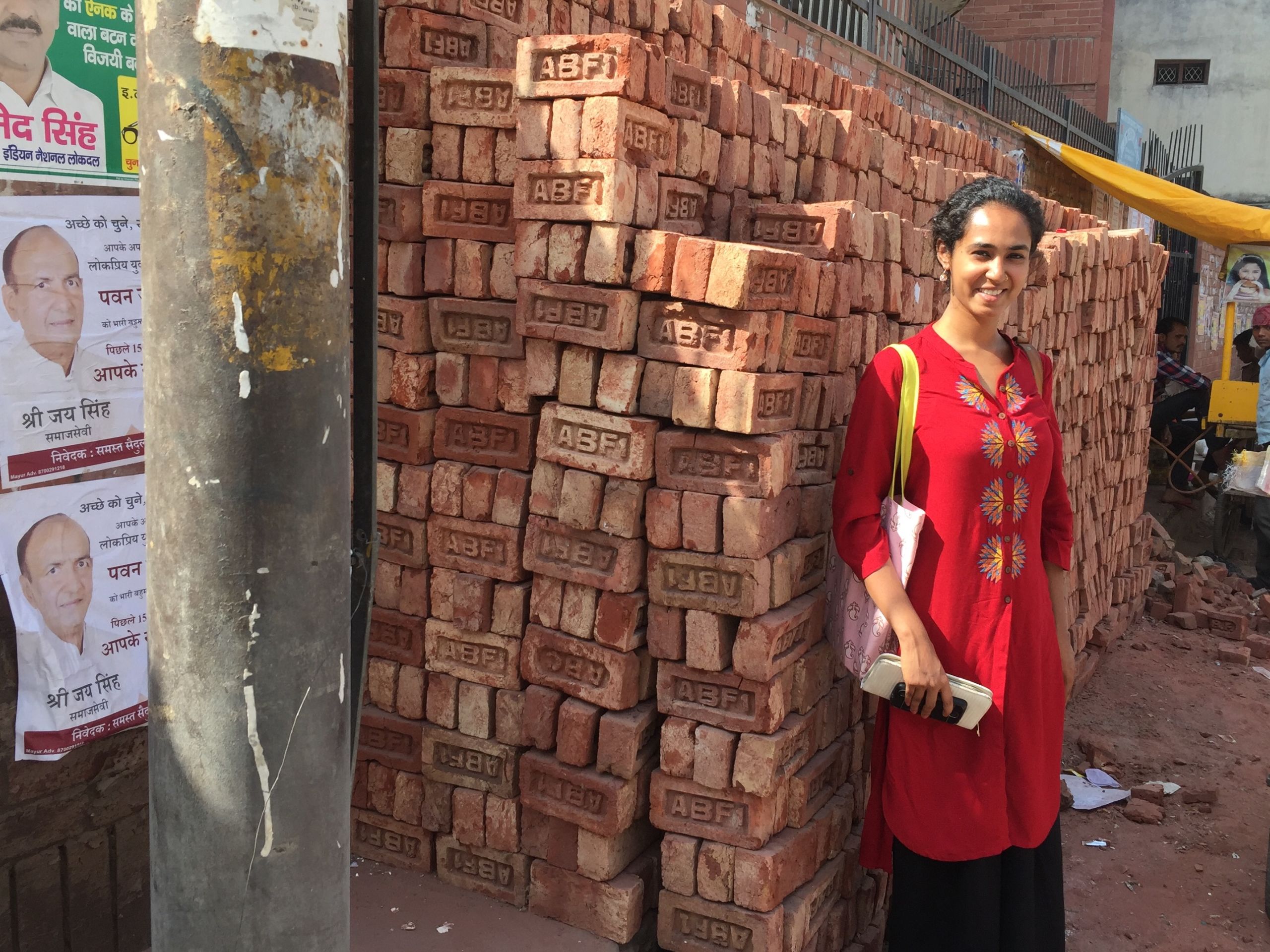 "I like to say I was born a feminist. But it was in college in India that I learnt to articulate myself as a feminist. I went to Women's College, Aligarh Muslim University in Uttar Pradesh.
"As a student there I got involved with feminist activism. This led me to specialise in gender studies.
"My research explores gender and class in urban India through a study of women's work. More specifically, I'm interested in lower-middle-class women's employment and the implications these jobs have for changing gender and class relations, which I argue are co-related."
Jerelle Joseph
PhD in computational chemistry at Churchill College
(Gates Scholar)
"My dad was a fisherman and a teacher — and also involved in politics. He was a jack-of-all-trades, but instead of being master of none, he was good at everything he did. My mum was a nurse who trained to be a midwife.She was my inspiration when I was growing up.
"Leaving the Caribbean was a difficult decision. But Cambridge is a wonderful place to be studying protein folding. Being among so many bright people is incredibly stimulating.
"I've set up a mentoring scheme called CariScholar to help aspiring scholars from the Caribbean reach their potential."
Rosie Jones McVey
PhD in social anthropology at Girton College
"Horses are strong, instinctive creatures. In Britain we have found ways to get to train them to do complex things – such as dressage and jumping.
"I felt that there was a gap in the research for a study that looked at how people make sense of animals' minds – and how this is changing.
"Ethnographic research involves living and working among the people you're studying. Getting to know the trials and tribulations of their daily lives, you're able to obtain very different data than would be available from a survey or interview-based approach."
Babak Mohammadeh
PhD in politics at Hughes Hall
"My focus is the politics of resource dependence in the Middle East. I'm from a generation who feel at home in many different places — we're happy to relocate to further our careers. I was brought up to appreciate cultural difference and never to see it as an obstacle to building new relationships.
"The ability to make friendships without borders comes from my parents. They left Iran in 1986, before I was born.
"My sister and I were brought up in the Netherlands. At home we spoke Persian but swapped to Dutch the moment we stepped outside. Sometimes I dream in a blend of both."
Geerten Boonzaaijer
MPhil in economics at Christ's College
"Brexit, the rise of populism, the aftermath of the credit crisis and Trump. It's an exciting time to be studying economics.
"The one-year programme at Cambridge packs a lot in. You get rigorous economic training, while never losing the connection with the real world.
"My interest in economics came from my teacher at high school. She used current affairs as a starting point and we did lots of experiments — for example buying and selling things and looking at what happened when prices changed.
"She showed us how economics overlaps with many other subjects."
Nikita Hari
PhD in electrical engineering at Churchill College
(Nehru Trust Scholar)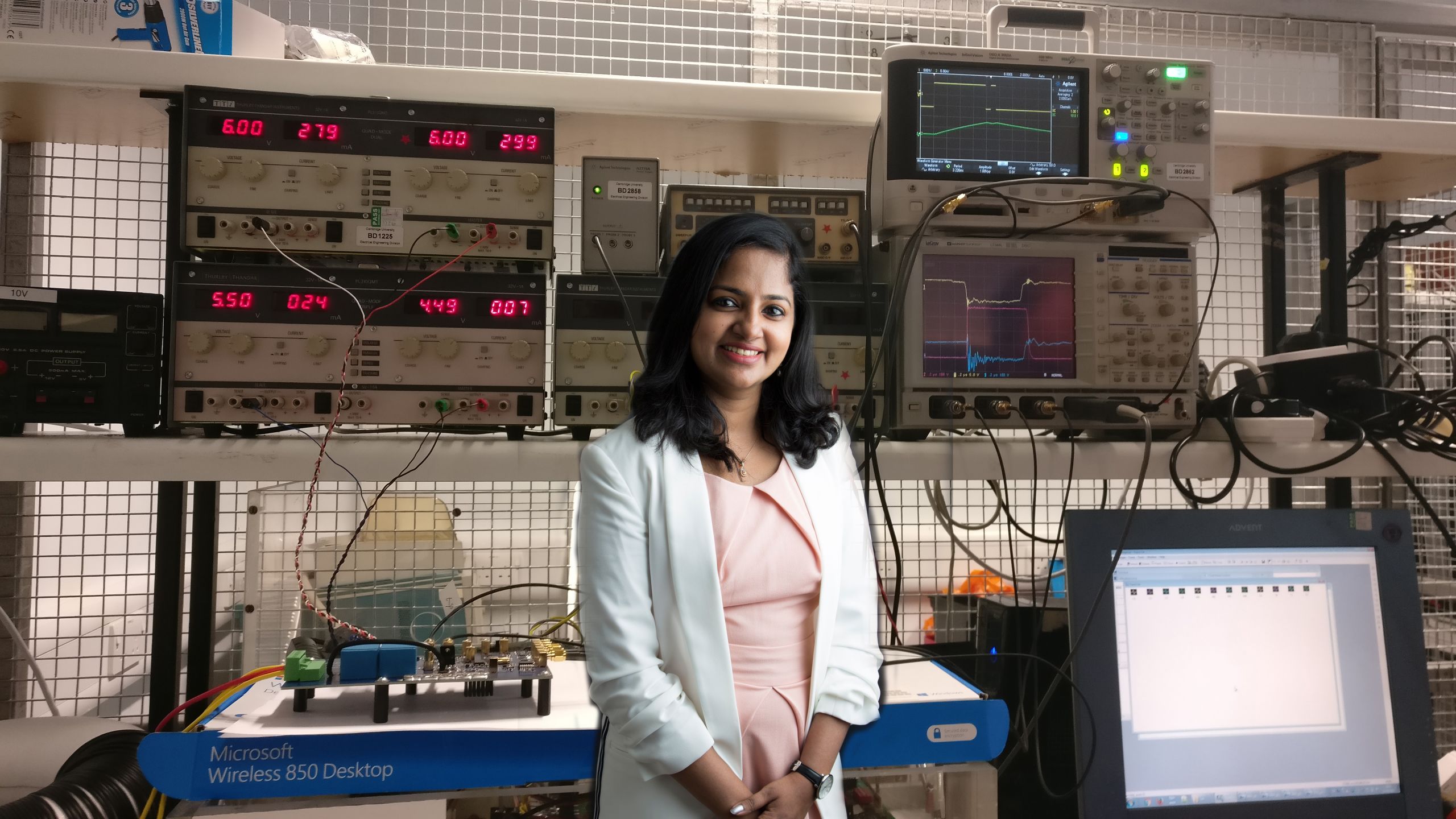 "In India I was top of my class at school and university. But people kept telling me that I wasn't good enough for somewhere like Cambridge.
"I was up against the conservative family values of the Indian middle class. Girls get an education, but they're expected to sacrifice their careers and get married.
"I'm researching Gallium Nitride (GaN) based power electronics which has the potential to transform the way world handles electric power.
"Beyond that, my vision is to help youngsters who are talented but less privileged, especially women, to be positive change-makers.
"With three incredible Cambridge PhD students, I founded 'Favalley' to turn India's slums into the next silicon valleys and also co-founded 'Wudi'- an AI-based enterprise to empower students and revolutionise education."
Florence Nabwire
PhD in nutrition at Queens' College
(Gates Scholar)
Florence with her daughter
Florence with her daughter
"Growing up in Kenya, I always wanted to be a doctor. But I wasn't offered the state funding that would enable me to train.
"I took a degree in food science and technology followed by a Masters in Human Nutrition in the Department of Agriculture at the University of Nairobi.  After that I set up a pioneering nutrition and HIV programme in rural Uganda.
"I never for a moment imagined I'd do a PhD at Cambridge but decided to apply. My PhD project investigates the effect of antiretroviral drugs on bone health in HIV-infected mothers and their babies.
"The research has the potential to inform clinical care for both and opens up worthwhile career opportunities."
Rachel Mumford
MPhil in geographical research at Downing College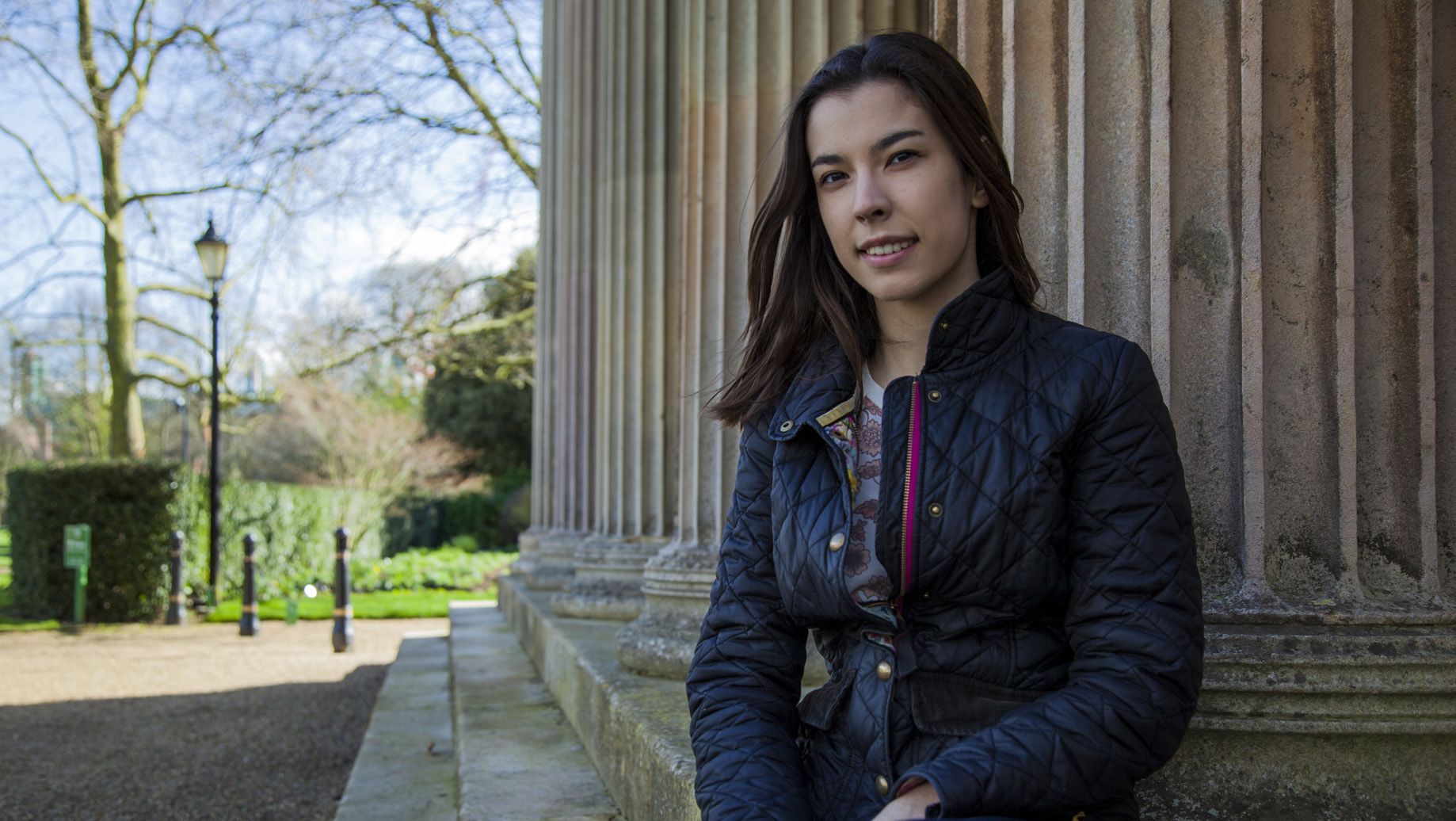 "My masters research focuses on the Gwangju Uprising, a pro-democracy movement that took place in South Korea in 1980.
"I think it's an incredibly important event that should be discussed more beyond South Korea, in English-language academia, with particular attention paid to how the movement and its participants have been represented.
"South Korea has fascinated me ever since I was 12 when I watched a South Korean soap opera.
"I started finding out more about South Korean pop culture — it was books and films that inspired me to research the Gwangju Uprising. I'm also learning Korean at home and at classes in Cambridge."
Credits
Words: Alex Buxton
Images: Nick Saffell, Lloyd Mann (and contributed photos)
Story design: Stuart Roberts