Bop on
It is the quintessential College entertainment. From classic school disco at Homerton to dubstep at Clare Cellars, the bop has it all: music, dancing, friends and, if you're lucky, a somewhat sticky carpet.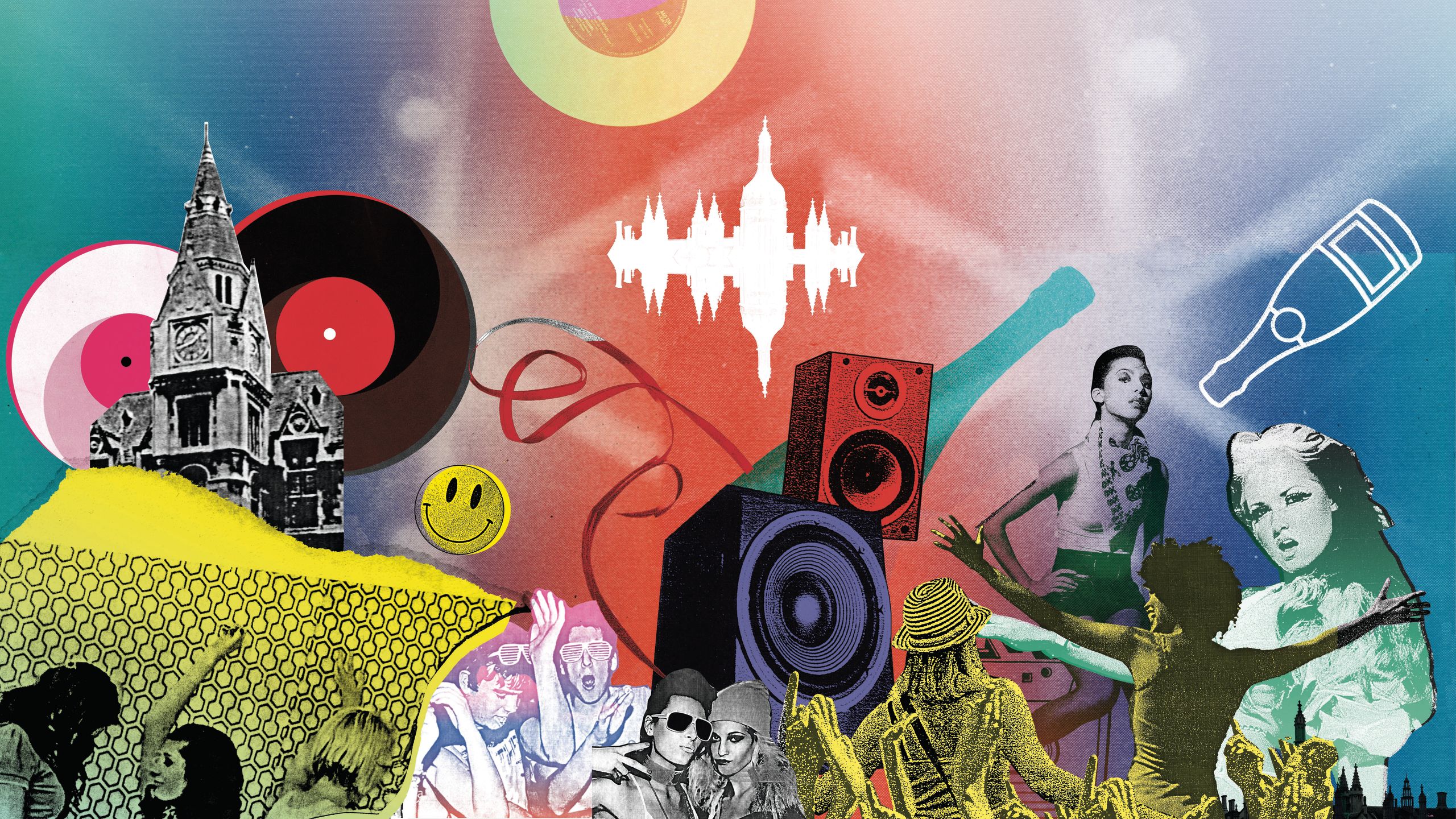 The weekly College bop has been a mainstay of student life for almost 50 years – but it's a broad church. Some bops are sophisticated, with a quality of music and style that wouldn't shame a London promoter. Others are more spartan: perhaps a bottle-only bar and a second-year engineer juggling music requests via her smartphone in the corner of the cellar.
All have one thing in common. They're organised by a volunteer corps of JCR social secretaries, ents officers and committees, promoters and ad-hoc helpers. It's a challenging and sometimes thankless role, taking in such tasks as budgeting, health and safety checks and dealing with College authorities. There's seldom the chance, as on a ball committee, to swan around in a sash and pose for photographs. On the night, there may be spillages to clear up, beer kegs to lug around and gatecrashers to escort out.
One of the first regular bops was Pleasure Machine, which started at Churchill in 1972 and remained a Thursday-night fixture for more than 40 years. Mike Summersgill (Churchill 1972) was involved from the beginning. He says: "Two third-years put a case together for buying disco equipment and doing an event in the pavilion. With JCR funding we bought the gear over the 1972 Christmas vacation and we were quickly up and running."
The arrival that year of the first women at Churchill made the proto-bop an immediate success. "Everyone wanted to meet the new girls," he says. "The other hill Colleges, Fitzwilliam and New Hall, were already using our bar to meet the opposite sex. They all came along and there'd always be a busload up from Homerton.
"It was my first year, and I was JCR treasurer. I think I was elected because they needed someone to look after the football table and the new condom machine. But I'd already had some experience in the music business in my gap year, assisting a DJ in a local club at home."
Summersgill recalls playing a lot of David Bowie to a boisterous crowd – the pavilion was far enough from residential buildings for noise not to be an issue – and ending the night with Jeff Beck's Hi Ho Silver Lining while jumping about on the table, often sending the needle skating over the record. But students could also expect to hear some less familiar sounds.
"We played some reggae. One of the guys at College was Geoff Travis (Churchill 1971), who founded Rough Trade Records, and he advised us that we should. Someone else in Churchill wrote the LP reviews for Varsity and got records in that hadn't yet been released, so we had a name for playing stuff that hadn't hit the radio."
The template stamped out by Pleasure Machine was quickly picked up by other Colleges, and has proved very resilient. A history of Cambridge student life published by Varsity in 1995 noted that "the atmosphere of the Cambridge 'sweaty' or 'bop' has changed little in 30 years – the principle is, and always has been, to crowd as many people into as confined a space as possible, crank up the music and have a good time".
However, the Nineties turned out to be a watershed for the bop. Dance music had gone mainstream. Many freshers coming up to Cambridge were already au fait with club culture, and had a thirst for events that took their cue from Pacha or the Ministry of Sound rather than a school disco. A few Colleges – notably Trinity Hall, Queens' and King's – were already gaining a name for putting on big regular events that attracted people from across the University and beyond.
Anu Pillai (King's 1993) says: "People came up from places where dance music was getting really big and found there was a lack of it in Cambridge. In College, there were the King's Mingles and those famous June events, but they'd never book a big DJ. They'd get a band in and there'd be an indie disco or something."
After serving as DJ at various College bops and events, Pillai began to secure outside talent for the weekly events in King's Cellars, building up a good relationship with dance-music promoters in London. He says: "I'd say, 'look, you've got a star DJ over from America and he's not doing anything on a Monday night'.
We'd get them down for a couple of hundred quid. Some would stay in the guest rooms in College and suddenly realise it wasn't like a hotel – there was just a single bed and no TV. They were probably kicked out by a bedder at nine o'clock in the morning!"
The events at King's attracted clubbers from across the University, who would be keen to keep the party going after closing time. "We once had a big-name DJ from Manchester, and convinced him to come back and play in someone's living room out past the Cam until six in the morning. That kind of thing regularly happened."
Starting a new night could be problematic. Funk da Bar, a Wednesday bop at Emmanuel, quickly gained a reputation as one of Cambridge's liveliest nights (and mystified many with its habit of decorating the bar with that day's unsold stock of bananas from the market). But as ents officer Alison Pickup (Emmanuel 1996) recalls, it was only permitted on the basis that it wasn't a bop at all.
"Emma bar had been refurbished with new flooring and banquettes, and the College authorities didn't want them damaged by parties because the refit had been so expensive. That was a challenge for me as an ents officer. So we had the idea of having what we called a 'DJ night'. I persuaded the senior tutor that this was totally different from a bop and therefore OK.
"The other thing that was controversial was having it on Wednesday nights, when people wanted to watch sport in the bar. We weren't very popular with the football fans for a while."
Meanwhile, the ents team at Queens' had the benefit of the newly-built Fitzpatrick Hall, an auditorium that could accommodate nearly 400 people. Committee member Nick Jankel (Queens' 1993) recalls making the most of it with 'Flava to Sava', a jazz-funk night that aimed for the level of a sophisticated London club rather than a student party.
"We didn't even use the term 'bop'," he says. "That was something from the Eighties, and we were trying to reinvent ourselves. We were inspired by the quality of what was happening in the club and rave scene, so we spent a lot of time on the flyers and paid dancers to come up from London. We wanted to turn it into more than a girls-on-one-side, boys-on-the-other prom night. We had a dress code – 'old-school hipster' – and we tried to change the hall from this gymnasium-like space into something with a bit of atmosphere."
Andrew Turner (Queens' 1993) was part of the same committee, going on to become ents officer in his fourth year. He recalls decking Fitzpatrick Hall with camouflage nets and intricate lighting rigs for Progression, the biggest event of term. But in spite of the attempts at professionalism, with external security staff and DJs, there were reminders that this was a College event and not a London club.
He says: "At the end of one of those nights, I had to go up with a bouncer and get the DJs to stop playing. Everyone started chanting my name in an effort to keep the music going, but we had no choice but to finish on time. The bouncer was keen, as he didn't get overtime! And then there were hours of clearing up to do, but it was always someone's job to go to the Gardenia and get a massive order for everyone helping out."
The biggest success at Queens' was Jingles, a night that harked back to the classic Cambridge bop with chart music and few metropolitan pretensions. By the time Scott Allsop (Emmanuel 1999) arrived, it was attracting queues that snaked around the College two hours before the doors opened. As JCR president, Allsop helped with events at his own College; but under his alter-ego of 'Red Hot Scott', he gained a name for playing cheesy tunes at bops across the University.
"I was resident DJ at Jingles. I'd play stuff from the Seventies to the Nineties, from Abba through to Wham!. People seem to love stuff from their early teens, so the Spice Girls always went down a storm, plus TV themes like Grange Hill and Inspector Gadget. It's nostalgia: you don't need to think when you dance to it."
As a peripatetic DJ, he learned that every College bop had its own unwritten rules. He says: "It was important to know what the College anthem was. At Emma it was Take On Me by A-ha, and Caius demanded the theme from Top Gun. They'd end the night on that song, and you were in big trouble if you didn't have it.
"Then there was the New Hall dome, where they had a sound limiter installed. If you reached a certain volume, it would shut off the electricity for 60 seconds. But the problem with cheesy anthems wasn't the volume of the music, but the people singing along with it. Everyone would launch into the chorus of Living on a Prayer, the power would trip and we'd be in silence."
At Robinson – one of the few Colleges with a purpose-built space for JCR parties – the problem was heat, rather than sound. Former ents officer Alex Kennedy (Robinson 2009) says: "We had this basement next to the storm drain, where we'd put on bops each week. It wasn't the Ritz, but it had a bar and dance floor. But it also had a fire detector that was set off by body heat when it got too sweaty, sending the porters running in."
Although relations with the College were cordial, Kennedy's fellow officer Martyn Statter (Robinson 2009) recalls one matter of contention. "The freshers' bop was originally called 'Corruption'," he says. "The College banned the name, so it was widely known as 'The Event Formerly Known as Corruption'. I looked at the Facebook page for Robinson ents today, and it still is!"
Hollie Berman (Murray Edwards 2016), one of two current ents officers at Murray Edwards, was elected on a platform of bringing back bops to the College's central dome after an enforced hiatus of several years. She says: "I think they stopped because of concerns about the artworks there. But we've promised to have at least one or two 'Dome Life' bops each term and we also put on bands in the bar."
Much of her workload will seem familiar to predecessors at any time during the past 50 years. "It's all the small details of planning an event: leaving enough time, budgeting correctly, doing all the appropriate health and safety checks. You need to have people on hand to deal with ticketing, monitoring the venue and cleaning up. And we want to make sure these events are as inclusive as possible and not just focused on drinking."
In the end, it's a weighty responsibility – to the College, to the JCR or Students' Union and to friends expecting a decent party. And when the particular challenges of throwing a party in historic buildings are factored in, it's a wonder that anyone is willing to carry the can at all. "One of our big worries was always the sound in King's main hall," says Anu Pillai. "The bass would make the stained-glass windows rattle, and there was this fear that we'd destroy a national monument. But as a 20-year-old student, perhaps you don't think too much about consequences."
This article first appeared in CAM (Cambridge Alumni Magazine) issue 82.