Strategic partner: Aviva
Insuring its future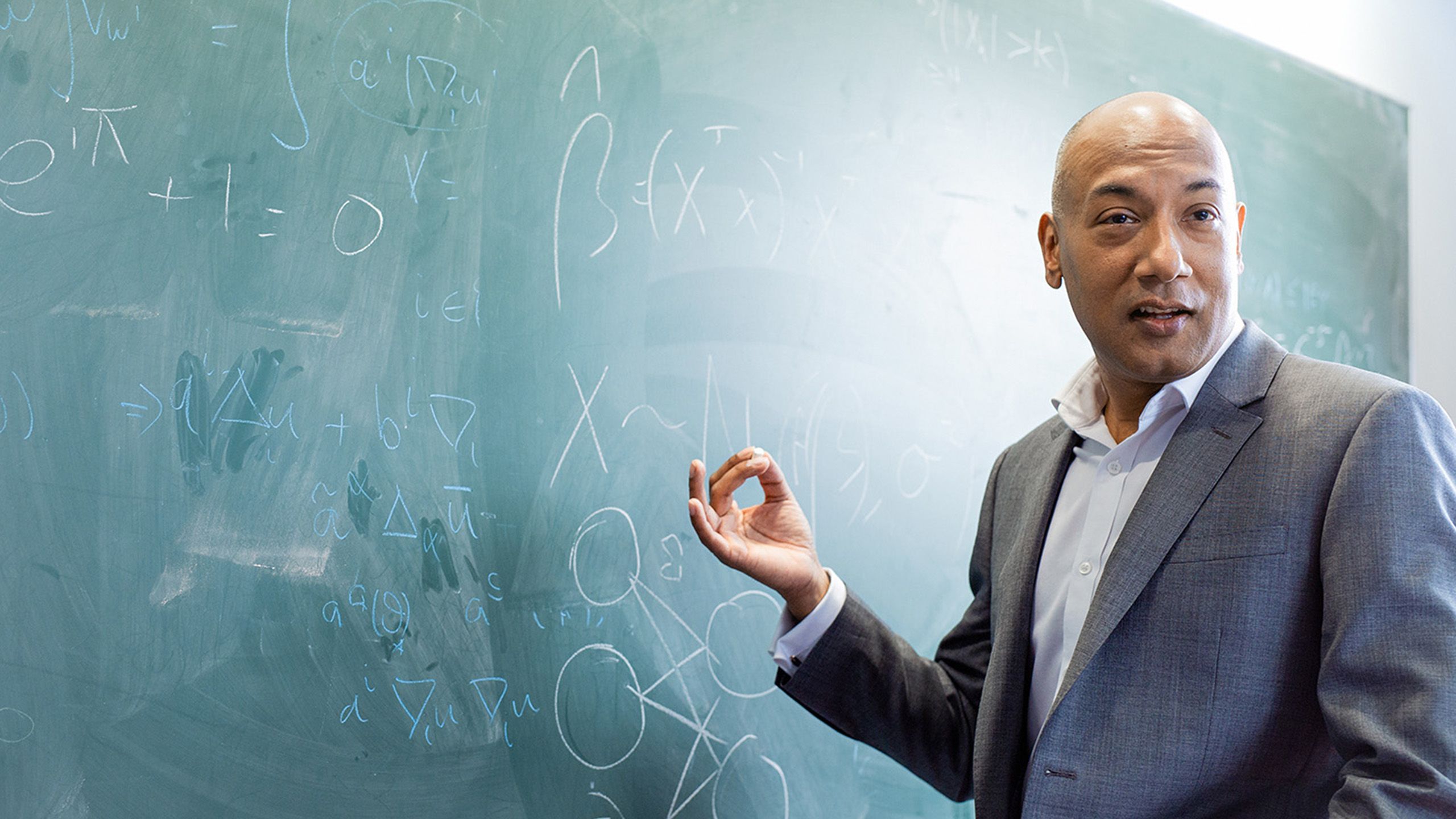 Dr Orlando Machado, Chief Data Scientist at Aviva
Dr Orlando Machado, Chief Data Scientist at Aviva
If you were asked to name some companies at the cutting edge of data science, the likes of Google, Amazon and Facebook might spring to mind. Insurance companies like Aviva might not.
Yet insurance has been ahead of this particular curve for decades. After all it's a business which has been running on big data and algorithms long before these disciplines became part of our collective consciousness.
As data science continues to advance, Aviva is determined to remain in its vanguard, both to improve the way it does things in the short term but also to look afresh at the whole business of insurance and its role in society.
To this end, in 2016 it set up its own data science practice, Aviva Quantum, with a mandate to harness data and technology in order to 'disrupt' itself. Now, a new partnership between Aviva – led by Quantum – and Cambridge University is asking 'what does this all mean for the future of insurance?'
AVIVA
33 million customers worldwide
31,000+ employees around the world
Founding partner of the Cambridge Centre for Data-Driven Discovery
Funding an Aviva Research Fellow and 3 PhDs
Bespoke training courses for Aviva staff
Industrial Strategy Grand Challenge project
The future of insurance
"Insurance has always been about giving you money if something bad happens. But what if we can prevent that bad thing from happening in the first place? That's got to be win win."
To a certain extent this is already happening with things like smart sensors in your home that can tell you if your washing machine has started to leak and apps that help you drive more safely.
But if insurance is going to become more focused on prevention, it needs all of us to be comfortable with sharing more of our data. Gaining our trust is vital: we need to be confident that our personal data won't be abused, or its security breached.
To help Aviva think about some of these questions, Machado wanted to bring on board an academic partner that would allow it to "tap into cutting-edge thinking and some of the theoretical advances that are being been made in data science. Our need for research is not just short-term improvements to machine learning techniques, it's about longer-term research into societal trends, something that can be difficult for a commercial entity to do for itself."
Photo features (left to right): Jan Stanczuk (Cambridge PhD student), Dr Orlando Machado (Chief Data Scientist, Aviva), Anna Dalglish (Data Science Partnerships Lead, Aviva), Mark Hayes (Aviva Partnership Manager, Cambridge), Stefan Maczkowski (Head of Data Strategy, Aviva).
"There are some topics – such as data ethics – where it is really helpful having Cambridge input. This is such an important subject we need to have not just our own view but also an impartial, world-class academic view."
After a thorough evaluation of potential academic partners, Cambridge emerged on top and, in 2019, the two organisations began working together. In a short space of time, they have got three PhDs up and running, sponsored a UK Industrial Strategy Grand Challenge project, developed a bespoke neural network training programme for Aviva data scientists and participated in a wide range of student and postdoctoral events. Recruitment is currently under way for a new academic post, the Aviva Research Fellow.
Understanding fairness
With consumer trust – and its possible erosion – a very live issue, it is perhaps no surprise that one of the first PhDs Aviva wanted to sponsor is about ensuring their algorithms remain fair. The PhD student in question is Michelle Seng Ah Lee, based in the University's Department of Computer Science and Technology.

As well as studying for her PhD, Michelle has one foot in industry, as AI Ethics Lead at a 'Big Four' professional services firm. She is also actively involved in Data Kind, a global charity that seeks to harness advances in data science for societal benefit. Her research interest is in helping firms design algorithms which reflect their values.
Fairness seems like an important notion as more and more decisions – from recommending new products to approving a loan to hiring a new employee – are informed by machines and models. While these models can tackle discrimination and subconscious human bias in processes, Lee contends that 'fairness' is a challenging concept to define in an algorithm. One person's idea of fairness is not necessarily the same as everyone else's: value judgements are involved. She cites a well-known example of two competing views of fairness in the US Criminal Justice System.
"An algorithm widely used to forecast future criminal behavior was under scrutiny because black offenders were found to be twice as likely to be incorrectly labeled as having a higher risk of repeat offending than white defendants.

However, the company that created the algorithm maintains that it is non-discriminatory because the rate of accuracy for its scores is identical for black and white defendants. 

While both perspectives sound fair they are based on different perceptions of what fairness means, and it is mathematically impossible to meet both objectives at the same time."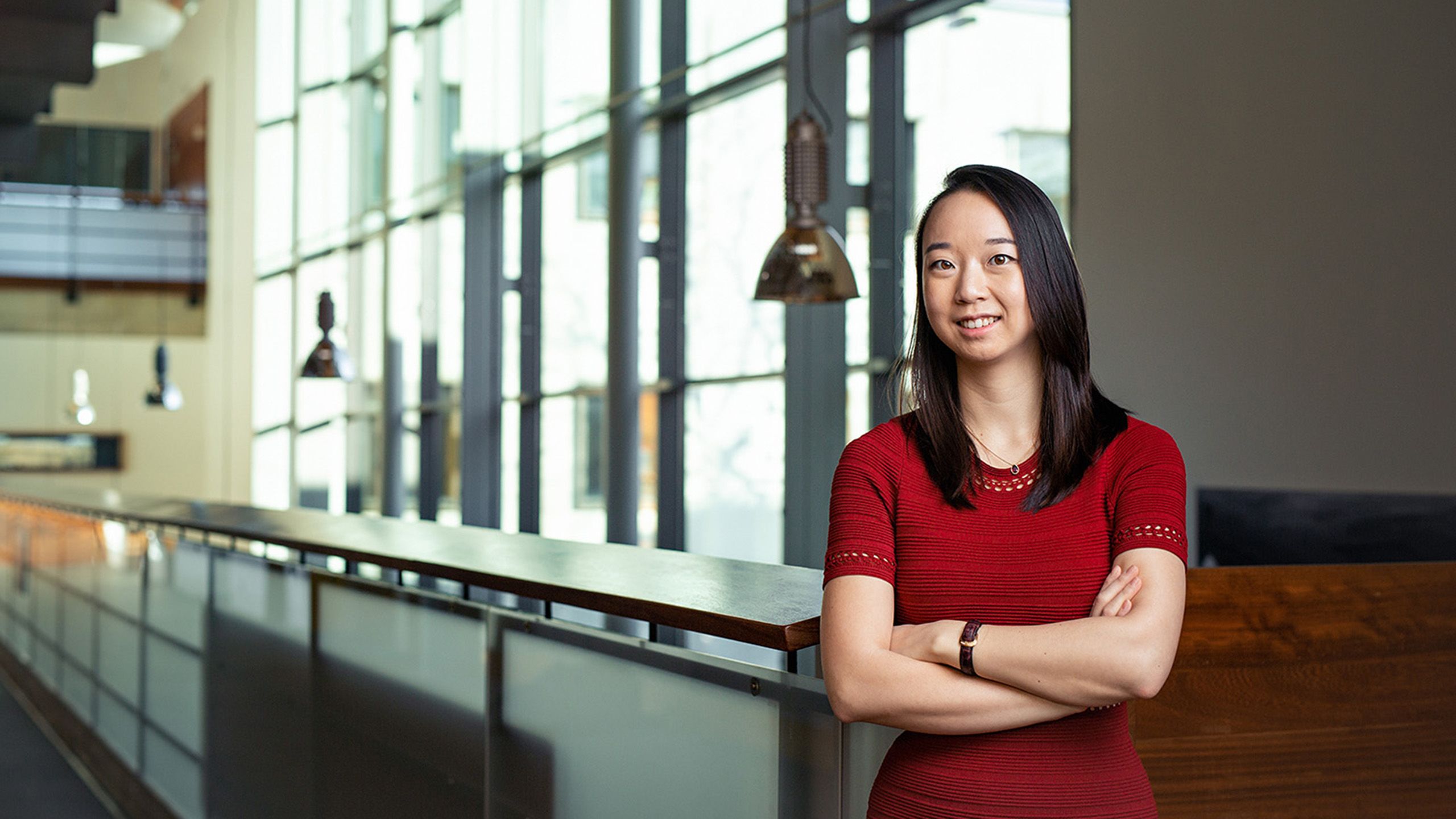 And that's what Lee's work is trying to do: by acknowledging that fairness is not a universal concept, she wants to make transparent the values, risk and impact underpinning each algorithm so that managers can decide what kind of trade-offs they want to make and what controls and governance need to be put in place.
"If, for example, you are building an insurance pricing algorithm, there needs to be a way of saying to senior executives: 'These are your options. If you choose this one, you will lower your portfolio risk and make insurance cheaper for your customers overall but it may have consequences for these groups. Here's how we address this risk.'

My goal is to come up with a practical way for people to assess whether an algorithm supports their firm's values. My code and methodologies will be made available as open source for anyone developing decision-making processes or algorithms."
Risk factors for dementia
How we address the needs of an ageing population and how we capitalise on our expertise in AI and data are two of the UK government's Grand Challenges. These are topics close to the hearts of both Aviva and Helena Gellersen, who is studying for a PhD in ageing and memory in the Department of Psychology.
With Grand Challenge funding from Aviva, Gellersen was able to put her PhD on hold for three months to look at the factors that make one person more likely to develop dementia than another.
"This is a subject I am passionate about. It clearly has a huge societal impact and will directly or indirectly affect most of us, either as sufferers or carers. I've been looking at risk factors for both dementia and dementia-related mortality so that we can get a better understanding of how likely it is that individuals will develop it."
For Gellersen, this was her first experience of working with a big company. She explains why that matters: "It's really important to get a better understanding of how your research might have an impact on societal issues. I found it quite exhilarating that I can take what I've learnt over the last six years and use that knowledge to make recommendations and give a company insights that it didn't have before."
As well as her work on dementia, Gellersen also advised on Aviva's wellbeing programme for corporate clients. Its aim is to help employees engage in healthy behaviour and Gellersen helped Aviva think about which ones it should focus on. (Poor sleep patterns, it turns out, is the health factor most correlated with other detrimental activities such as smoking, drinking, a lack of exercise and an unhealthy diet.) She also helped Aviva devise ways to improve people's motivation.
"If people believe their health is within their own control, they are more likely to make a positive change. The good news is that these 'control beliefs' are not fixed and can be susceptible to messaging."
Helping machines make sense of pictures
PhD student Jan Stanczuk in the Faculty of Mathematics is fascinated by data science and is harnessing this fascination to help machines get better at learning to spot what's in a picture.
"For me, data science represents the sweet spot between maths and computer science. My research is into how neural networks can get better at recognising images, specifically to help with the diagnosis of ovarian cancer.

For Aviva, this represents a long-term investment in cutting-edge machine learning techniques that could have a wide range of practical applications (such as being able to assess damage to cars or belongings from photographs) as well as the clear medical benefits of improved diagnostics."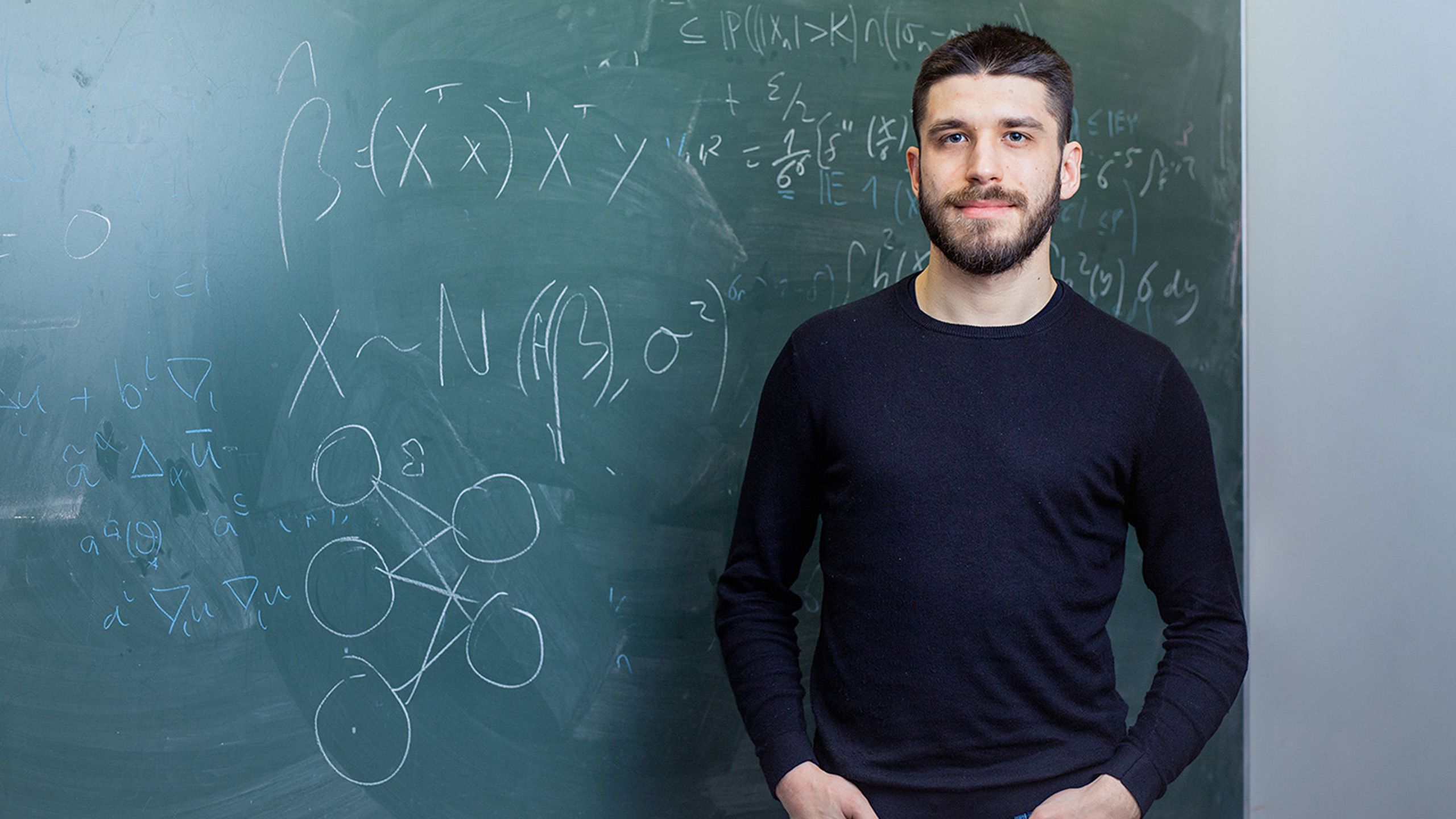 Developing data science talent
Collaborating with Cambridge on research topics is one thing, but if Aviva is to remain at the cutting edge of data science, it needs its own talent pool.
"Some of the best data scientists in the world come out of Cambridge," says Machado, "so it makes sense for us to link with them." To that end, Aviva is sponsoring the student-run Data Science Society, and Aviva Quantum team members give regular talks at student events.
The partnership is also supporting the data scientists who already work at Aviva. More than 20 of them recently converged on Cambridge from its offices in the UK, Italy, Poland, France and Canada to learn about neural networks from leading computational neuroscientist, Dr Stephen Eglen.
Machado sees this kind of training as being a key component of the partnership, bringing new skills and knowledge in-house and "giving our data scientists access to world-class teaching and teaching materials. It's very motivating for them that we are investing in Cambridge to help them with their professional development."
Managing the relationship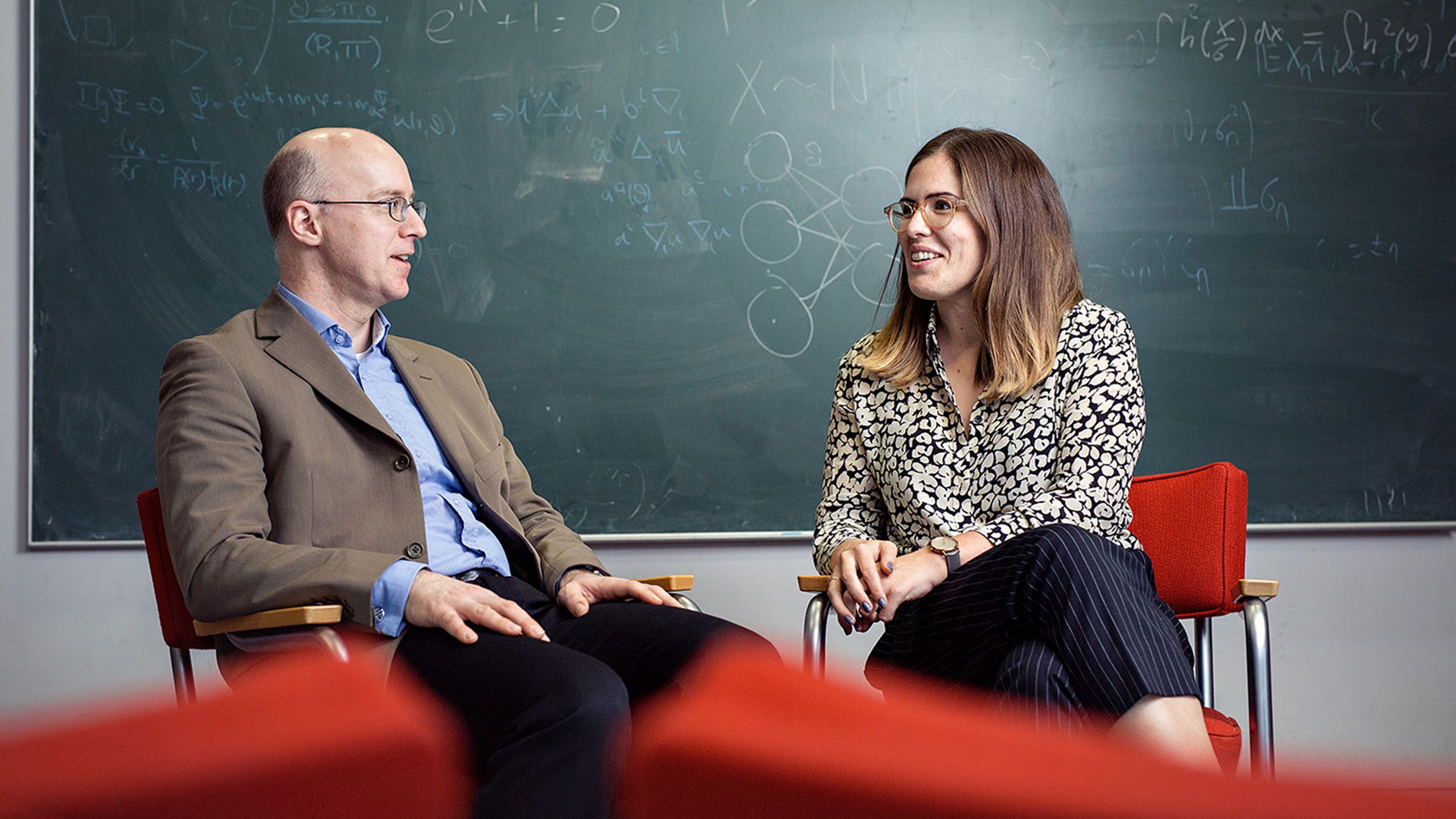 Managing the partnership: Mark Hayes (Cambridge) and Anna Dalglish (Aviva)
Managing the partnership: Anna Dalglish (Aviva)
A year into the partnership much has been achieved and there are ambitious plans to maintain the momentum, with more PhD funding in the pipeline and a new Aviva Research Fellow about to be appointed at the Cambridge Centre for Data-Driven Discovery. One of the distinctive features of the relationship – and testament to Aviva's commitment to it – is that it is funding a relationship manager based in Cambridge's Strategic Partnerships Office. Working closely with his opposite number at Aviva, the Aviva Manager is on hand to ensure that these two large and complex organisations are able to make the most of the plentiful opportunities that exist for collaboration.
"The partnership has hit the ground running. I put that down, firstly, to a huge commitment to the partnership from both sides. And, secondly, it's very much a meeting of minds. Aviva is asking the big and difficult questions, regardless of outcome – and those are exactly the kind of problems that Cambridge gets excited about."
Photo credits: StillVision Photography
Note: all the photographs were taken earlier this year, prior to the outbreak of COVID-19 in the UK