Kettle's Yard is back
Iconic works return to display alongside new masterpieces in visionary re-imagining of beloved collection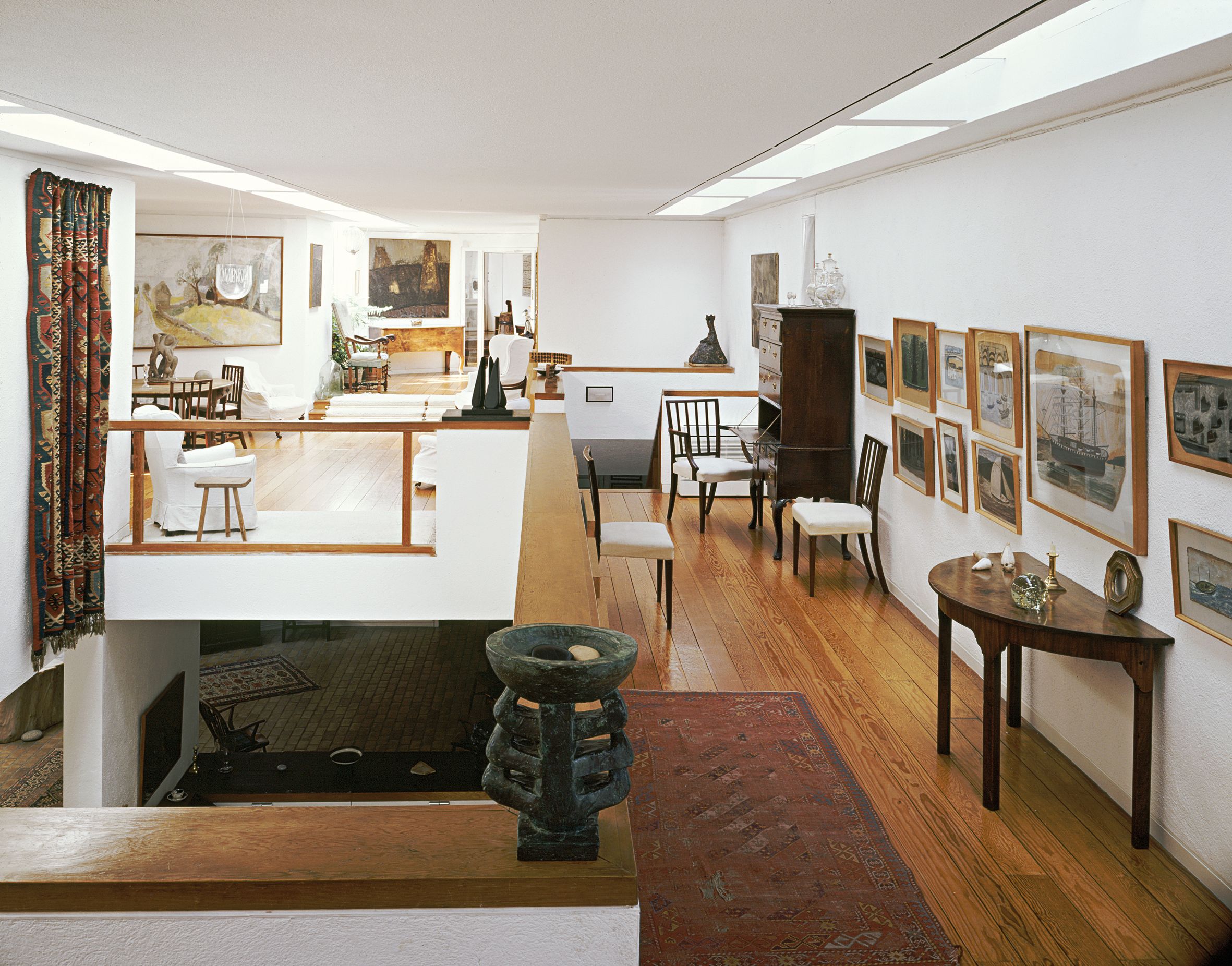 Kettle's Yard is one of the best-loved modern art collections in the UK, with a unique history inspired by the vision and passion of former Tate curator Jim Ede (1895-1990).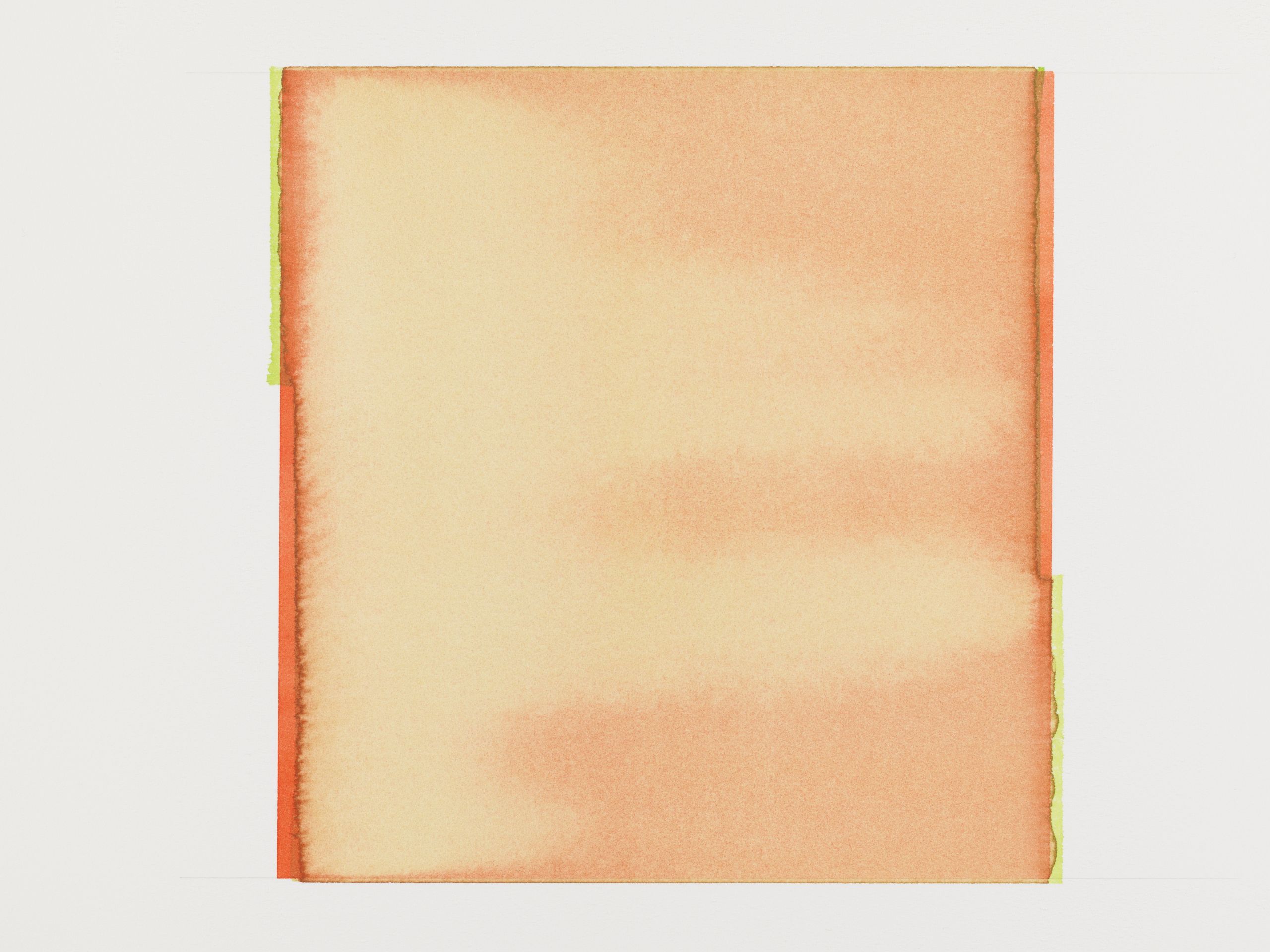 Callum Innes - Transparent Orange Rose/May Green, 2017. Photograph: Thomas Nolan
Callum Innes - Transparent Orange Rose/May Green, 2017. Photograph: Thomas Nolan
Gathering together a remarkable collection of works by Ben and Winifred Nicholson, Alfred Wallis, Christopher Wood, Henry Moore, Henri Gaudier-Brzeska and Barbara Hepworth among many others, it has for decades been both a mecca and a refuge for lovers of 20th and 21st century art in its myriad forms.
Now, as Kettle's Yard opens its doors following a two-year, multi-million pound redevelopment and transformation of its gallery spaces, the work of 38 leading contemporary and historic internationally-renowned artists has gone on display in a spectacular opening show.
We thought you might like a look inside the 'new' Kettle's Yard, which reopened to the public on Saturday, February 10, to learn more about its past – and future.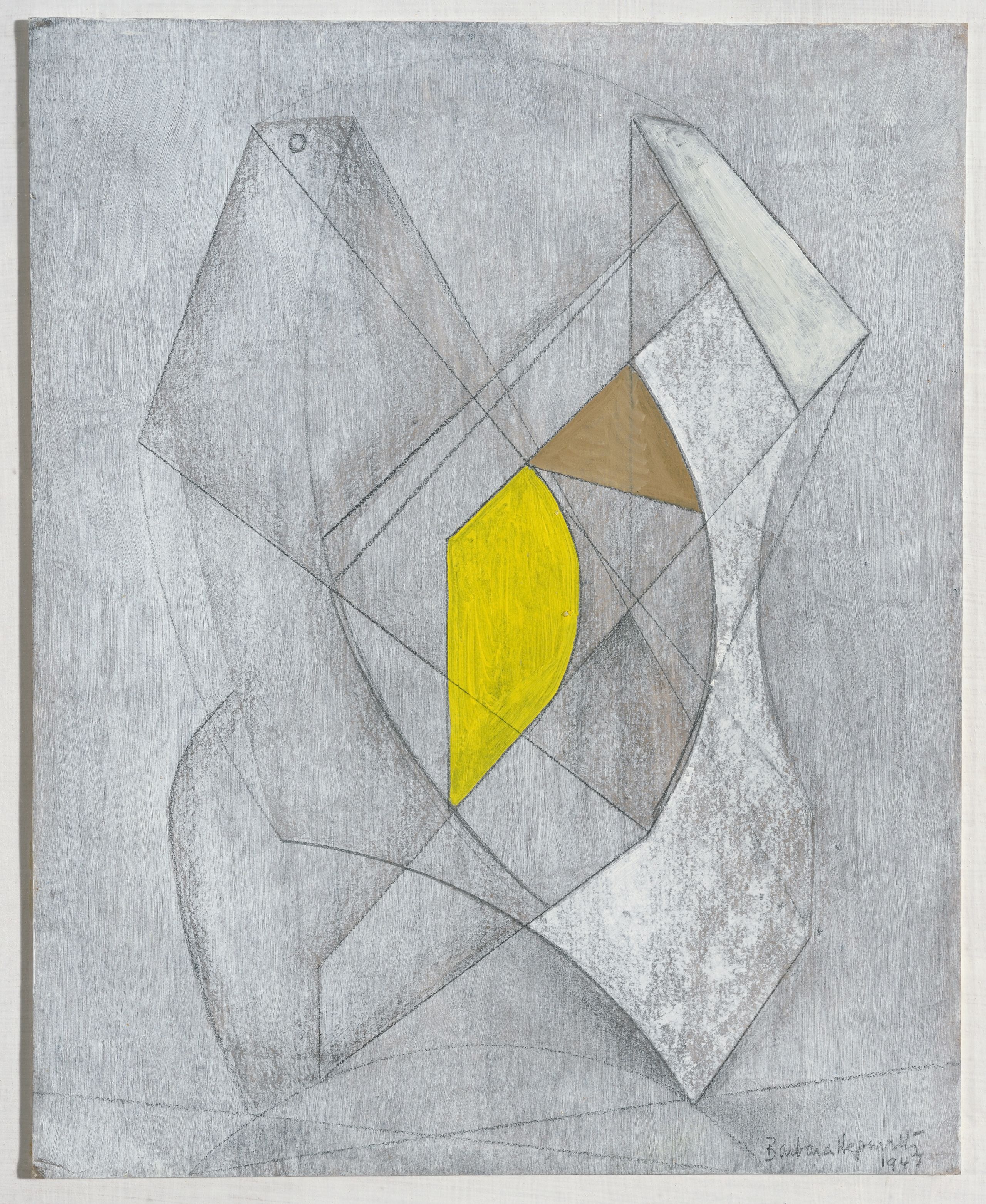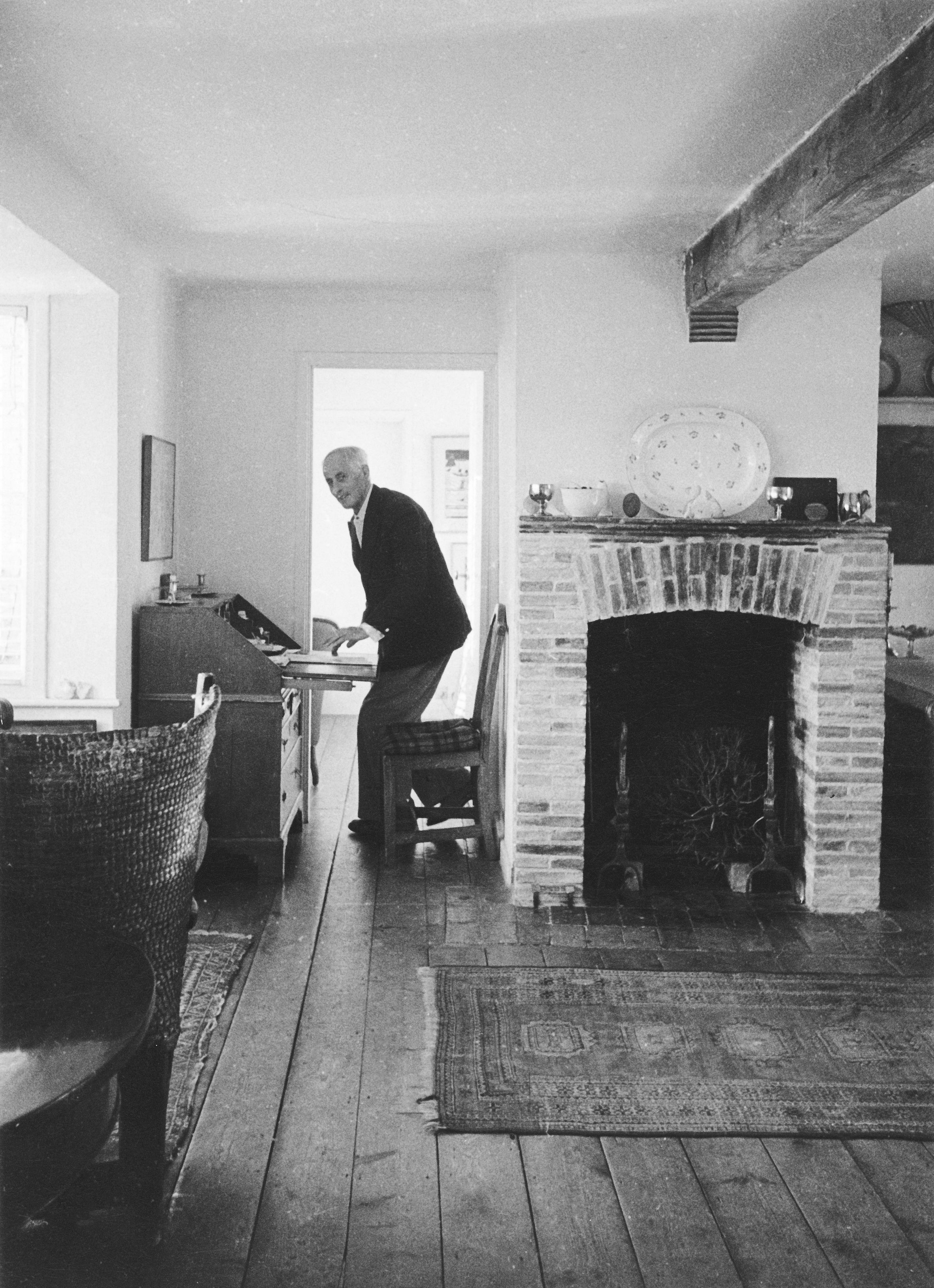 Jim Ede at his bureau in the downstairs sitting and dining room
Jim Ede at his bureau in the downstairs sitting and dining room
As early as 1954, the distinguished curator and collector Jim Ede had envisaged creating '…a living place where works of art would be enjoyed, inherent to the domestic setting, where young people could be at home unhampered by the greater austerity of the museum or public art gallery.'
Before the Second World War, Jim Ede had worked as a curator at the Tate Gallery in London. After the war, he lived and worked in France. In 1956, having previously created beautiful homes in London, Tangier and Northern France, he and his wife Helen acquired a row of cottages in Kettle's Yard, on a small street in what was then a working-class area of central Cambridge.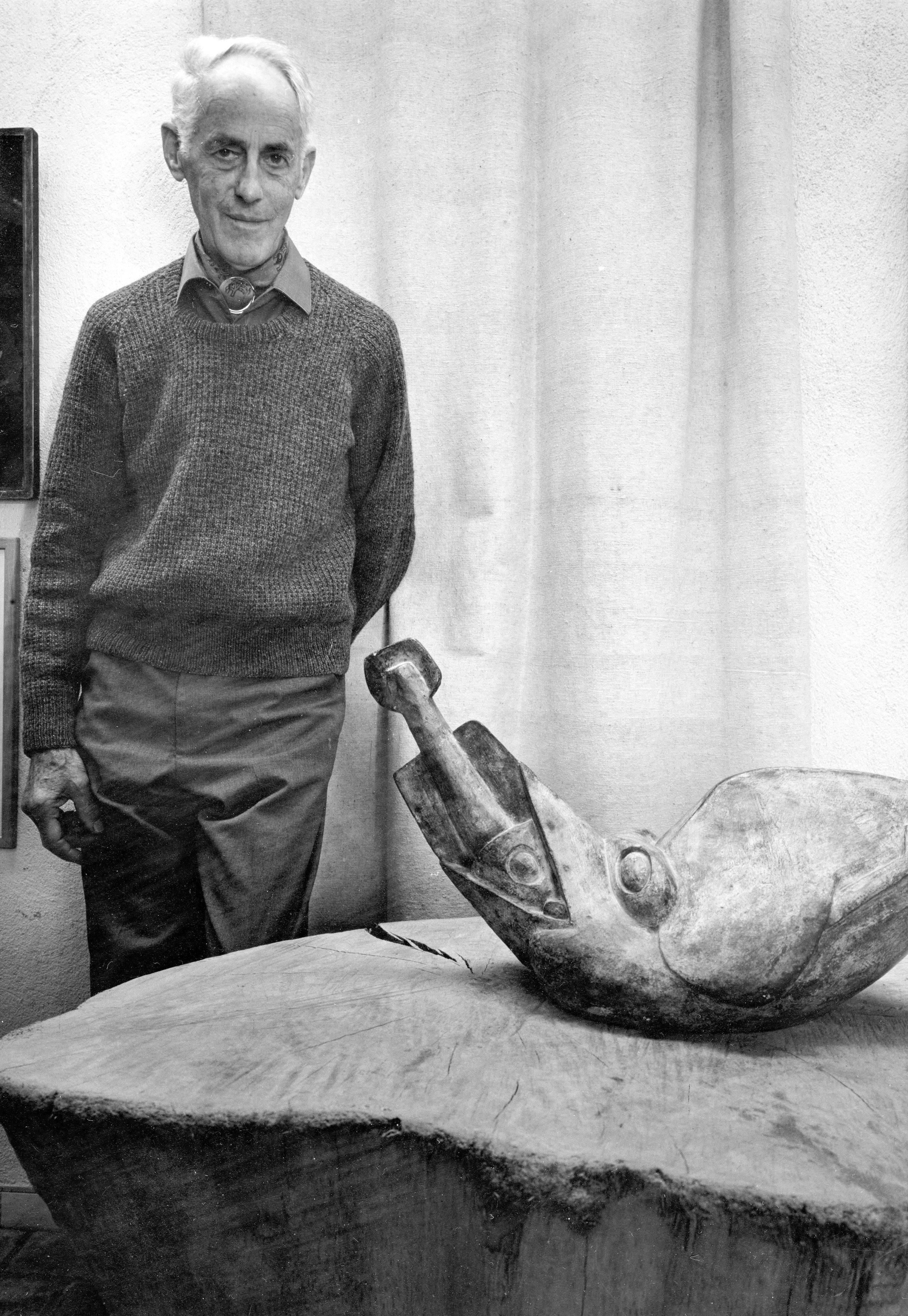 Jim Ede with Gaudier-Brzeska's Bird Swallowing Fish
There, with the help of architect Rowland de Winton Aldridge, they remodelled the cottages into a home that they filled with art and beautiful objects, both man-made and natural.
Each afternoon in term-time, they opened their house to any Cambridge student who wished to visit. For many, it became a home from home, and an intimate introduction to art.
Jim Ede collected many things – pictures, glass, china, carpets, ceramics, furniture and much more, including natural objects such as stones, shells and feathers.
His contemporary art collection drew strongly on his connections with artists such as Constantin Brancusi, Ben and Winifred Nicholson, Barbara Hepworth, Henry Moore, David Jones and Christopher Wood, and on his passion, over many years, for the works of the sculptor Henry Gaudier-Brzeska (Ede was Gaudier-Brzeska's biographer, and had founded a room of his work in the Musée Nationale d'Art Moderne in Paris).
He was a major collector of paintings by Alfred Wallis, to whose work he was introduced by Ben Nicholson.
In 1966, Jim and Helen Ede donated Kettle's Yard to the University of Cambridge, and in 1970, Sir Leslie Martin was commissioned to extend the cottages, to accommodate more of the collection and – especially appropriate given Jim Ede's love of music – to provide a space for recitals.
Jim Ede's notice inviting undergraduates to visit Kettle's Yard
The new space, was opened in 1970 by the Prince of Wales, and the opening recital was by Jacqueline du Pré and Daniel Barenboim.
Jim Ede's book about Kettle's Yard, 'A Way of Life', was published in 1984. In this book, alongside detailed images of each corner of the House, he describes the'stillness' of Kettle's Yard, calling it '…a place where people feel at rest…' and refers, also, to the 'beauty of everyday life'.
The sentiment remains just as true today, in the 21st century, as it did in the mid-1980s.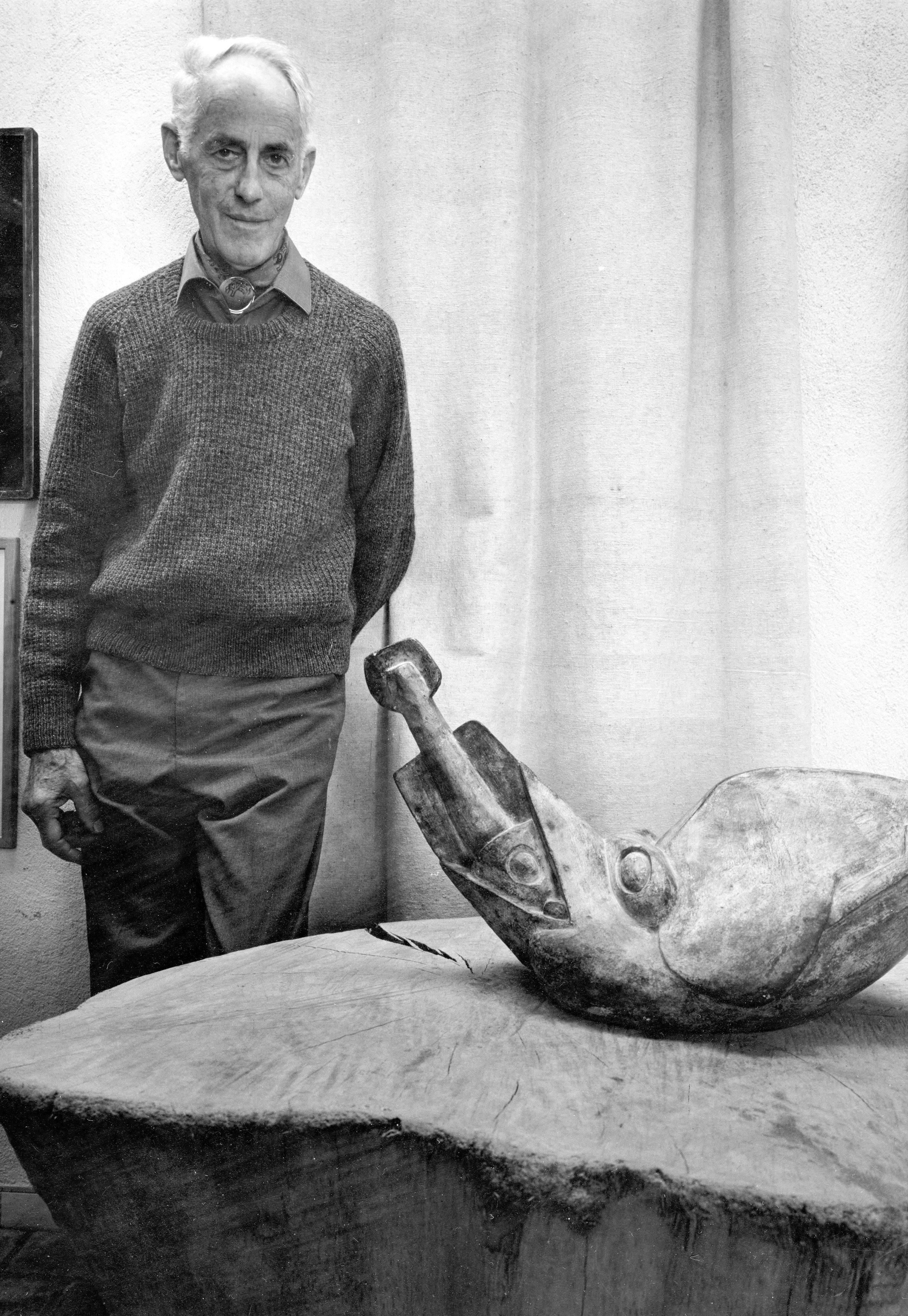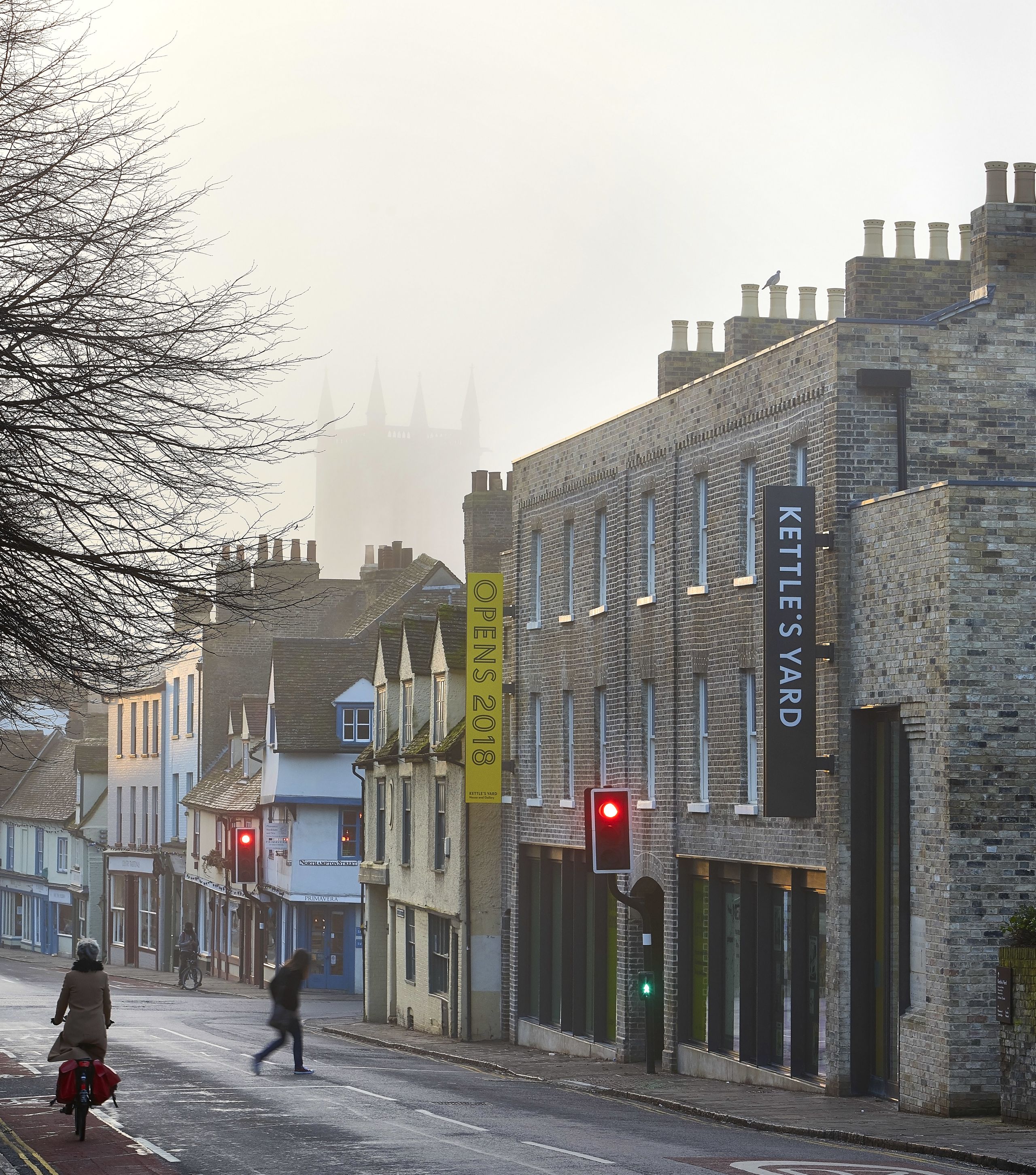 After two years of development by Jamie Fobert Architects, the long-awaited public opening of the New Kettle's Yard in Cambridge took on Saturday, February 10, 2018.
Carefully conceived to complement and enhance the qualities of the original House occupied by Jim Ede, the development includes major new exhibition galleries, generous education spaces, a cafe and new welcome areas, placing Kettle's Yard back on the map as one of the best-loved, most influential centres for contemporary and modern art outside London.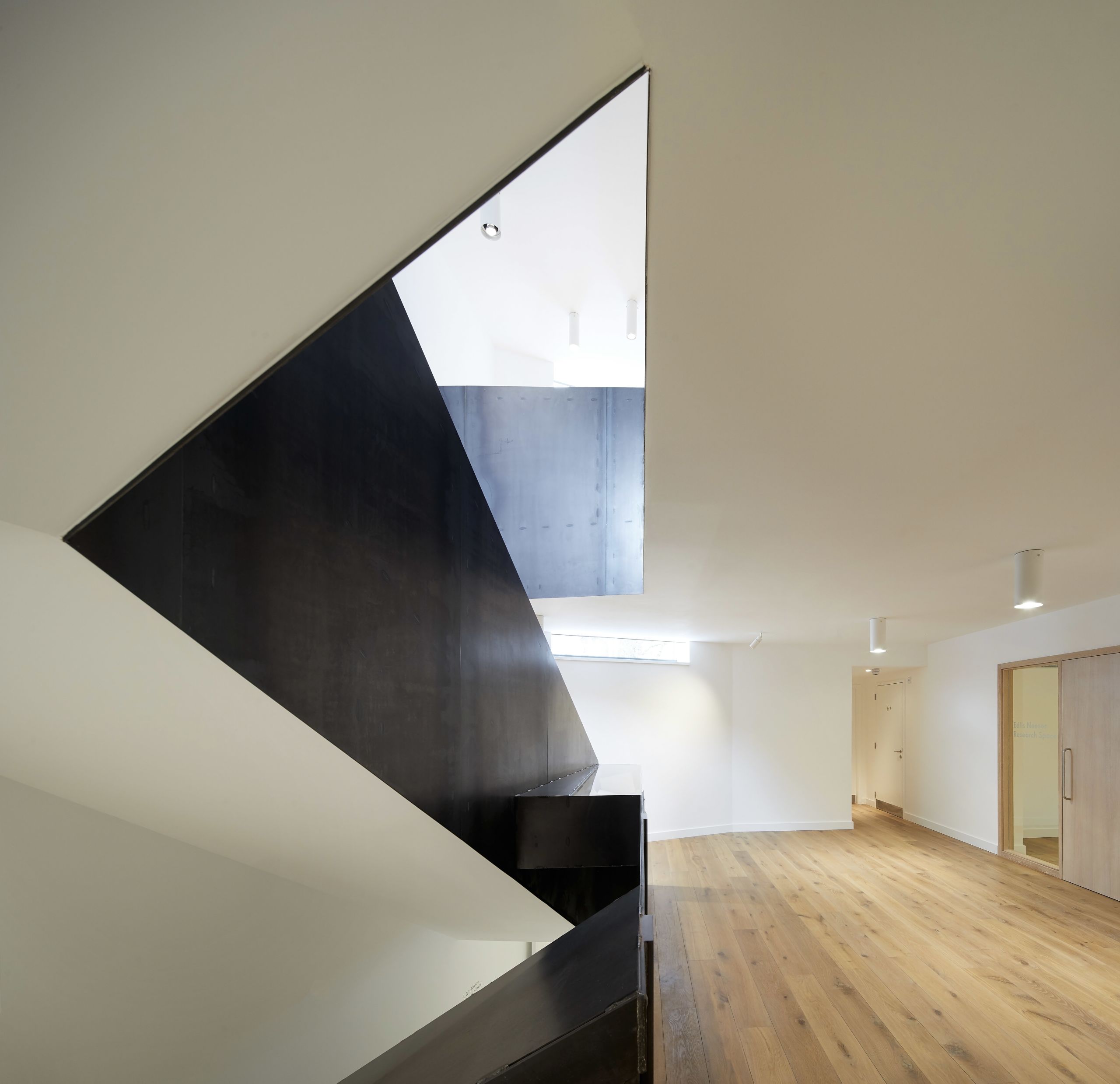 New Kettle's Yard, Jamie Fobert Architects, Photography (c) Hufton+Crow
"What is special about Kettle's Yard is that it came from one man's vision," said Jamie Fobert. "Jim wanted to bring contemporary art, as his collection was then, into the home, and allow people to see it in that setting. It was not meant to have the remoteness of an art gallery.
"I often describe leaving the cottages and going into the Leslie Martin space as an Alice in Wonderland experience. It is a complete change, but so subtle and continuous that you might not notice it. I hope that people will continue from the Martin building into mine and equally have no idea - that somehow Kettle's Yard will feel like one single experience, but a richer one now."
Clore Learning Studio, Jamie Fobert Architects, Photography (c) Hufton+Crow
Kettle's Yard's renowned programmes for young people will be expanded, benefitting from the new state-of-the-art learning spaces at the heart of the development.
The new spaces, including the Clore Learning Studio will increase the capacity for learning activities by nearly 200%. A Research Space, open to all, will enable academic research and artist and community engagement projects, utilising the collection and remarkable archive.
Community Officer for Kettle's Yard, Karen Thomas, said "As Kettle's Yard is a home, it's part of a neighbourhood and a wider community, so we work together with our neighbours to support community cohesion through creativity.
"For me, one of the best parts of my job is seeing the change in people's behaviour when they walk into Kettle's Yard, seeing the light in their eyes as they look around."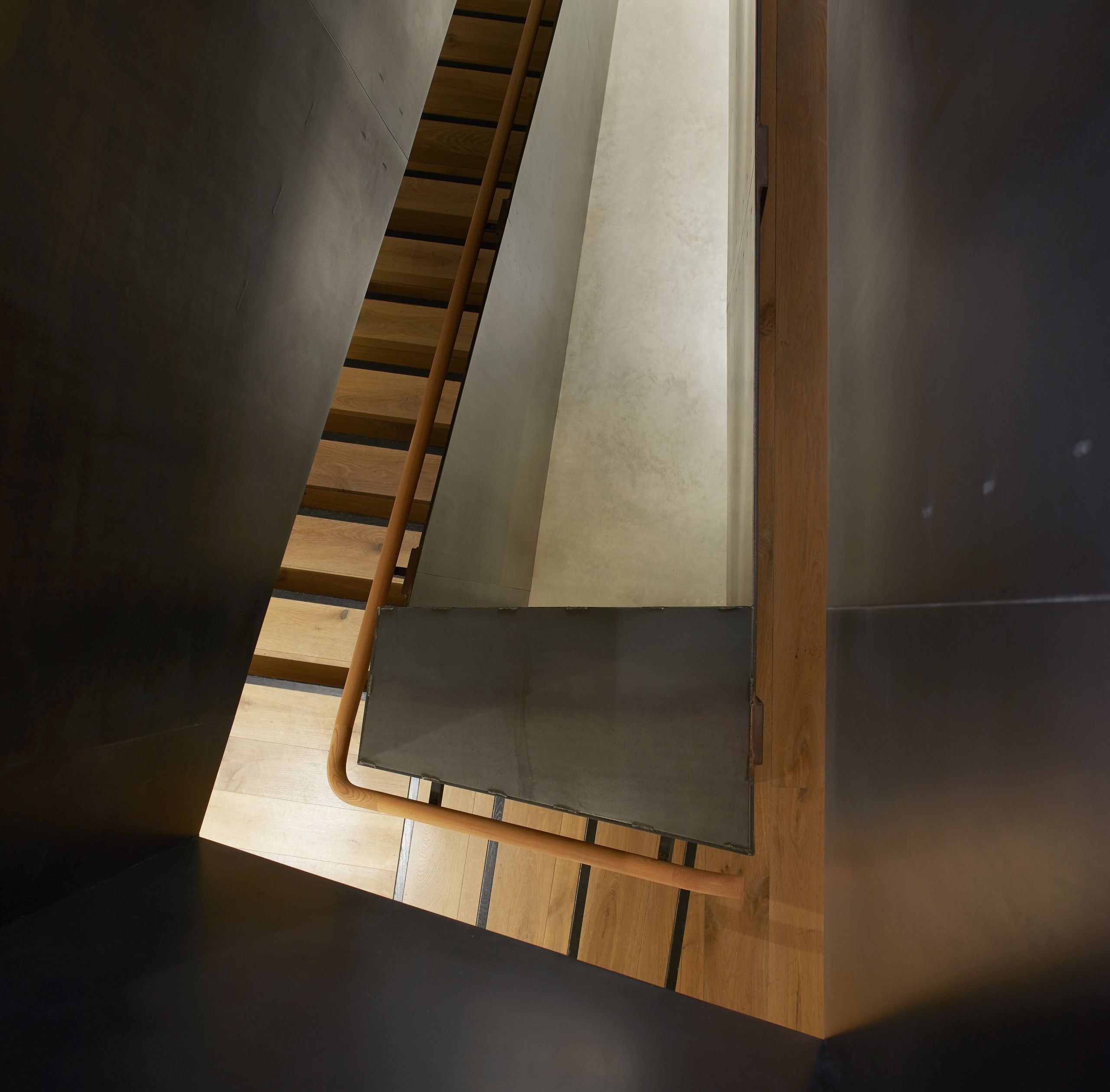 New Kettle's Yard, Jamie Fobert Architects, Photography (c) Hufton+Crow
Two new galleries and an education suite have been configured, continuing the meandering journey that begins in the cottages and moves through Sir Leslie Martin and David Owers' extension.
The present and future needs of Kettle's Yard are met with much-needed new contemporary gallery spaces and two spaces for art education.
A new glass entrance area, framed in bronze has been inserted into the entry courtyard, which allows movement between the galleries,the House and a new café located where offices had once been.
With the completion of this new development, Kettle's Yard is enabled to reach its true potential as a world-class centre for engaging with modern and contemporary art in the 21st century.
Kettle's Yard Director, Andrew Nairne, said: "Over the thirteen years it has taken to reach this moment, and the two years of work on the building, many organisations and hundreds of people have been involved and I want to thank everyone.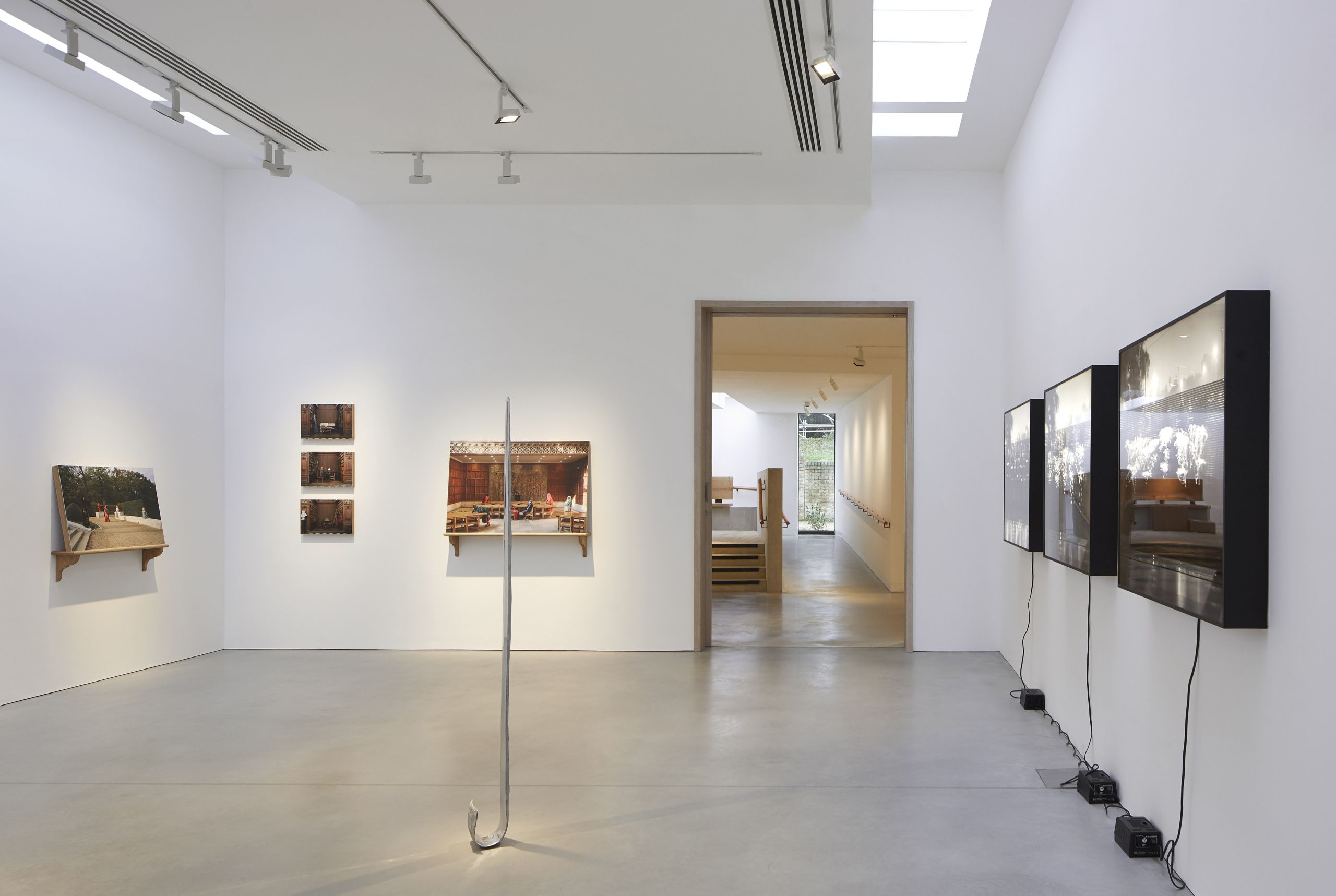 New gallery space, Jamie Fobert Architects, Photography (c) Hufton+Crow
"It is now time for us to open the doors of Kettle's Yard and invite new visitors and old friends alike to discover the gallery. I believe Kettle's Yard, with its remarkable collection and vibrant connections with artists of today, can be a beacon for the next generation."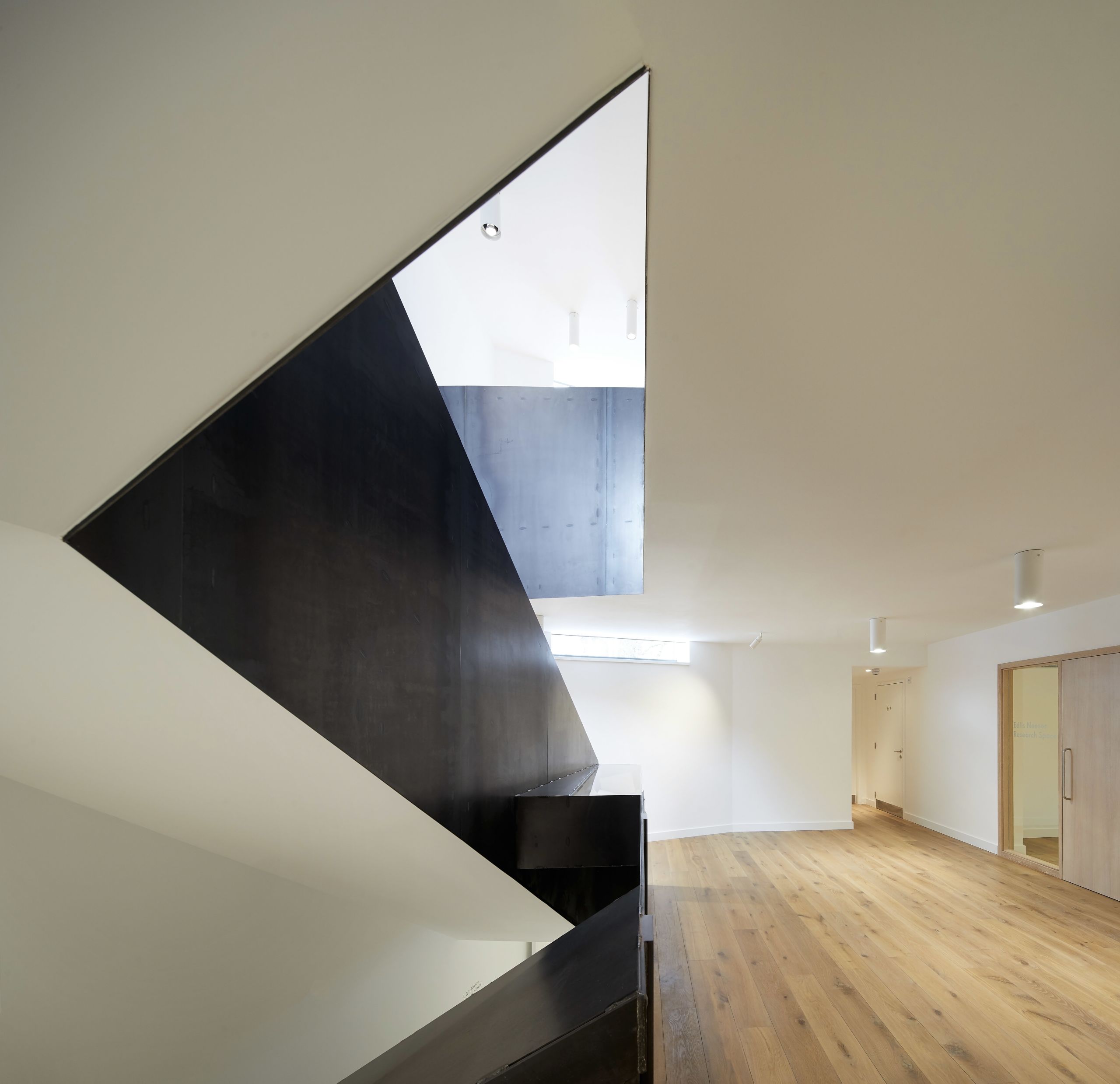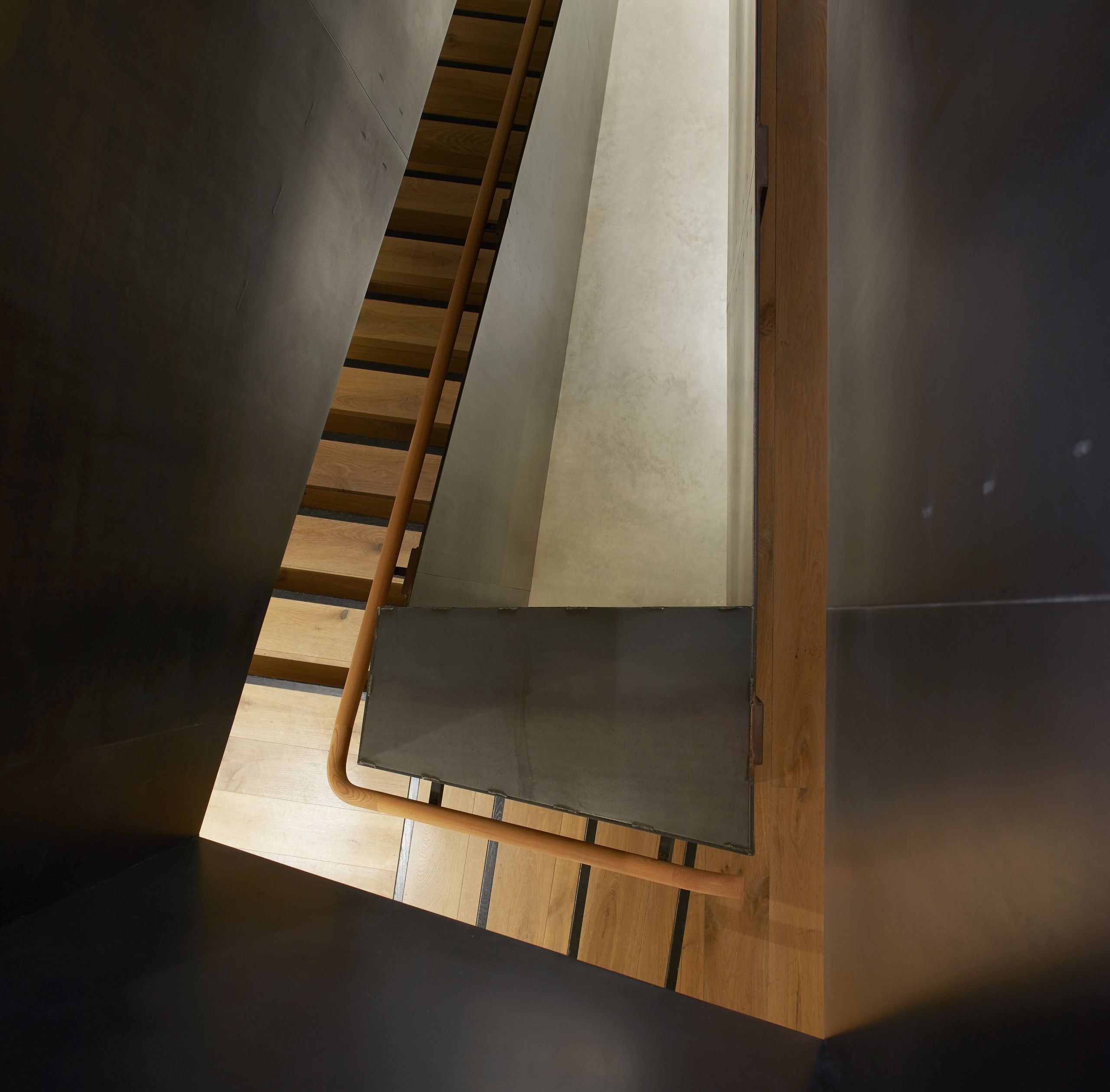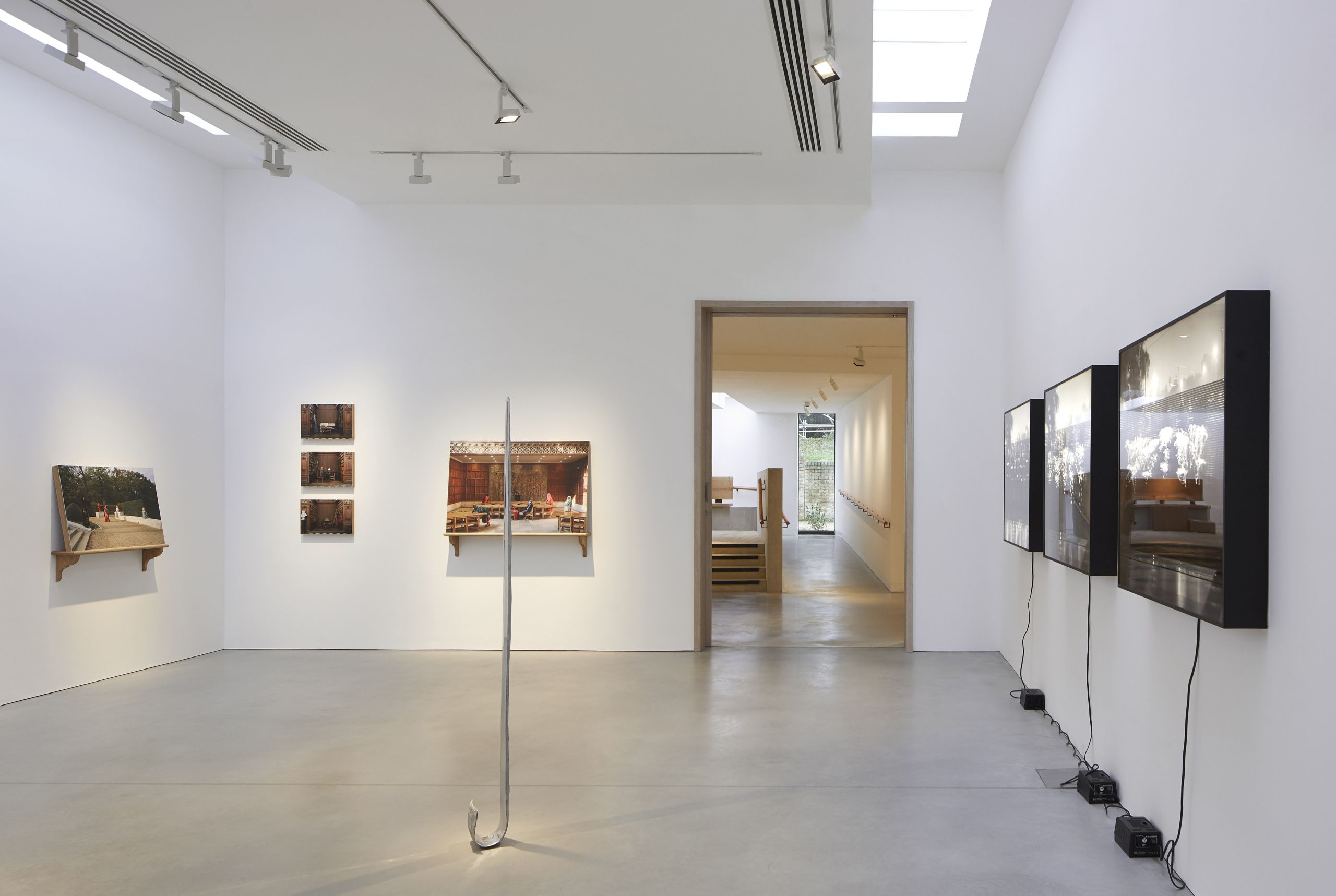 The New Kettle's Yard film
The New Kettle's Yard film
'A space for calm – in a world of chaos'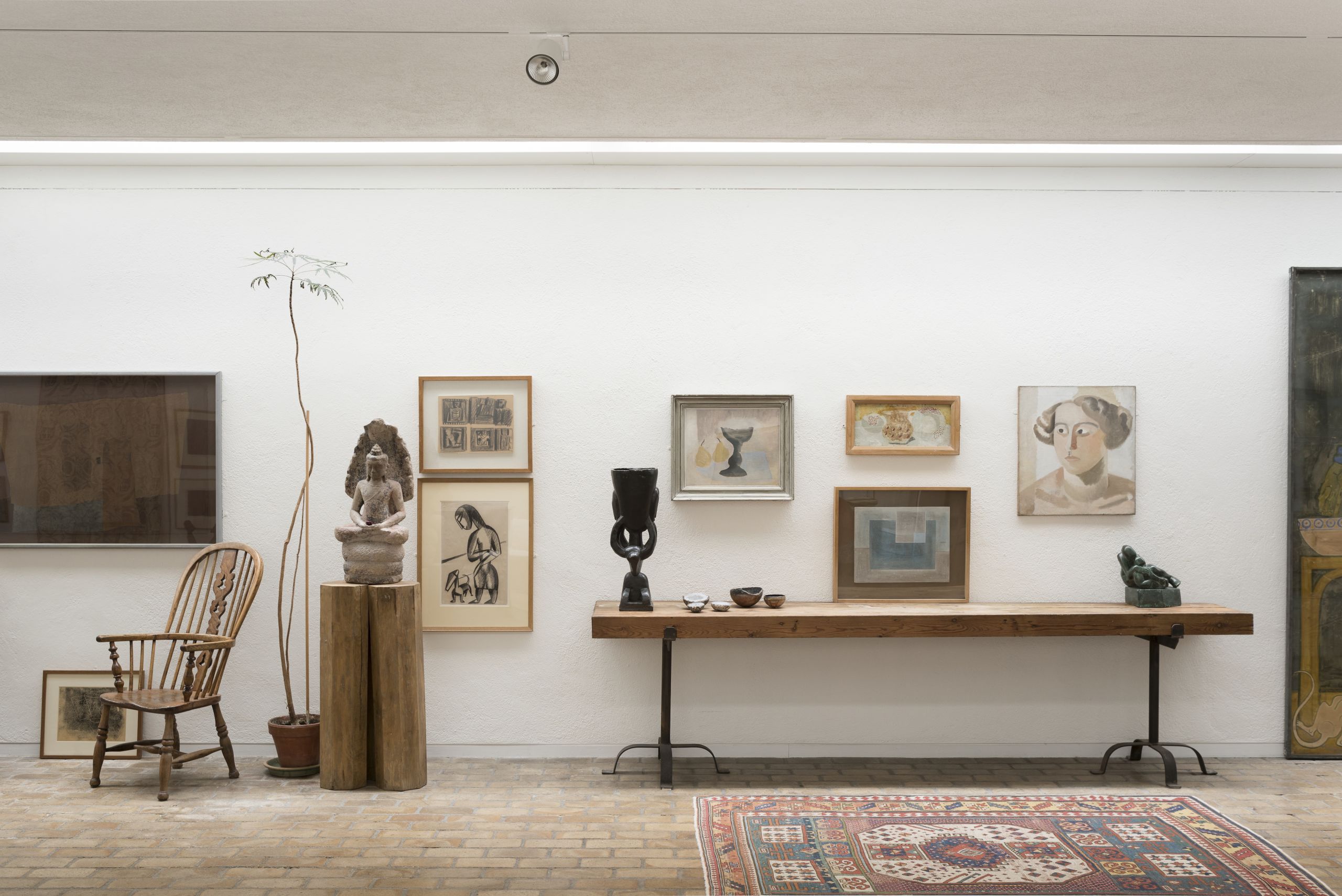 The area known as Kettle's Yard derived its name from the Kettle family. During the 18th century the family built a popular theatre on the site which was promptly closed by University authorities on the grounds it would corrupt the morals of the students.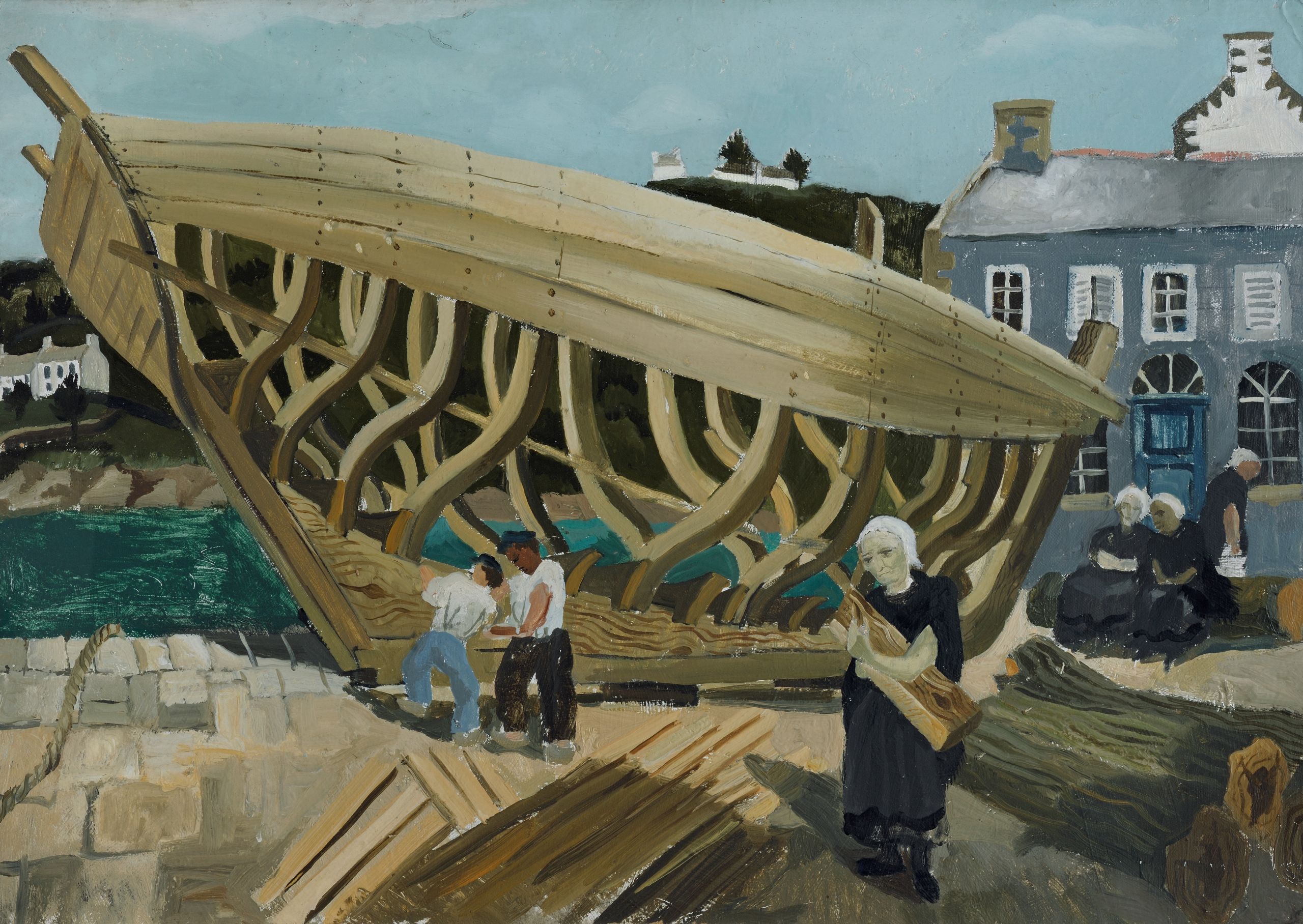 'Kettle's Yard' gradually declined into one of the city's poorest areas; a place for small businesses and jobbing tradesmen. By the early 20th century, it was an overcrowded site made up of cottages, workshops, pubs and shops, and increasingly regarded as a slum. After the Second World War, and in parallel with the post-war drive in Britain for urban reconstruction, the area underwent radical change.
Only four dilapidated cottages were spared during the area's regeneration and it was in this derelict state that Jim and Helen Ede first discovered the site in 1956. The Edes worked quickly. By the end of 1957, the house was ready to receive its first visitors.
"It would be interesting to be lent a great house on the verge of a city - or a place of beauty in a town (Cambridge I have in mind) and make it all that I could of lived-in beauty, each room an atmosphere of quiet and simple charm, and open to the public (in Cambridge, the students especially)."
Ede did not have a vast fortune at his disposal with which to purchase art. Instead, he often acquired works by exchange or through the generosity of his artist friends. He also purchased works by artists at the early stages of their careers.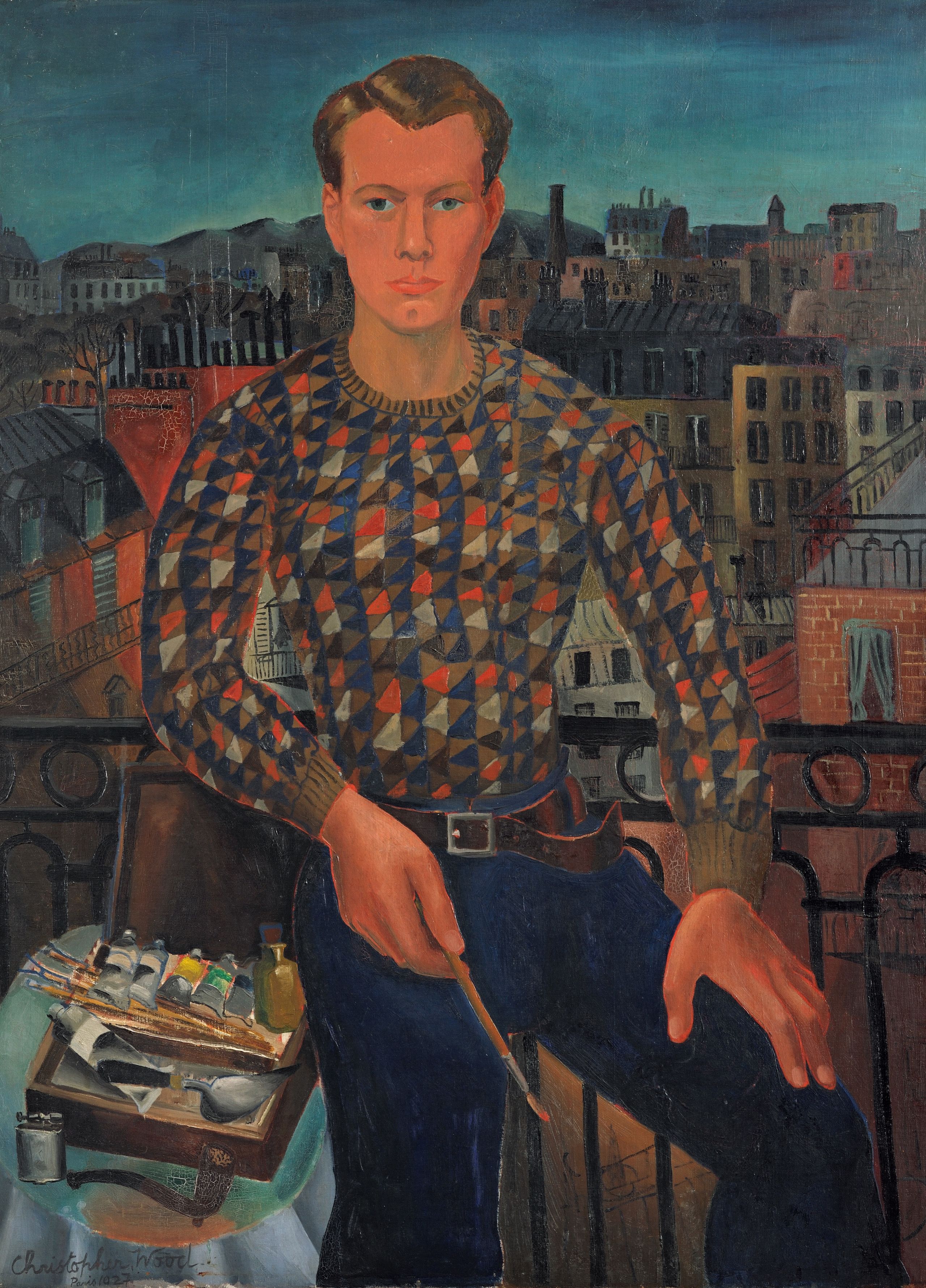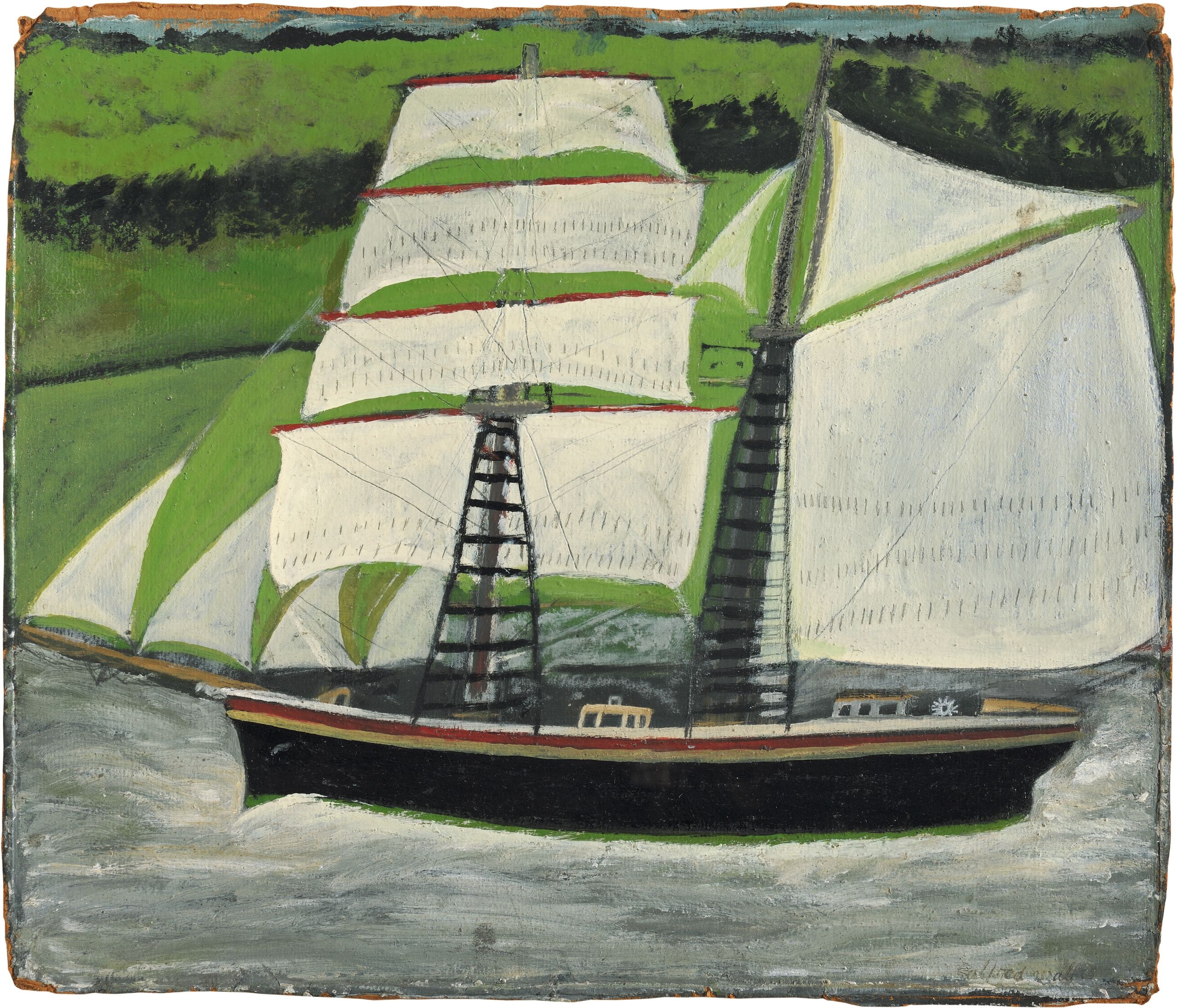 As well as the Gaudier-Brzeksa estate, which formed the backbone of the collection, the display of Ede's collection of Alfred Wallis paintings helped to establish the painter's place in the history of art. Until then, only a few individuals had recognised the quality of Wallis' work.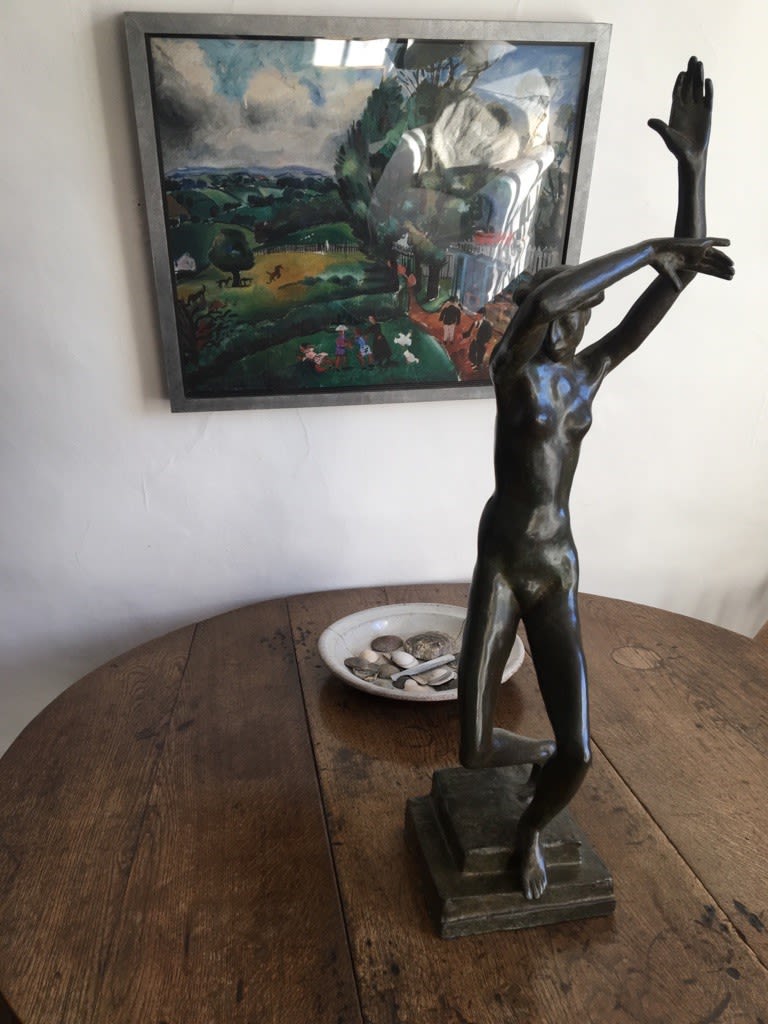 Andrew Nairne said: "What makes Kettle's Yard remarkable? There's a wonderful sense that the house is more than a house, it's a place of ideas and imagination and inspiration, it appeals to all the senses: you can hear the sounds of the cottage, you can smell the flowers and you can sit down in all the different chairs Jim Ede had in his house.
"And it's the combination of beautiful ambience, the light, the cut flowers, and the sense that Jim really had a vision about how you might lead your life, how you might organise your own spaces, and how you might go away from Kettle's Yard and rearrange wherever you live, that inspires you to think about the world in a different way.
"It's a place with beautiful art, beautiful furniture, a wonderful atmosphere, a place where people do seem to be constantly inspired When we think about Kettle's Yard in the future, we want to ensure that our education programme, our exhibitions and our concerts reach the widest possible audience. This would fulfil the vision of Jim Ede when he created the Kettle's Yard house; to have a living programme every year which is inspiring, imaginative and thrilling."
"Jim created Kettle's Yard as a space for calm in a world of chaos – and we maintain that in the work we do with our neighbourhoods in North Cambridge.
Added Thomas: "We really take on the philosophy of Jim who opened his doors to all and we want to continue to make sure Kettle's Yard is accessible to all, to empower young people to create their own art and to create opportunities for them to become the next curator or the next musician of the future."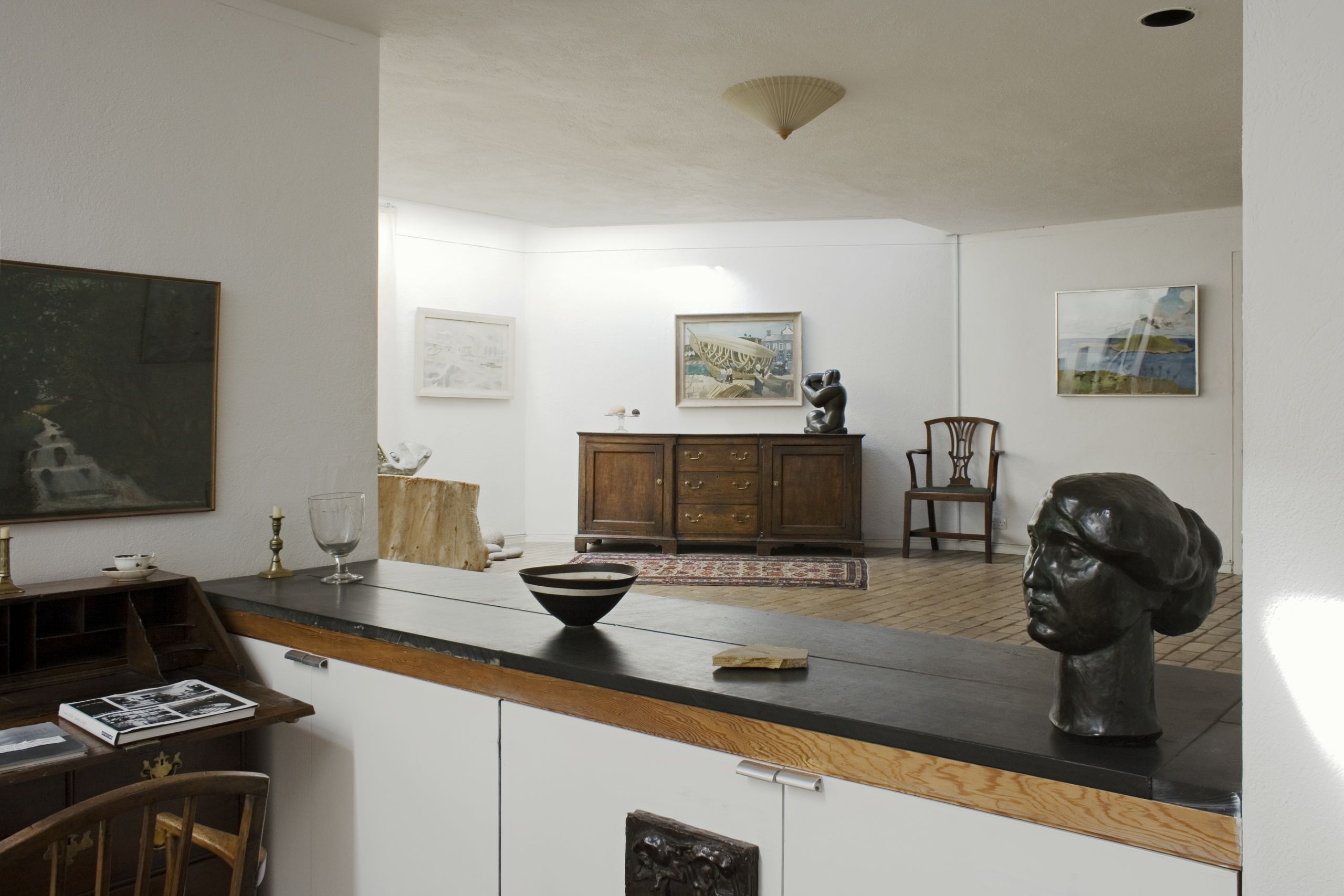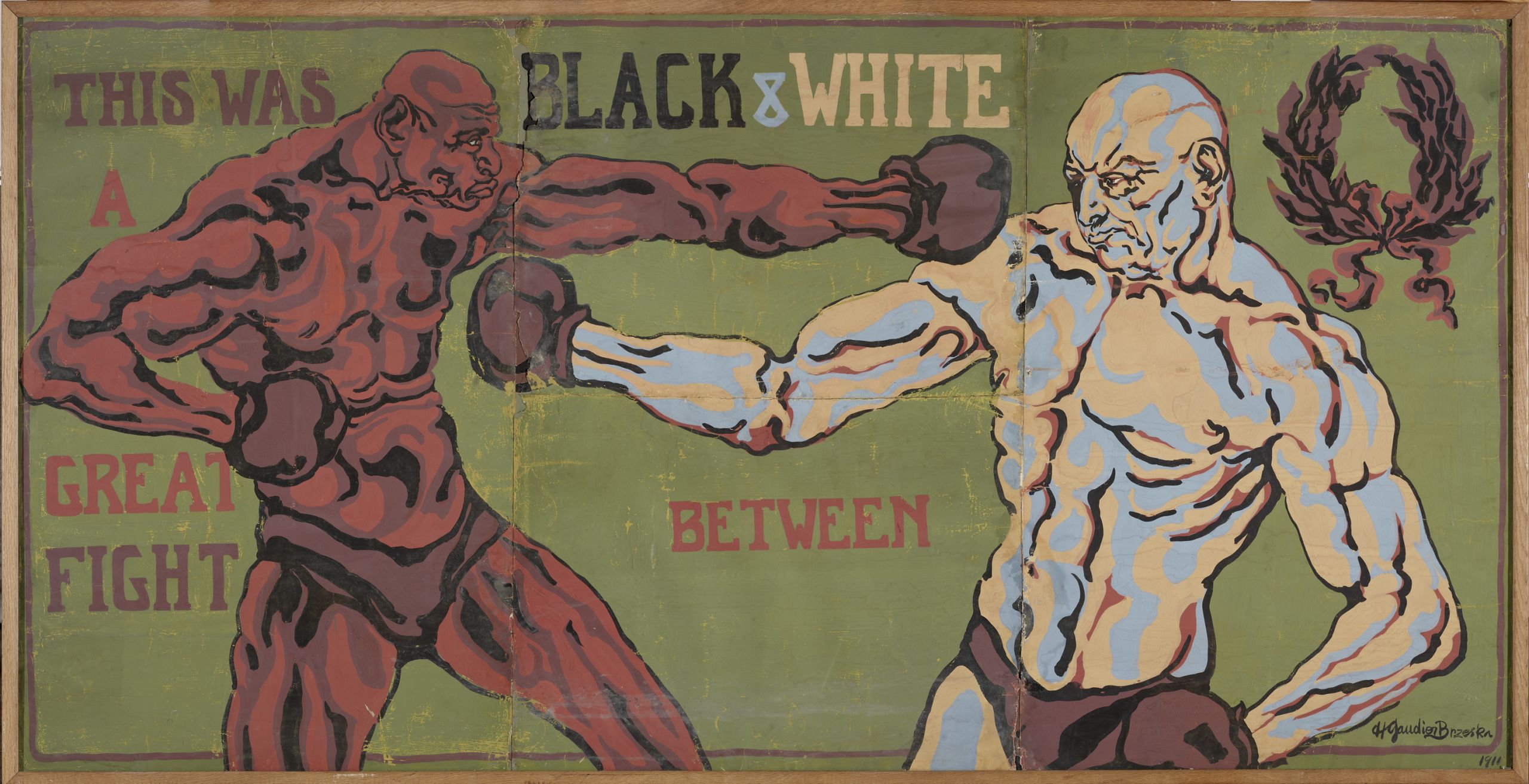 Henri Gaudier-Brzeska - Black & White poster (AKA Boxers), 1911
Henri Gaudier-Brzeska - Black & White poster (AKA Boxers), 1911
Actions. The image of the world can be different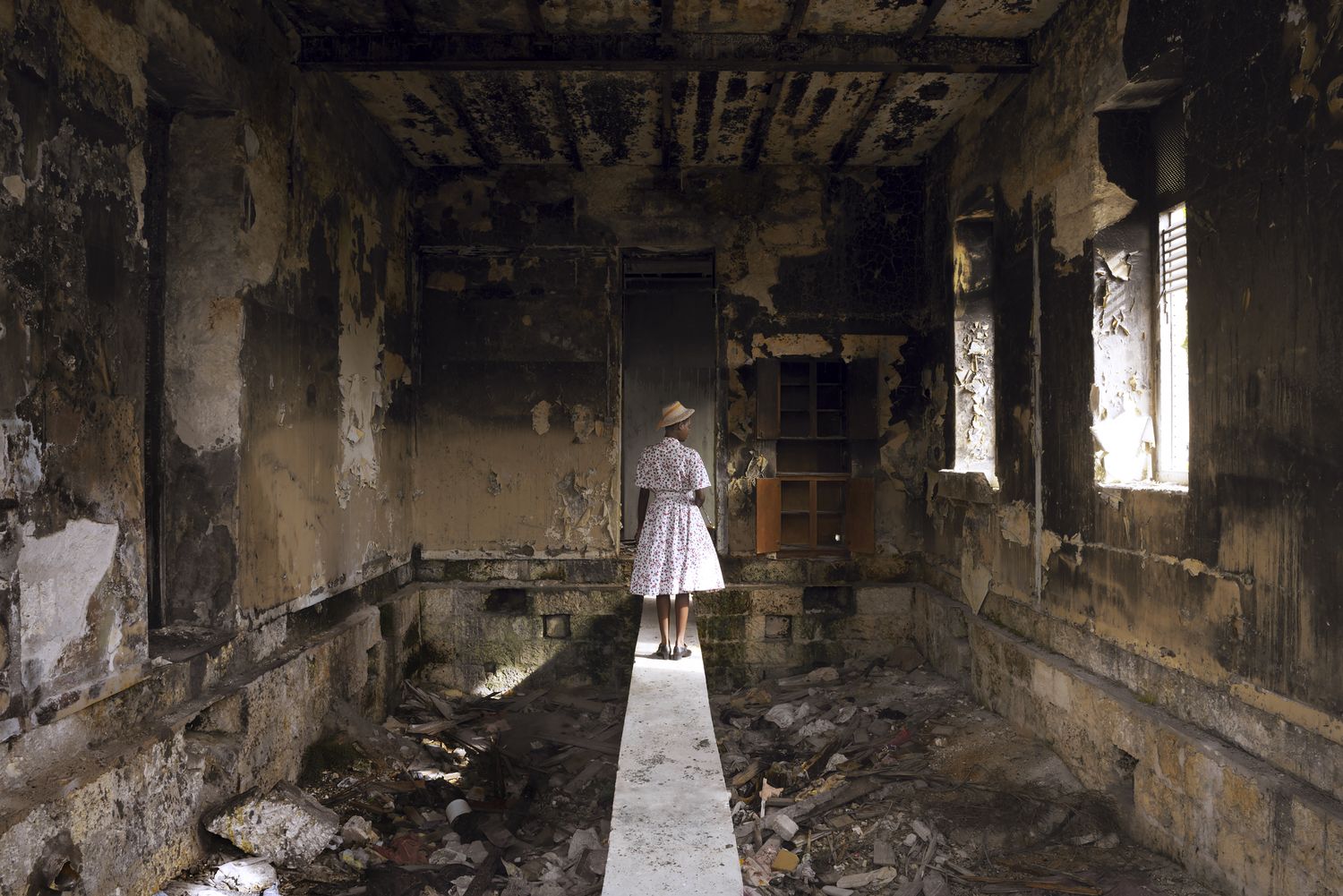 John Akomfrah - Untitled, 2016. Copyright: Smoking Dog Films
John Akomfrah - Untitled, 2016. Copyright: Smoking Dog Films
Melanie Manchot - The Ladies (Wren Library), 2017
Melanie Manchot - The Ladies (Wren Library), 2017
Kettle's Yard reopens with a spectacular opening exhibition, Actions. The image of the world can be different (from February 10 - May 6, 2018).
It is inspired by a letter written by artist Naum Gabo, a close friend of Jim Ede. Actions brings together work across a variety of forms and media made by artists of different generations, from the emerging to the renowned.
The exhibition features work by 38 artists including nine new commissions by Rana Begum, Jeremy Deller, eL Seed, Idris Khan, Issam Kourbaj, Harold Offeh, Melanie Manchot, Cornelia Parker and Caroline Walker.
Khadija Saye - Pietaw, 2017 (courtesy of the Estate of Khadija Saye)
In the new gallery spaces, visitors will encounter iconic works by Richard Long, Ben Nicholson and Mary Kelly, with new and recent work by Julie Mehretu, Oscar Murillo, Regina José Galindo and Linder among others. Actions also includes works by Khadija Saye, who tragically died in the Grenfell Tower fire in June 2017.
For the Kettle's Yard House, works by Cornelia Parker and Edmund de Waal have been installed among the permanent collection. Callum Innes has made a set of watercolours to be shown in the new Research Space.
Rana Begum has created a new large-scale installation for the church of St. Peter's next to Kettle's Yard, and Tunisian artist eL Seed has created a new mural in North Cambridge.
There will be live events throughout the exhibition to include a newly commissioned dance work by Candoco Dance Company with choreographer Laila Diallo, and performances by Harold Offeh, Anna Brownsted, Issam Kourbaj and Emma Smith.
Regina José Galindo will perform new 'actions' in the House at Kettle's Yard and in the Front Court of King's College Cambridge. Composer and pianist Kate Whitley has been commissioned to create a new piece.
Regina Jose Galindo - Tierra, 2013 (Courtesy the artist and Prometeo Gallery, Milan)
Actions Part2, from 11 April – 6 May 2018 will feature new paintings by Caroline Walker, made in collaboration with the charity Women for Refugee Women. There will also be a presentation of John Akomfrah's award-winning film Auto Da Fé (2016).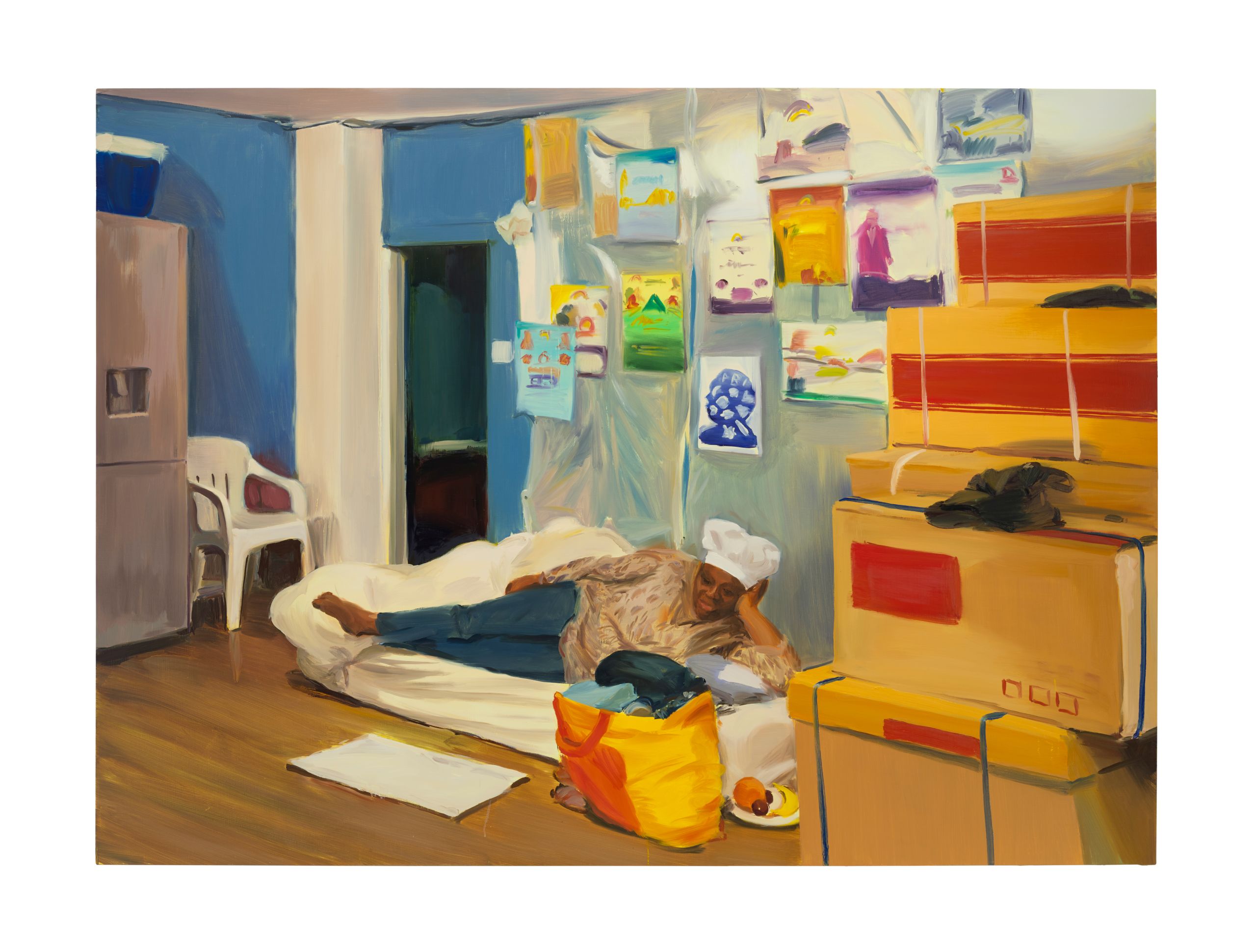 Caroline Walker - Abi, Midday, Brixton, 2017
Caroline Walker - Abi, Midday, Brixton, 2017
Caroline Walker - Tarh, 10.30am, Southall.
Caroline Walker - Tarh, 10.30am, Southall.
Actions: an introduction by Andrew Nairne
"Every exhibition has its own story. A few years ago I came across the first monograph on the work of Naum Gabo, an artist in the Kettle's Yard collection. It was published in 1957. It includes a fold-out facsimile of the Realistic Manifesto wall poster originally pasted up in the streets of Moscow in 1920 and a pair of Perspex spectacles for viewing stereoscopic images of Gabo's sculptures.
The book also has a remarkable exchange of letters between Gabo and the writer and critic Herbert Read, originally published in Horizon magazine in July 1944.
Gabo's letter addresses questions he is frequently asked, including: 'What do my works contribute to society in general, and to our time in particular?' In an especially moving section, he accepts that his art may be perceived as 'irrelevant' to the immediate needs of a world at war.
When we began discussing how we could best celebrate the opening of the new Kettle's Yard, I remembered Gabo's visionary letter, and in particular the following sentence: "I try to guard in my work the image of the morrow we left behind us in our memories and foregone aspirations and to remind us that the image of the world can be different."
Borrowed for an exhibition in the 21st century, Gabo's appeal on behalf of his own art and the artists of his time is still relevant today. The visual arts, in all its forms, have the capacity to change our view of the world and so influence how we individually and collectively act and engage with life.
Jim Ede, who created Kettle's Yard, shared this belief in the purpose and value of art and the interaction between art and life. Ede describes meeting Gabo in his book A Way of Life (1984).
Today, through the generosity of others, Kettle's Yard has a number of Gabo's works in the collection. The most exceptional perhaps is Linear Construction in Space, No.1, made in St. Ives in Cornwall around the time Gabo composed his letter. This beautiful and pioneering sculpture, a harmony of space and light distilled through perspex and nylon threads, usually sits on the black Steinway piano in the Kettle's Yard House. For Actions it will be among the first works encountered by visitors in the new galleries.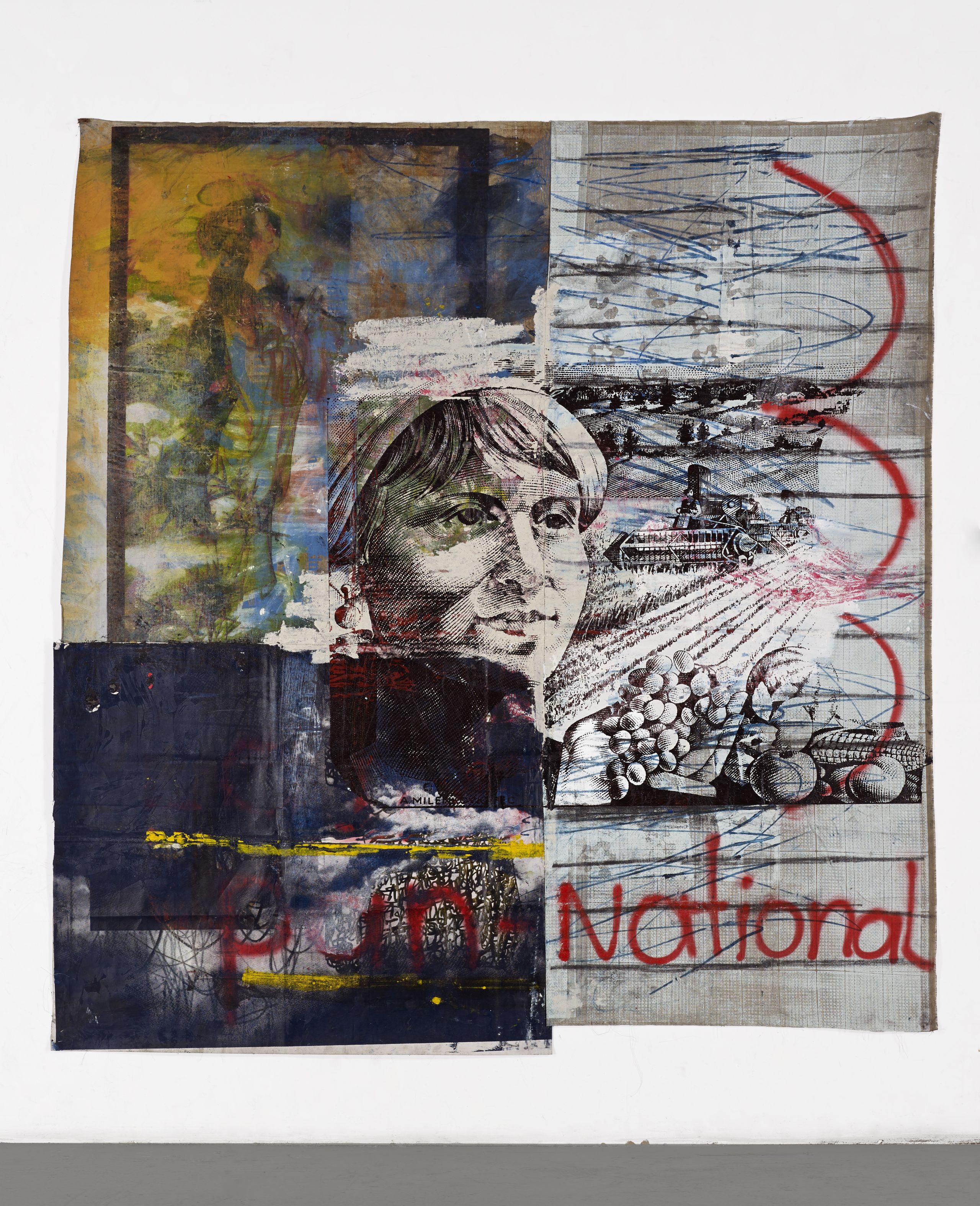 If Gabo's vision, his ambition for what art can do, is the inspiration for the exhibition, we also knew we wanted to make an exhibition which would reflect the energising diversity of art now, include commissioned new work and continue long standing creative partnerships with our local communities.
Actions would be our headline title, a definition of art making as something with conscious purpose, though this could take a thousand different forms.
Actions goes beyond the visual arts and includes the architect of the new Kettle's Yard, a composer, a dance company and choreographer.
The aim is to create a gathering of artistic expressions, to see what happens when a myriad of diverse voices come together. The selection is both carefully determined and we hope surprising, working with artists we know well and with others who we have only recently discovered. Of the latter, Khadija Saye, who died in the Grenfell Tower fire in June 2017, was just setting out on her career, when we invited her to participate in Actions. 
Following in Jim Ede's footsteps, Kettle's Yard has always sought to support emerging artists. It is our privilege to be able to exhibit these deeply felt and luminous photographs for the first time in the UK.
In a television interview late in life the avant-garde Latvian theatre director and writer Asja Lācis (1891 – 1979), said "we have no right to be satisfied with anything, even if things go well. On the contrary, we have to do better. And continuously search for the new, the contemporary."
The art in Actions offers much to aesthetically enjoy and love, but this essential strength is allied to insight about the present moment; the desire to contribute to and animate contemporary discourse, whether cultural, social, political, or economic.
"Above all, taking its cue from Gabo, Actions seeks to reassert the potential of art as a potent force in a troubled world."