This Cambridge Life
The chemist who fuses fashion with science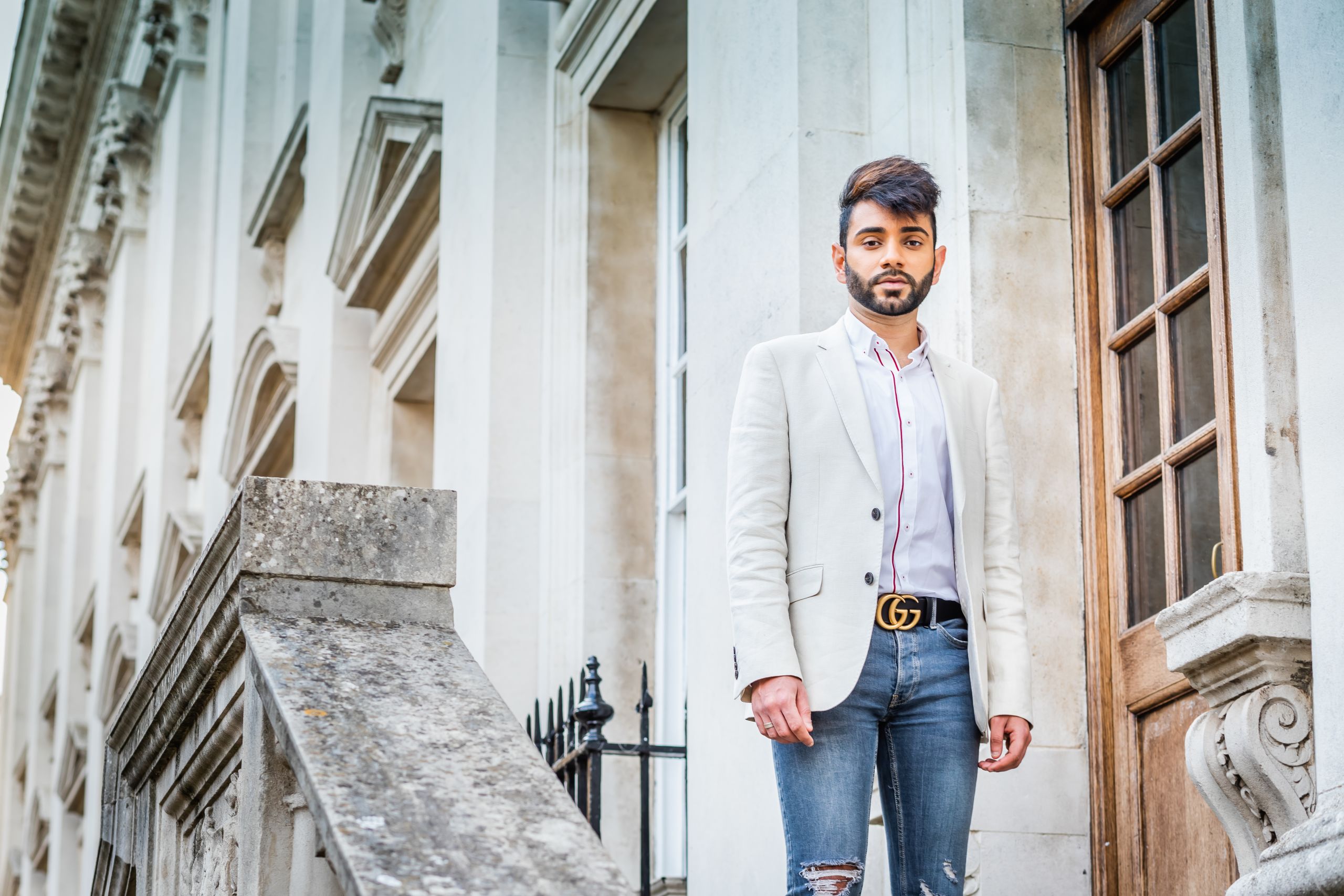 Areeb Mahtey by Nick Saffell.
Areeb Mahtey by Nick Saffell.
Areeb Mahtey (Fitzwilliam College) is studying for a PhD in epigenetics, but outside the lab he is a member of the University of Cambridge's Fashion and Luxury Brands Society and models for upcoming fashion brands and charitable causes. He explains why science and fashion have more in common than you might think, and how in the future he hopes to combine his two passions.
I'm currently in the final year of my PhD, part of Professor Sir Shankar Balasubramanian's research group, which studies the chemistry, structure and function of DNA and RNA. My research focuses on detecting low-abundance natural DNA modifications using a technique called mass spectrometry. By understanding how these modifications affect the structure and function of DNA, my research has implications for diseases like cancer but also for our understanding of embryonic development and may even lead to the development of new drugs. For example, drugs could be used to initiate the reprogramming of cells – put simply, this could mean promoting the transition of a cancer cell into a normal, healthy cell.
I love my work because it spans the whole spectrum of chemistry and biology. I therefore get to see the biological effects of the chemical experiments I develop.
Outside the lab I am passionate about fashion and enjoy letting my creative side run wild. I love fashion because it celebrates individuality and encourages creativity. There are endless opportunities to show your unique personality through mixing and matching clothes.
I see fashion as an open-ended statement, a conversation starter. It allows you to send out a message about yourself to the world, without ever having to say a word.
In contrast to science, which is governed by laws, there are no rules in fashion – and nor should there be. Science is also more theoretical and book-heavy than fashion and so in some senses they are poles apart.
People are surprised when I tell them that science and fashion have more in common than they might think. Science is driving fashion in terms of the development of new materials, new colour combinations, or even new ways of designing and manufacturing clothing and fragrances.
What's also important but less tangible, is the benefits that a creative outlet like fashion can bring to scientific research. I think that exploring your creativity can help you to think outside of the box or approach problems in a new way in the lab. I've found that being daring and bold on a photoshoot one day has made me more adventurous in the lab the next, resulting in novel discoveries and publications.
I may not seem like the stereotypical scientist but there is no mould. We are all shaped by our unique life experiences and this influences who we are and how we think. I believe it's this individuality that helps us address scientific problems in innovative ways and come up with new solutions that can revolutionise the industry.
I've realised that you don't need to stick to a linear career path. You can do whatever your heart desires as life is dynamic and you should be open to change and be able to adapt to new circumstances. This is something that we have seen ever more so with the COVID-19 pandemic, and I want to reinforce to students, that being open to explore new opportunities will make them well-rounded individuals.
After my PhD I'd like to apply my scientific training in a commercial or corporate setting, working either in the pharmaceutical or scientific consulting sector. Looking further ahead into the future, I'd love to set up my own venture that would merge fashion with science in a way that has not yet been explored by either industry.
---
This profile is part of our This Cambridge Life series, which opens a window on to the people that make Cambridge University unique. Cooks, gardeners, students, archivists, professors, alumni: all have a story to share.