This Cambridge Life
The museum technician who found her place among ancient faces
Charis Millett by Nick Saffell
Charis Millett by Nick Saffell
When Charis Millett realised that being a museum technician was the job for her, she worked day and night to make it happen. She speaks about her passion for transporting museum-goers to another time and why Blue Peter may have more in common with museum technicians than you might think.
I never have that 'Monday morning feeling.' I work in the Fitzwilliam Museum's Antiquity Department where no two days are ever the same. One morning I can be wheeling a sarcophagus out of storage for a researcher, another afternoon I might be packaging up a terracotta amphora to be sent on loan to a museum in New York. When you handle ancient artefacts every day it can begin to feel normal, but I make a point of reminding myself how special this job is and how lucky I am.
I come from a really creative family. My mum is amazing at painting, drawing and sewing – she used to make us clothes when we were kids and dresses for my dolls. My Dad taught himself woodwork in his free time, and my brother and sister are both incredibly artistic. I've always loved art but am less good at the practical side of it.
I'd never really known where I fitted in, until I discovered the job of museum technician. Technicians are responsible for looking after the collections on display and in storage at museums. I didn't even know this was a job until I began volunteering at the Fitzwilliam Museum, after I finished my degree in Art History.
What was more difficult was breaking into the field. I spent the next seven years working in retail by day, studying for a Master's in museum studies by night, and volunteering in a variety of museums every other spare hour. Eventually I was offered a part-time position, which led to a full-time position, as a technician at the Fitzwilliam Museum.
Working as a technician often feels a bit like the craft-making bit of the British children's television programme Blue Peter. I often use things such as cocktail sticks to pin foam in place around artefacts when I'm preparing them for loan. There're no right or wrong ways of doing things, it's just a case of being inventive and adaptable, whilst making sure the object remains safe.
I enjoy coming up with solutions to problems, but I couldn't do it on my own. I'll often ask the maintenance team for advice or speak to technicians from other museums. Sometimes things don't go to plan but that's often when you learn the most.
I love working on exhibition installations as there's such a tangible outcome, and honestly, it's just great fun. It's amazing to transform a blank room into a space where you can showcase treasures, tell stories and transport visitors to another time. I also love the collaboration aspect – working with lenders from other museums, curators, lighting specialists and the exhibition team themselves.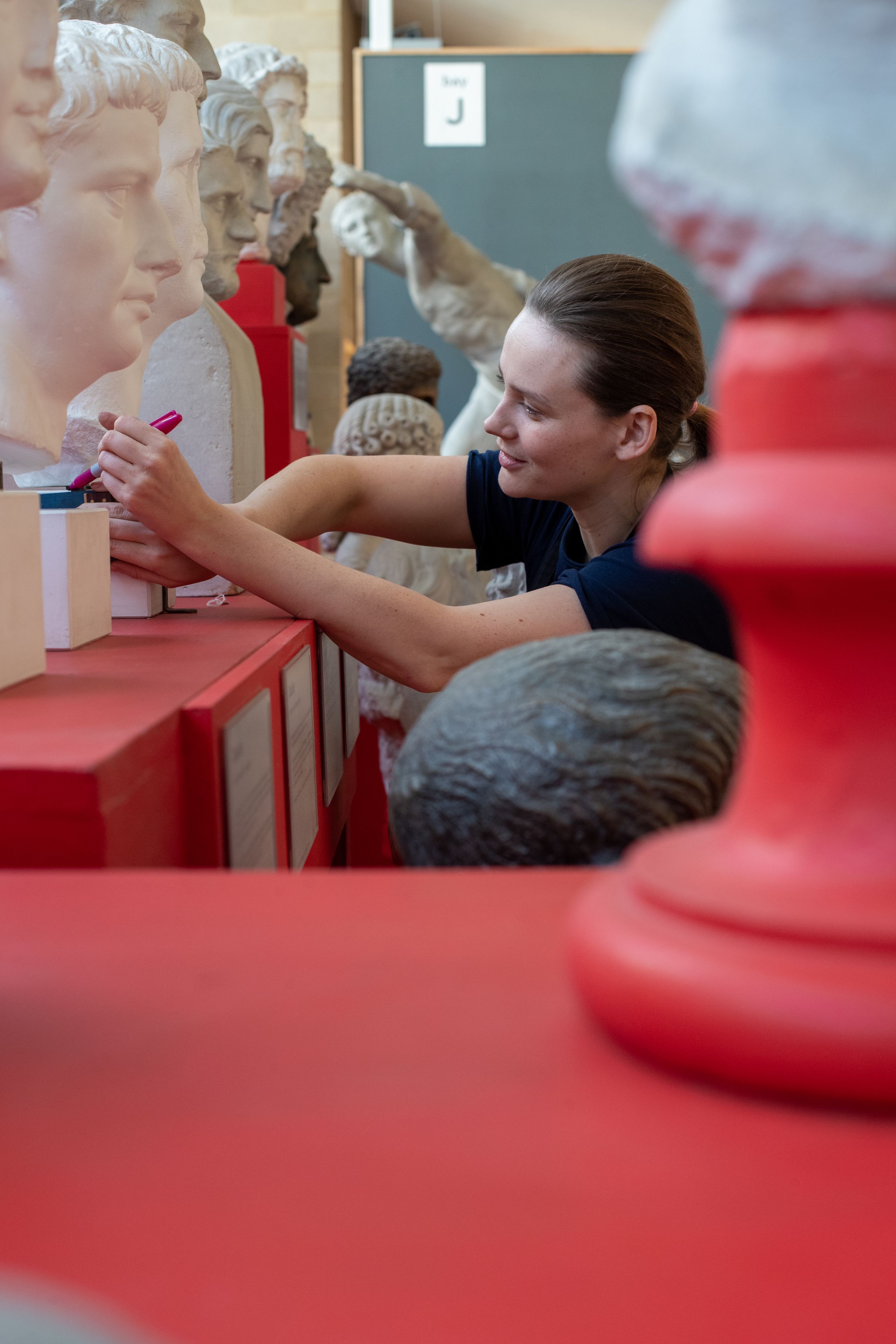 Technicians work behind the scenes – and if we've done our job right you shouldn't even notice we've been involved. We'll be hanging pictures at the ideal viewing height, covering cases in 'neutral' fabrics that don't emit damaging gases, building bespoke mounts, securing items, and arranging labels.
For the last eight months, I've been on secondment at the Museum of Classical Archaeology. Here I've been securing plaster cast busts to their plinths. To do this I've made 213 steel brackets, each of which has been measured to fit and then bent by hand into the right shape. Currently I'm soaking the last of the brackets in vinegar to clean them up before they can be painted – as I say, thinking outside the box is key in this job!
The Museum of Classical Archaeology is my favourite place across all the University. It feels relatively unknown, at least compared with the Fitzwilliam Museum, so it's very peaceful and, as the plaster casts can be exposed to natural light, it's bright and sunny, which is rare for a museum. I'm used to working in a basement, so it's been a really nice change.
There's another reason why the Museum of Classical Archaeology is such a special place to me. My Dad is an Ancient Economic Historian of the Greek world and lectures at the Faculty of Classics. I've grown up with stories of bygone civilisations and visited the museum since I was a kid. It's been lovely to come back and work in that same space and, in a sense, come full circle.
This profile is part of our This Cambridge Life series, which opens a window on to the people that make Cambridge University unique. Cooks, gardeners, students, archivists, professors, alumni: all have a story to share.
Words by Charis Goodyear. Photography by Nick Saffell.