The Thatcher papers: 1990
Cambridge's Churchill Archives Centre shines a light on Margaret Thatcher's final year in office.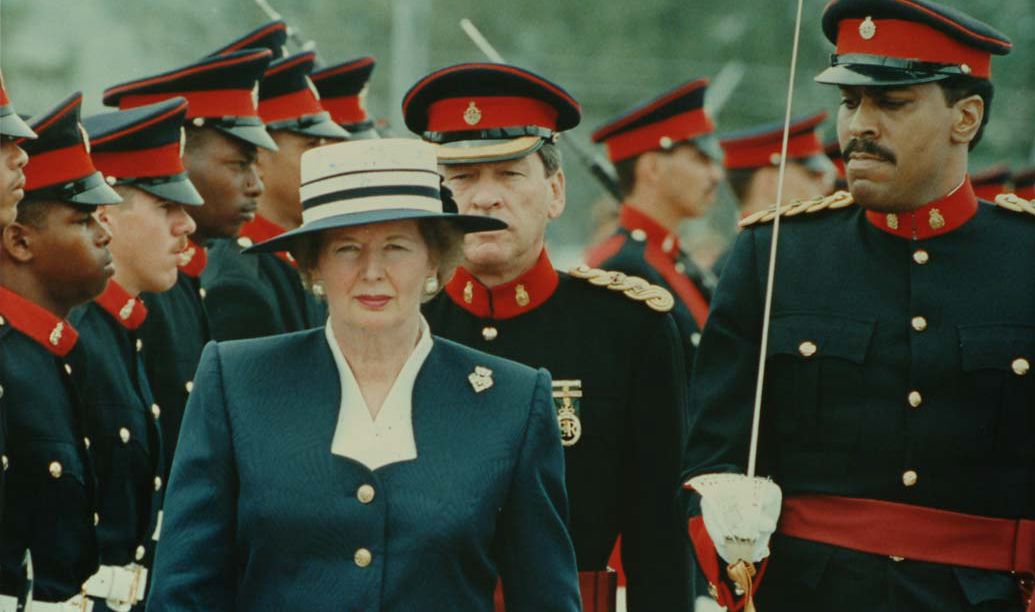 A news story written by Boris Johnson in 1990 may have contributed to the chain of events leading to Margaret Thatcher's downfall just a month later, documents released by the Churchill Archives Centre and the Margaret Thatcher Foundation suggest.
On 30 October, Mrs Thatcher made a now famous House of Commons statement in which she defiantly declared "no, no, no" to European Commission president Jacques Delors. Six days earlier, the Daily Telegraph published a story by its Brussels correspondent, Boris Johnson, headlined "British Right Of Veto Faces Axe In Delors Plan".
We now know that Thatcher promptly marked two lines beside the headline on a cutting of the article in her despatch box file, as well as two lines beside a paragraph reading: "M Delors said the plans were intended to pave the way for a Federation of Europe, a super-state with the Brussels Commission as the executive government and the Council of Ministers as a senate."
But historian Chris Collins, from the Margaret Thatcher Foundation, which has made the papers public, said Mr Johnson's article was "not quite right". A memo written two days later by Richard Gozney, a senior Foreign Office official, to Mrs Thatcher's Private Secretary Charles Powell, and also kept in the Number 10 file, pointed out: "The Commission Opinion itself ... does not contain what M Delors is reported by the Daily Telegraph as having suggested. It does not propose any radical change in the present institutional plans of the Community - although it does contain a lot of other horrors."
Among some Conservatives, the article may have fuelled suspicions about Brussels' intentions and contributed to Thatcher having to tread a "terribly, perilously difficult path", as Collins puts it. The then Prime Minister made her statement amid deep divisions in the Tory party over Europe. In its wake, Sir Geoffrey Howe quit as leader of the Commons and deputy prime minister, making a devastating resignation speech in the process. Thatcher was forced to resign a few days later.
These documents are among more than 40,000 pages of Lady Thatcher's papers for the year 1990, the final year of her prime ministership, which have been made freely available to view at the Churchill Archives Centre and on the Margaret Thatcher Foundation's website.
Another interesting disclosure relates to the First Gulf War. Documents show that Thatcher was cautious about making claims over weapons of mass destruction to justify military action against Iraq. She crossed out a paragraph on this topic drafted for her speech to the European Defence Union on 25 August. The rejected sentence read: "Remember also all the indications are that in a few years' time Iraq could have nuclear weapons, in addition to her existing chemical armoury."
The 1990 papers also include the final letter sent to Thatcher by her Parliamentary Private Secretary and close friend, Ian Gow, who was assassinated by the Provisional IRA just ten weeks later. In it, he told her: "How I wish that members of the Cabinet were more supportive … Some of the young ones have been taken in by Heseltine, but I think he will never succeed you."
Other documents demonstrate the Prime Minster's keen interest in her public image, not least a clothes diary which shows that she named garments after other world leaders and celebrities. When visiting Coronation Street, she wore "Pink Chanel Gorbachev", but opted for "Wogan Burgundy" at the Bank of England.
The release includes the final letter that Thatcher wrote as Prime Minister, to Bernard Ingham, who served nearly the whole term with her. She thanked him "from the bottom of my heart" for his "loyal and trusty service and companionship" while acknowledging that "the strain on you and your family must have been very great".
The 1990 papers are the final instalment from Margaret Thatcher's prime ministership (1979-90) to be made public at the Churchill Archives Centre. The Centre also holds the papers of Sir Winston Churchill and hundreds of other leading figures.