Francesca O'Hanlon, CEO and co-founder of BlueTap
Francesca O'Hanlon, CEO and co-founder of BlueTap
People with enterprising minds make things happen, whether it's starting a business or social venture or doing something new in established organisations.
In this series, we ask people how they're trying to change the world and what it takes to turn an idea into a reality.
BlueTap
Why? 2.1 billion people can't trust the water they drink.
What? A social enterprise founded in 2017.
How? Affordable water chlorination technology which also creates an income for local plumbers.
When? Mass manufacturing to start in 2022.
Who? Francesca O'Hanlon founded BlueTap with two fellow students while studying for her PhD at the Centre for Sustainable Development. All three now work for BlueTap full-time.
Where did the idea come from? In 2013 I quit my job to work on an Engineers Without Borders project in Mexico City with a rainwater harvesting social enterprise. To make the rainwater drinkable, it was treated with chlorine tablets but the dose was often wrong or the tablets didn't disperse properly. I was working on a project to automate that process.
When the project finished, I came to Cambridge to do a Master's in Sustainable Development. After that, I spent two years living in South Sudan and Central African Republic, seeing first-hand how climate change is affecting the water supply and contributing to famine.
During that time, I was working with Médecins Sans Frontières and I saw the same issue I had encountered in Mexico: chlorination is vital for treating water but the tablets are difficult to use. I ordered an automatic chlorine doser on behalf of MSF that cost more than £1,000 which struck me as a ridiculous price to pay. There had to be a better way.
I put the thought to the back of my mind and came back to Cambridge to start a PhD. On my first day, I went into the Dyson Lab (in the Department of Engineering) and saw that anyone could use the 3D printers. I had a lightbulb moment. 3D printing would allow me to develop and test a new type of chlorine doser quickly – and cheaply.
I was always interested in entrepreneurship. In that first week, I also went along to Cambridge University Entrepreneurs and listened to some pitches from student start-ups. I remember thinking that I wanted to be up there, telling people what I'm passionate about. Through another student society, I met Tom (Stakes) and Becky (Donaldson). We decided to found BlueTap and started working on it as a side project.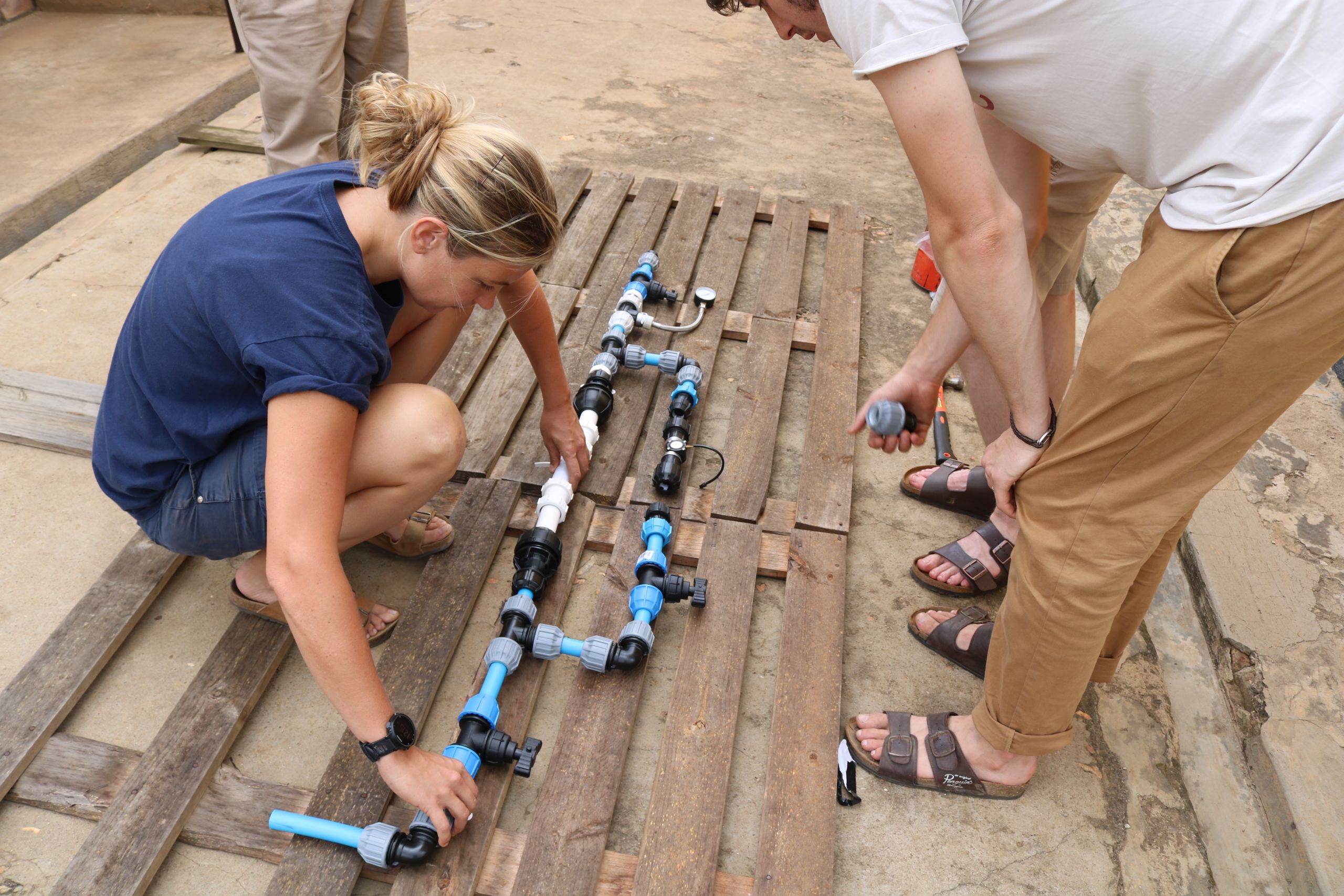 What's the thinking behind BlueTap? We set out to make an automated chlorine dosing system but it's not as simple as that.
If you are doing something for a community that isn't your own you really have to understand how it works. I think the only way you can do that is through partnership. As soon as we had a prototype that worked, we took it to Uganda (where I was doing my field research for my PhD) and ran workshops with local plumbers and technicians.
One of our goals is to improve local livelihoods. We want the local plumbers and technicians to sell and maintain our product for us. This means they can increase their income through BlueTap but it also means there is someone on the ground who can look after the technology. A lot of water technologies break down after two or three years and then no-one can use it because there's no-one there to fix it.
The plumbers we work with have amazing technical skills but they don't have as much experience in how to sell themselves or how to be businessmen or women. The workshops became much more about helping them develop those skills.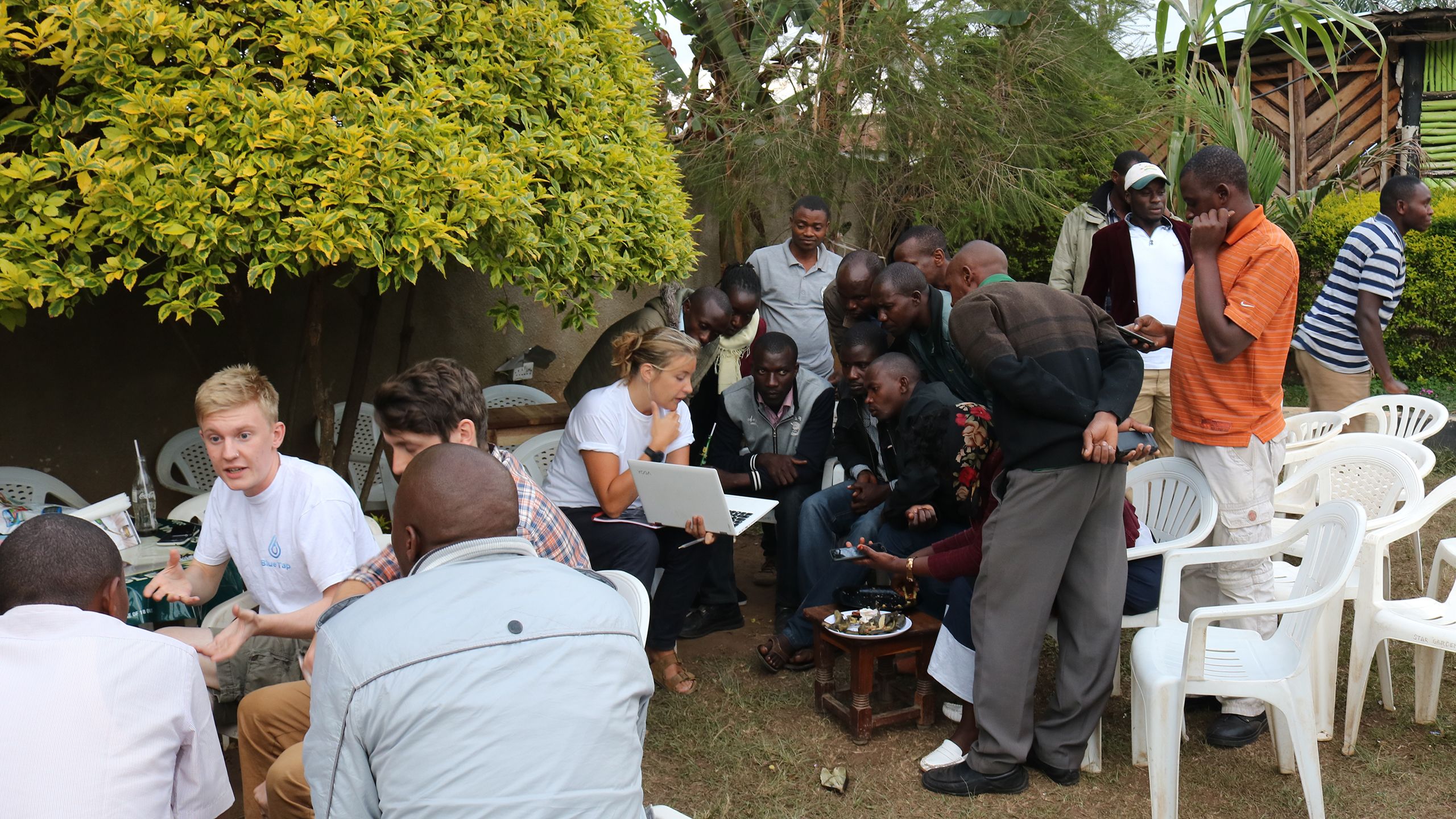 Initially, we thought we wanted to supply households with clean water because that's where there's a really big need but we've realised our product is better designed to provide water on a community level. When we go back this summer, we are installing our product in community health centres, schools and hospitals.
To get these decisions right you have to understand both the technology and the context. For example, we went to a school where a shiny UV filter had been installed to treat the water but the students were all drinking untreated water from the tap next to it. Why? UV filters are effective but slow. You have to trickle water through them and this one couldn't work fast enough for 300 students.
Why a start-up? A lot of engineer-led ideas become products or projects whereas if you turn it into an organisation you are much more likely to have an impact on society and one that can be sustained over the long term.
Most people's time at Cambridge is fleeting, between three and five years. Many students run projects alongside their degrees but when they leave, the project stops. If you create an organisation, it carries on. The other element is revenue generation – you can start selling your ideas, your services, your products through the business and that's also critical for longevity.
What's it like starting a new venture in Cambridge? There are so many brilliant things about the Cambridge ecosystem. For most start-ups, particularly if you are not talking about deep tech, the thing that's make or break is balancing the finances when you are pre-revenue. Having access to accelerators and expertise where people are giving you advice pro bono, helps you to move forward without it breaking the bank.
It all started with that first Cambridge University Entrepreneurs event where students were pitching for funding. A year later, we won it. That gave us free access to Allia Future Business Centre (which works closely with the University) so we went onto one of their accelerator programmes. Last year I joined the Impulse programme for tech innovators, run by the University's Maxwell Centre.
All this support means you can learn how to run a business as you go along. You can also learn from the start-ups that are two, five or ten years ahead of you. That's why so many start-ups coming out of Cambridge are so successful.
Has it all gone according to plan? When you set up your first company you have no idea what the norm is because there's no formula. That's one of the reasons it's so exciting but, equally, it can be quite intimidating. This is why it's so important to have that mentorship around you so you can ask is this what other organisations do?
What has surprised you along the way? How the problem continually evolves, becoming more and more complex. You only really see it when you step back and reflect. We wanted a simple way to put chlorine into water because people were using tablets which weren't dispersing correctly. Now we have a system that not only puts chlorine into water, it can work with certain pressures and certain environments.
We are also developing an Internet of Things system to monitor the chlorine and we are building a system that can cope with remote payments. The more you delve into a problem the more you realise that a simple solution may only be tackling 10 to 20% of the overall issue.
What about working with others? I'm a total extrovert so if I spend time with people I get energy from it. Something I'm very aware of with the BlueTap founding team is that the other two have skills that I don't have myself. So their strengths are my weaknesses and vice versa.
In any start-up, each person has a slightly different vision and would run it slightly differently. It's really important to compromise and make sure the organisation becomes an amalgamation of the visions of all the co-founders otherwise they feel silenced and stop being interested.
One piece of advice for someone who's got a great idea for a business? Find someone or some people to work on it with you who has totally different skills from you. Some business angels won't invest in single-founder businesses. If a business relies on one person, either that person can get sick or they can become their own echochamber, thinking they have the right answer because no-one is challenging them.
Where would you like to see BlueTap in 10 years' time? I would like it to be the go-to organisation for community water issues in the Global South and developing countries. With a technology start-up, as a team you coalesce around the technology but as a founder and CEO you always think about the bigger picture.
At the moment, we have one core technology which chlorinates water but I eventually see us having a range of technologies not just working on water treatment, but also on water access and climate-water interaction.
I see us being a leader in the sector, not just in developing technology but doing so in a way that is easy for people to use and which works for them. The water sector has suffered from technologies that are very difficult to use or require a lot of maintenance - and that's just not right for the kinds of communities we are working with.
Quick fire
Optimist or pessimist? Total optimist. Glass is full and overflowing.
On time or running late? On time.
The journey or the destination? Definitely the journey.
Team player or lone wolf? I need to work with others but I'm also a bit of a maverick.
Intuition or analysis? Intuition. I'm very much not a details person.
Rule-taker or rule-breaker? I'm terrible at following rules. If someone tells me to do something, I'll try not to do it just because I've been told to.
Lots of irons in the fire or all eggs in one basket? Lots of irons in the fire, always thinking what else, what next.
Be lucky or make your own luck? Make your own luck.
Work, work, work or work-life balance. Work-life balance. I've got a six-month old baby!
Enterprising Minds has been developed with the help of Bruno Cotta, Executive Director of the Entrepreneurship Centre at the Cambridge Judge Business School.