People with enterprising minds make things happen, whether it's starting a business or social venture or doing something new in established organisations.
In this series, we ask people how they're trying to change the world and what it takes to turn an idea into a reality.
One man, three companies, tens of thousands of lives...
Who? Serial entrepreneur Professor Steve Jackson has founded three biotech companies in Cambridge.
What?
1. KuDOS invented a new type of cancer drug, the PARP inhibitor, one of which - Lynparza (aka Olaparib) – has been used to treat more than 40,000 patients with ovarian, breast, pancreatic and prostate cancers to date. KuDOS was acquired by AstraZeneca in 2006.
2. Mission Therapeutics is on the brink of taking another new class of drug into clinical trials, targeting diseases such as Alzheimer's and Parkinson's.
3. Adrestia Therapeutics is developing new ways to restore the biological balance in damaged, diseased or dying cells. It promises to transform the treatment of the most challenging medical problems facing us today.
Why? "For those tens of thousands and, hopefully, one day, millions of patients who will be treated by Lynparza and other drugs that our research is leading to. That's the motivation."
Did you always want to found a company? Not really, but I did show some entrepreneurial tendencies at a young age. When I was eight, I wanted to be an inventor and had an idea I was keen to patent. I was very annoyed when a teacher told me that someone had already done it.
However, I chose to go down the classic academic route. I remember a conversation with my wife in the early 1990s when I said that I thought my future lay in research and teaching. It may be a factor, though, that before coming to Cambridge, I spent four years in the San Francisco Bay area at a time when a lot of biotech companies were taking off.
I came to Cambridge and my research went extremely well. I was on the crest of a wave. Then I got a review from Cancer Research UK which, although very complimentary about the science, ended with the comment: "We have some concern that this research may not be all that relevant to cancer patients."
This was a turning point. I realised that it wasn't enough to just be doing good science, I wanted it to be meaningful for patients. The work my lab was doing at that time was helping to define a new field of study: how cells detect and repair damage to our DNA and why that process goes wrong in cancer.
I was convinced we could use this with patients and took the idea to some of the big pharma companies. Those conversations didn't go anywhere at the time, and I realised that if I was going to do something with this research, I would have to do it myself.
One of the great things about Cambridge is that there are lots of examples of very successful biotech start-ups. I thought, if they can do it, why can't I? And that's the story of KuDOS.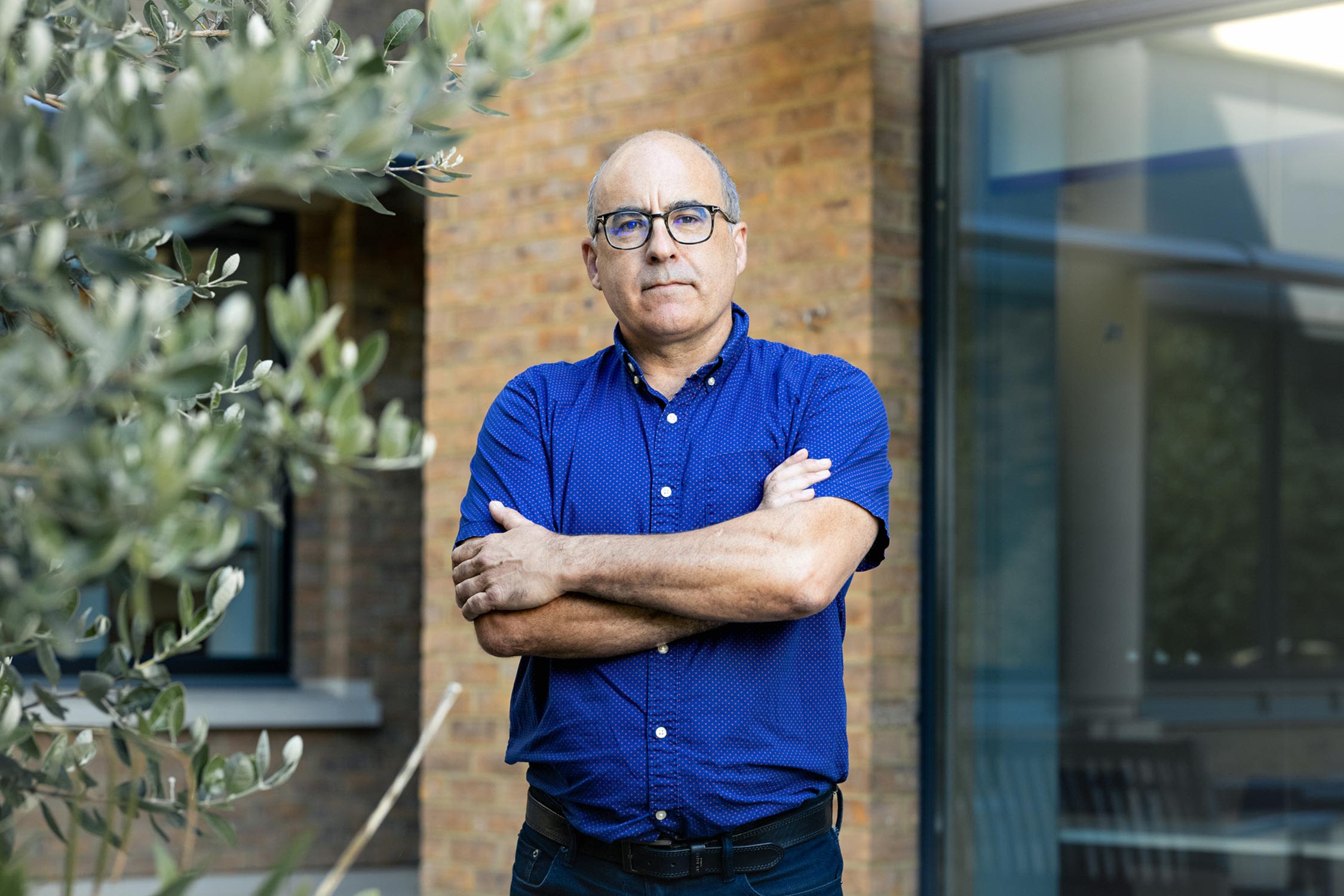 That sounds remarkably straightforward. Was it? No. It took two years of almost unbelievable effort to get our first funding. I'm not proud of the impact it had on my family. My son was very young at the time. One day, I came home and he asked: "Who's that man?" After we got that first round of funding, we had a week's family holiday in the Lake District. I couldn't leave the room for the first five days because I was so shattered.
Founding companies turned out to be much more work than I imagined. I've enjoyed many parts of it and it's definitely been worthwhile but getting a company off the ground can leave you pretty burnt out. It is at such times that family, friends and good colleagues really help.
But you've gone on to do it again - and again? In both cases, I wasn't really looking to found another company. It's just that you reach a stage where you've got some exciting science and nobody else is going to do it for you.
It was only when AstraZeneca (which had bought KuDOS in 2006) transferred the company and its assets to its headquarters in Macclesfield in 2010 that I stopped being involved.
That gave me the bandwidth to see that the new research coming out of my lab also had huge medical potential. And that's when I decided to start Mission Therapeutics.
What's the vision for Mission? Like all my ventures, Mission is a 'concept' or 'platform' company. It's focused on types of enzymes (deubiquitylating enzymes, or DUBs for short) which affect how proteins behave in our cells. DUBs and their dysfunction are connected to many different diseases and Mission is developing new classes of drugs to control them.
I was part-time Chief Scientific Officer of Mission from 2010 to 2017 and I'm still on the Board and am Chair of Mission's Scientific Advisory Board but Mission does not need me anymore on a day-to-day basis because it is now a substantial operation, run by a highly skilled professional team. Having attracted close to £73 million in capital investment funding and established collaborations with two big pharma companies - Pfizer and AbbVie – I believe that Mission is well on track to launch clinical trials.
Over the past few years, while continuing with its exciting and impactful work on DNA repair, my academic research has moved into new areas that have paved the way for me conceiving a new company: Adrestia Therapeutics. We recently completed Series A funding and over the past months the company has been recruiting and setting up its laboratories and offices on the Babraham Research Campus.
Why are your funders, Ahren Innovation Capital and GSK, so excited about Adrestia? With Adrestia we are starting with 'disease biology'. We can do things in the lab now which we wouldn't have dreamed of ten or even five years ago.
In most drug discovery processes, you have an idea for what you think might be a good target. You then develop a drug which you think might work but you only find out when it goes to clinical trials.
This often takes a long time and unfortunately, the majority of drugs that go into clinical trials fail and do not end up being approved. A key aspect of Adrestia is to de-risk this process by applying our "Disease Rebalancing" technology platform so that any drugs we develop are much more likely to work for patients.
What is "disease rebalancing"? It's based on the simple concept that health reflects physiological biological balance while disease reflects biological imbalance. By using advanced molecular cell biology and genome engineering to generate precision human-genetic-disease models, the Adrestia team identifies phenotypic disease imbalances. It then combines genetic and pharmacological screens in cells to identify routes for disease rebalancing and alleviation - and applies that knowledge to develop new drugs for various human diseases.
What have been some of your biggest challenges? Getting these companies off the ground has not been easy. You have a large number of meetings with potential funders, the majority of which don't go anywhere. Even if you have a strong track record, it's never easy getting people to put cash into a new venture.
You've got to be tenacious and focus on your successes. It's the same with research. Most experiments fail or give a result that does not take things forward. You have to be able to pick yourself up and try again.
You also need to know when you are banging your head against a brick wall. And it helps if you have an instinct for when that wall's about to crack and you should keep going.
Has being part of the Cambridge ecoystem helped? There are always people here in academia and industry whom you can seek advice from - and ask what to do and what not to do. It's important to take advantage of that knowledge and it's been really helpful for me all the way through. People in organisations such as Cambridge Enterprise are also very helpful, and advice from venture funds such as Ahren can be tremendously valuable in helping shape and build initial ideas into compelling business visions.
What would you say are your greatest strengths? I'm not sure but people have told me that I have great passion, energy and determination. I can be extremely focused. Mission Therapeutics got its name from a nickname I was given by my colleagues when I was a postdoc: 'Man on a Mission'. I only learnt years later that's what they called me.
It's amusing now to recall that when I was in the lab doing an important experiment, I used to have a sign on my back saying, 'Do not disturb'. I'd be quite friendly in the coffee room and elsewhere, but woe betide anyone who interrupted me in the middle of such an experiment.
I also like energising people. When I was a teenager, I was the lead singer and bass guitarist in a heavy rock band called "Underground".
The secret of a successful venture? Teamwork. You need to bring in people with the right skills and who are aligned in their passion for and belief in the venture. At the moment, I'm Chief Executive of Adrestia but I'll be glad to hand that on to what I call a 'professional chief executive' so that I can do what I enjoy most – focusing on the science. Companies evolve as they grow. You need people who understand that and are happy to evolve - or even step back - as the company changes.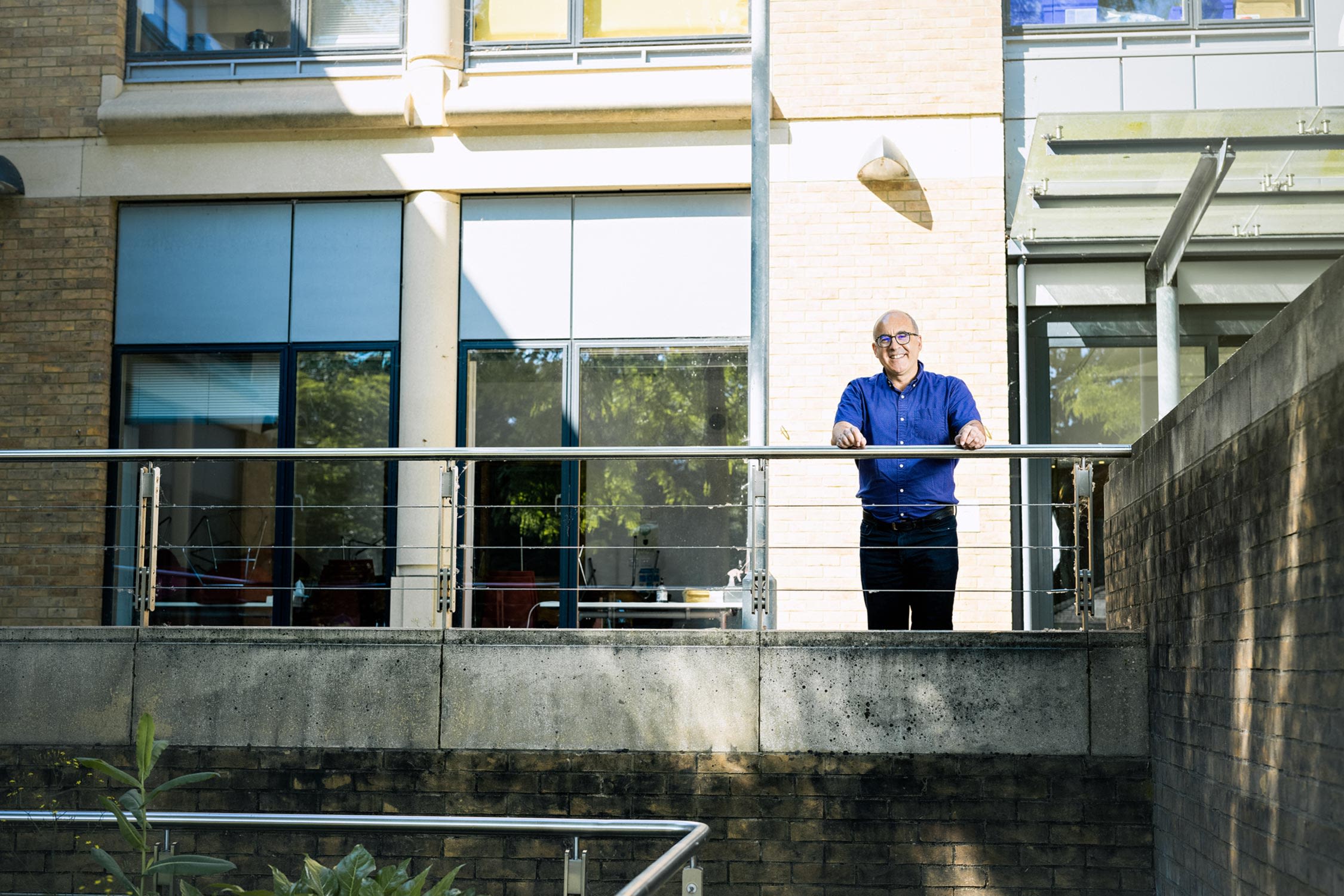 One piece of advice for someone with a great idea for a business? Don't overthink it. It's easy to talk yourself out of something. Our ancestors would never have left their caves if they had thought "there's no way I'm going to catch a bison today". Evolution favours the bold.
Quick fire
Optimist or pessimist? Definitely an optimist.
People or ideas? Probably more people than ideas. You can have a great idea but if you don't have the right people it's going nowhere.
Punctual or running late? I almost always make meetings more-or-less on time. You have to be good at time management to start a company, and indeed to be a successful scientist.
The journey or the destination? The destination. You've got to know where you are heading.
Novelty or routine? Both. You need to apply routines in the right way in order to do something new.
Risk-taker or risk-averse? I'm intrinsically risk-averse. I do have bold ideas but I need to convince myself they are doable.
Big picture or fine detail? Big picture. Having said that, I'm a stickler when correcting manuscripts.
Lots of irons in the fire or all eggs in one basket. Two irons, minimum.
Be lucky or make your own luck? It's a shots on goal thing. If you keep trying and do all the right things, in the end you'll score. You can call it luck if you like, but I'm not sure it is.
Work, work, work or work-life balance? I'd like it to be in balance but I find it very hard to stop working.
Steve Jackson is the University of Cambridge Frederick James Quick and Cancer Research UK Professor of Biology. He is also Head of Cancer Research UK Laboratories at the Wellcome Trust/Cancer Research UK Gurdon Institute.
Enterprising Minds has been developed with the help of Bruno Cotta, Executive Director of the Entrepreneurship Centre at the Cambridge Judge Business School.