New, handwritten Maimonides texts discovered at Cambridge University Library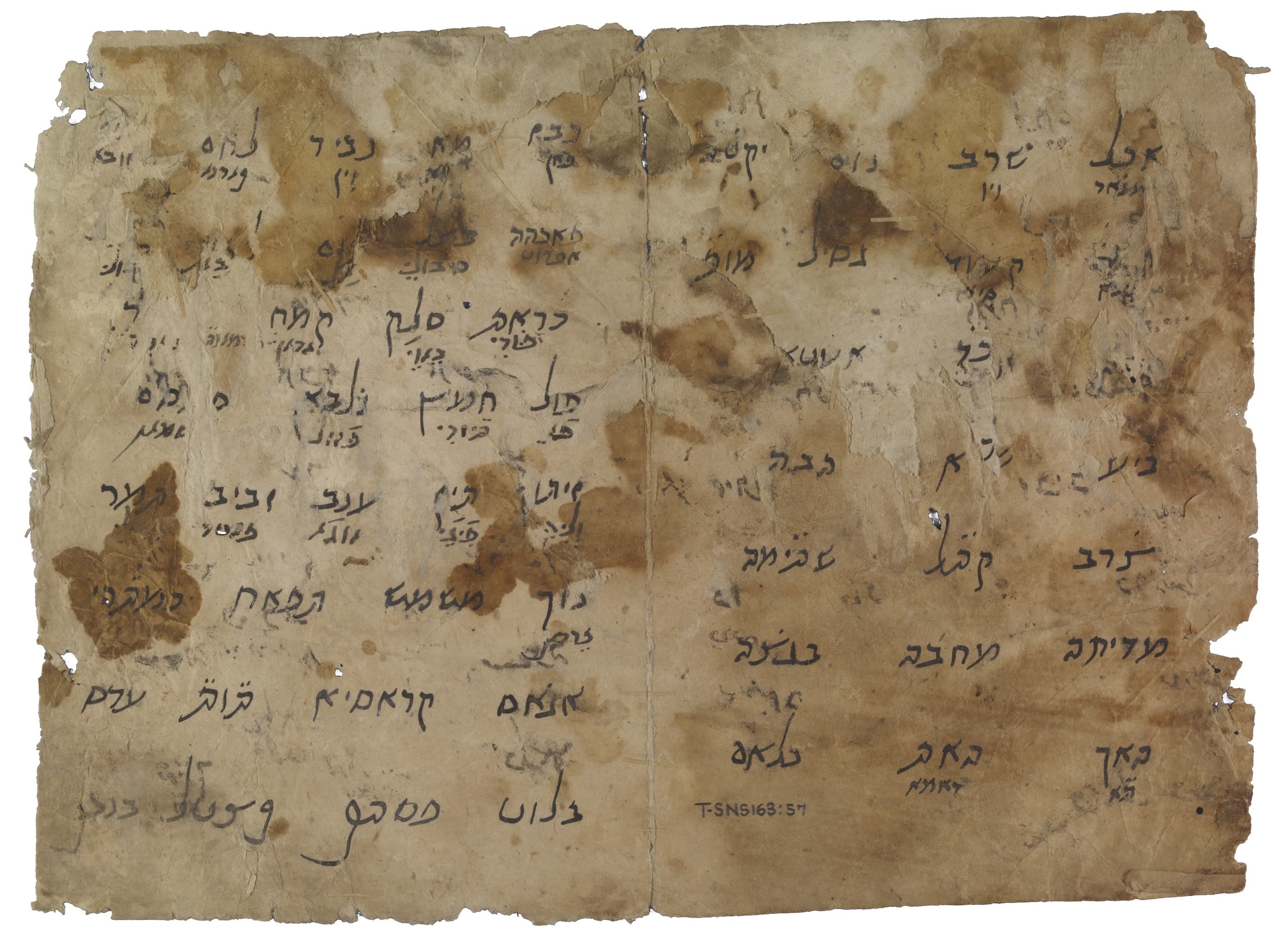 Two pages from Maimonides' notebook in which he has listed words in Judaeo-Arabic and given Judaeo-Romance translations beneath.
Two pages from Maimonides' notebook in which he has listed words in Judaeo-Arabic and given Judaeo-Romance translations beneath.
A Visiting Researcher to Cambridge has found previously unknown evidence of the legendary Jewish philosopher writing in a Romance dialect in manuscript fragments dating from the 12th century.
A scrap of 900-year-old paper – part of Cambridge's Cairo Genizah collection of more than 200,000 fragments of writing chronicling life over 1,000 years in Egypt and the Middle East – has been identified as containing the handwriting of the legendary Jewish philosopher Moses Maimonides.
The pages are a glossary of basic terms relating to herbs, basic foods and colours and were identified by José Martínez Delgado, a visiting professor to Cambridge University Library's Genizah Research Unit, from the Department of Semitic Studies at the University of Granada.
Around 60 fragments written by Maimonides have been found in the Cairo Genizah manuscripts, and most are written in Maimonides' customary Judaeo-Arabic (Arabic language written with the Hebrew alphabet). His writings include letters, legal rulings, and early drafts of his important works.
What makes this fragment unique, however, is the fact that Maimonides has added the translation in a Romance dialect below some words. It is the first evidence for Maimonides knowing Romance, an evolving dialect version of Latin that is a pre-cursor to what would eventually become modern-day Spanish dialects and language.
The discovery has been covered widely in the Spanish press this week.
Maimonides was born in Cordoba in 1135. His codification of Jewish law (the Mishneh Torah) is still considered a cornerstone of Jewish law and ethics. Through such works, Maimonides attempts to show that every part of Jewish law serves a rational purpose and that nothing was demanded for the sake of obedience alone.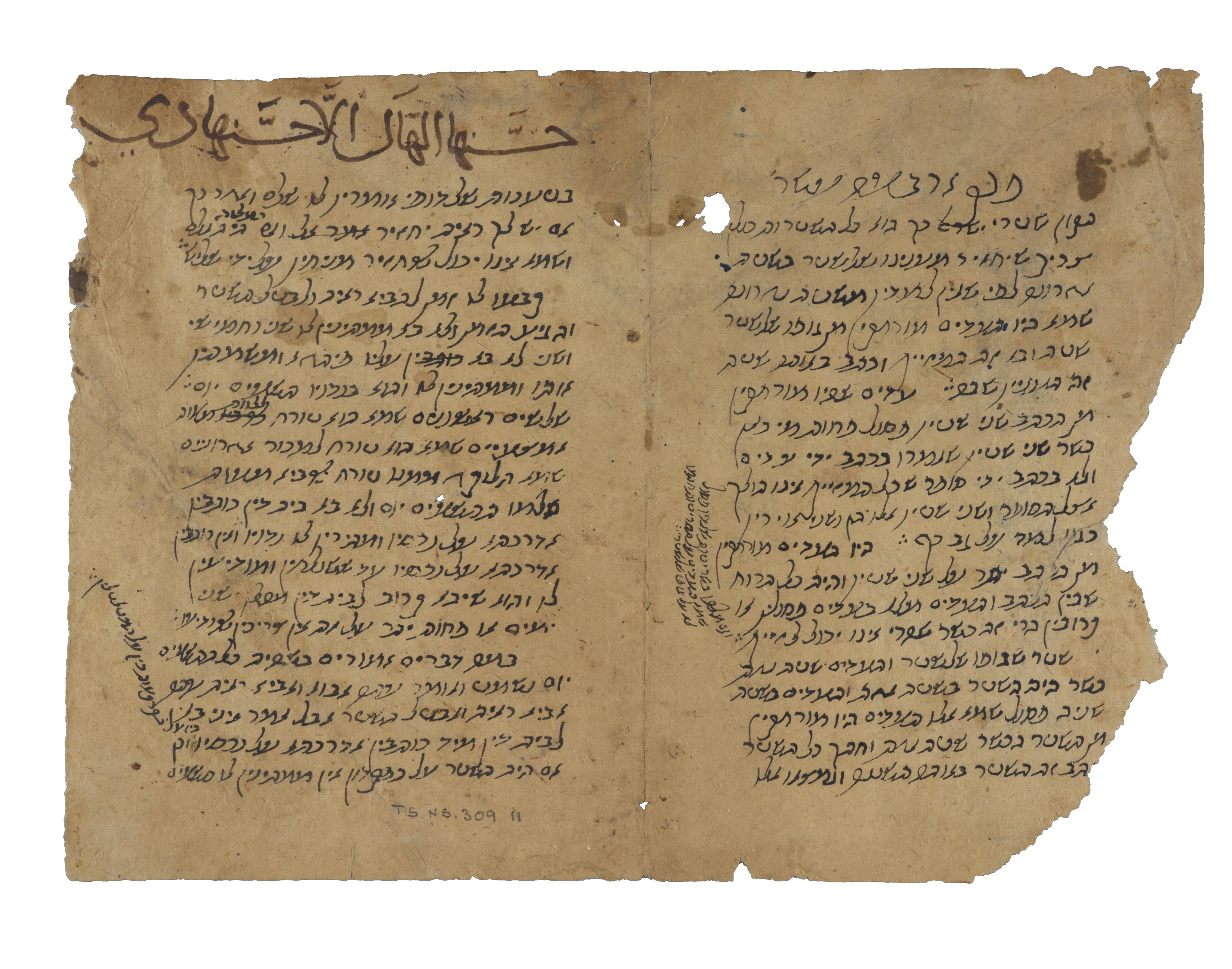 He influenced thinkers as diverse as Newton and Aquinas and set forth the philosophic foundations of Jewish belief and wider philosophy in works such as the Guide of the Perplexed. Maimonides also served as Head of the Jews in Egypt and was renowned for his medical and scientific knowledge. In addition to being one of the Jewish faith's most important thinkers and philosophers, Maimonides was also physician to the court of the Muslim sultan Saladin.
Maimonides must have written these fragments – later deposited in the Cairo Genizah from where Cambridge's collection derives – sometime between 1168 when he arrived in Egypt and 1204, the year of his death.
"Something about the handwriting in these Cambridge fragments seemed familiar. At last, I realised what I was looking at. I had seen this handwriting before. I quickly sent a message to my friend Amir Ashur (at Tel Aviv University).
"I didn't say what I was thinking – I just asked him to look at the fragment, too. Then came confirmation of my suspicions. Amir had seen what I had seen. We were looking at Maimonides' handwriting, in some sort of Romance dialect."
José Martínez Delgado
Added Martínez Delgado: "The glossary covers four semantic categories: colours, flavours and aromas, actions, and food. Why was Maimonides collecting these words? What does it tell us about him?

"The sequence of the words is interesting, as we are seeing him 'at work', writing a progression of words that make sense to him. The terms don't follow alphabetical order – they are arranged logically by basic associations (bread, water), and opposites (white, black). The category of colours (white, black, blue, red, green, yellow, purple), ends in 'light' and 'dark' and then moves to flavours and aromas. The connection between these is presumably the senses, moving from sight to taste to smell.
"The list of foods moves from basic foods (bread, water) to vegetables, to edible seeds (wheat, chickpea), to seeded fruits (olive, fig), to dried fruits/nuts (acorn, pistachio), to foods from other natural products (milk, honey). The list of actions first describes the basic actions undertaken by all animals (eat, sleep), and then moves to actions, feelings and emotions that are more specific to people. Interestingly, although the words are in a Romance dialect, the plurals seem to be Italian, so it is a very mixed text.
"As to why he was collecting the words? He was a physician, with students, so perhaps he was gathering the terms for a medical or educational reason, or testing himself on his vocabulary!"
"The Cairo Genizah fragments have been in Cambridge for over 120 years, but the work of cataloguing and interpreting them is still ongoing.
"Each discovery like this builds on our knowledge of Egypt in the Middle Ages and the lives of Jews living in Islamic lands. It's a treasure trove for historians, but for many people it also represents a tangible link to the heritage of the Jewish community and its religious traditions.
"Through the Littman Genizah Educational Programme at Cambridge University Library we aim to make the manuscripts available to new audiences, from schools to adult learners. I will never tire of seeing the excitement and emotion on peoples' faces when they see these manuscripts in person."
Dr Melonie Schmierer-Lee
Research Associate at the Genizah Research Institute
The Genizah collection is one of the greatest treasures among the world-class collections at Cambridge University Library.
From the 9th to the 19th century, the Jewish community of Fustat (Old Cairo) deposited more than 200,000 unwanted writings in a purpose-built storeroom in the Ben Ezra synagogue.
This sacred storeroom was called the Genizah. A Genizah was a safe place to store away any old or unusable text that, because it contained the name of God, was considered too holy to simply throw out.
But when the room was opened in the late 19th century, alongside the expected Bibles, prayer books and works of Jewish law – scholars discovered the documents and detritus of everyday life: shopping lists, marriage contracts, divorce deeds, a 1,000-year-old page of child's doodles and alphabets, Arabic fables, works of Muslim philosophy, medical books, magical amulets, business letters and accounts. Practically every kind of written text produced by the Jewish communities of the Near East throughout the Middle Ages had been preserved in that sacred storeroom.
Among the highlights of the remarkable collection are the earliest known example of a Jewish engagement deed (Shtar Shiddukhin, from 1119), showing the complex legal relations that existed around marriage, early fragments of the Bible in different languages, and an 11th century pre-nuptial agreement where the groom, Toviyya – who clearly had a poor reputation – was required to make a series of promises about his future behaviour.
The text in this work is licensed under a Creative Commons Attribution-NonCommercial-ShareAlike 4.0 International License