Toddlers, knights and
golden bears
Creative families at the Fitzwilliam Museum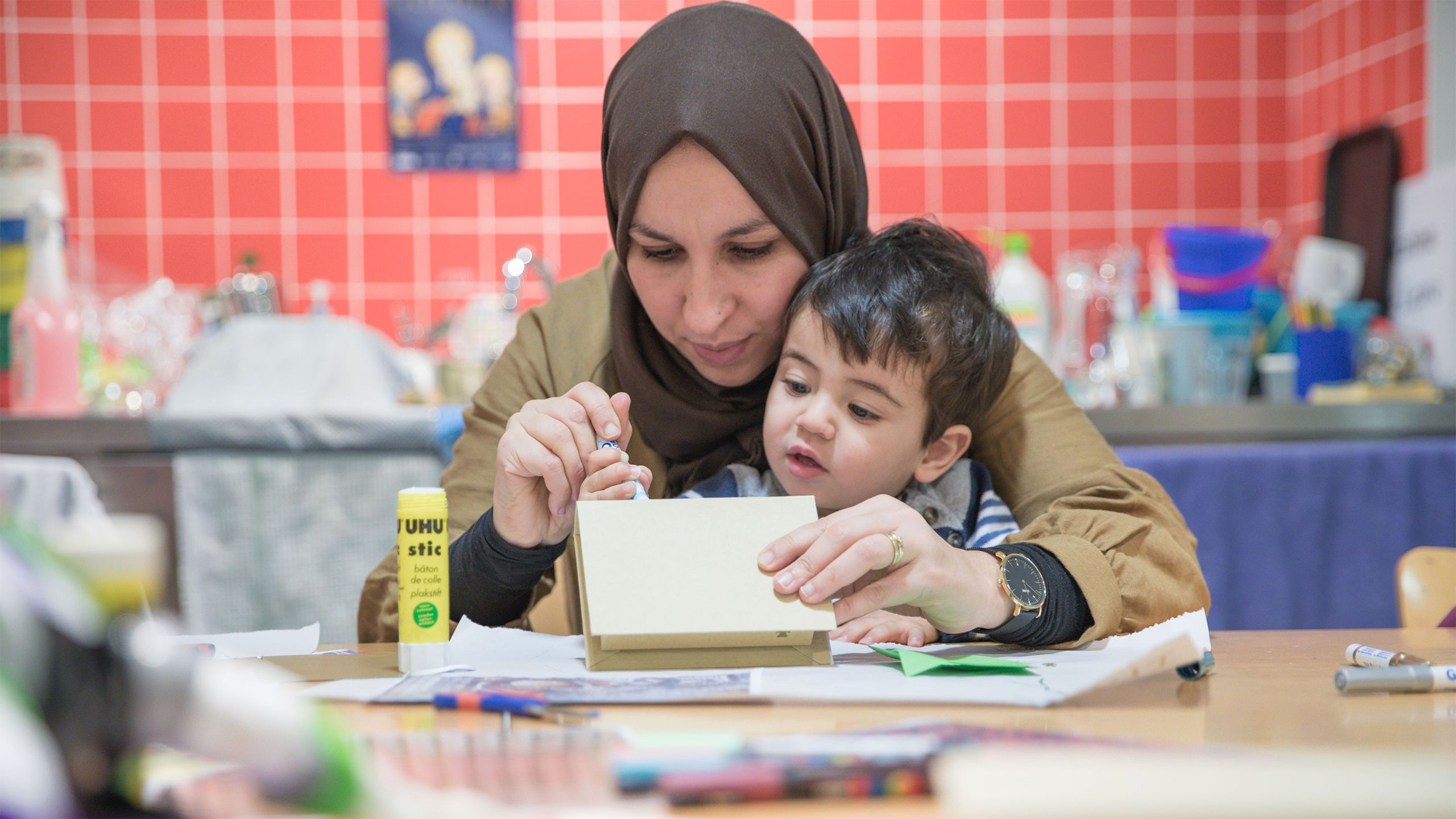 Inside the Fitzwilliam Museum, the Armoury and Renaissance galleries are alive with the sound of chattering children. Eyes wide in amazement, noses pressed against cool glass and little feet padding across polished floors, Cambridgeshire pre-schoolers are excitedly discovering treasures found close to home and further afield.
Next, it's down to the art studio, to decorate cardboard treasure chests with patterned papers and metallic markers. Placed inside are precious treasures from a morning spent crafting – in one a handful of sparkling sequins, in another a family of golden teddy bears, carefully cut out with the help of mum and dad.
The children and their parents are participating in Creative Families, which is part of Talking Together in Cambridgeshire, a literacy project run by Cambridgeshire County Council's Early Years Service. The project is run in partnership with early years practitioners and local organisations, such as the Fitzwilliam Museum and the Wisbech and Fenland Museum, to offer activities that help parents support young children to develop strong communication, language and literacy skills.
Helen Wootton, Early Years Literacy Adviser for the Council, explains: "Across the county we are seeing an unbalanced pattern of achievement at the end of the foundation stage. Any support we can give during these early years will have a real impact on children's achievement at school and later in life."
"For some families, this will be the first time they've visited the Museum," adds Sally McGivern, from the North Cambridge Child and Family Centre, which invites families to participate. "It's a wonderful opportunity to spend time together – learning, exploring, playing and talking."
One parent said the project was: "Absolutely fabulous – a great way to expose my child to art and galleries." Adding: "I was initially worried about taking my little one into a museum, but now I realise how much there is to see and explore."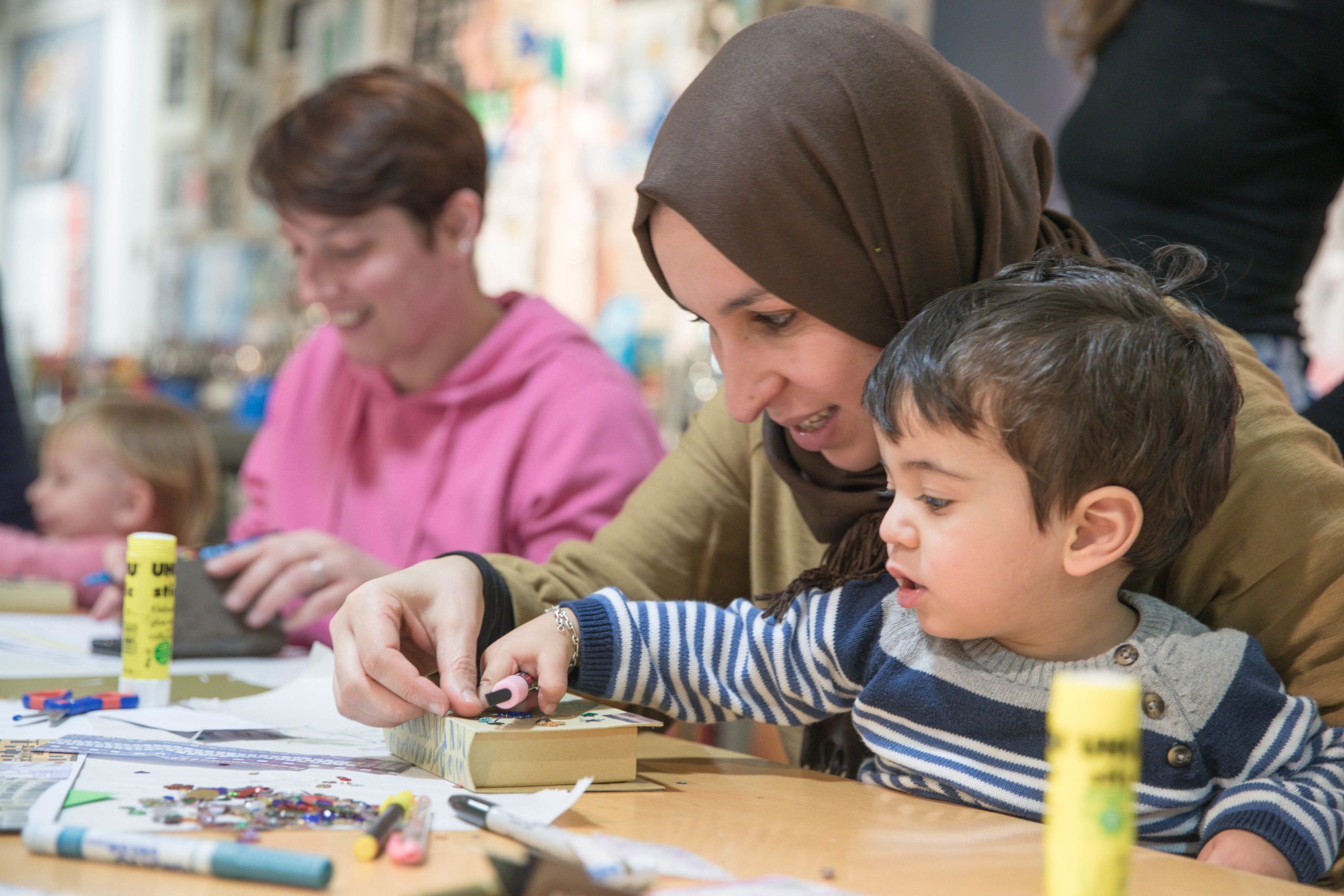 While their children are learning about local history, such as the Cambridge Hoard, which was found hidden at Chesterton Lane Corner, parents are also discovering treasures of their own that resonate with their cultural heritage. Sally shares how one Turkish mother was delighted to find a collection of pottery from her homeland on display.
Research findings from previous projects at the Museum inform the day's activities. The unusual objects on display and the crafting stimulate new interactions between parents and children – both verbal and non-verbal – which help to establish the foundations of literacy development.
Children can take home their artwork and parents are encouraged to write about their visits in a Creative Families logbook which means that conversations can continue about the new discoveries long after leaving the museum.
As one parent said: "The knight's gallery was the best memory. We've talked about it at home."
"The Museum is here to serve the local community and promote learning," says Nicola Wallis, Museum Educator. "We have a responsibility towards these children. We want to do anything we can to give all children an equal chance when they start school. After all, if we set these children up well, who knows what they may achieve?"
This article first appeared in Research Horizons.
Photography by Nick Saffell, background image by Kelli Tungay via Unsplash.