#CamFest Speaker Spotlight
Professor Sarah-Jayne Blakemore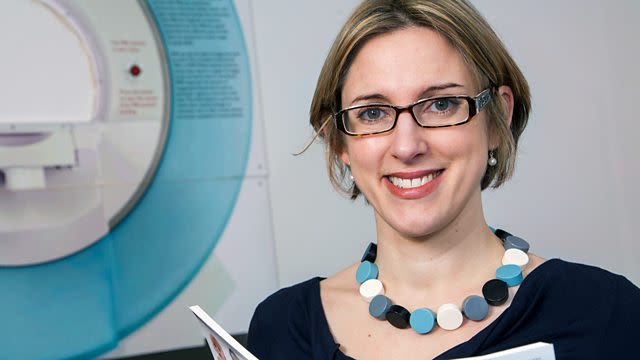 Sarah-Jayne Blakemore is Professor of Psychology and Cognitive Neuroscience at the University of Cambridge and has carried out pathfinding research on the development of the adolescent brain.
She will be speaking at the launch of the Murray Edwards Policy Centre for the Wellbeing of Young Women and Girls on 27th March from 6-7pm. The event, The crisis in mental health in young women and girls: does our education system make it worse? What can we do?, is chaired by Dorothy Byrne, President of Murray Edwards College, and Tamsin Ford, Professor of Child and Adolescent Psychiatry, will also be speaking.
Why does your research matter?
I work on the adolescent brain and cognitive and social development. The reason our research matters is because adolescence is a critical stage of development when we develop a sense of who we are, and a period of life that is characterised by a vulnerability to mental health problems.
What drew you to studying adolescent brain development?
I did a PhD on schizophrenia, a devastating illness characterised by debilitating symptoms of paranoia and hearing voices inside your head. I became interested in the fact that all of the patients I tested reported that their symptoms started between the ages of 18-26, and I wanted to delve further into why this is. What is it about the teenage brain that is different in young people who go on to develop schizophrenia compared with those who don't?
What can neuroscience tell us about the impact of adolescence on girls' mental health that other disciplines can't?
Neuroscience can help us understand the neural basis of individual differences in mental health, and how brain development contributes to the risk of developing a mental health problem.
The mental health of young women and girls has been worsening for some years. Has Covid just exacerbated that or is there something more complex going on?
The increase in the prevalence of mental health problems started long before Covid. However, Covid has amplified that increase with anxiety around the virus, and other factors including lockdown, school closures and social isolation. Social isolation in adolescence is particularly harmful to the developing brain, and young people are now reported to be the loneliest age group in this country. Peer interaction and friendship is important for both boys and girls, but there is some evidence that teenage girls might be especially sensitive to social rejection. Perhaps girls are also more sensitive to the effects of social isolation - but there is so little research in this area that we really don't know.
Do you think the increased focus on mental health as a result of Covid results in more progress on identifying the underlying causes?
In some ways, you can think of it as a natural experiment: how does social restriction and social isolation impact mental health? The outcome hasn't been very positive.
Do you think education has been understudied in relation to young women's mental health compared to factors such as social media? If so, why do you think this is?
Social media is a factor that adults focus on as we didn't have it growing up. Mental health problems have increased in the past 15 years, and so has social media use - but does one cause the other? Possibly: there is evidence that social media plays a role in people's well-being. Research suggests it might depend on what you are looking at online, how you are engaging with social media and what time of day or night you do so, as well as the particular stage of development you are at. There is evidence that social media can be harmful, but we urgently need more research. Other factors matter too. In surveys, young people often say exams and academic stress and fear of failure are their biggest fears. We need to listen to what they are saying.