Black Cantabs: History Makers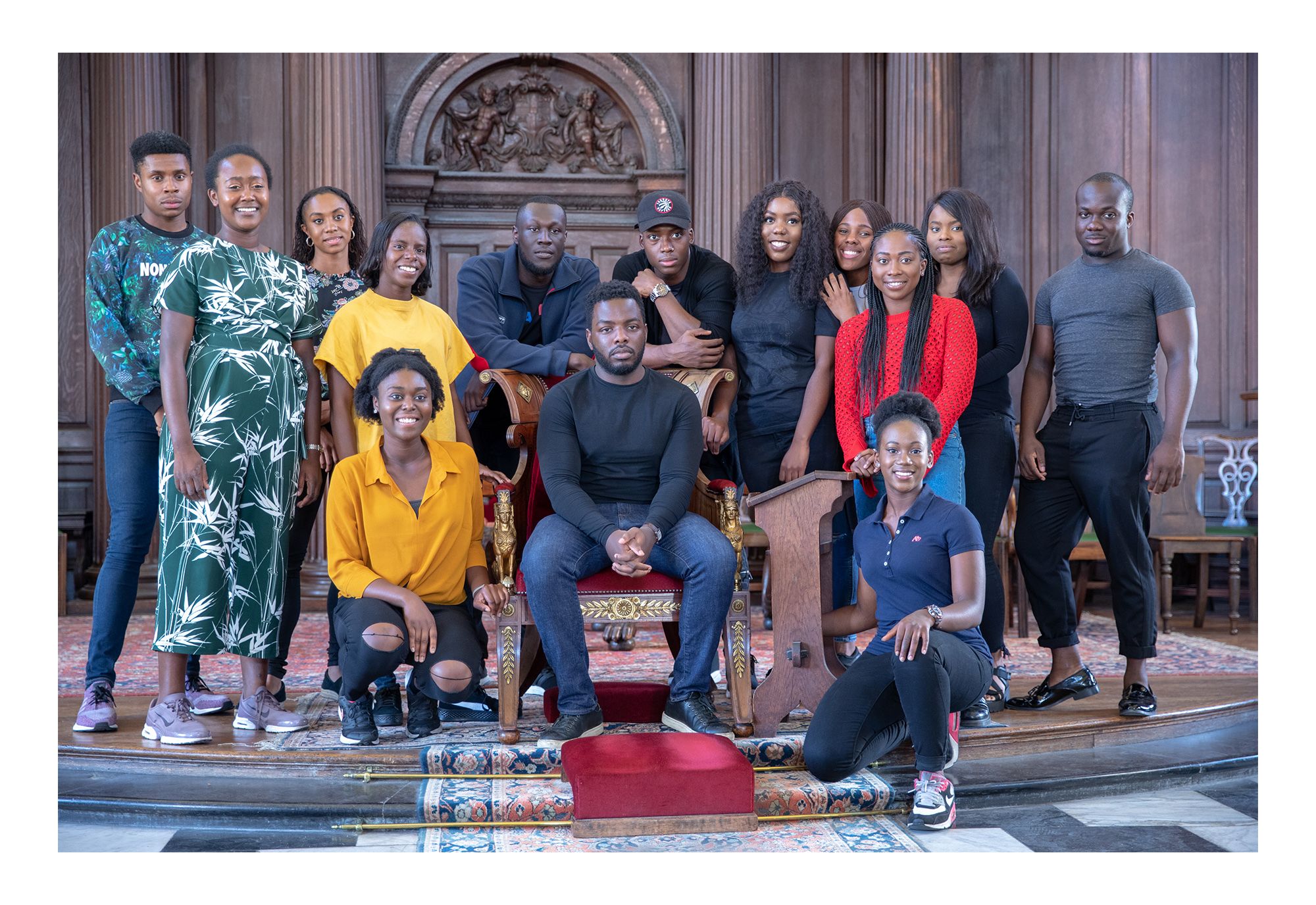 "The indelible mark black alumni
have left on Cambridge, and the world"
is the focus of a stunning photography
exhibition of fifteen portraits,
opening free to the public, from
October 1, at Cambridge University Library.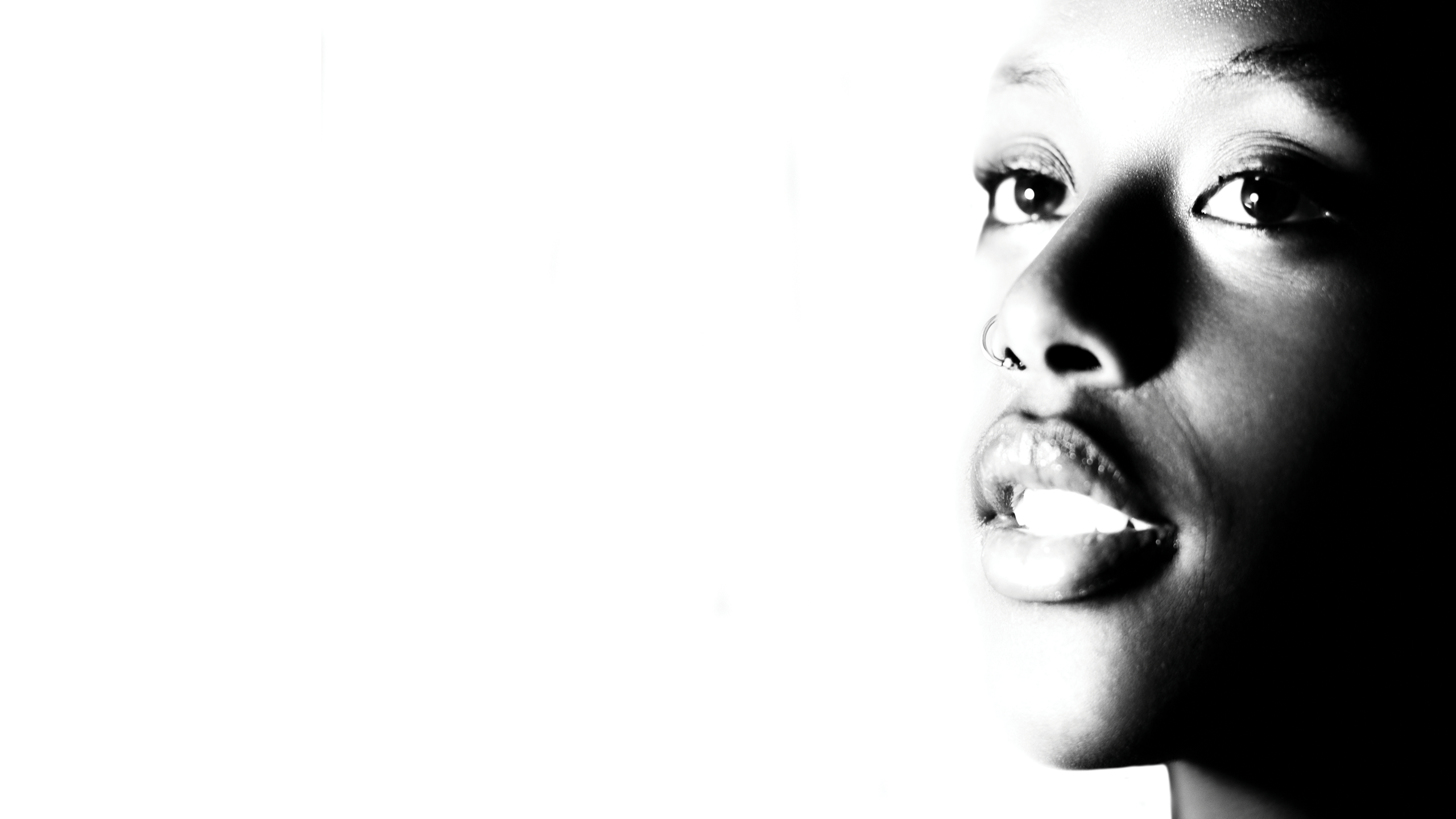 Featuring images of novelist Zadie Smith, MP Diane Abbott and actress Thandie Newton, the exhibition Black Cantabs: History Makers opens the main Library building to the public for the first time, and celebrates 260 years of Cambridge education for black Cambridge students and graduates, from the 1700s to the 21st century.

From forgotten pioneers to modern trailblazers, the exhibition includes portraits of Alexander Crummell and Gloria Carpenter - the first black male and female graduates from the University (in 1848 and 1945 respectively) - as well as classical composer Errollyn Wallen and Lt. David Clemetson (pictured top centre), the first black officer in the British Army.
The Black Cantabs Research Society

The exhibition, which runs until December 22, 2018, has been organised by Surer Mohamed, President of the Black Cantabs Research Society, in partnership with Cambridge University Library.
When Surer was deciding which college to apply to, she came across an image of Njoki Wamai on the website of Queens College.
"The reason why I applied to Queens College was because I saw Njoki on the website," she said. "I saw myself at Queens because I saw someone like myself at Queens."

Soon after, Surer became President of the Black Cantabs Research Society, founded by Njoki and others in 2015. The Society came about as a student-led response to the lack of information about black alumni of the University.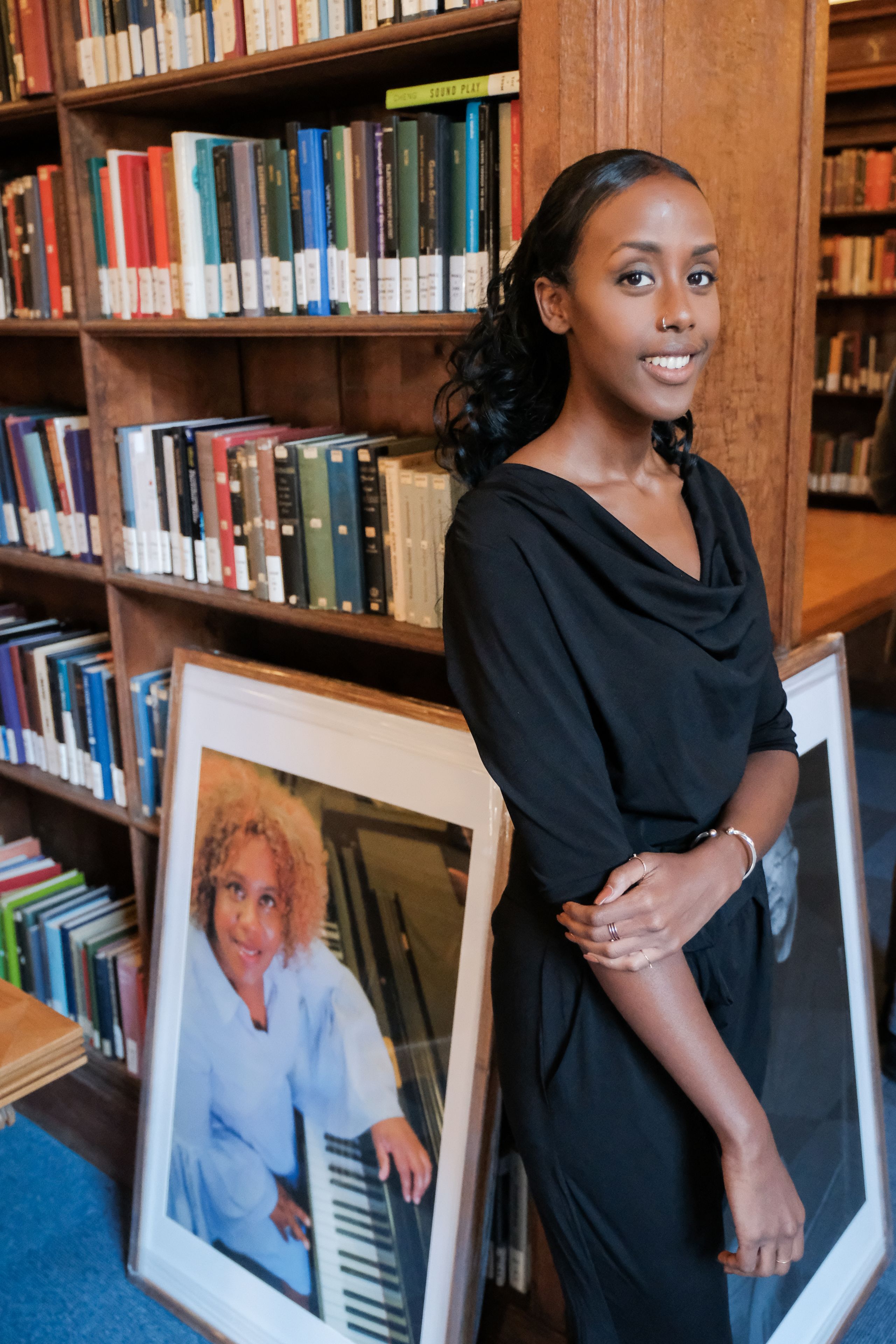 Now made up of students, staff and alumni, the Society's aim is that current and future generations of black students in Cambridge won't feel loneliness and isolation because they will have a site of information that provides evidence black people's long history of attending the University.
The result, is a body of research that fills a gap in the University's history and adds to the development of a more inclusive culture.

Some of the discovered stories of Cambridge's black students include that of Lt. David Louis Clemetson, who was one of the only black officers serving in the British Army during the First World War.
Born in Jamaica, Clemetson studied Law at Trinity before enlisting in the army during World War 1. He is thought to be the only black man to reach the rank of full lieutenant during the war, but was tragically killed in action in 1918, less than two months before the Armistice.

Another Jamaican, Gloria Carpenter, is thought to be the first black woman to have graduated from the University. She studied Law at Girton College in 1945 and became a prominent social reformer, playing an instrumental role in the foundation of the Law Faculty of the University of West Indies in Jamaica.

Surer said: "This is not only an opportunity to uncover an aspect of Cambridge's history, but also presents the opportunity to integrate these important stories into Cambridge's image of itself, creating a legacy."

University Librarian Dr Jessica Gardner said: "There are many firsts along these walls – the first black scholar, black officer, black woman to have a composition played at the Proms.
"This exhibition is another first for the University Library. We are broadening access and inviting all members of the public deeper inside the heart of the Library for the first time. This is in line with our vision of making this a truly accessible and welcoming space."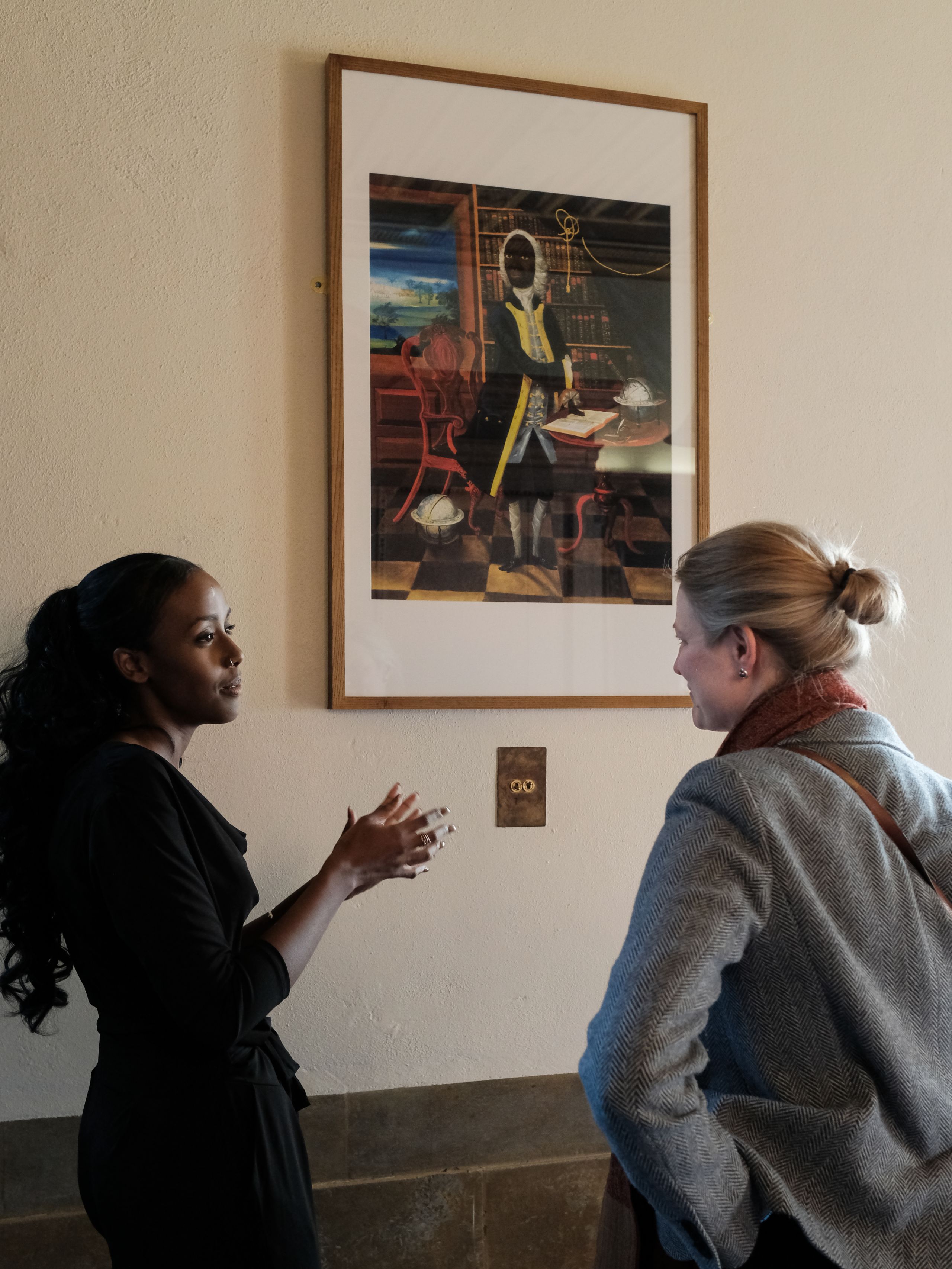 The exhibition is running with the full support of the University, as part of its renewed commitment to creating a more equal and inclusive environment, promoting dignity, respect and a sense of belonging for all.

Cambridge African Caribbean Society President Toni Fola-Alade praised the exhibition and its focus on the legacies of black Cambridge alumni. He said: "Black Cantabs have been tirelessly documenting the black experience at Cambridge for years and it's great to see this level of exposure been given to the project.

"It's important that the histories of Black students at the University are being showcased and we look forward to interacting with their legacies."

Spanning the length of Cambridge University Library's 370ft Royal Corridor, the exhibition puts on display archive images of black Cambridge students as well as new portraits by Cambridge's chief chronicler, Sir Cam.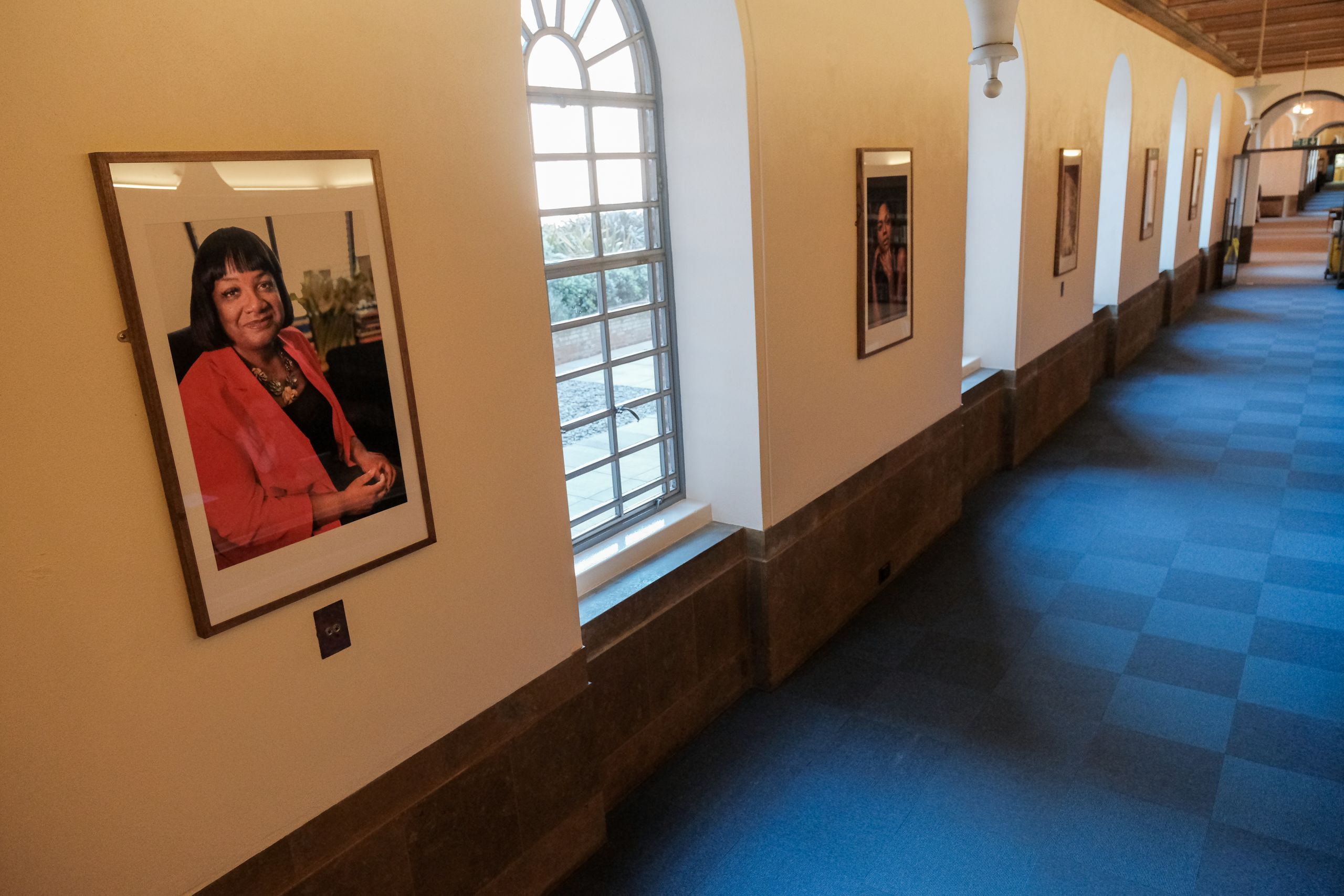 Elizabeth Bagaaya
The Batebe (Princess Royal) of the Kingdom of Toro, Uganda, Elizabeth studied Law at Girton College, Cambridge in 1959. In 1965 she became the first East African woman to be admitted to the English bar.

As well as being a practising barrister, Elizabeth also modelled, and was the first black woman to appear on the cover of Harper's Bazaar.

Image: John Shearer/The LIFE Picture Collection/Getty Images
Errollyn Wallen

Errollyn Wallen is a composer, pianist, singer-songwriter, and the first black female composer to have a work featured at the Proms.
Born in Belize, she moved to London when she was two years old and earned an MPhil at King's College.

Her work has been performed around the world. In 2012, her song Daedalus served as the theme for the BBC drama One Night, and her "Principia", whose lyrics revolve around science, was featured in the London Paralympics Opening Ceremony.
Her work, Mighty River, which marks the bicentenary of the Abolition of the Slave Trade Act in England, was performed at the Southbank New Music Biennial in 2017.

She was made an MBE for services to music in the Queen's Birthday Honours list in June 2007.

Image: Sir Cam

Naomie Harris

Best known for her roles as Moneypenny in the James Bond series and her award-winning performance in the film Moonlight. She was born in London to Jamaican and Trinidadian parents and studied social and political sciences at Pembroke College, Cambridge, graduating in 1998.

She has had a varied career in film, theatre and television, including roles in horror film 28 Days later, Zadie Smith's TV adaptation of White Teeth, the Pirates of the Caribbean series and playing Winnie Mandela in Mandela: Long Walk to Freedom. She was made an OBE in 2017.

Image: Matt Doyle/Contour by Getty Images
Bez Adeosun

As a star of the viral 'Black men of Cambridge' photo , Bez is in his final year at Cambridge, studying Human, Social, and Political Sciences.
He took part in the Cambridge African Caribbean Society's 'Black Men of Cambridge University' photographic campaign in 2017.
The photograph quickly went viral, generating thousands of likes and comments on Facebook and opening up a debate about the importance of representation in inspiring young people to consider the university.

Image: Sir Cam

Thandie Newton

Thandie Newton is an English actress born in London to a Zimbabwean princess mother and English father. She attended Downing College between 1992 and 1995, graduating with a degree in Social Anthropology.
Newton has had an extensive career as an actress, making her film debut in 1991 alongside Nicole Kidman, before going on to star in Hollywood blockbusters including Interview with the Vampire, Mission: Impossible 2, Crash (for which she won a BAFTA Award for Best Actress in a Supporting Role), and Solo: A Star Wars Story.
She has also worked in television, recently staring in US series Westworld - which earned her an Emmy Award and a Critics' Choice Award - and British drama Line of Duty.

Image: Lorenzo Agius/Contour by Getty Images

Black women of Cambridge


In 2018, black women students at Cambridge gathered for a photo shoot organised by the Africa Caribbean Society to mark 70 years since the first black woman graduated from the University and since women were admitted as full members. More than 50 undergraduates and graduates posed in front of the Senate House, giving unprecedented visibility to black women in the University space.

Image: Lloyd Mann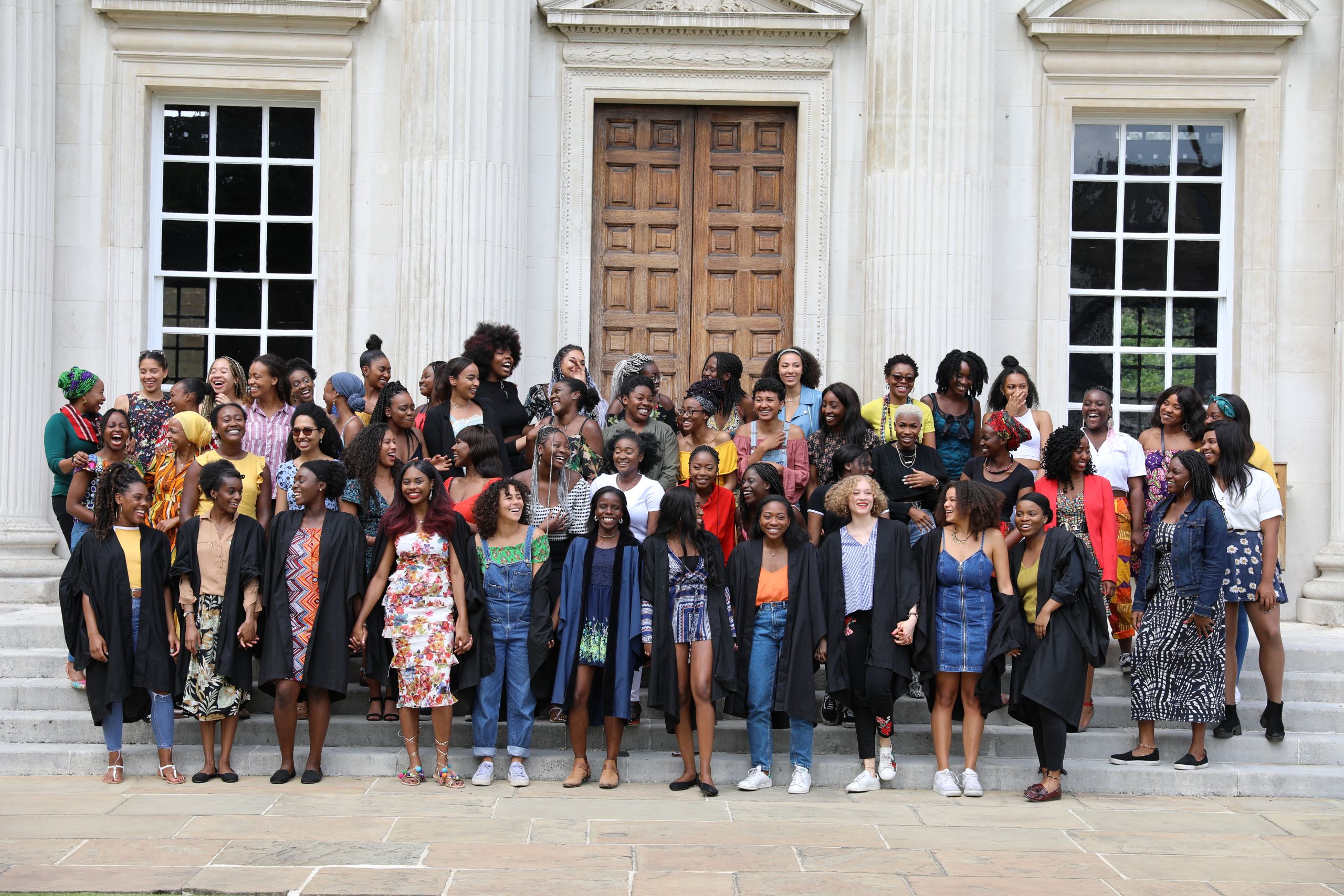 Archie Mafeje

Archie Mafeje was a Pan-African anthropologist and activist from South Africa, regarded as a great scholar and intellectual whose work radically critiqued colonialism and its influence on academia.
He initially studied at the University of Cape Town, where was refused a senior lectureship, due to sustained pressure from the apartheid government, sparking a large protest from students and staff members. He later obtained a PhD in Anthropology from King's College, Cambridge in 1966, where he served as an assistant lecturer.

Between 1969 and 1971, Mafeje was Head of the Sociology Department at the University of Dar Es Salaam, in Tanzania, before moving to The Hague, where in 1973, Mafeje was made Professor of Anthropology and Sociology of Development at the Institute of Social Studies.

In a long academic career, Mafeje also became a senior fellow and visiting or guest professor at several other universities and research institutions in Africa, Europe and North America.

He returned to South Africa several years after the end of apartheid where he was appointed a research fellow by the National Research Foundation working at the African Renaissance Centre at UNIS.

Image: Margaret Green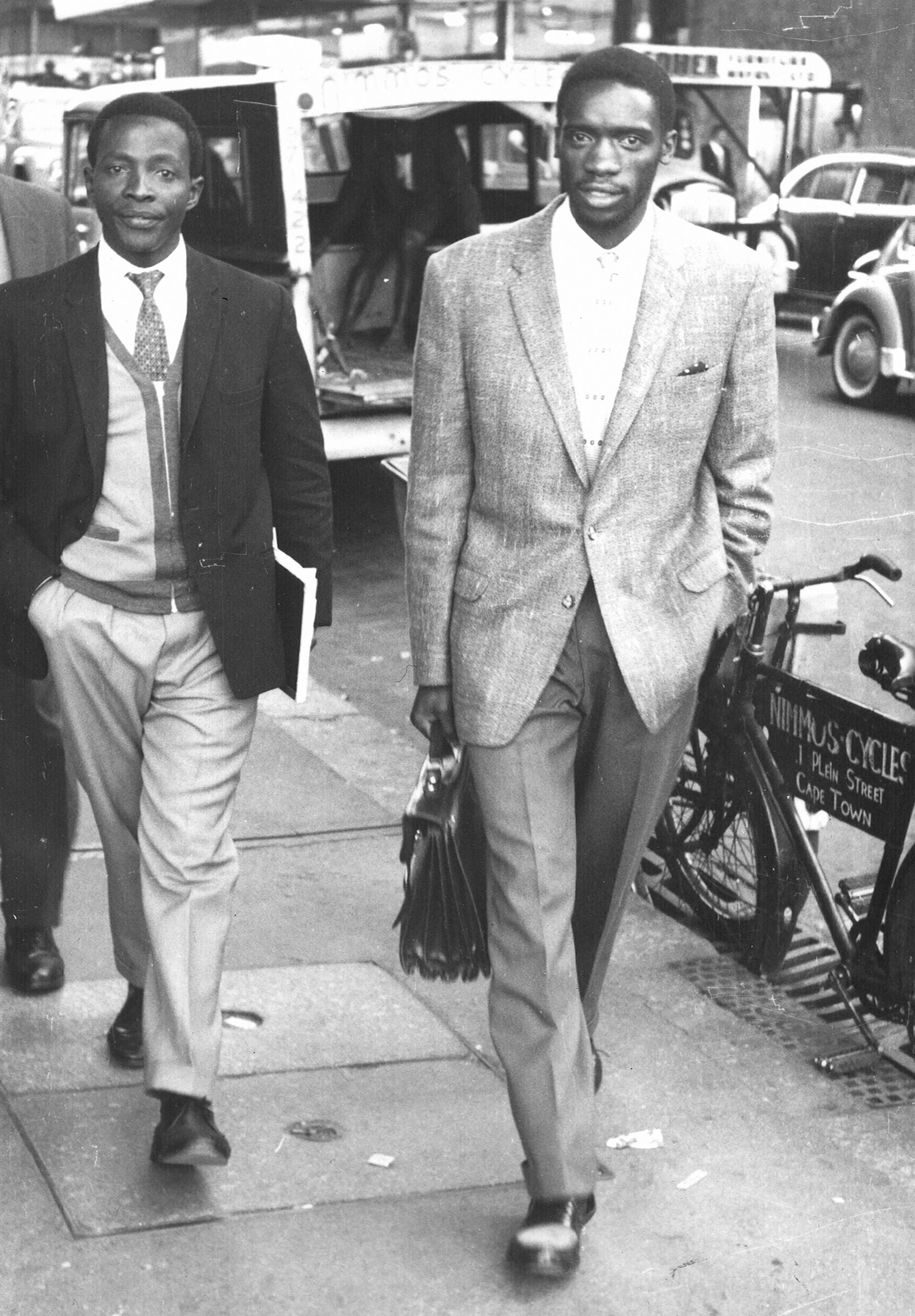 Zadie Smith
Zadie Smith was born in London and is of Jamaican and English heritage. She read English Literature at King's College, graduating in the late 1990s. She published her debut novel, White Teeth, to widespread critical acclaim in 2000, winning among other accolades, the Guardian First Book Award.

Smith has gone on to publish four further novels, including On Beauty, which was shortlisted for the Man Booker Prize. In 2010, Smith joined New York University as a tenured professor of fiction, following a spell teaching at Columbia University .


Image: David Levenson /Getty Images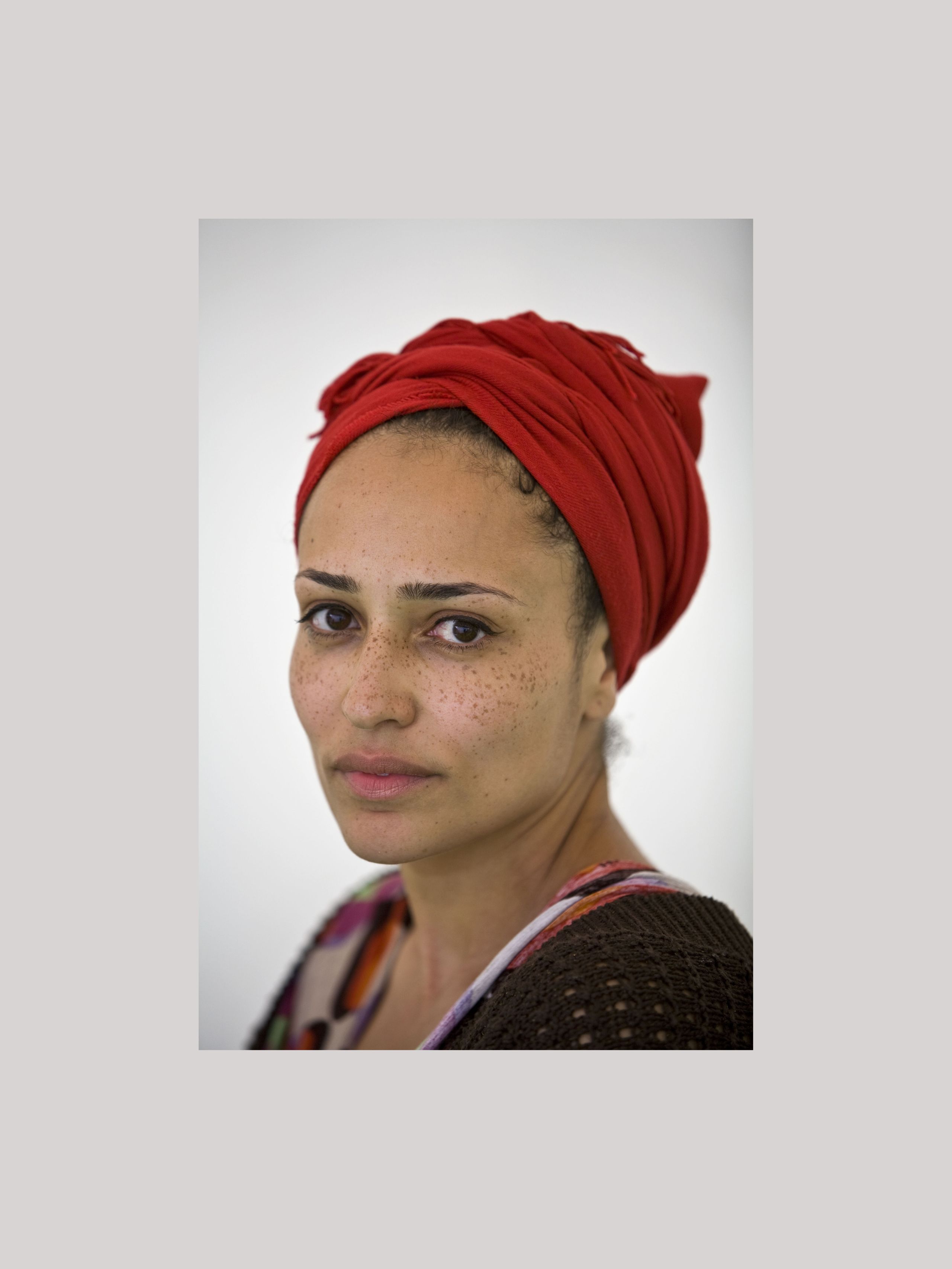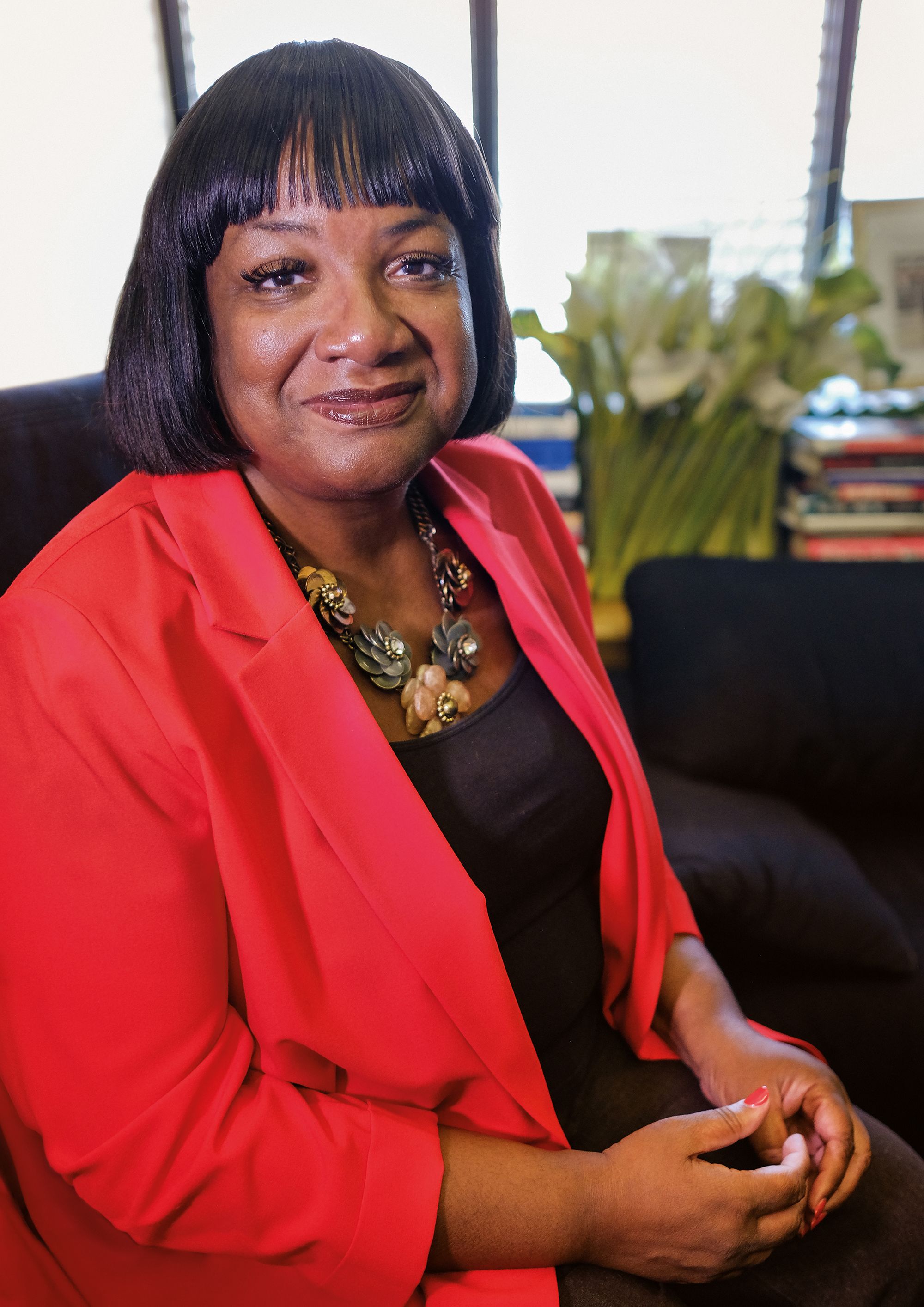 Diane Abbott

Diane Abbott is the first black woman to hold a seat in the House of Commons and has been a Labour MP for more than 30 years.
Born in London to Jamaican parents, she studied History at Newnham College before entering the civil service. Abbott also worked in the media before starting her political career in 1982 when she was elected to Westminster City Council. At this time, she was involved in the Labour Party Black Sections movement to push for greater political representation for African, Caribbean and Asian people, alongside Bernie Grant, Paul Boateng and Keith Vaz, candidates eventually elected as MPs with her in June 1987.
Abbott has an extensive political career, holding shadow ministerial positions and serving on several parliamentary committees including the Treasury Select Committee and the Foreign Affairs Select Committee. She has a particular interest in social and international issues, and human rights. Additionally, Abbott is founder of the London Schools and the Black Child initiative, which aims to raise educational achievement levels among Black children.
In 2017, she was re-elected in her seat of Hackney North and Stoke Newington, receiving 75% of the constituency's votes with an increased majority of over 35,000.

"In the novels I read, people tended to go to Oxford or Cambridge. Nobody told me that working class or black children didn't go. So I thought, why not me? Going to Cambridge gave me the sense that obstacles were there to be overcome."
Image: Sir Cam

Alexander Crummell

As the son of an illiterate, freed slave, Alexander was a lifelong abolitionist, arriving in England in the 1840s to enlist Britons to the cause.
He stayed to become the first black graduate from Cambridge in the late 1840s, studying at Queens' College. Later becoming a minister, Alexander developed the concept of Pan-Africanism, drawing strongly on his faith to encourage people of African descent to come together in unity and solidarity.

The 2011 film below explains how research by Cambridge academic Dr Sarah Meer provided new insight into Crummell's life and studies at Cambridge. Alexander Crummell also features in Dr Meer's upcoming book Cousins and Claimants: Transatlantic Notions 1820-1920.
"We read the future by reading the past."
Image: British Library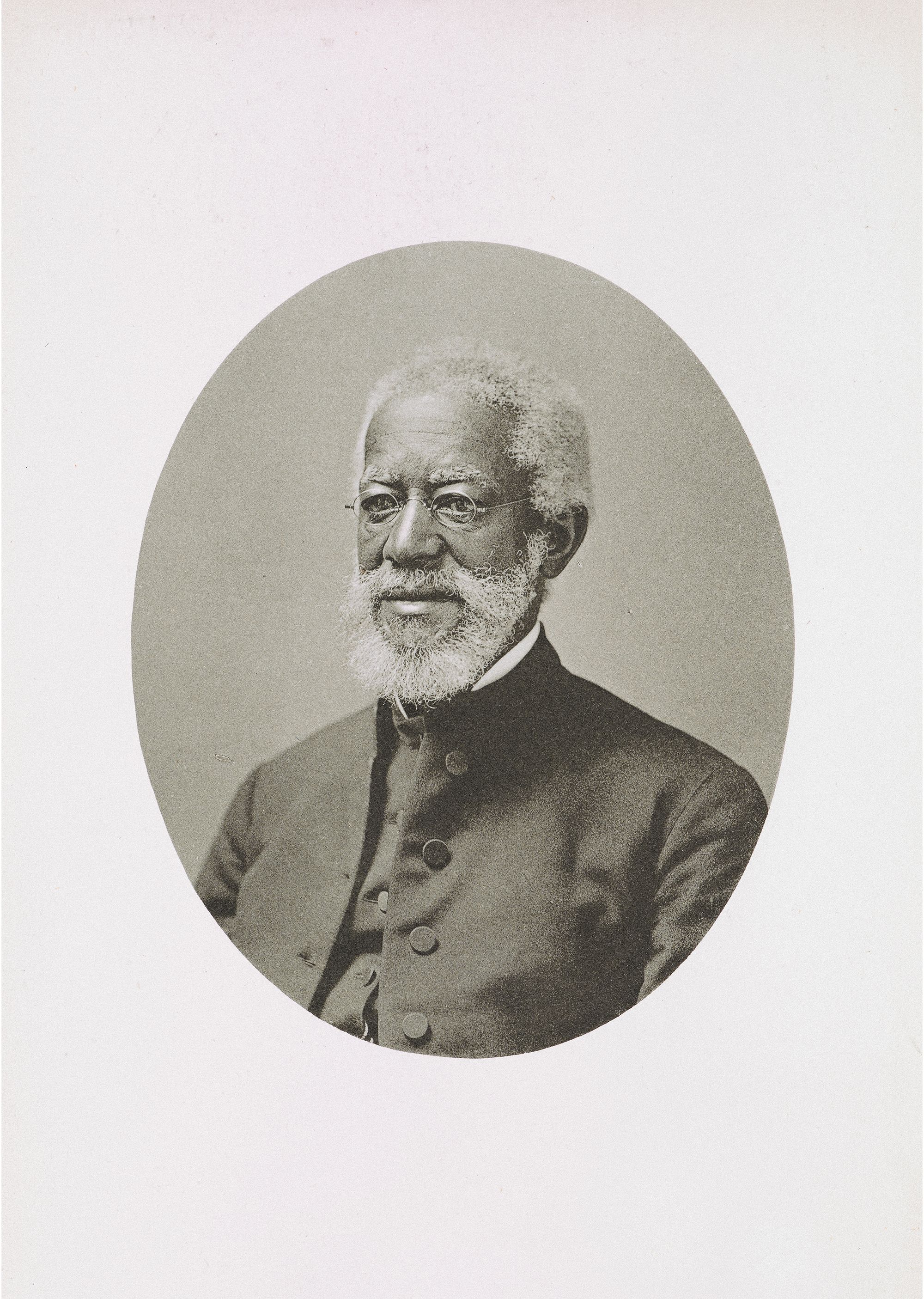 Lt. David Clemetson

Lt. David Louis Clemetson was one of the only black officers serving in the British Army during the First World War.
Born in Jamaica, he was admitted to study law at Trinity in 1912 where he also rowed in the Lent Bumps.
He left his studies in 1914 to enlist in the Sportsmen's Battalion of the Royal Fusiliers and after sustaining an injury, was transferred to the 24th Welsh Regiment of the Pembroke Yeomanry, where he received a commission to serve as Second Lieutenant in October of 1915.
He is thought to have been the only black man to reach the rank of Full Lieutenant during the war. Clemetson was killed in action in Perrone, France, in 1918 and was posthumously awarded both the Victory Medal and the British War Medal.

Image: Trinity College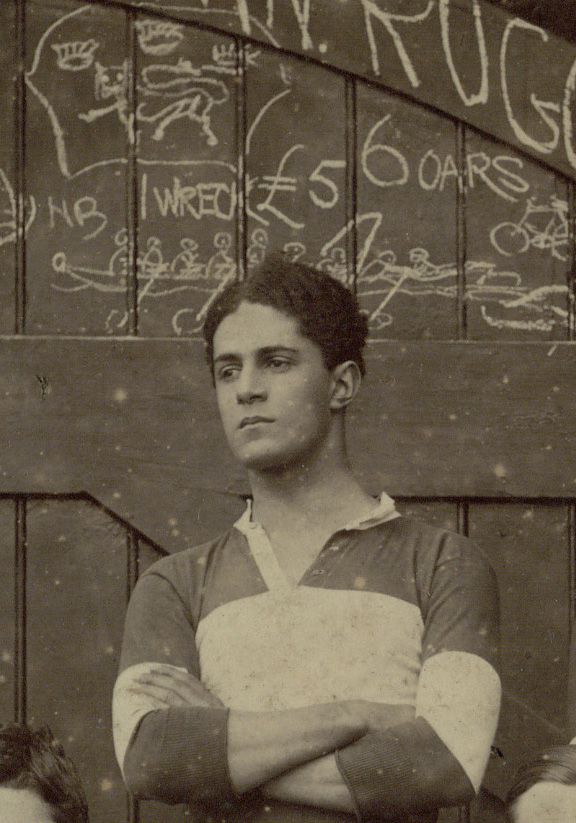 George Bridgetower

George Bridgetower was an Afro-European virtuoso violinist born in Poland to a Caribbean father and German mother.
He attended Trinity Hall where he earned a Bachelor of Music in June 1811. As a child, Bridgetower gave music concerts around Europe and his education was overseen by the Prince Regent (later George IV). In 1802 he travelled to Vienna and formed a friendship with Beethoven who dedicated his Violin Sonata No. 9 in A major (Op.47) – the Kreutzer Sonata - to him.
However, the friendship soured and Bridgetower returned to London where he lived out his days teaching, travelling and performing.

Image: British Museum
Justina Kehinde Ogunseitan

Justina Kehinde is an award-winning poet and jazz-singer.
She read English Literature and Social Anthropology at St. John's where she made theatrical history directing acting and co-producing the first all-black all-female production on a Cambridge stage, Ntozake Shange's 'For Colored Girls Who Have Considered Suicide When The Rainbow is Enuf' (2012), and the South African musical 'Sophiatown' (2014).
She co-founded the University's first BME women's forum 'FLY' and went on to work in public health before writing and directing her first original play 'UMUADA'. A member of the Young Vic Directors programme, she continues to explore unheard stories.
Image: Sir Cam
Stormzy and students
British grime artist Stormzy, pictured leaning on chair, left, has established 'The Stormzy Scholarship', for University of Cambridge students which will see four British black students provided with financial support during their degree courses.

The scholarship will cover the full cost of tuition fees and provide a maintenance grant for up to four years of any undergraduate course. The first two recipients of the scholarship started their courses at the beginning of the 2018 academic year, with two further students selected for 2019 entry.

This photo was taken in Cambridge's Senate House, where graduation ceremonies are held, with members of the University's African Caribbean Society.

Image: Nick Saffell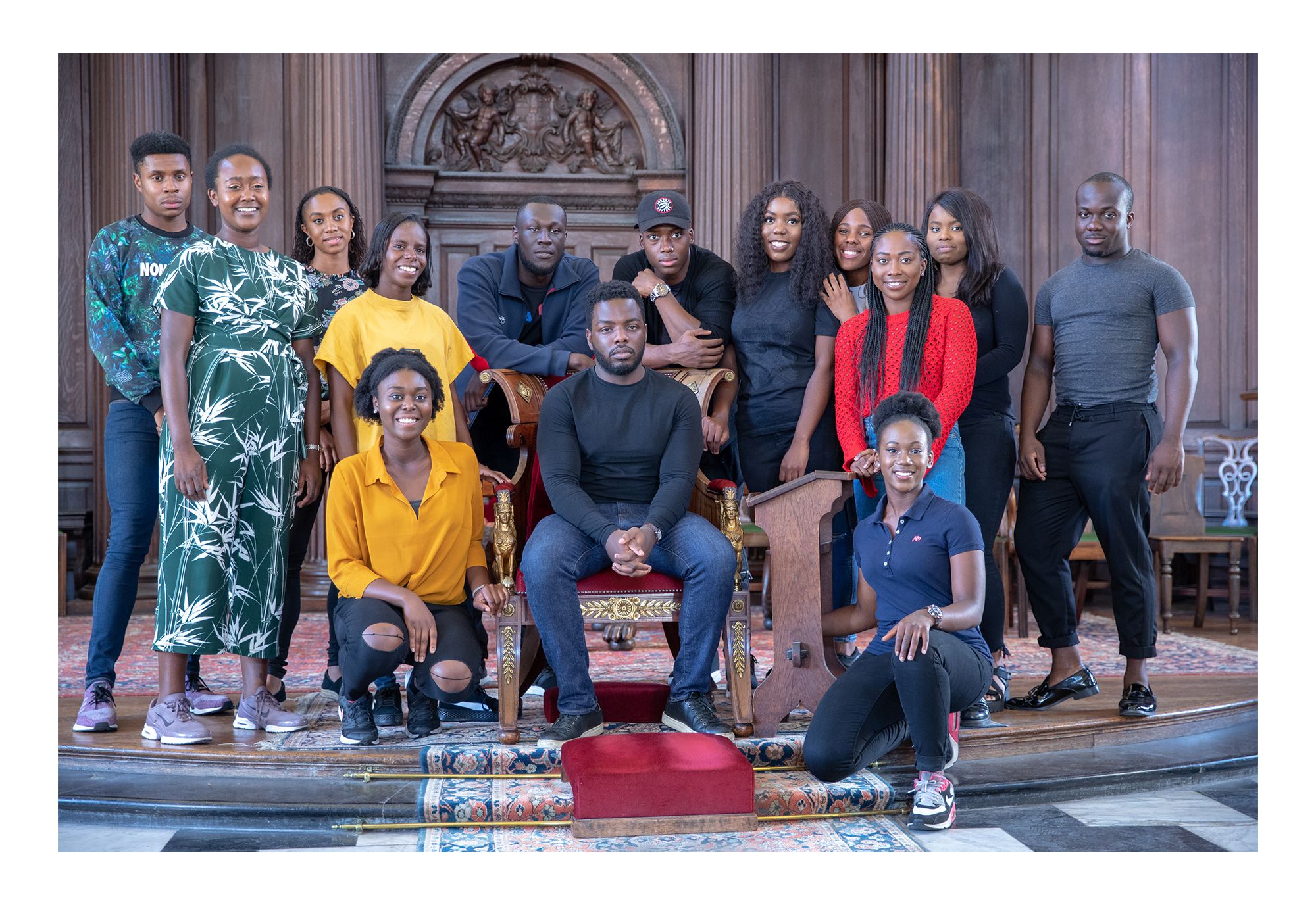 Black Cantabs: History Makers runs from October 1- December 22 at Cambridge University Library. Entry is free.