Samurai, Darwin, the Poet Laureate and some very Curious Cures
A year of wonder in store at Cambridge University Library during 2022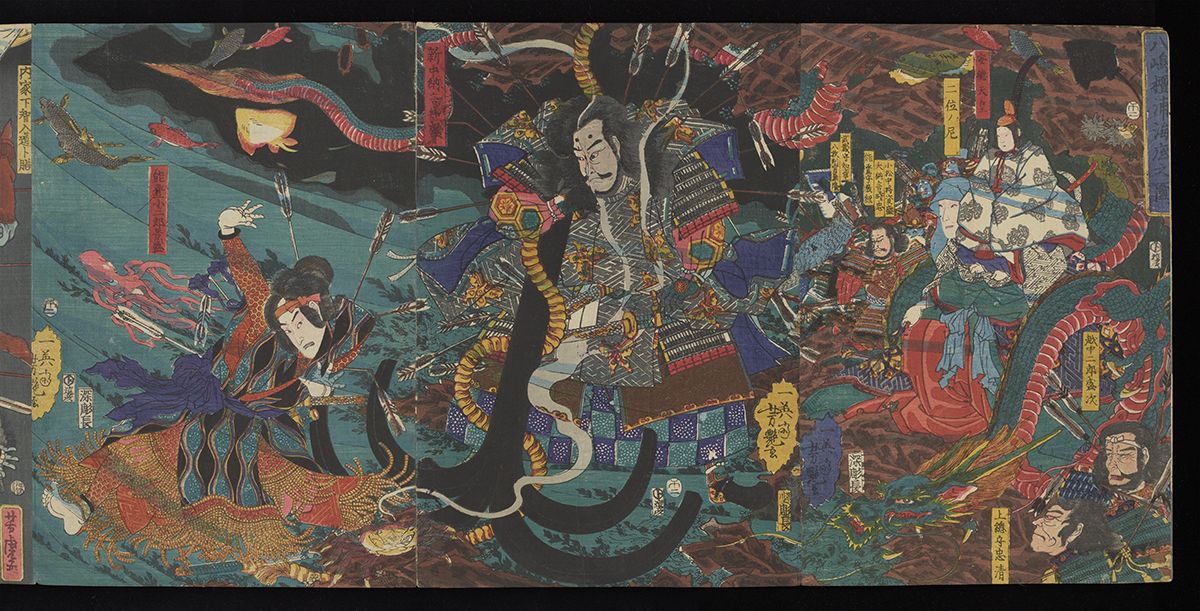 A three-panelled 19th century woodblock print shows an imagined scene below two sites of famous Japanese sea battles in 1185 (Yashima and Dannoura).
A three-panelled 19th century woodblock print shows an imagined scene below two sites of famous Japanese sea battles in 1185 (Yashima and Dannoura).
The first major exhibition to explore Charles Darwin's life and work through his vast global network of correspondents – from eminent scientists to pigeon fanciers and gardeners – will open at Cambridge University Library in Summer 2022, before transferring to the New York Public Library in 2023.
Darwin in Conversation
July 9-December 4, 2022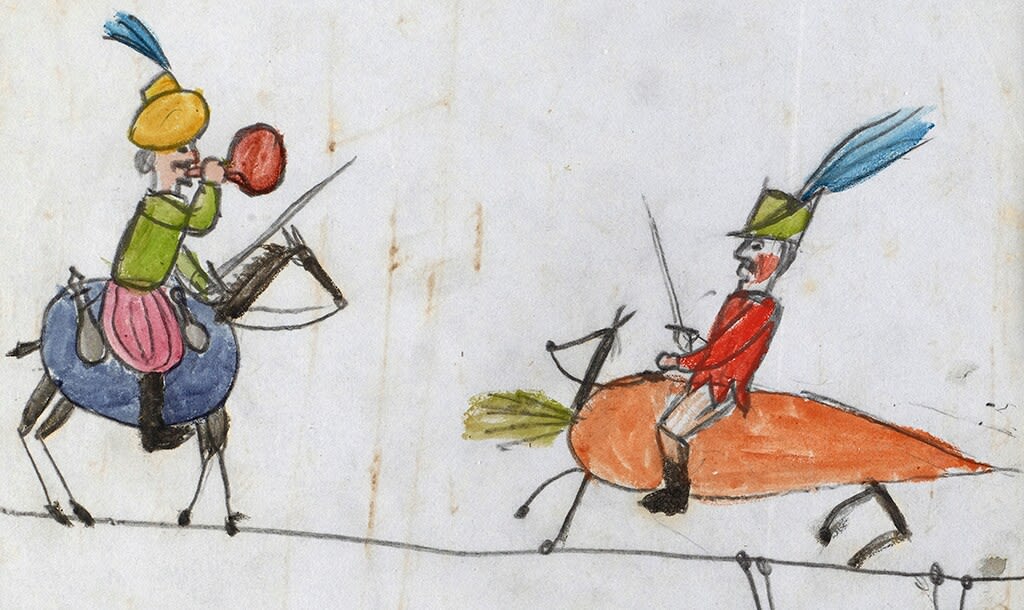 Drawings made by the children of Charles Darwin on the back of the first draft copy of On the Origin of Species, part of the Darwin Correspondence Project collections at Cambridge University Library.
Drawings made by the children of Charles Darwin on the back of the first draft copy of On the Origin of Species, part of the Darwin Correspondence Project collections at Cambridge University Library.
Darwin in Conversation has been curated using the 15,000 letters Darwin wrote during his lifetime, the majority of which are housed at the University Library in Cambridge in the largest archive of Darwin-related material anywhere in the world.
The exhibition, which is free and open to all, draws on the 40-year mission of the Darwin Correspondence Project, also based at the Library, which since the 1970s, has worked tirelessly to transcribe and publish in print (and now digitally), every surviving letter that Charles Darwin wrote and received. The 30th and final volume of correspondence will be published in 2022 to coincide with the exhibition and mark the end of one of the largest and longest-running humanities projects anywhere in the world.
Darwin in Conversation shows how Darwin was the ultimate gatherer of information, seeking out anyone whose ideas, knowledge or insight might shape the naturalist's own views, from members of the public and subject specialists all over the world, to some of the most famous names of 19th century science.
The exhibition will also dispel the myth of Charles Darwin as a lone theoretician sitting in Down House. Experiments and interaction with a wide range of people were key to his world-changing discoveries and theories, and the exhibition reveals Darwin as a complex, richly human individual whose ideas changed over time, informed as much by the frustrations of failure as the triumphs of success.
As well as many hugely valuable first editions of Darwin's work, letters written on HMS Beagle, and examples of his globe-spanning correspondence, the exhibition will also put on display the draft letter where Darwin first outlines his theory of natural selection to Asa Gray; and a flirtatious letter from Sarah Owen to Darwin enclosing the gift of a jewelled hairpin. Letters such as these help to challenge our 21st century notions of Darwin as a bearded old and isolated genius, rather than the young, gossip-driven scientist who travelled the world both in person and via his correspondence.
The Darwin Correspondence Project is supported by the Evolution Education Trust and Andrew W. Mellon Foundation.
Samurai: History and Legend
January 22-May 28, 2022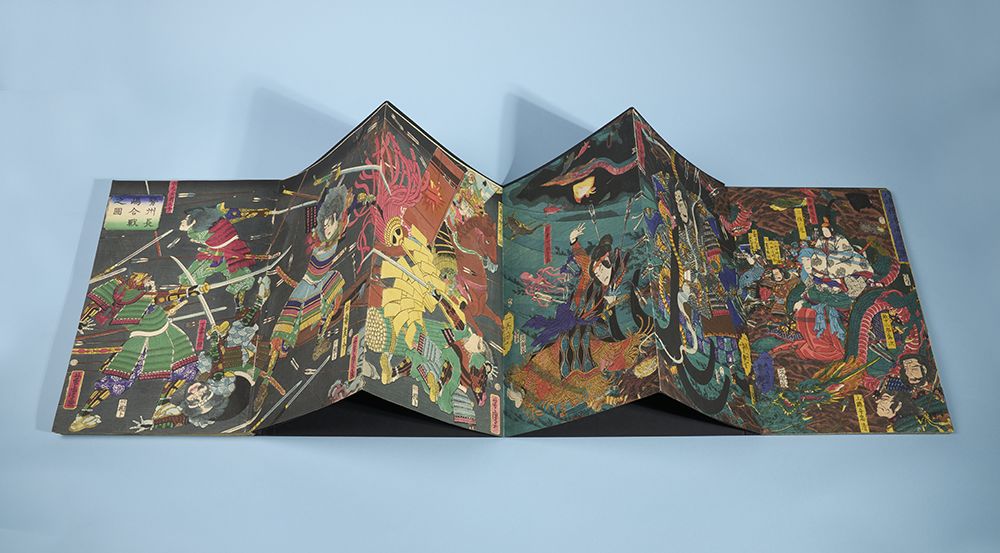 Before Darwin in Conversation, visitors to the Library will have the chance to discover a more authentic history of samurai culture through the incredible Japanese Collections at Cambridge University Library, one of the pre-eminent collections of Japanese literary material held outside Japan.
Samurai: History and Legend runs from January 22-May 28, 2022, and, like all our major exhibitions, is free and open to all members of the public.
The image of samurai is iconic, not just in Japanese culture, but globally, too. However, the imagery we are confronted with, especially through a western lens, is as much legend and mythology as it is history. Although samurai did fight battles and carry swords, the collections at Cambridge also illuminate their roles as musicians, champions of culture, and even bureaucrats. The Cambridge exhibition explores the literary concept of the samurai and the changing nature of Japanese warrior culture from the 12th century to the late 19th century when the samurai became a thing of the past.
Going on display for the very first time will be a 7m-long Lotus Sutra, donated to the Library in 1911. One of the great treasures of Japanese culture and Buddhism, it is about 800 years old and written in gold on indigo-dyed paper ornamented with gold and silver.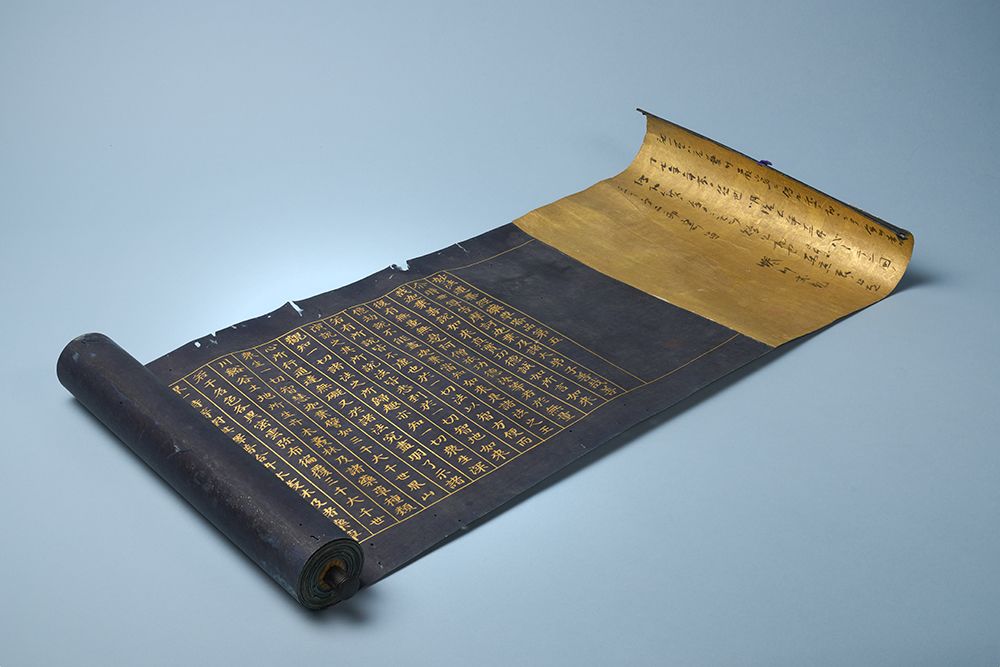 The vast majority of objects in Samurai: History and Legend have never before been on display. The exhibition includes some of the earliest Japanese books and objects to arrive in the West in the 17th century. The more recent books include sketches by Hokusai and playful illustrations of samurai cats.
The exhibition has been supported by the Great Britain Sasakawa Foundation, the Howard and Abby Milstein Foundation and the Friends of Cambridge University Library.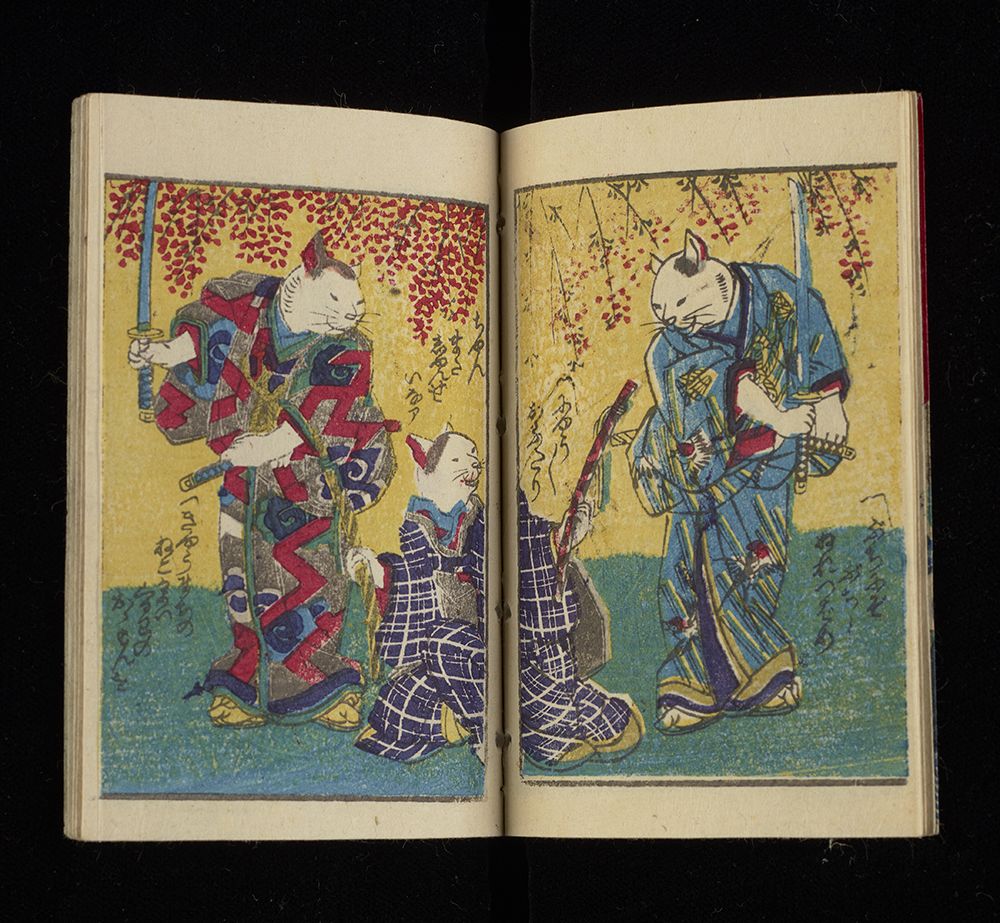 March 2022 also sees the launch of a flagship Wellcome-funded research programme at the University Library. Curious Cures is a two-year project to digitise, catalogue and conserve over 180 medieval manuscripts across Cambridge and the approximately 8,000 medical recipes they contain.
The project, led by Dr James Freeman, will illustrate the faith medieval practitioners attached to the healing properties of dove faeces, fox lungs, salted owl and eel grease among a vast array of other unpalatable ingredients.
The project will also surface what remedies were available to the medieval sufferer of toothache, gout, fever, worms that eat one's eyelids, rankled wounds or 'scalding of thy pintil'?
These manuscripts include both recipe compilations and medical texts, but also scientific and alchemical, legal and literary, liturgical and devotional books, illustrating the many different routes by which medical knowledge of this kind was recorded, shared and transmitted.
A team of project cataloguers will prepare detailed descriptions of their textual contents, material characteristics, and origins and provenance, and place the recipes in their material, intellectual and historical contexts.
The project team will also produce full-text transcriptions of the thousands of medical recipes that these manuscripts contain. These recipes are highly variable and have never been edited. Transcription will open up their contents to health researchers and historians of medicine, enabling keyword searching, surveys of treatments for specific ailments, or quantitative analyses of particular ingredients or preparatory techniques.
Curious Cures will include books at Cambridge University Library, the Fitzwilliam Museum, as well as twelve college libraries: Clare, Corpus Christi, Emmanuel, Gonville & Caius, Jesus, King's, Magdalene, Pembroke, Peterhouse, Sidney Sussex, St John's and Trinity.
The Poet Laureate comes
to Cambridge
Photo of Simon Armitage by Peter James Millson
Photo of Simon Armitage by Peter James Millson
Cambridge University Library will also be a stop on Poet Laureate Simon Armitage's Laureate's Library Tour in March 2022, as the nation's poet embarks on the next leg of a ten-year tour of the UK's libraries.
Armitage, pictured above, will visit Cambridge on Monday, March 28, for a reading and conversation with Cambridge University Librarian Dr Jessica Gardner and special guest Imtiaz Dharker, a former poet-in-residence at the University Library as part of Carol Ann-Duffy's Thresholds programme.
The in-conversation will take place among the near ten million strong collections of the University Library, which holds one of the most comprehensive collections of British books anywhere in the world, and has, since 1710, been able to request a copy of every published book in the UK and Ireland.
Armitage said: "My experience of reading and writing began in the village library where I grew up, then in the nearby town library, then in libraries at various places of study and teaching. For many people they are an invaluable aspect of everyday life, giving access not just to books but to services, learning, conversation and creative thinking. I want to pay my respects to these unique institutions. By planning readings up to a decade in advance I'm being optimistic about the future of our libraries, and challenging those authorities who would consider closing them down."
The Poet Laureate is not the only literary luminary visiting the UL this year.
On Friday 1 April, the University Library will be hosting a Festival Book Club event with author Jeanette Winterson, as part of the Cambridge Festival 2022. Winterson will be talking to University Librarian, Dr Jessica Gardner, about her new book 12 Bytes (July 2021); a series of essays exploring her years of researching Artificial Intelligence and the implications it is having on the ways we live and the ways we love.
Book of Deer goes on loan to Aberdeen
Oldest Scottish manuscript returns to its place of origin for the first time in a millennium
The Book of Deer, possibly Scotland's oldest surviving manuscript, is set to return to the north-east of Scotland for the first time in 1,000 years when it goes on loan from Cambridge University Library later this year.
The manuscript, which came to the UL in 1715, is a small manuscript containing the text of the gospels in Latin which has been dated to the first half of the tenth century. It was produced for private use rather than for church services.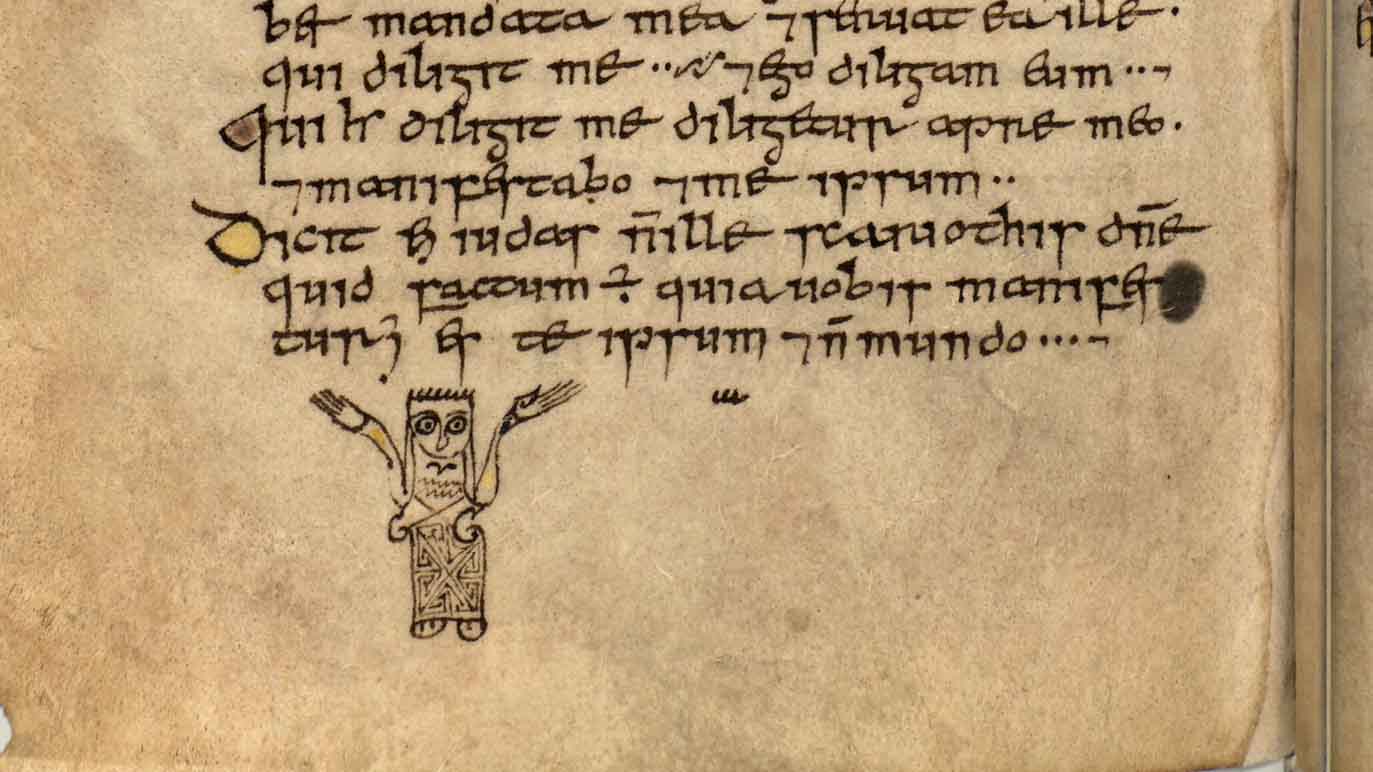 It contains the oldest surviving example of written Scots Gaelic in the world within its margins. At the start of each gospel text is a full-page illustration of a human figure or figures.
The manuscript will be exhibited at Aberdeen Art Gallery in summer 2022, during the Year of Scotland's Stories - a year in which stories inspired by, created, or written in Scotland will be showcased and celebrated.
Dr Jessica Gardner, Cambridge University Librarian, said: "Cambridge University Library is one of the world's greatest collections and sharing these collections with the widest possible audience underpins everything we do. For those who can't get to see the Book of Deer in Scotland, every page is available to view in great detail, for free, on our Digital Library."
Enjoy a year of literature, history and our incredible collections with the Friends of Cambridge University Library. Join today for special events, exhibition previews, and to keep up with our fantastic year ahead!
The text in this work is licensed under a Creative Commons Attribution 4.0 International License.