COVID-19 has cast a shadow that few of us could ever have imagined. Around the world, families are grieving, lives have been put on hold, finances are squeezed. The crisis is not yet over, but hopeful stories are emerging.
In a new series, we hear how individuals across the University community have coped with unexpected experiences, found new opportunities and are looking to the future.
Katy Pitts could probably now write the How-To manual on re-opening a biochemistry department in a global pandemic. She tells us of the highs and lows of recent months as her colleagues embraced the necessary changes to return to the workplace – and how an encounter with 'The Distancer' has (literally) opened doors for all.
The last thing I expected just eleven weeks into my new job was to be sent home to work for my own and other's safety amid a global pandemic.
When I started as Principal Assistant and Safety Officer at the Department of Biochemistry, the virus was confined to Wuhan over 5,000 miles away. By the end of my first month, however, two cases of COVID-19 had been reported in the UK. It had reached us quickly and I hadn't been convinced it would reach us at all.
As the virus spread across the UK, our Emergency Silver Team Committee began to meet regularly to discuss contingency plans. We realised the effects of whatever came next would be felt in every area of the Department and so we invited representatives from all the different cogs in the Biochemistry machine. We knew we would need all the expertise and experience we could muster to tackle the problem as a team.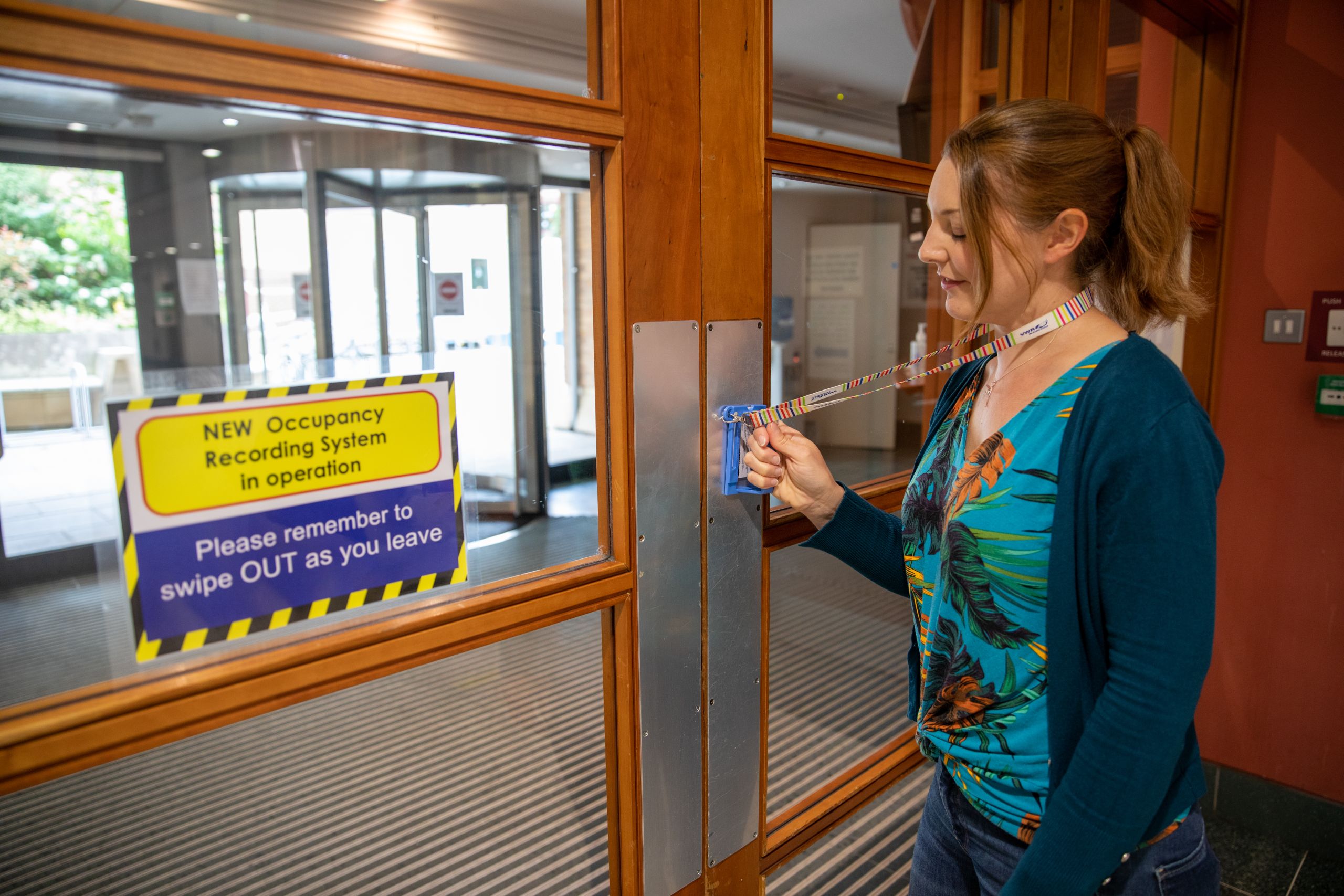 When the building closed, there was a strong feeling among colleagues of wanting to do something to help in the fight against the virus.
We donated all of our PPE stocks to the local call for supplies, delivering vanloads of facemasks, disposable gloves and safety glasses to be used by Addenbrooke's Hospital in Cambridge.
Many of our scientists volunteered at the new testing facilities in Milton Keynes and the University's Anne McLaren building, and several of our researchers embarked on projects to understand more about the mysterious virus.
"None of us chose for this to happen, so I've been impressed with how well we've all, not just coped with, but embraced the necessary changes to allow us to carry on working. Some of the workplace changes have even been improvements and we intend to keep them in the future"
Morale in the Department took a hit about six weeks into lockdown. We received the bad news that very sadly we had lost a colleague to COVID-19. The reality of the pandemic suddenly became very real, very quickly. I had used the phrase 'when things return to normal' a lot at the beginning of lockdown. After we lost our colleague, I stopped saying it. It was clear that some things had changed permanently.
Attitudes towards returning to work varied across the Department. Some couldn't wait to get back, while others were apprehensive. We needed to make sure everyone felt safe and confident to return and so from the very beginning we erred on the side of safety and caution.
We are now back to 25% occupancy of our buildings – roughly a person per bay in the labs –  with working protocols that are scaled-up versions of procedures we created to keep the scientists who returned to work on COVID-related projects safe.
Everyone who can work from home continues to do so, while those who are in the building stay two metres apart, and we have heightened cleaning and hygiene procedures everywhere. Of course incorporating these things seemed to have a knock-on effect on everything! That's where we've needed to invest a lot of time to get things right [see 'Families', zones and roundabouts below].
Along the way, there have been so many contributions to the effort from so many people, my favourite being the idea to introduce 'The Distancer', a device which is worn on a lanyard and helps you to avoid touching door handles, push plates and buttons; it even holds your access card in it. For every Distancer we bought for the Department, the supplier donated another, free of charge, to NHS staff.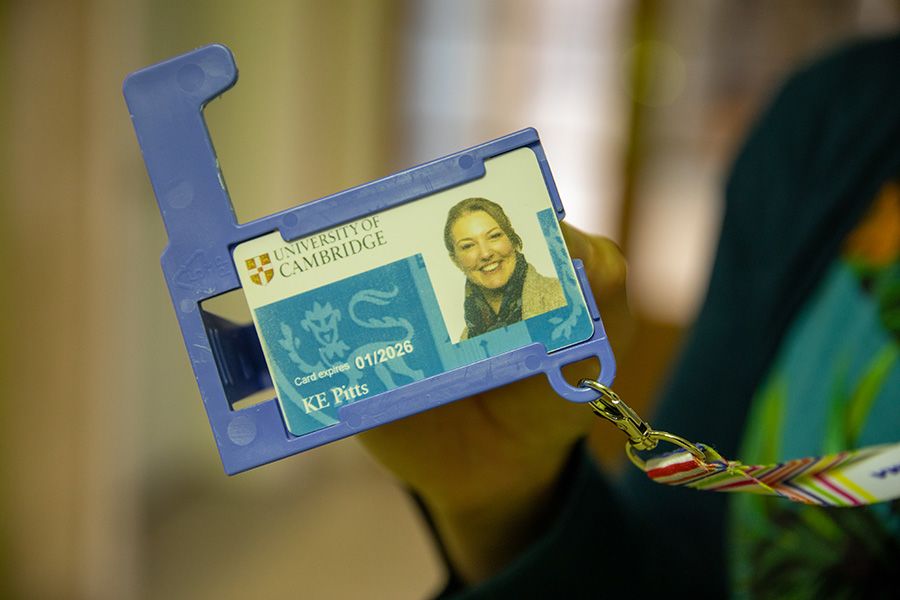 I was a scientist for 20 years until I started this job and so I'm especially happy that, like all good scientists, we plan to change one variable at a time when we make progressive changes, so we have a good idea of the level we can safely retreat to if the worst happens and an outbreak occurs again in the future.
Although many of the changes we've made have physically separated people, in other ways it's brought us closer together; communication and unity seems to have improved. We have encouraged questions, comments and ideas from everyone, and people have responded very positively. The majority of queries are from people wanting to check they're doing things right, which is fantastic.
None of us chose for this to happen, so I've been impressed with how well we've all, not just coped with, but embraced the necessary changes to allow us to carry on working. Some of the workplace changes have even been improvements and we intend to keep them in the future.
I feel I know the buildings and the people much better now, and have an improved understanding of different groups' requirements, than I perhaps would have done under normal circumstances.
Experience in 'How to Re-Open a Biochemistry Department in a Global Pandemic' is not something with which many of us are well equipped. However, I take comfort from recent experience and feel ready for whatever the virus throws at us next. After all, each of us has 100% more experience in this now than we did at this time last year!
'Families', zones and roundabouts: re-opening a biochemistry building
Every building will of course have its own contexts, communities and uses that affect how it re-opens following lockdown, but here are a few of the things that have worked for us.
We segregated buildings into different zones, and people are assigned to a zone within a 'family' unit that always works together on the same shift to reduce contact with others. Our colleagues working in these zones have 'custody' to control access to non-family members, set cleaning regimes that are convenient to them and order the space as best suits how they use it. Communal areas outside zones have increased cleaning regimes for frequently touched surfaces.
Should infections occur, needing only to quarantine one space and send one 'family' home, while allowing the remainder of the building occupants to continue working, was as close as we could get to making people feel 'at home' and yet allowing us to contain any infections.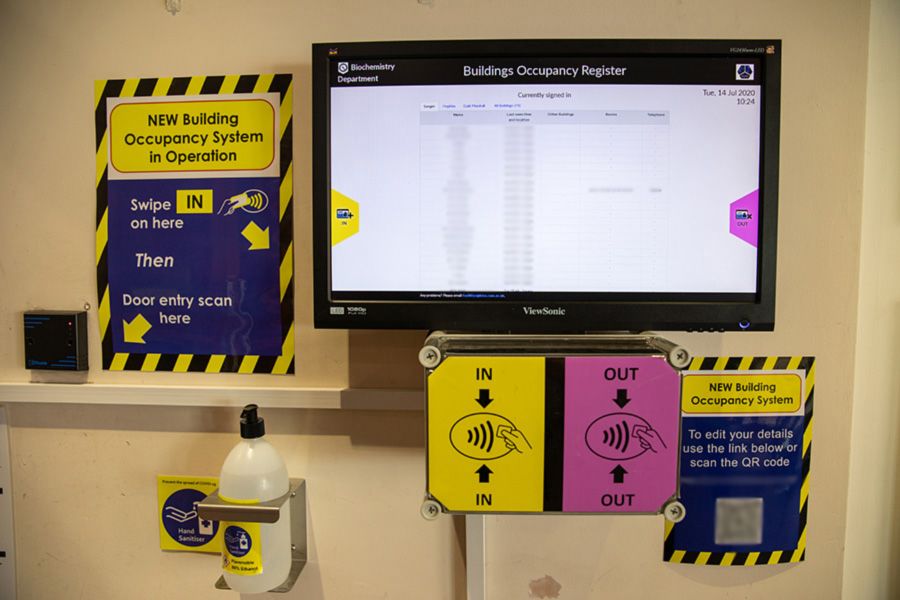 Our Group Heads and managers decided who in their teams should be placed on which shift, and within which family; it was a mammoth task but they've done a sterling job. In fact, everyone has been receptive and engaged with the changes that have been made, and there's quite a community spirit about getting things done and wanting to do it right.
Shared equipment rooms are one person at a time, cleaned before and after use, and an electronic booking system has been extended to avoid clashes.
Our domestic staff have incorporated the extra cleaning duties into their schedules and the maintenance team have been extremely busy installing hand sanitiser stations, helping to re-configure spaces to optimise distancing and making sure the buildings are running safely and securely.
Our IT team collaborated with other University institutes and built a new occupancy recording system from scratch in the space of a week, allowing us to monitor occupancy remotely and avoid pen and paper sign-in.
We've tried to keep a sense of humour and added a large roundabout marked on the floor of the atrium in the Sanger building. With so many entrance and exit routes it not only creates a talking point but also aids social distancing and helps people navigate the one-way system. There was also a mysterious appearance of a facemask on a bust of Justus von Liebig on the stairwell in the Hopkins building; presumably, someone didn't want him to feel left out!
As government guidelines continue to relax we will review our policies for as long as is needed until we reach a 'new normal'. There is uncertainty about how long it will take to get there and whether there will be any further spikes in the national or local infections, but we will try to respond to whatever happens appropriately.
Words: Katy Pitts
Design: Zoe Smith
Photography: Lloyd Mann
Typography: Balvir Friers
Series Editor: Louise Walsh