COVID-19 has cast a shadow that few of us could ever have imagined. Around the world, families are grieving, lives have been put on hold, finances are squeezed. The crisis is not yet over, but hopeful stories are emerging.
In a new series, we hear how individuals across the University community have coped with unexpected experiences, found new opportunities and are looking to the future.
Glen Rangwala, admissions tutor for Trinity College and director of the undergraduate programme in Politics & International Relations, was preparing for the University's virtual Open Days – and wondered if anyone would show up.
"Every July, soon after the undergraduate exams are done, the marking complete and the graduation ceremonies over, thousands of prospective students descend on Cambridge.
Many young people are visiting for the first time, and looking for ideas, guidance, maybe even inspiration. We give talks and seminars to packed audiences, and host exhibitions in our department buildings and in the Colleges. These are the annual University Open Days.
Except this year, of course, was different. There were no visitors and the lecture rooms were all empty. Early on during the lockdown, there was agreement that we should go ahead with the Open Days in July, but that this year it would all be done remotely – a virtual event.
Instead of inviting students to visit, we would be inviting them to log in. We would talk to our screens, and hope the people on the other side would talk back.
I think I can admit now that I was a little bit sceptical back in April when these plans were being made. Would school students in Year 12 really be interested in our webinars and lecture videos? With schools mostly shut, weren't today's 16 and 17 years olds – the majority of the usual attendees – switched off from thinking about their education and futures, their horizons narrowed by the pandemic? Scheduled to participate in five events over the two days, was I going to be spending those long hours talking to myself?
Well, it didn't turn out that way. On the morning of 2 July, I received a message informing me that 517 students had signed up for our sessions for prospective students of Black or Asian heritage.
Another 350 had signed up to talk about Trinity College, where I'm one of the admissions tutors, and 400 more wanted to attend the session about the Human, Social and Political Sciences Tripos.
In the session for students from ethnic minorities, starring six of our current Cambridge students and which I was honoured to be chairing, I noticed that, 10 minutes in, over 100 questions had been submitted. These were intelligent, focused queries from people looking for more information and some advice. I'm afraid we managed to answer about 8 of them in the hour's session!
"The popularity of the Open Days reinforced to me how important universities can be in public sentiments. For many of the virtual attendees, they are places to which to look when so much is uncertain, sites where the pursuit of knowledge is combined with the opportunity for imaginations to flourish, all in the service of higher goals. In the midst of a global public health crisis, that aspiration can hardly be more pressing."
The most eloquent defenders of that ideal, I found, over the course of the two days were our current students. The pandemic and the lockdown have caused intense sorrow for all too many, increased anxiety for many more.
But I found our student ambassadors to be in a highly reflective mode, thinking carefully and cleverly about the purpose of education, appreciating the university they are in but also thinking seriously about how to improve it – and their role in bringing that about.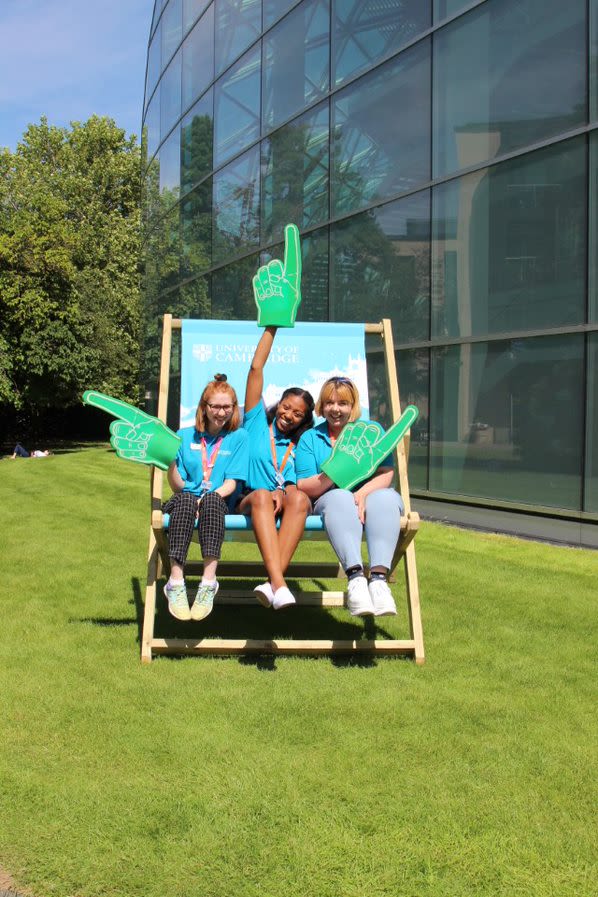 Cambridge's current students are no doubt our strongest advocates and our toughest critics. And for both reasons, giving them the central role in our public outreach makes good sense.
The buzz of the Open Days survived the transition to going virtual. But it also made me concerned for those who cannot participate. Around a quarter of secondary school students in the UK report having little or no opportunity to use digital technology for purposes of teaching and learning – poor or no internet connections, no home computer or laptop, no study space.
For those students, our Open Days are instead closed off. So, over the summer, it's important that we continue conversations with our partner organisations, working with school students across the country, sharing ideas on how to reach those we risk partitioning off in the move to online-only events."
---
The Virtual Open Days attracted 19,500 registrations and over the course of the week there were in excess of 80,000 site visitors. Of those surveyed, 93% rated the quality of their Open Days experience as excellent or good.
The virtual tour of the University of Cambridge is available to view here.
Words: Glen Rangwala
Design: Zoe Smith
Photography: Nick Saffell
Typography: Balvir Friers
Series Editor: Louise Walsh