A Cambridge academic was given unprecedented access to the military hospital at Camp Bastion in Afghanistan, to study the teamwork of the combat surgeons. The unique photographs he took reveal the realities of life and death in the operating theatre of modern war.
At Bastion, you see the best teamwork you will ever see. But these are driven people, and some of the qualities that make them brilliant also make them difficult.

Mark de Rond
During his first seven days in Afghanistan, Dr Mark de Rond saw 174 casualties brought into Camp Bastion's military hospital. Six were already dead. On the living, surgeons operated for 134 hours and performed 23 amputations. This small hospital uses more blood product than all of Scotland combined.
For six weeks last summer - beginning in June 2011 - Mark de Rond, a Reader in Strategy and Organisation at Cambridge Judge Business School, embedded himself with the surgeons at the field hospital to study how these high performing teams work together under extreme pressure, forced to make life and death decisions in the blink of an eye and faced with harrowing injuries. For de Rond, studying teamwork in extremis allows him to more easily observe the best and worst of social coordination.
"Ethnography is the written account of fieldwork - closely tied to social anthropology. It is an old fashioned attempt at trying to understand teams by living with them under similar conditions," explains de Rond.
Previous extreme experiences include living with the Cambridge boat race crew and with stand-ups who put on 50-hour comedy marathons, but Afghanistan changed de Rond's outlook on academic work.
The distressing scenes he witnessed had an obvious impact, but his photographic approach to documenting the human casualties - and the dedicated professionals who hurl themselves into trying to prevent the war's mounting body count - has transformed de Rond. The Ministry of Defence have granted de Rond and the University permission to disseminate some of these images publicly for the first time.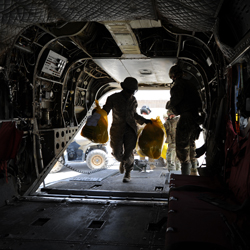 "The integration of photography and ethnography are more powerful than I ever imagined," says de Rond. "It's something I feel compelled to pursue. The academic work we do can often feel like a game of our own devising that doesn't make much of a practical difference to the world. Part of this is our inability to effectively communicate what we do - I think photography can play a key role in improving this."
It's extremely rare for license to be granted for photography in this environment - even the medical teams themselves are prohibited from taking pictures. The imagery allows a glimpse of the camaraderie and emotional and physical strain of the teams who perform under extraordinary pressure and the difficulties that emerge when casualties flood in - but also when they don't.
"At Bastion, you see the best teamwork you will ever see. But these are driven people, and some of the qualities that make them brilliant also make them difficult. The surgeons will occasionally compete for interesting work, and interfere with work of others when they have none of their own. Unable to cope with boredom, they will hope for new work to come in but then feel guilty about this - because these are people, often civilians - but the acceptance of such paradoxes are vital to the psychological safety of the surgical teams, allowing them to perform more effectively."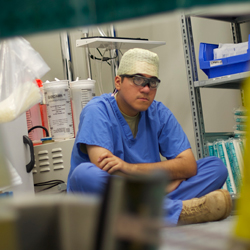 Trust must be balanced with vigilance, patience can't slip into indecision, the surgical staff all care passionately about people but require a level of detachment in order to excel at their job.
"In the extremes of busyness and boredom, feelings of meaning and futility can change rapidly and unpredictably, shifting the balance between altruism and selfishness, pleasure and guilt, significance and callousness," says de Rond. "The challenge for the teams is to try and reconcile themselves with these paradoxes."
A step the military takes to increase the safety of an environment like Bastion hospital is a policy of 'de-ranking' - so that army hierarchies are subjugated in team dynamics, or prioritising medical over military rank.
This affords team members slightly more space to speak openly in admitting mistakes or offering suggestions or criticism without fear of upsetting the chain of command - de Rond calls Bastion "a safer place than many" psychologically.
Life in conflict areas can be very surreal, as the realities of war take on what de Rond describes as "dream-like qualities". "I remember one afternoon a delivery arrived: a box with a pair of mangled legs inside - sent to the hospital by well-meaning soldiers hoping they would arrive in time to be reattached to their friend, blown up a few hours earlier."
"As the nurse walks the limbs over to the incinerator, he is met by colleagues decked out in Christmas hats and flowery shirts on their way to a mid-summer Christmas party. Later that evening, two badly burned Afghans arrive. One is dead within the hour, the other soon will be, but insists a taxi is called to take him and his dead friend back to the Korengal Valley."
Absurdity combined with desperate tragedy is a common occurrence in Bastion, another paradox that the medical teams need to adjust to, de Rond talks of humour playing an important role, dark humour "from a dark heart" - the constant proximity to tragedy generates a need for levity that responds to the situation.
de Rond prepared himself for deployment during UK-based training. Bastion itself is a dry place, but after the UK training sessions some of the medics would head to the pub for a drink - or two. It was here that de Rond began to prepare himself for these paradoxes, and the mindset required for the edge of combat:
"The 6 weeks in Bastion was the culmination of more than 2 years' work and training with the military. Following these sessions, I'd spend evenings with some of the team, and more often than not they'd go out."
"It's no surprise that many of them drink - some quite heavily - and you've got to join in. They need to catch you off guard and see you let your hair down for them to learn to trust you. I wish I could claim those expenses back!
"The key to ethnography is trying to expose yourself to aspects of the challenges people face - both the kind of environments in which they operate but also the self-induced quasi-narcotic states in which they get, because a lot of stories come out during those times, when they tell you about very surreal - even funny - experiences, but also very dark experiences that they don't find easy to talk about. It is in intimacy I've come to value a great deal."
"By the time I arrived in Bastion, I'd shared a few drinks and already slept in the same rooms with many of the people - so they felt quite comfortable with me, without that benefit I wouldn't have been able to hit the ground running."
What conclusions has de Rond drawn as a result of his experience? "I think in Bastion - as in any team - if you give people something to care about more than themselves they will pull hard together. You can't always do that though - even in war."
"The one emotion I still carry is an intense sense of sadness that the world is so grossly unfair - the realisation that people can do absolutely horrible things to each other, and they don't need much of a reason for doing so - and I think we are no exception to that."
"When I was done I left almost all my clothes behind, except the clothes I was travelling in, because I felt they were all tainted. I wanted to try and shed all that stuff. Maybe it's an over-reaction, but how do you cope with all this stuff?"
Inset: images taken by Mark de Rond. Bottom image of de Rond in Bastion.
---
This work is licensed under a Creative Commons Licence. If you use this content on your site please link back to this page.
---