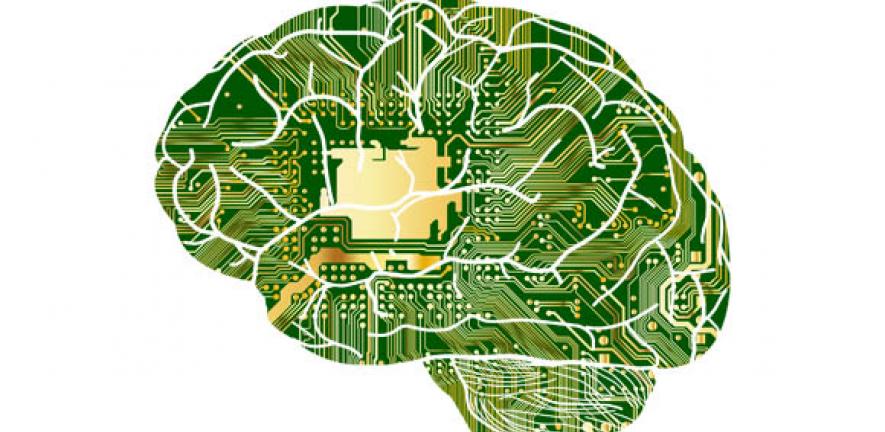 Some of the world's leading thinkers and practitioners in the field of Artificial Intelligence (AI) will gather in Cambridge this week to look at everything from the influence of science fiction on our dreams of the future, to 'trust in the age of intelligent machines'.
Rarely has a technology arrived with such a rich history of myth, storytelling and hype as AI.

Dr Stephen Cave
The two-day conference (July 13-14) at Jesus College is the first major event held by the Leverhulme Centre for the Future of Intelligence (CFI) since its globally-publicised launch by Stephen Hawking and other AI luminaries in October 2016.
Bringing together policy makers and philosophers, as well as leading figures from science and technology, speakers include Astronomer Royal Martin Rees, Matt Hancock (Minister for Digital and Culture), Baroness Onora O'Neill and Francesca Rossi (IBM).
Dr Stephen Cave, Executive Director of CFI, said: "Rarely has a technology arrived with such a rich history of myth, storytelling and hype as AI. The first day of our conference will ask how films, literature and the arts generally have shaped our expectations, fears and even the technology itself.
"Meanwhile, the second day will ask how and when we can trust the intelligent machines on which we increasingly depend – and whether those machines are changing how we trust each other."
Programme highlights of the conference include:
Sci-Fi Dreams: How visions of the future are shaping development of intelligent technology
Truth Through Fiction: How the arts and media help us explore the challenges and opportunities of AI
Metal people: How we perceive intelligent robots – and why
Trust, Security and the Law: Assuring safety in the age of artificial intelligence
Trust and Understanding: Uncertainty, complexity and the 'black box'
Professor Huw Price, Academic Director of the Centre, and Bertrand Russell Professor of Philosophy at Cambridge, said: "During two packed days in Cambridge we'll be bringing together some of the world's most important voices in the study and development of the technologies on which all our futures will depend.
"Intelligent machines offer huge benefits in many fields, but we will only realise these benefits if we know we can trust them – and maintain trust in each other and our institutions as AI transforms the world around us."
Other conference speakers include Berkeley AI pioneer Professor Stuart Russell, academic and broadcaster Dr Sarah Dillon, and Sir David Spiegelhalter, Cambridge's Winton Professor of the Public Understanding of Risk. An AI-themed art exhibition is also being held to coincide with the Jesus College event.
CFI brings together four of the world's foremost universities (Cambridge, Berkeley, Imperial College and Oxford) to explore the implications of AI for human civilisation. Researchers will work with policy-makers and industry to investigate topics such as the regulation of autonomous weaponry, and the implications of AI for democracy.
Many researchers take seriously the possibility that intelligence equal to our own will be created in computers within this century. Freed of biological constraints, such as limited memory and slow biochemical processing speeds, machines may eventually become more broadly intelligent than we are – with profound implications for us all.
Launching the £10m centre last year, Professor Hawking said: "Success in creating AI could be the biggest event in the history of civilisation but it could also be the last – unless we learn how to avoid the risks. Alongside the benefits, AI will also bring dangers like powerful autonomous weapons or new ways for the few to oppress the many.
"We cannot predict what might be achieved when our own minds are amplified by AI. The rise of powerful AI will either be the best or the worst thing to happen to humanity. We do not yet know which."
Professor Maggie Boden, External Advisor to the Centre, whose pioneering work on AI has been translated into 20 languages, said: "The practical solutions of AI can help us to tackle important social problems and advance the science of mind and life in fundamental ways. But it has limitations which could present grave dangers. CFI aims to guide the development of AI in human-friendly ways."
Dr Cave added: "We've chosen the topic of myths and trust for our first annual conference because they cut across so many of the challenges and opportunities raised by AI. As well as world-leading experts, we hope to bring together a wide range of perspectives to discuss these topics, including from industry, policy and the arts. The challenge of transitioning to a world shared with intelligent machines is one that we all face together."
The first day of the conference is in partnership with the Royal Society, while the second is in partnership with Jesus College's Intellectual Forum. The conference is being generously sponsored by Accenture and PwC.
Further details and ticketing information can be found here.
---

The text in this work is licensed under a Creative Commons Attribution 4.0 International License. For image use please see separate credits above.
---