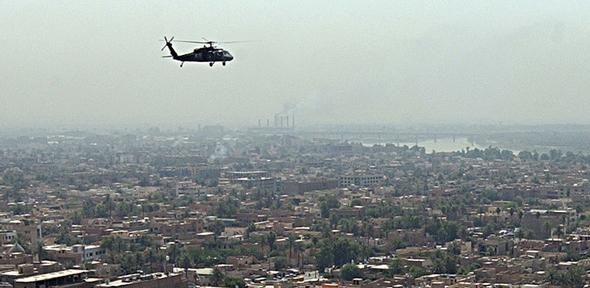 It is almost ten years since Saddam Hussein was captured by US forces at a farmhouse outside Tikrit, following the swift collapse of his Ba'athist regime. This week, a conference will bring together leading Iraqi public figures with experts from the University and beyond to explore today's Iraq and the challenges it faces a decade on.
Our Iraqi speakers hail from almost all sides of the political spectrum, and are prepared to sit together on our panels

Michael Clark, conference co-convenor
Ten years ago today, UN Security Council Resolution 1511 unanimously sanctioned a long-term international presence in Iraq - effectively handing control of the country to Washington.
This week, a conference at the Centre for Research in the Arts, Social Sciences, and Humanities (CRASSH), will bring together leading Iraqi politicians and public figures with academics to discuss the challenges facing modern Iraq both inside and outside its borders - from sectarianism and oil export programmes to the aftershock of the 'Arab Spring', and not least the continued violence within Iraqi society:

According to the Iraqi government, September of this year accounted for 971 civilian deaths caused by insurgents – the highest for five years.

So why isn't post-Saddam Iraq working? And what can be done to help stabilise a country that has seen untold bloodshed and social upheaval for decades?

'Iraq: A Decade of New Governance' will run on the 18 and 19 October, and promises to weave together salient themes from a wide range of disciplines, from politics to anthropology by way of everything from history, economics, law and sociology to try and address these critical questions so often brushed over by Western politicians.

Importantly, the conference will look beyond the war to Iraq's future prospects for social, political and economic stability and security. 

The keynote speaker, former Governor of the Central Bank of Iraq (2003-2012) Sinan Shabibi, will address Iraq's economic performance since 2003. Other participants include former British Ambassadors Sir William Patey, Edward Chaplin, and Noel Guckian, Iraqi Ambassador to the UK Faik Nerqweyi, Iraqi MPs Sadiq al-Rikabi and Haider Abadi, Kurdistan Regional Government (KRG) Foreign Relations head Falah Mustafa, KRG Representative to the UK Bayan Sami Abdul Rahman, and women's rights activist Hanaa Edwar, among others.
"Where previous conferences held this year to mark a decade since the invasion of Iraq have tended to focus on the war itself, the Cambridge Conference will explore the strength of political trust and citizenship, the socio-economic situation and prospects for an oil-exporting future, and the precarious domestic and regional security environment," said conference co-convenor Renad Mansour.
"Through this in-depth programme, we are taking a comprehensive approach to the major issues in today's Iraq," added Michael Clark, conference co-convenor.

"As well as welcoming ambassadors and academics of extraordinary experience, our Iraqi speakers hail from almost all sides of the political spectrum, and are prepared to sit together on our panels - something that promises to deliver unprecedented insights into contemporary Iraq."

The first panel, National Identity and Sectarianism, will address questions concerning the ethnic politics that have riddled Iraq's democratization experiment. Voices from the Shi'i, Sunni, and Kurdish communities will attempt to answer "what does it mean to be Iraqi?".
The second panel, Citizenship and Civil Society, will focus on the successes or problems with institution building. This includes the independent commissions, parliament, the central bank and other vital spaces. It also means NGOs and external spaces for citizens.

The third panel, Economic Development, deals with prospects for an oil-exporting future, and whether Iraq can combat problems with oil economies.
The final panel, Security and Regional Affairs, will tackle some of the pressing regional influences on Iraq, including the Syrian Civil War.

The conference will also draw lessons from the Iraqi experience, particularly for the new so-called post-'Arab Spring' regimes: Tunisia, Libya, Egypt, and potentially Syria. The panels will attempt to locate markers from Iraq's ten-year experiment with democratic institution building.

A video and podcast of the conference will be available.

The event is supported by CRASSH, the British Institute for the Study of Iraq, Control Risks, Brehon Advisory, and Richard Greer. For further information, please contact Renad Mansour on rm596@cam.ac.uk
---
This work is licensed under a Creative Commons Licence. If you use this content on your site please link back to this page.
---