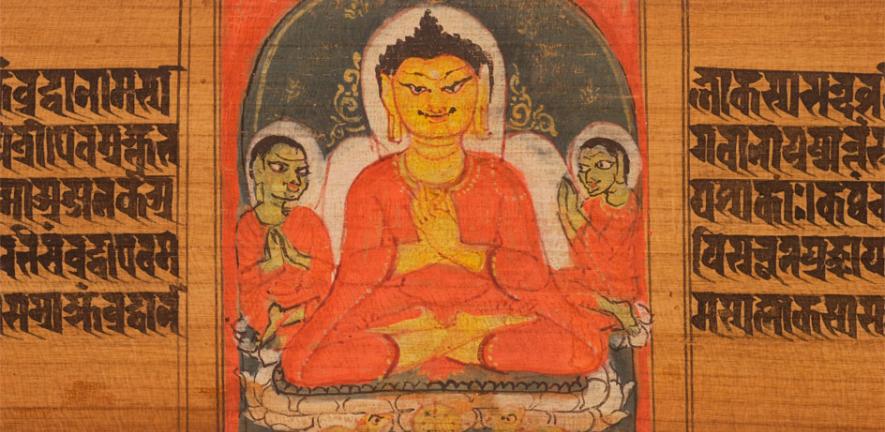 The Perfection of Wisdom in 8,000 lines is the oldest dated and illustrated Sanskrit manuscript known worldwide.
What is it?
Commissioned by a female devotee of Buddhism, this exquisitely painted palm leaf from the 10th century is part of the oldest dated and illustrated Sanskrit manuscript known worldwide. Written in an ornamental South Asian script known as Kuṭila, the palm leaf shows  Buddha, making the gesture of teaching, with disciples sitting either side. Although the manuscript is over 1,000 years old, the source is much older: an oral text thought to have been originally composed in South India between 100 BCE and 100 CE.
What is the story?
The manuscript was found in a disused temple in Kathmandu in the 1870s by Dr Daniel Wright, surgeon of the British Residency. He bought the now priceless cultural and historical artefact as a gift for his brother William Wright, Professor of Arabic in Cambridge, and was then encouraged by him and Professor Cowell, who taught Sanskrit at Cambridge, to purchase other manuscripts more systematically. They now constitute a significant part of Cambridge University Library's Sanskrit collections.
Where is it?
The manuscript is in the South Asian collections at Cambridge, along with about 2,000 other centuries-old manuscripts that cover religion, philosophy, astronomy, grammar, law, poetry and many other subjects. Over the next three years, a recently launched project will complete a comprehensive survey of the Sanskrit manuscripts in the collection. As part of this endeavour, most of the Sanskrit manuscripts will also be digitised by the University Library, making them widely available for the first time.
Want to know more?
To find out more about the South Asian collections, visit
---
This work is licensed under a Creative Commons Licence. If you use this content on your site please link back to this page.
---