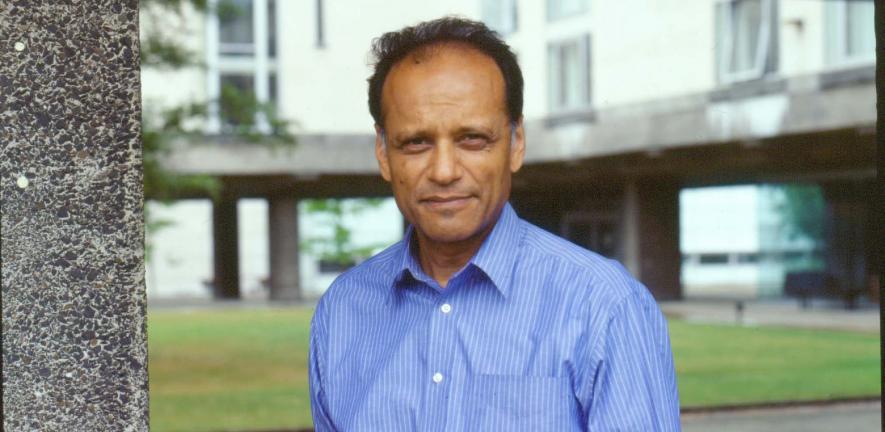 Professor Sir Partha Dasgupta, who last year co-authored an appeal to the Pope for moral leadership on climate change, will back his recent encyclical and stress that humanity's attitude towards the natural world needs to undergo a fundamental moral shift.
To view the damage that we are doing to the planet as purely an economic issue about how we use these commodities is a limiting vision. Our attitude to natural capital needs to be different, just as many of us would not treat human capital as purely an economic issue either

Partha Dasgupta
The eminent economist, Professor Sir Partha Dasgupta, will support Pope Francis' call for action on poverty and the environment at a conference in Cambridge today (Monday, 29 June), arguing that natural resources must be dealt with from a moral perspective and not as "just another commodity".
Professor Dasgupta was one of the co-authors of an appeal issued to religious leaders last year following a meeting with the Pope, in which scientists asked for help in mobilising public opinion to stop the unsustainable destruction of the world's ecosystems.
Speaking on Monday, at a conference examining the Catholic Church's new style of engagement under Pope Francis, Professor Dasgupta will praise the "sound economics and correct science" of the Pope's new encyclical on the environment, released earlier this month. In it, the Pontiff warned of serious consequences if the world fails to act on climate change, and called for moral action on the environment and global poverty.
Echoing these views, Professor Dasgupta will say that humanity needs to adjust its relationship with the planet's natural capital, arguing that it cannot be treated as a normal economic commodity. He will also suggest that ecology should be a fundamental part of children's education from an early age in order to facilitate a shift in attitudes towards the natural world.
The conference, at St John's College, University of Cambridge, where Professor Dasgupta is a Fellow, is being attended by an international group of theologians, social scientists, and academics specialising in the Church – among them the former Archbishop of Canterbury, Dr Rowan Williams.
Speaking in advance of his plenary lecture about the encyclical, Professor Dasgupta said: "I understand where the Pope is coming from because to view the damage that we are doing to the planet as purely an economic issue about how we use these commodities is a limiting vision. Our attitude to natural capital needs to be different, just as many of us would not treat human capital as purely an economic issue either."
"Natural capital has features that most commodities around which we build economic modelling – such as infrastructure, or the products of industrial activity – do not. Because it includes entities like seeds, insects, birds and water, natural capital has a tendency to move. The wind blows, water flows, birds and insects fly, even earthworms are known to move. It's impossible to monitor what people do to entities for which mobility is an essential feature. The use of a resource that doesn't move on its own account can be monitored, implying that it can in principle be protected. Preserving resources is hard if they have a natural tendency to move. We all become 'free riders' on their use."
"The question that then arises is how to handle natural capital in a way that is consistent with the common good? The answer requires an approach in which we are minded to act with care for Nature and natural resources, even when nobody is watching. In this sense I think Pope Francis' approach is right."
Professor Dasgupta, who was knighted in 2002 for his services to economics, is a Fellow of both the British Academy and the Royal Society, and a Member of the Pontifical Academy of Social Sciences. Last week he was awarded the Blue Planet Prize – an international award that recognises scientific work that helps to address global environmental problems.
He is credited with having unified ideas of intergenerational equity and sustainable development in economic thought, and with having shown that poverty and the erosion of natural resources – or natural capital – are closely linked; a point echoed in the recent encyclical. His research has also challenged the notion that Gross Domestic Product (GDP), which is an indication of a country's economic activity, should also be used as an indication of its overall wealth, arguing that this fails to take into account the destruction of natural capital that may impoverish populations, or future generations, even as GDP rises.
Last year, Professor Dasgupta co-authored an article in the academic journal Science with the climate and atmospheric scientist, Veerabhadran Ramanathan, in which the two academics appealed to the Pope and other religious leaders to aid the mobilisation of public opinion to resolve the connected problems of unsustainable consumption, population pressure, poverty, and environmental degradation.
Their article, which followed a meeting with Pope Francis himself, said that religious leaders were capable of instigating "massive collective action" on environmental issues in a way that governments and scientists cannot. Several other leading scientists and commentators leant their support to the appeal, which, in bridging the long-standing divide between religion and science, was described by one as "a watershed moment".
The Pope's new encyclical reflects many of the points that the two scientists have raised, in particular by drawing attention to the ecological debt that developed countries owe the developing world by depleting their natural capital. It also stresses that the impact of climate change is one felt disproportionately by the world's poorest people.
Professor Dasgupta will, however, suggest that one issue missing from the encyclical is the role that education must, in his view, play in correcting societal attitudes to the natural world. "Basic education was once founded on ideas about reading, writing and arithmetic; a modern education should treat ecology as one of its fundamental components," he said. "Most children's immediate experience of the world is now in an urban setting and we should be making it clear, from the word go, that we have a responsibility to maintain natural capital."
The conference, "Making all things new?", is taking place at St John's College from Monday, 29 June until Wednesday, 1 July. It examines what organisers have described as "striking" changes in the tone of the Catholic Church since Pope Francis was elected. These are exemplified by his previous encyclical Evangelii Gaudium, issued in 2013, which contained condemnations of aspects of the institutional life of the Catholic Church and a strong commitment to serving the poor.
In the context of this, and the more recent statement on poverty and the environment, the conference will aim to gauge how far this represents a significant change in the tone, style and behaviour under Pope Francis' leadership, and whether it may represent a force for renewal in the Catholic Church as a whole.
---

The text in this work is licensed under a Creative Commons Attribution 4.0 International License. For image use please see separate credits above.
---