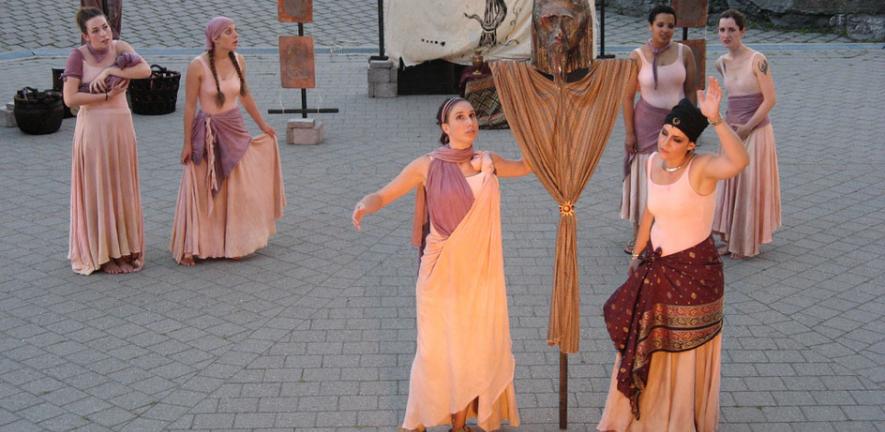 Cambridge actors to perform the tragic tale of Medea in Ancient Greek
The play is one of the greatest revenge plays in dramatic literature - and one of the earliest. Of the three great tragedians, Euripides is far more contemporary than Aeschylus or Sophocles. Looking at Medea as a play for today is one of the most exciting directorial quests I have ever experienced
Cambridge actors to perform the tragic tale of Medea in Ancient Greek
Euripides' timeless tragedy, Medea, will be staged next week as the 40th Cambridge Greek Play.
The triennial performance by University of Cambridge students brings Ancient Greek theatre to life in the original language, supplemented by surtitles in English.
The event has earned a high reputation within the theatrical world with Sophocles' Oedipus as Corin Redgrave's 2004 pick of the year in The Guardian.
The play tells the story of Medea, whose turbulent life is thrown into disarray by her husband Jason's rejection. The result of this betrayal is a string of tragic events that lead to murder.
Like Oedipus, Euripides' Medea is an ancient story which has become part of modern myth. Medea has inspired countless translations, rewrites, novels and operas over the last two millennia and its explosive potential was recognised by the suffragettes, who recited passages from the play at their meetings.
These historical parallels are the inspiration behind professional director Annie Castledine's vision for the production, which runs from 10-13 October at Cambridge Arts Theatre.
"The play is one of the greatest revenge plays in dramatic literature - and one of the earliest. Of the three great tragedians, Euripides is far more contemporary than Aeschylus or Sophocles. Looking at Medea as a play for today is one of the most exciting directorial quests I have ever experienced", said Director Annie Castledine.
"The Greek play remains hugely popular. By merging professional theatrical and academic expertise, classical drama can be interpreted for a diverse audience ranging from casual theatregoers to school parties to Classics scholars", added Annie Castledine.
This year Marta Zlatic, who previously played Hecuba (in Trojan Women, 1998) and the title roles in Electra (2001) and Oedipus (2004), will play Medea. An outstanding young biologist, her performances have won critical acclaim and she is taking a break from her junior research fellowship at Trinity College to perform in Medea.
"I have three passions in life - biology, language and theatre. My biological research relates to the genetic basis of behaviour, but Medea offers a unique study of behaviour from the human viewpoint. Euripides' text is inspirational, and remains pertinent to our modern society", said Zlatic.
The first Cambridge Greek Play was performed in 1882. The poet Rupert Brooke played the Herald in Aeschylus' Eumenides in 1906. Ralph Vaughan Williams famously wrote the incidental music for Aristophanes' Wasps in 1909 - an overture that remains a favourite.
Amongst others the actor James Mason, designer and filmmaker Humphrey Jennings and director John Barton were all involved with the Greek Play as undergraduates.
A programme of free lectures will coincide with the run: on 10 October at 12.30pm, Edith Hall, Professor of Classics and Drama at Royal Holloway will talk at the Fitzwilliam Museum on "Medea and the law of homicide, ancient and modern," then at 5pm will discuss "Medea, Murder and Metaphysics" at Little Hall on the Sidgwick Site.
Then on 12 October, Dr Lucilla Burns, Keeper of Antiquities at the Fitzwilliam Museum will explain the significance of "Medea in Ancient Art."
You can book tickets for the performance by calling 01223 503333 or visiting the Cambridge Arts Theatre website (link above right). The talks are free.
For more information about the Cambridge Greek Play 2007, go to the link above right.
---
This work is licensed under a Creative Commons Licence. If you use this content on your site please link back to this page.
---